SCT or truck body that looks like Disney's Tow Mater
08-04-2010, 08:45 AM
Tech Master
Join Date: May 2008
Posts: 1,044
SCT or truck body that looks like Disney's Tow Mater
---
My son loves Disney's Cars movie, particularly Tow Mater and McQueen. Does anyone know of a SCT body that somewhat looks like Tow Mater? He likes to push my SCT around so I'd like to make it look like one of his favorite characters.
Thanks.
08-04-2010, 08:51 AM
Tech Addict
Join Date: Jul 2010
Location: Winston Salem, NC
Posts: 574
---
I would go to a local hobby shop and ask if they could recommend a good guy who paints RC bodies. They will probably know one, I know my hobby shop knows a great painter.
I bet they can paint a body that will look real close to Mater.

There aren't any prepainted short course bodies that look like that though.
08-04-2010, 09:02 AM
---
08-04-2010, 09:45 AM
Tech Adept
Join Date: Jul 2009
Location: Columbia, SC
Posts: 152
---
I "patina'd" my stock Slash body, sort of like Mater.
The ProLine Silverado has a big face area, might be able to do a paint job like this and the smile with buck teeth on the nose.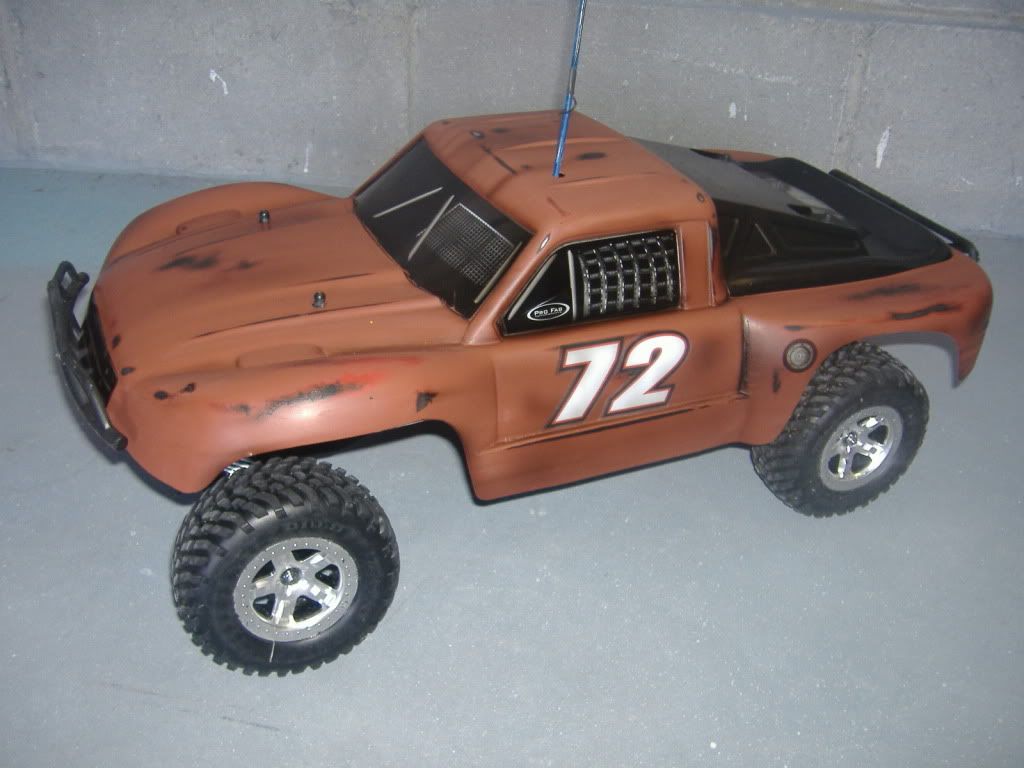 08-04-2010, 10:31 AM
Tech Regular
Join Date: Sep 2009
Location: Korea
Posts: 356
---
I don't think there are any short course specific bodies that look like classic trucks. Cool idea though.

My son loves that movie too. He begs to watch it every day. I was just thinking of doing a Lightning McQueen TC body for him just the other day.

Might be something to consider too, keep an eye out for an old TC on ebay or whatever like a TC3 (still plenty of parts around) and throw in some cheap chinese or old brushed/Nimh electronics and make him a mcqueen to play with. My son is only 2 1/2 but he loves driving my crawler around in circles. You can tie a rag around the Tx under the trigger to limit throttle travel until he gets old enough to not smash into stuff full throttle.
08-04-2010, 11:51 AM
Tech Master
Join Date: May 2008
Posts: 1,044
---
Thanks guys. I couldn't find any SCT bodies of old trucks either. I did find a PL monster truck body of an old Ford and another of a 70s Chevy...thinking one of those might be ok. My sons not even 2 yet so he won't notice the fine details or differences. If anyone comes up with more ideas, please share them.
Thanks.
07-10-2011, 03:07 PM
Tech Rookie
Join Date: Jul 2011
Posts: 1
---
So has any one found a suitable body yet? I am wanting to do the same thing but on a slash
Currently Active Users Viewing This Thread: 1
(0 members and 1 guests)
Posting Rules
You may not post new threads
You may not post replies
You may not post attachments
You may not edit your posts
---
HTML code is Off
---