SC8e to 1/10 conversion
05-26-2010, 08:51 PM
SC8e to 1/10 conversion
---
I want to make the SC8E i have into a shorter truck to run the 10th class in my area. what parts do I need from the RC8E other than Chassis plate?
where did they shorten it? front or back?
05-26-2010, 10:30 PM
---
I just converted my sc8e to a rc8e. You will need the following to convert to a 1/10 SC. Using the rc8 chassis will give you the exact wheelbase as the Slash 4x4.

Chassis plate
Front and rear chassis braces
Center dog bones
Center diff raiser

To convert to rc8e, you will also need bumper, shock towers (I kept the sc8e ones), wing mount and wing.
05-26-2010, 10:55 PM
---
Thanks. Thats what I was searching for. Im gonna just shorten the exsisting SC8 to 10th scale. I found this info too a few min ago. I been searching for days.
05-27-2010, 08:36 AM
Tech Fanatic
Join Date: Nov 2004
Posts: 854
---
I believe it will still be too wide, by about half an inch.

The width of the Ofna Hyper SC is 279mm
The width of the SC8e is 305mm

So, the chassis will make it the right length, it is still too wide. Please let me know if I am wrong as I would live to convert mine!
05-27-2010, 09:56 AM
---
Here's what I found.

Slash 4x4 width 296mm
Slash 4x4 body width 292mm
SC8e width 305mm
SC8e body width 290mm

I remember putting my Slash 4x4 body on my buggy conversion and it look fine. I have also seen threads where people put the sc10 bodies on the conversion.
05-27-2010, 12:34 PM
Tech Regular
Join Date: Apr 2010
Posts: 483
---
ooh So Neo, You have any part #? Being a newb to this kit I haven't a clue. So with the 1/10 conversion it seems that other SC bodies will work. Hmm

Moon
05-27-2010, 01:52 PM
---
I got the rc8 chassis for $41 plus shipping off ebay #89000
Center CVA bones #89103
RC8 RTR chassis braces #89258
I made my own center diff raiser, but if you need to get one it's #89502
I already sold my Slash, so I can't put it on and see. Here's a link to someone converted a rc8e to a sct.
http://www.rcshortcourse.com/forum/s...ead.php?t=8783
BTW, when you build your kit, put thread lock where the instruction tells you. I have thing come loose because I ignored it.
05-27-2010, 08:31 PM
Tech Regular
Join Date: Apr 2010
Posts: 483
---
Sweet thanks Neo. sent ya a PM btw

Moon
05-27-2010, 10:28 PM
The SC10 fits it
---
I see others using the SC10 body as it covers the wheels and fits the chassis. I also hear that the blitz would fit over the wheels too but its unconfermed.
Im up to no good now cause someon gave me a Losi 8ight and im fitting some SC bumpers to it as best I can and fitting body posts too. These friggin things are ROCKETS with 2650kv Tekin and a 4s pack
I will posst some pics in a 8ight to SC 10th thread soon as I get farther. thanks again for you fellas input
05-27-2010, 11:24 PM
Tech Elite
Join Date: Mar 2007
Posts: 4,644
---
The Blitz body or the SC10 body will work , I have done both ......
Blitz body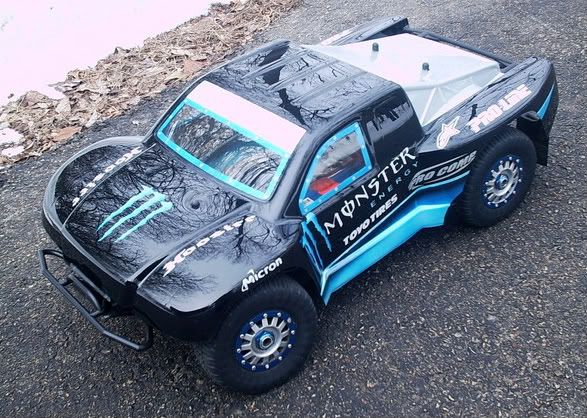 SC10 body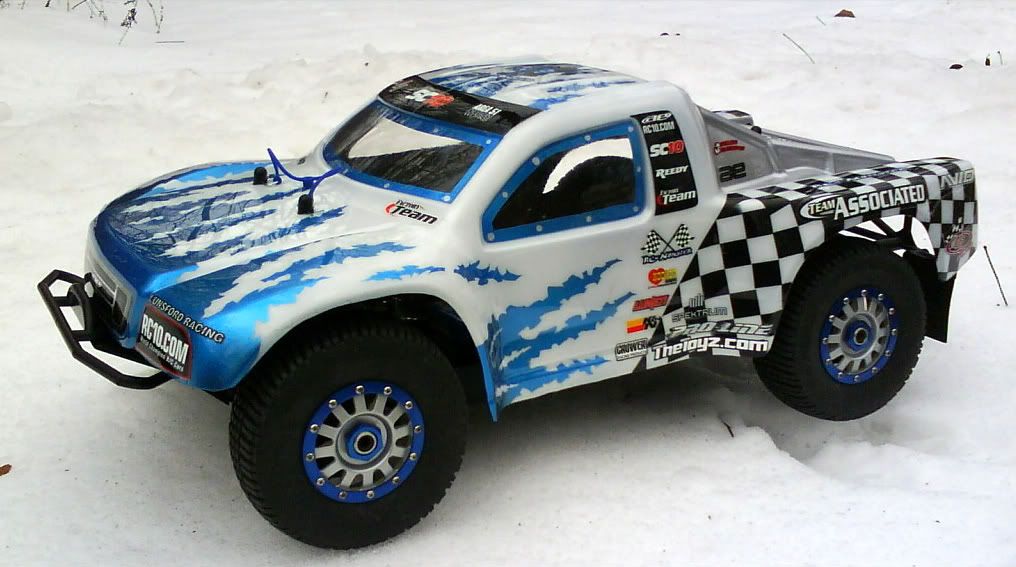 05-28-2010, 12:41 AM
Tech Master
Join Date: Feb 2006
Location: Living in a Van down by the river.
Posts: 1,146
---
Out of all the SC 10th scale body's , does anyone know which body is the widest ?
05-28-2010, 07:12 AM
Tech Elite
Join Date: Mar 2007
Posts: 4,644
05-28-2010, 11:38 AM
---
Dam dood I just love that truck you got there Bash. the colors are great on it. I wish theyd make a SC10 or Blitz Chev body. Im a Chebby d00d
My own personal truck is a 72 chev blazer with a twin turboed duramax
Currently Active Users Viewing This Thread: 1
(0 members and 1 guests)
Posting Rules
You may not post new threads
You may not post replies
You may not post attachments
You may not edit your posts
---
HTML code is Off
---