Sticky Kicks traction compound
10-07-2012, 06:13 PM
Tech Elite
Join Date: Mar 2012
Location: Houston, TX
Posts: 2,041
---
The horchata works killer at mikes!
10-07-2012, 08:08 PM
Tech Champion
---
Stoked to hear that! I will get them some to stock at the counter on their next order
10-08-2012, 03:59 PM
Tech Champion
---
Forgot today was Columbus day. Shipping weekend orders and today's orders tomorrow.
10-09-2012, 06:49 PM
Tech Champion
---
Another case heading out to OC/RC. Horchata is working awesome there as well!
10-10-2012, 05:36 PM
Tech Champion
---
Crazy busy today! October is always a really busy month for us. Most made it out today but some came in after cut-off and will go tomorrow. The 10 bottle order will ship tomorrow as we did not have enough Horchata to fulfill the order.
Also working with a couple of Cats is Canada. 10 bottle minimum and 30.00 for shipping to the great white north.
10-11-2012, 07:41 PM
Tech Champion
---
New special on our site... Free shipping with a 4 pack. You can mix and match too - just note what formulas.
10-12-2012, 11:35 AM
Tech Champion
---
Sticky Kicks welcomes RC POWER HOBBIES as our newest Track to carry our Maximum Traction!
RC POWER HOBBIES is located in Louisiana and has an off-road and oval track. Check em out:
www.rcpowerspeedway.com
and
www.rcpowerhobbies.com
10-12-2012, 11:46 AM
Tech Master
---
Thats awesome!
10-12-2012, 05:28 PM
Tech Champion
---
A young racer walked in to their shop and asked "Why don't you guys carry Sticky Kicks, it's the Best!"
Rock on lil man
10-13-2012, 01:12 AM
Tech Master
---
So i havent had much time to test all the different sauces for 2wd buggy on my gold barcodes but i know verde works and horchata, gonna give it some testing tomorrow/today on my stadium truck with gold pressure points
. i got a pretty good base on how the truck is working at SDRC so looking forward to stickin' up these kicks
10-13-2012, 04:40 PM
Tech Champion
---
Right on Eli! Looking forward to a review when you can. Also hoping Team Zachary, Denny O and Casper have a strong weekend at next's weeks JBRL finale.
10-14-2012, 12:57 PM
Tech Master
Join Date: Jan 2012
Location: Yorkville, IL
Posts: 1,534
---
[IMG]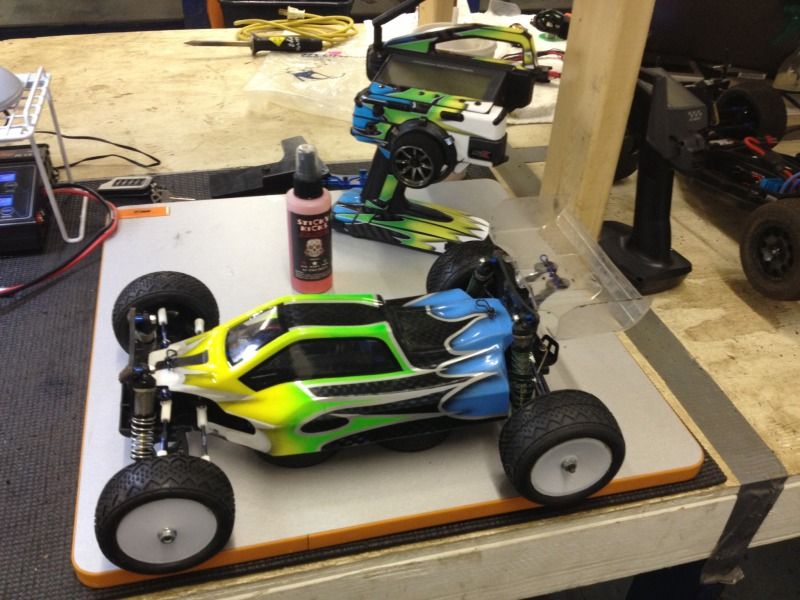 [/IMG]
---
Last edited by 07Forester; 10-14-2012 at

06:54 PM

.
10-14-2012, 01:11 PM
Tech Master
---
Well took the win in an amazing battle with a fierce competitor last night, was using the horchata during practice and it was great, ran it through qualifying and it was good but i felt it could have been a little better due to the drier conditions. Knowing that Roja works great on a drier track i sauced up with some Roja about 15 minuted before my main and scrubbed it in and immediately felt the difference on the track as if the track wasn't dry and had the grip i expected and felt like the horchata did during practice on a moist track.

Track: SDRC Raceway in San Diego California, it is an indoor medium bite track with about 50% clay content. I was racing stock stadium truck with my factory team t4.1 on gold Jconcept pressure points lightly broken in with pro-line closed cell rear inserts and jconcept And1 inserts front. I was race 8 of 10 and the track was on the dry side in the groove with a little bit of dust. Watering was done during intermission and led to a bit of a dry track for the later races.

Love sticky kicks!
10-14-2012, 06:52 PM
Tech Champion
---
Thanks Eli for the killer feedback (and congrats on another win)! This is the very reason we offer multiple compounds as track conditions will change and you know that each formula does have its own characteristics.
We took a trip to OC/RC today to drop off another case of Horchata as the HB boys cannot get enough and the last case sold it in about a week! awesome.
10-14-2012, 08:58 PM
Tech Addict
Join Date: Jan 2011
Posts: 556
Horchata
---
Well Zach and I are going to do some testing tom after school at a couple of tracks with a couple new kit we just built, the first flav we will test is the all new KILLER Horchata , then Roja , we have 2 sets of tires done up with both flavors for the 2x sc truck and the 4x sc truck and will run 2 diff tracks ... We will post up how we did and what flavor we think worked the best......


Sticky Kicks (like glue)



Tim and Zach