Durango DEX210 Thread
12-23-2011, 06:24 PM
Tech Regular
Join Date: Sep 2011
Location: collinston, la
Posts: 278
---
hey all just ordered my dex210 and a few replacement parts what upgrade parts would be recomended to order.
12-23-2011, 07:42 PM
Tech Master
Join Date: May 2008
Posts: 1,853
---
Originally Posted by
Yeti AS3
Just a heads up. I ran out of the aluminum 3/3 toe blocks. I have more stock coming this week. The plan is to make some 1.5/3 blocks as well as more 3/3 blocks. These are direct bolt on made from billet 7075/T651 aluminum, superior material to 2024 or 6061. They are not anodized.
All orders placed were shipped the day of, or the day after I received payment.
Thanks to all that ordered
Yeti, thanks again for the block. It is very nice. Smooth bolt on part that really is slick back there. Nice work.
12-23-2011, 07:54 PM
12-23-2011, 07:56 PM
Tech Master
Join Date: Sep 2010
Location: Temecula, CA
Posts: 1,169
---
Doesn't who give me springs? And even if they did, my car is still VERY good with the stock springs.
I haven't tried any other springs because I havent felt the need to yet...too many people will change things after a few battery packs without ever working with what comes with the car. I've got 50 packs through my car and I know EXACTLY how my car drives and reacts at my track at different times of the day and night during racing with different conditions.
I'll change springs when my car isn't competitive or I can't make it go any faster with the current set up.
Until then, I'll keep putting in TQ runs and compete for the A main win on my loose to med grip track in Exp 2wd mod class at my local track.
12-23-2011, 07:58 PM
Tech Master
Join Date: Sep 2010
Location: Temecula, CA
Posts: 1,169
---
12-23-2011, 08:17 PM
Tech Regular
Join Date: Sep 2011
Location: collinston, la
Posts: 278
---
thanks all that gives me some direction
12-23-2011, 08:43 PM
---
It's better then not running because parts are unavailable.
I just got home from testing at the track.
The location works fine, no major crashes to strength test them but I did get railed from errant short buses a few times with no issues.
Dayton
12-24-2011, 09:54 AM
Tech Adept
Join Date: Nov 2009
Location: Orlando, Fl
Posts: 246
---
Several pages back someone asked about the performance of the JConcepts Finnisher body. We have tested the body indoors and outdoors and found that indoors the car has a much more planted feel. The steering is a little more positive and consistent. Outdoors the car drove great, but we found the flight of the vehicle to be influenced by the wind during breezy conditions. The stock body was not affected nearly as much by the wind over large jumps. Unless it's very windy we will run the Finnisher outdoors and will continue using it indoors.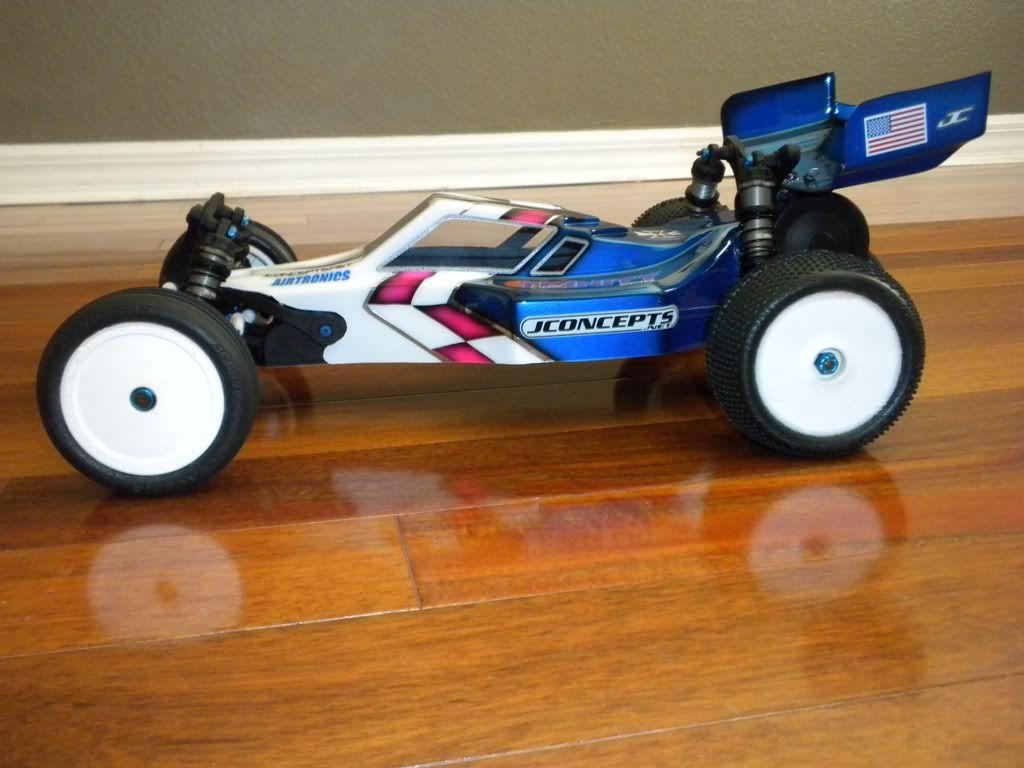 12-24-2011, 10:04 AM
Tech Fanatic
Join Date: Apr 2005
Location: Indianola, IA
Posts: 752
---
anyone adapt 12mm hexes on the rear?
12-24-2011, 10:10 AM
Tech Adept
Join Date: Nov 2009
Location: Orlando, Fl
Posts: 246
---
12-24-2011, 11:57 AM
Tech Champion
Join Date: Oct 2008
Location: Minnesota
Posts: 7,377
---
Nice looking car Jeff, tell me where the Trinity stickers came from...
12-24-2011, 12:16 PM
Tech Apprentice
Join Date: May 2010
Posts: 65
---
That is one sweet shell Jeff.
12-24-2011, 01:30 PM
Tech Fanatic
Join Date: Jan 2008
Location: Denver CO
Posts: 972
---
Optional 210 parts on the way from Japan
12-24-2011, 01:33 PM
12-24-2011, 01:37 PM
---