Short Course Picture Thread
12-29-2009, 06:17 PM
Tech Master
Join Date: Feb 2006
Location: Living in a Van down by the river.
Posts: 1,146
Short Course Picture Thread
---
I know there are already threads with Slash and SC10 ''only'' paint jobs, but since mine is a costom Losi XXX-SCT hybrid, and now there are so many other SCTs, IE. Blitz,Jammin and all the others that are coming out.
I thought I would start a thread for all Electric Short course Truck paint jobs, so let's see em,
.
Here's mine.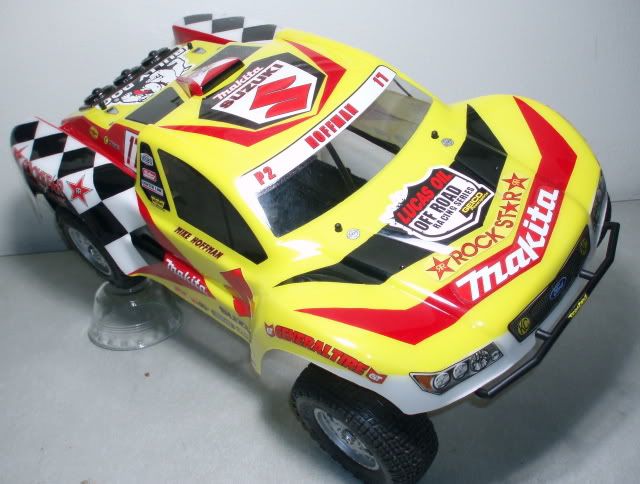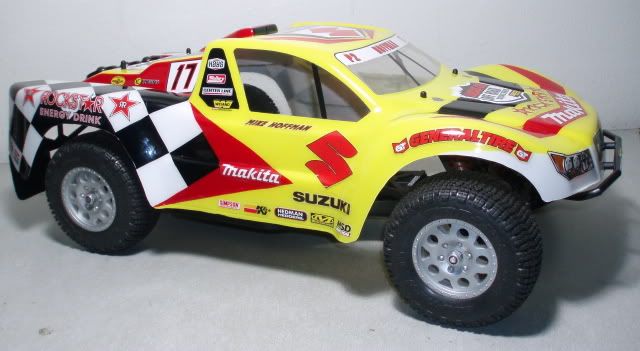 Since I'm a old motocross racer and a big fan of Motocross and Supercross, I used that and this picture of Chad Reeds bike as inspiration for my XXX-SCT & MF2 paint job, pictured below Chads bike.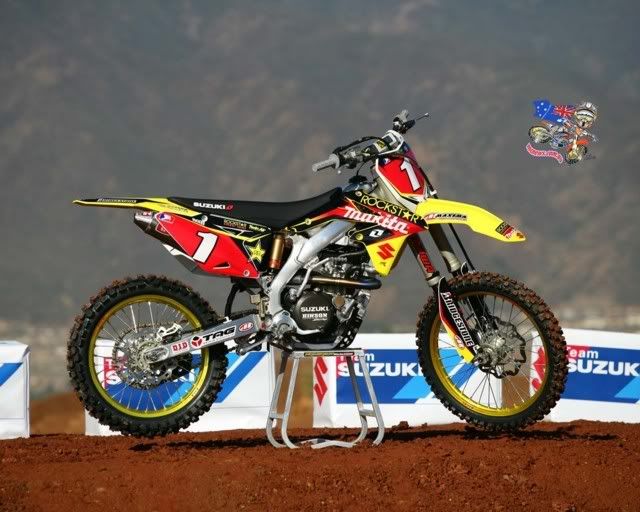 I created and made about 80% of the stickers on both of the trucks.
---
Last edited by *Chrominator*; 06-09-2010 at

09:39 PM

.
12-29-2009, 06:27 PM
Tech Fanatic
Join Date: May 2004
Location: Ohio
Posts: 754
---
Wow, nice! I am waiting on my Slash PE and was planning a dirt bike inspired theme as well!
12-29-2009, 06:33 PM
Tech Regular
Join Date: Jul 2006
Location: fly over zone
Posts: 256
---
Thats just too cool!!!
12-29-2009, 06:42 PM
Tech Adept
Join Date: Jan 2009
Location: N37 33* W122 3*
Posts: 189
---
how did you create the stickers? on what paper? etc...
12-29-2009, 06:45 PM
Tech Master
Join Date: Feb 2006
Location: Living in a Van down by the river.
Posts: 1,146
---
I even got 3rd best in show at the 2003 Cactus Classic Race.
12-29-2009, 06:48 PM
Tech Master
Join Date: Mar 2007
Location: I'm an A**HOLE!
Posts: 1,828
---
That looks fantastic, I'm having my bodies wrapped.
12-29-2009, 07:16 PM
Tech Elite
Join Date: May 2007
Location: Wallnut, CA
Posts: 2,477
---
When the bodies for the 4x4 Slash are released I will be doing one like Rodrigo Ampudia's Tecate/Papas and Beer truck.
Us beaners have to represent, you know
...
12-29-2009, 09:02 PM
Tech Master
Join Date: Feb 2006
Location: Living in a Van down by the river.
Posts: 1,146
---
Then I went to Kinko's to see if they would print me some on there real professional vinyl, and they said they could not print the copy write-ed Logos .
Then I found there over the counted adhesive backed paper that you could use a Laser printer on, but it is made out of paper, the print quality was great but the paper did not hold up, even putting a clear vinyl over it did not work to good.
So as it stood the first bumper sticker material was the best I could do with a clear laminate over it.
I went back to Office Depot to get some more of this bumper sticker material, and found out that they don't carry it anymore.
So I started looking around to see if I could find something else that would work, and that's when I found this stuff, it's made by Avery and is called (weather proof white labels) it is some kind of vinyl that you can use a Laser printer on.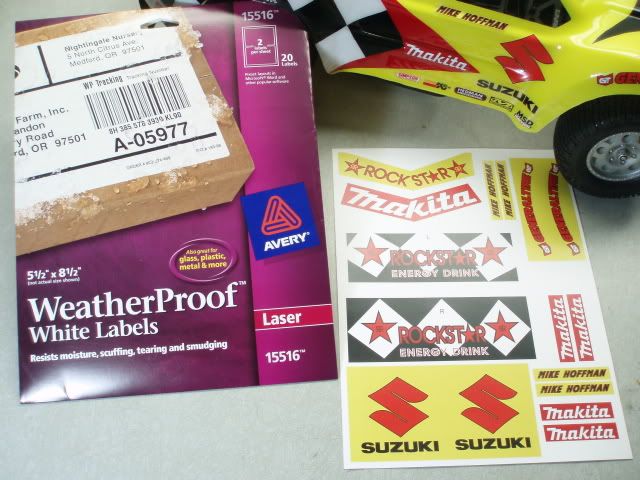 The print quality is as good as any sticker I've seen, and it's very sticky, but it's not very stretchy, It works great on flat and semi curved surfaces, but not so good on real curved areas, like where the big S is on the side of my SCT.
I tried using a hair dryer to heat it up when putting it on, but It did not seem to help. Also the heat seems to have a bad effect on the glue, because when I stick it on something flat, it sticks so good I can barely get it off, but when I heat it , it doesn't seem to stick at all.
But any way It's all I can afford, and I think it looks good enough for me. I have tried to have some stickers done professional, and it cost way more than I can afford or think that it's worth.
I'm using a Graphic program that is similar to Illustrator, it's called Flexi sign, and it allows me to create, manipulate and change just about any thing I want.
I hope this helps.
12-29-2009, 11:14 PM
Tech Addict
Join Date: Nov 2009
Location: Phoenix, AZ
Posts: 514
---
Here is my son's body he got for christmas....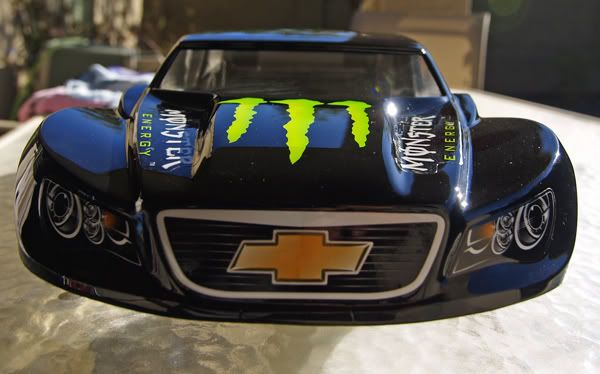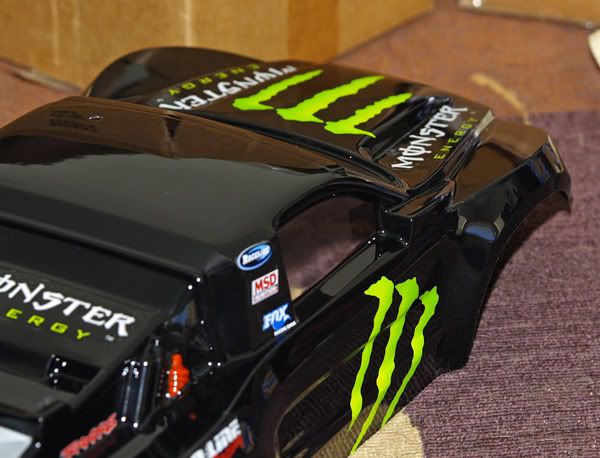 I'll shoot some of the lid on the chassis with the wheels on.
12-29-2009, 11:24 PM
Tech Master
Join Date: Jun 2009
Location: Denver CO
Posts: 1,892
---
SC10
HoBao Hyper
12-30-2009, 12:02 AM
Tech Adept
Join Date: Aug 2005
Posts: 190
---
My rattlecan job that I'm running on my Blitz...
12-30-2009, 02:46 AM
Tech Adept
Join Date: Oct 2006
Posts: 205
---
here is my latest
paint by Kris @
http://darksidedesigns.net