Traxxas Backlslash
10-21-2009, 02:47 PM
Tech Apprentice
Join Date: Oct 2009
Posts: 57
---
thats pretty cool for a second i was wondering why it was a traxxas slash esque title then i started to read, it fooled me, that looks like a ton of fun

the lug
10-23-2009, 06:08 PM
Tech Rookie
Join Date: Sep 2009
Posts: 10
---
hay guys all i can say is if you build one of these back slashes you will like the way it handles. i let a couple of 1/8 scalers drive it in practice and the could not get over how well it handled. they were keeping up with 1/8 th eletric buggys and passing them. you do not know how many people think it is my 1/8 th buggy for my 1/8th nitro has the same body. this thing has a ton of steering. i can take it to different tracks and run it and all i change is tires and it still handles the same. if any one is interested in my latest set i will post later.
10-23-2009, 07:07 PM
Tech Addict
Join Date: Sep 2009
Location: Toms River, New Jersey
Posts: 656
---
Originally Posted by
badassrevo
No, it does not handle like a Slash anymore. It runs the same laptimes as the mod 2wd and mod truck guys.
It is really neat. there is a class for them at
www.havefunhobbies.com
it is cool to see a full heat of them on the track.
i completely agree there i put buggy wheels on my slash and it never flips on the turns anymore here is a couple pics of it a couple weeks ago...it now has a vxl system in it and a thundertech chassis...im considering making one of these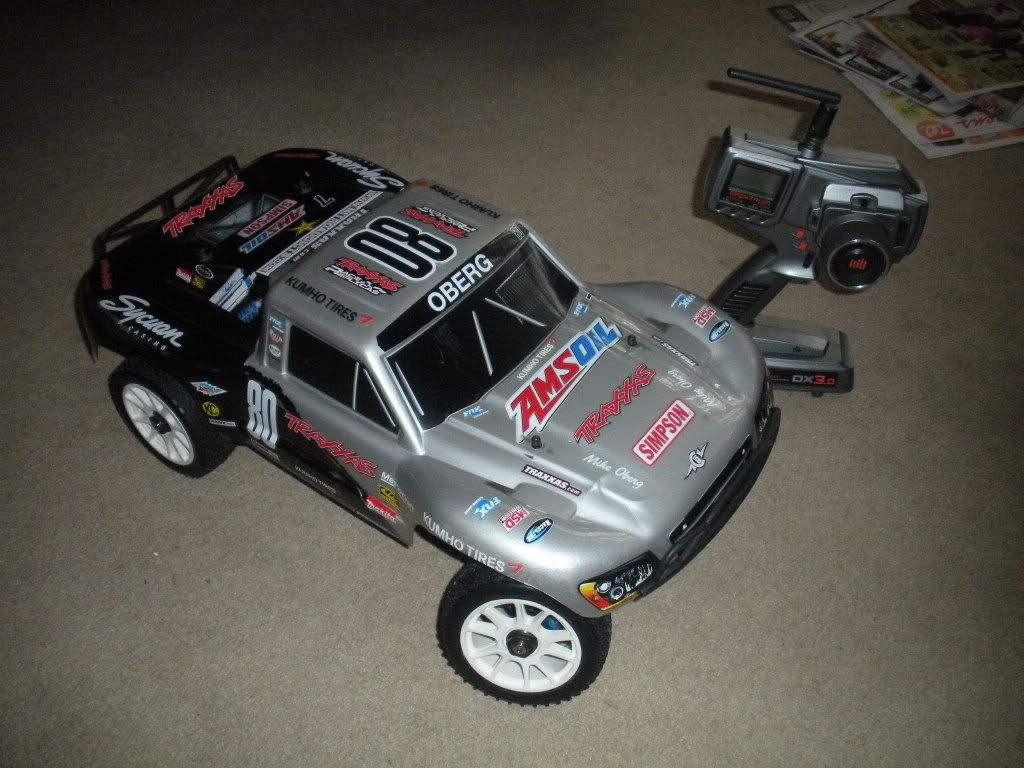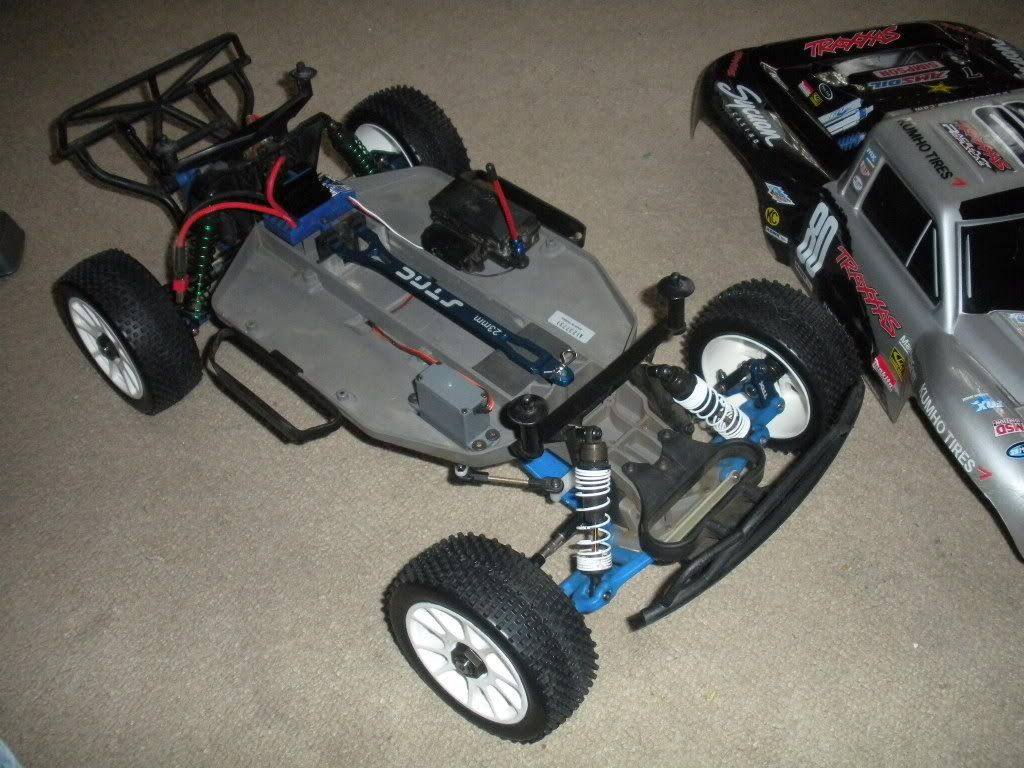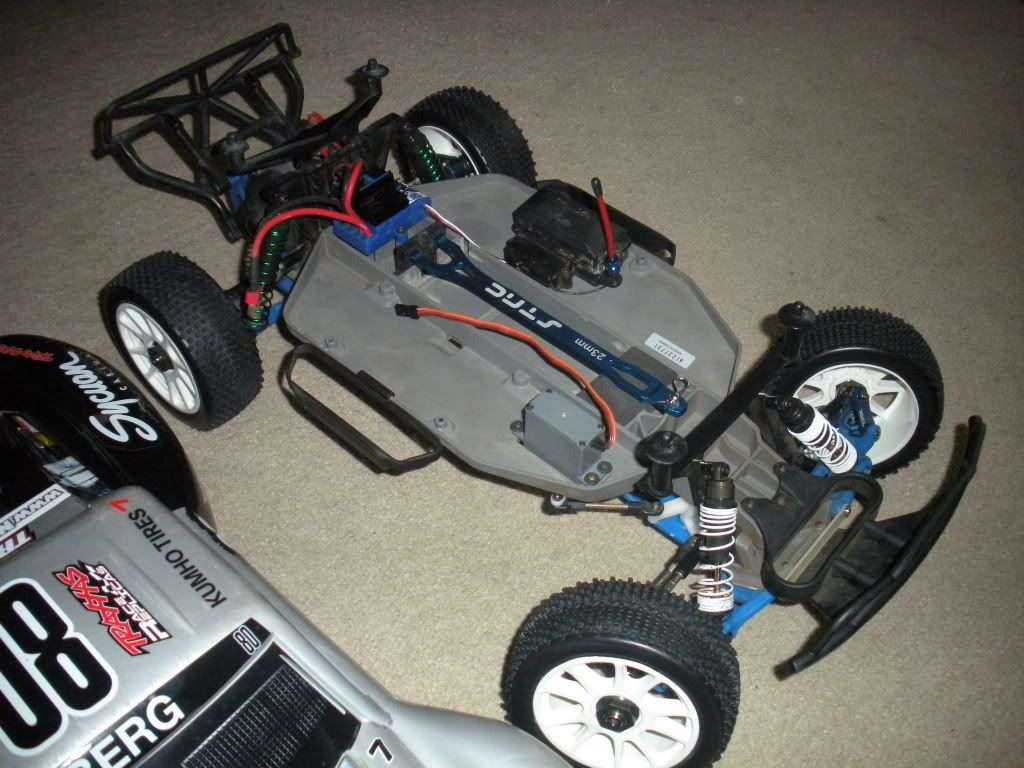 03-05-2010, 03:48 PM
Tech Elite
Join Date: Sep 2009
Location: Pacific NW
Posts: 4,012
---
Anyone done this with a 4x4 Slash yet?
03-05-2010, 08:08 PM
Tech Elite
Join Date: Sep 2001
Location: Some where
Posts: 3,040
---
would love to do this maybe one day I will I think 8.5 is optimal power for this ride
03-05-2010, 08:23 PM
Tech Regular
---
03-16-2010, 11:53 PM
Tech Regular
---
heres my start

sill have jconcepts rims and proline tires with aka adapters
aswell as paint!

BTW: the chassis was dyed red and then the traxxas was masked off with packing tape and then dyed black. also blacked out the vxl esc and servo
03-17-2010, 05:46 AM
Tech Rookie
Join Date: Mar 2010
Posts: 5
---
Thats rad! A freind of mine did a similar thing but using a cut 'n' shut rustler chassis. I cant touch it with my sc10.
03-21-2010, 09:01 PM
Tech Regular
---
done!!!!
05-14-2010, 07:53 PM
Tech Regular
Join Date: Mar 2009
Posts: 386
---
how did you mount the wing?
05-16-2010, 11:34 AM
Tech Regular
Currently Active Users Viewing This Thread: 1
(0 members and 1 guests)
Posting Rules
You may not post new threads
You may not post replies
You may not post attachments
You may not edit your posts
---
HTML code is Off
---