Spliff's AX10
06-12-2009, 02:04 AM
Tech Apprentice
Join Date: Nov 2008
Posts: 94
Spliff's AX10
---
Back in December I traded my Wii and accessories for this AX10 ARTR with Novak Fifty-Five 55t motor, waterproof XL-5 esc, Traxxas micro 3ch receiver, Hitec HS-645MG servo and custom axle mounts for a split pack battery.
The other day I purchased a few upgrades:
-Custom painted Proline Tuber body from Norm of team3six.
-Axial driveshaft rings
-TCS aluminum (black) 4-link mounts
-Axial (red) super soft springs
Not having instructions for the body it took me quite a while to figure it out since I had to pretty much tear down the whole truck. I'm sure there was an easier way but I ended up having to re-do a few steps until I got it right. Hopefully I did cuz that was kind of a pain in the ass. It still has the stock AX10 wheels with orange beadlock rings for now. When I get around to it, I'll be swapping foams and wheels with my Slash so it'll be running all black Proline Eight Shooter beadlocks. While I have the foams out I'll probably star-cut them and add what weights I have. I recently bought a split pack from the same guy I got the truck from. I'm hoping it'll be here soon so I can really test this stuff out.
On to the pics...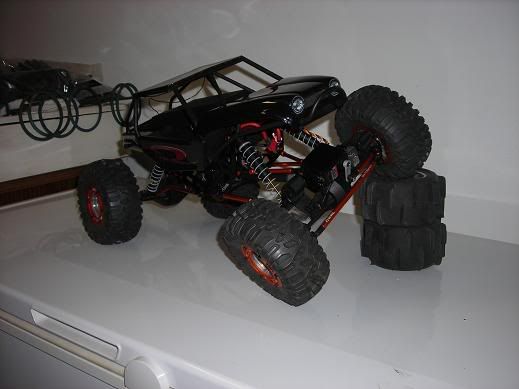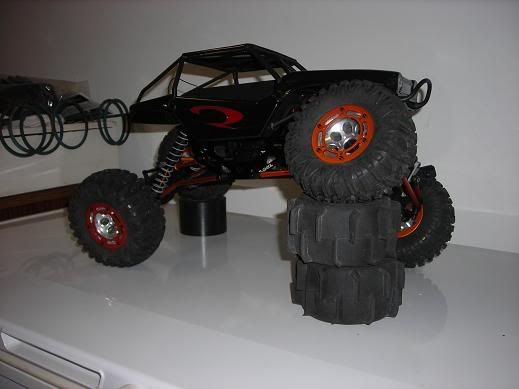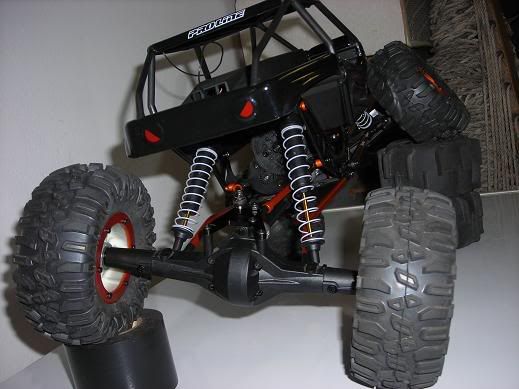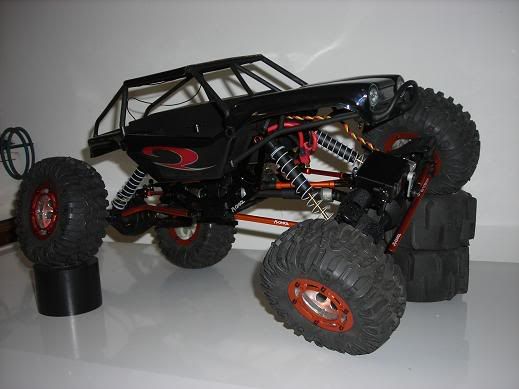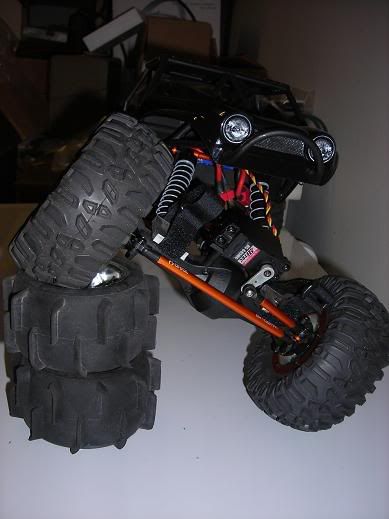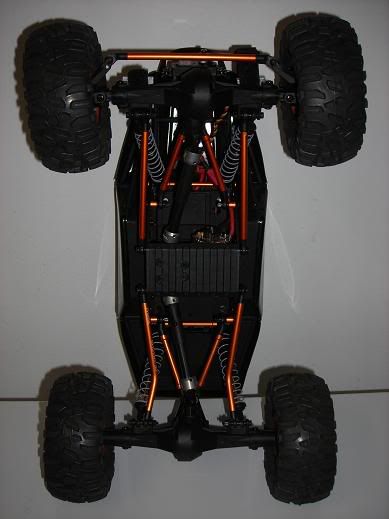 06-12-2009, 03:18 AM
Tech Regular
Join Date: Feb 2008
Location: Oskaloosa, Iowa
Posts: 358
---
Nice rig.
06-18-2009, 04:18 PM
Tech Apprentice
Join Date: Nov 2008
Posts: 94
---
I had it out a little yesterday after I got my 7cell 1500 split pack in the mail. Tried to climb a mound of dirt but here in FL it's mostly sand or very dry and powdery. So yeah, it didn't make it up too far. It got to a certain point and just dug in. I found some other stuff to drive over but nothing too exciting. I need to scope some decent crawling spots or start collecting rocks to build something. Would be nice to have something to crawl on here at the house.

The way the shocks and links mount to the axle in stock configuration the links touch the spring cups and rub. Also the shocks were at a bit of an angle and when the suspension torqued the shock caps gave a little and leaked (but not much). When I was fixing the shocks, the caps had slipped a thread and were crooked. A couple shocks leaked more than I thought so I ended up replacing all the oil with 40wt cuz that's all I have. It's a bit stiffer now but should be alright until I can get more shock oil.

While I was messing with the shocks I swapped bealocks with my Slash that had Proline Eight Shooters. I put 2 breather holes in each wheel cuz the eight shooters don't have any. I also added 3oz of Great Planes sticky weights (I only had 6oz.). I plan to add more when I can put in a new order from Tower or wherever. To speed up the process or unscrewing/screwing the beadlocks together, I took the replaceable shafts out of my hex drivers and put them in a cordless drill. I didn't go too fast so I didn't strip the holes or create too much heat but it was still a lot faster than turning drivers by hand (less painful too). When I put the screws back in I didn't go too tight and then checked and finished snugging things up with an allen wrench.

The power went out last night while I was doing the beadlocks but luckily I was on my last screw. I finished and cleaned up by flashlight. Also at one point I went to my computer to look up some info and had my back turned for maybe 5 minutes and my English Bull Terrier chewed a foam. I was glad it wasn't a memory foam and that I had a NIP pair of firm 2.2 foams. Only thing is they don't fill out the middle of the tread of the Hammers. They're going on the front of my Slash so they should be ok until I can get proper ones. I don't think it'll be too bad since they won't be under power and just rolling. Maybe even add to some traction.
Currently Active Users Viewing This Thread: 1
(0 members and 1 guests)
Posting Rules
You may not post new threads
You may not post replies
You may not post attachments
You may not edit your posts
---
HTML code is Off
---