Western Slope Challenge @ High Desert Raceplace GJ CO
02-23-2009, 11:00 AM
Tech Master
Western Slope Challenge @ High Desert Raceplace GJ CO
---
Western Slope Challenge 2009, 4th Annual
1/10 Scale Electric Off Road. Drivers Party at 7:00pm Friday night. 3 Qualifier's on Saturday. 1 Qualifier & Mains on Sunday. Triple A mains for Modified Classes, 10 minutes for all other mains.
Come and join the fun
We will have racers from all over Colorado and Utah battling it out to be this years champion.
My wife and her Relay For Life team will be there cooking and serving lunch for all the racers on Sat and Sun. All of the proceeds go to the American Cancer Society. She raised nearly $2000.00 at last years race
Hope to see you there!!
April 17,18,19 2009
High Desert Raceplace in Grand Junction, Colorado
http://highdesertrc.com/
http://highdesertrc.com/pdf/WSC2009.pdf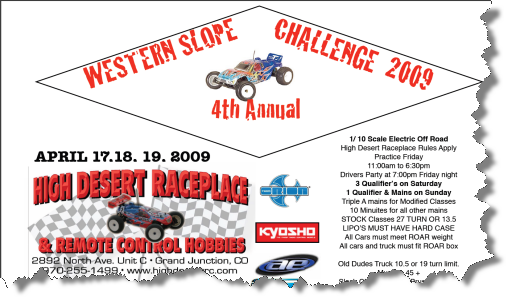 ---
Last edited by bcrazy; 02-23-2009 at

01:11 PM

.
02-23-2009, 11:27 AM
Tech Fanatic
Join Date: Jun 2006
Posts: 876
---
What tires are you going to be running Brian?
02-23-2009, 11:56 AM
Tech Master
---
For stock class clay panther switches work great. For mod class pink tapers and bk bars are the best. We have also started to use the JConcepts bar code, indoor compound (not sure what color) for mod class.
02-27-2009, 04:05 PM
Tech Master
02-28-2009, 07:07 AM
Tech Fanatic
Join Date: Jun 2006
Posts: 876
---
Yea, I'll be racing stock truck and if Andy allows it, I will race the SC10 in the CORR class. I tried the pink taper pins up front and the jconcepts bar codes in the rear and it really felt hooked up and it was noticeably taking the turns tighter, but once I started to slide it felt like I was sliding on butter and it was real sudden. I just need to get used to it. Those bar codes really squeal going around the turns!

With hole shots, I didn't have as much traction but it felt like I had more warning when I was going to start sliding and when I did start sliding, it was easier to control.
03-01-2009, 09:47 AM
Tech Master
---
The truck bar codes are directional for more or less side bite. I didn't know that until after I mounted mine. I ended up mounting mine in the direction for less side bite. I ran them last night and they felt great.
03-06-2009, 08:17 AM
Tech Master
---
Looks like we have racers interested in this race from Washington to South Dakota thank you all for your intrest
Many racers from Utah are also signed up
If anyone has any questions please feel free to ask
03-28-2009, 09:20 AM
Tech Master
---
Only three weeks away
I will be in Las Vegas for a week racing at Silver State so I will not be able to answer any PM. (lap top is acting up and if I take it I may throw it out the window
) If you have any questions please use the link to High Desert's web page and you can contact the owner. He will be more than happy to answer any questions. We are looking forward to meeting and racing with you all.
04-26-2009, 05:08 PM
Tech Master
---
Here are some pictures from the race. Once again thanks to everyone who came out and raced with us.
This has been submitted to XRC to be printed in the "Local" section of XRC
2009 Western Slope Challenge sponsored by:
Team Associated, LRP, Reedy, Kyosho, Orion, Racers Edge, Stop n' Save
Words by Brian "B Crazy" Branson Photos by Brian Branson and Kathy Schoenfeld
It's the middle of April and that means it's time for the 4th annual Western Slope Challenge at High Desert Raceplace in Grand Junction CO. The Western Slope Challenge has been around since the mid 1990s and has been attracting racers from all over Colorado for many years. This race used to be held in a field by a local RC club. Andy Schoenfeld, the owner of High Desert Raceplace, used to travel to Grand Junction, Colorado, from Denver, Colorado to race in the Western Slope Challenge. When Andy opened his own hobby shop and track here in GJ he took over the WSC and has made it what it is today. We now attract racers from all over the western United States. Many racers from Salt Lake City, Denver, and Colorado Springs attend this race annually and we have had racers interested in this race from Washington, South Dakota, and New Mexico.
High Desert Raceplace is a 10th scale indoor electric off road track and hobby shop located in Grand Junction just off I-70. The 75 x 50 foot track makes it the largest indoor off-road track in the state of Colorado. We are just a 3 ½ hour drive from Denver and a 4 hour drive from Salt Lake City. With one of the largest electric races in our region being held just a couple of months before the WSC and another large race held just two weeks before the WSC, this is the perfect neutral track to see who is the fastest racer between Salt Lake and Denver.
Let the fun begin. Andy and the track crew built a very fast and technical track for this race. Andy has also worked very hard on the dirt at the track and it shows. We now have a high bite track that is easy on tires. Friday was practice day. The doors opened at 11:00 a.m. and many racers from Utah were already at the door ready to get as much track time as they could before qualifying started on Saturday. Many of the local racers trickled in throughout the afternoon to get in some track time with the out-of-town racers to see how they stacked up. The racers from Colorado Springs and Denver had to make a tough decision before heading over the mountain because there was a spring snow storm ready to hit eastern Colorado and the mountains between Denver and Grand Junction. Many of the racers called in and had to cancel; only two racers from Denver braved the weather to make the trip. At check in--all the racers received a nice looking pit mat with the High Desert Raceplace artwork on it. I, along with the other racers, liked the idea. At around 5:30 p.m. the pits were filled with the smell of charcoal burning. That could only mean one thing—it was time to get ready for the drivers' party. At 6:00 p.m. the track closed and the drivers' party began. Most of us used the time to have a quick dinner, tell stories and wrench on our cars in preparation for qualifying the next morning.
It was time to qualify. Qualifying was going to be spread out over two days. Three rounds were going to be run on Saturday and one round on Sunday. Your best two rounds (laps and times) would be used to get your qualifying position. The doors opened on Saturday at 8:30 am. We were able to practice until 10:30 am and the first round of qualifying started at 11:00 a.m..
Qualifying started with the Short Course Class. The battle was on between local racer James Lowen driving a Slash and Denver Team Associated racer Adrian Redding driving the new SC10. James Lowen showed everyone that the Slash could keep up with the new SC10 and took the early TQ. (All short-course trucks could run up to a 13.5 brushless motor and had to run on short-course type tires—no 10th scale truck tires or 1/8th scale buggy tires.)
Up next was Stock Buggy. This was going to be a battle between a couple of local racers and a few Salt Lake City racers. Early on it was two local racers, James Lowen and Anthony White, trying to take the early TQ.
Modified Buggy was next. This class was filled mostly with Salt Lake City racers mixed in with a couple locals and two racers from Denver. The top four racers were only separated by three seconds with Koby Yonker and Joel Eaton from SLC battling it out for the early TQ.
Next was the biggest class of the weekend, Stock Truck. This class was filled with local racers and SLC racers as well. Early on it was Jason Turner from SLC who showed that he was the one to beat with a one-lap advantage over the rest of the field and early TQ.
It was now time for Modified Truck. This class was full of out-of-town racers and only a few local racers. Once again it was the SLC racers battling it out for the top spot. The top three racers were separated by only one second after one round with Joel Eaton taking the early TQ.
Next came the 'Old Dudes' Class. This class was for anyone 45 years of age or older and was a truck class with a 10.5 motor limit. This class was full of local racers and one SLC racer. Andy Schoenfeld took the early TQ by a lap and looked like the one to beat after the first round.
Finally, it was time for Modified 4wd. Once again this class was filled with out-of-town racers and a few locals trying to defend the home track. If you wanted TQ in this class you were going to have to run 24 laps. Joel Eaton and Vincent Mitchell showed they had what it took to get 24 laps with Joel taking the early TQ. I missed 24 laps by 7 tenths of a second. After the first round of qualifying it was easy to see that if you wanted a good starting position you could not make any mistakes. With 14 to 15-second lap times in the modified classes and 16 to 17-second lap times in stock, one mistake would put you one half a lap to one lap down.
After the first round of qualifying was finished we had a break for lunch. For the second year in a row lunch was provided by my wife's Relay for Life team. They cooked hot dogs and hamburgers, made homemade root-beer and had a bake sale on Saturday and Sunday. All proceeds from the lunch on both days and the bake sale went to The American Cancer Society. The track owner, Andy, also donated a brand new Team Associated SC10 for a drawing to help raise money to donate to the American Cancer Society. The lunches have been a hit the last two years because drivers can stay at the track and wrench on their cars.
After a great lunch and some tuning and wrenching it was time for Rounds two and three of qualifying. In the Short Course Class James Lowen looked like to one to beat until Adrian Redding took over the TQ spot in round three. In Stock Buggy it was James Lowen holding on to the TQ through three rounds but 1st through 4th were only separated by five seconds. In Modified Buggy it was Eric Willardson taking the TQ in Round two with a 24 lap effort and Koby Yonker holding on to second with a 24 lap run just two seconds behind Eric in Round three. Jason Turner looked like the one to catch after two rounds in Stock Truck with a one-lap lead over second but James Lowen picked up the TQ spot one second ahead of Jason in Round three. Joel Eaton was able to keep the TQ spot in Modified Truck after three rounds but with only three seconds separating first through third TQ was still up for grabs. It was now time to wake the 'old dudes' up from their nap to run their second qualifier. It looked like Andy Schoenfeld was going to hold on to the TQ spot until Bob Meisner put one lap on him in Round three for the TQ position. In Modified 4wd it looked like it was going to be a battle between Joel Eaton and Vincent Mitchell through two rounds as they were the only ones with 24 laps until Adrian Redding had a 24 lap effort in Round three. After three rounds of qualifying the TQ spot was up for grabs in all of the classes. It would come down to the last round of qualifying on Sunday morning before anyone knew where they were going to start.
After Round three was completed, many of us decided to head out to our local steakhouse for some food and drinks. This sounded like a good idea until we got to the restaurant and found out it was prom night. We all decided to wait, so wait we did. After almost two hours we were seated and we enjoyed some great food, drinks and stories.
Main day was here. The doors opened at 8:30 a.m. for an hour of practice before the last qualifying round. At 9:30 Round four of qualifying began. With TQ being up for grabs in all the classes, it was time to take a deep breath and put down some fast laps. With his best two qualifiers in three classes James Lowen took TQ in the Short Course Class by just over one second. James also took the TQ spot in Stock Buggy by one lap over second and TQ in Stock Truck by seven seconds. In the 'Old Dudes' truck race, Bob Meisner was able to hold off Andy for the TQ spot. In Modified Buggy Erik Willardson took the TQ spot by six seconds. In Modified Truck and 4wd it was Joel Eaton taking the TQ spots. There was only seven tenths of a second between TQ and second in modified Truck.
After a quick lunch provided by the Relay for Life Team it was time to do some last- minute adjustments and repairs before the mains started. The Short Course A-main shaped up to be Slash vs. SC10. The Slash had the TQ spot, but what would happen in the seven-minute Main? James and Adrian battled it out for seven minutes and Adrian Redding with the new SC10 got around James to take the win by one lap over the Slash.
The Stock Buggy A-main was going to be a 10-minute battle between a couple of local racers vs. a couple of SLC racers. Early in the race you could put a blanket over first through fourth but at the end local racer Anthony White took over the lead and never looked back taking the win by one lap over second. Stock Truck was also going to be a 10-minute battle till the end, but this time SLC racer Jason Turner took the lead and the win one lap ahead of second place. It was now time for the 'Old Dudes' truck race. This was going to be a 12-minute battle with only one SLC racer trying to take the title from the owner of the track and our local racers. With all the trucks finishing the 12-minute race, it was local Bob Meisner taking the win one full lap ahead of second place finisher Andy Schoenfeld, Jack Eaton from SLC came in third.
With the Stock Class champions crowned it was time for the Modified Classes. All modified classes ran 6 minute triple A mains. In Modified Buggy it was Eric Willardson taking the lead and not looking back in the first two of the triple A mains. This would give Eric the championship in Modified Buggy with Joel Eaton second and Kobe Yonker third. Once again Modified Truck came down to a battle between SLC drivers Joel, Koby, and Eric. Joel took the first A-Main by one lap and then the second A-Main by only 7 tenths of a second over Koby. This gave Joel Eaton the Modified Truck championship over second-place Koby Yonker and third place Eric Willardson. Modified 4wd was once again looking to be dominated by SLC drivers with Cameron Connolly taking the first A-Main by a lap over second. Cameron looked to be the one to beat but fell back in the pack in the second and third A-Main races. Vincent Mitchell, Adrian Redding, and Joel Eaton would battle it out for the 4wd championship. Vincent Mitchell would eventually take home the championship with Adrian Redding in second and Joel Eaton in third.
With the racing over it was time to hand out trophies and have the drawing for the new Team Associated SC10. Andy shook up the box with all the tickets and my wife picked out a name. "Dennis Ealey, you are the winner of a brand new SC10." This brought a smile to my face because Dennis is my father in-law. He had been cooking burgers and hot dogs for everyone and thought he'd buy some tickets just as a donation for the Relay Team and ended up winning. He has since made me the proud owner of a new SC10.
All of the racers and I would like to thank Andy and Kathy Schoenfeld and the staff at High Desert Raceplace for putting on such a great event. I would also like to thank all of the local and out-of-town racers that came out and joined us for the event. My wife, Rachel, and her Relay for Life team would like to thank Andy and Kathy for helping with the fundraiser and we would like to thank all the racers who bought food, drinks, and drawing tickets during the event. Together we helped her Relay for Life team raise over $1000.
Thank you to all our sponsors and thank you to Xtreme RC for supporting racing of all levels and giving us a place to show off our local racing scene. We are looking forward to next year's race and hope to attract some new racers for next year's event. Have a great 2009 racing season, everyone, and see you in 2010!
A Main Results
Modified Buggy AAA
F Q Name Chassis Motor/ESC Batteries Tires Radio
1 1 Eric Willardson AE LRP Orion Proline Airtronics
2 3 Joel Eaton Losi Xcelorin Losi Losi Spektrum
3 2 Kobe Yonker Losi Novak SMC Losi Airtronics
4 4 Vincent Mitchell Losi Novak Orion Losi Airtronics
5 8 Cody Motzner Kyosho Speed Passion Orion Losi Airtronics
6 6 Cameron Connolly AE LRP Orion Proline Futaba
7 7 Brent Meisner Kyosho Speed Passion Orion Losi Spektrum
8 5 Adrian Redding AE LRP Reedy JConcepts Futaba
9 9 Donovan Gray Losi LRP SMC Losi Airtronics
Modified Truck AAA
F Q Name Chassis Moror/ESC Batteries Tires Radio
1 1 Joel Eaton Losi Xcelorin Losi Losi Spektrum
2 2 Koby Yonker Losi Novak SMC Losi Airtronics
3 3 Eric Willardson AE LRP Orion Proline Airtronics
4 4 Brian Branson AE Novak Trinity Losi Airtronics
5 6 Cody Motzner AE Speed Passion Orion Losi Airtronics
6 5 Cameron Connolly AE LRP Orion Proline Futaba
7 8 Donovan Gray Losi LRP SMC Losi Airtronics
8 7 Calan Hoppe AE Novak Orion JConcepts Spektrum
9 9 John Hoppe AE LRP Orion Panther Spkertum
Modified 4wd AAA
F Q Name Chassis Motor/ESC Batteries Tires Radio
1 2 Vincent Mitchell Losi Novak Orion Losi Airtronics
2 3 Adrian Redding AE LRP Reedy JConcepts Futaba
3 1 Joel Eaton Losi Xcelorin Losi Losi Spektrum
4 5 Cameron Connolly Hot Bodies LRP Orion Proline Futaba
5 6 Brent Meisner Kyosho Speed Passion Orion Losi Spektrum
6 4 Brian Branson AE Novak Trinity JConcepts Airtronics
7 8 Andy Schoenfeld AE Hacker/LRP Orion JConcepts Futaba
8 7 Ron Chirrick AE Novak/LRP Reedy JConcepts Airtronics
9 9 Joe Holvoet JConcepts Novak/LRP SMC Proline Spektrum
Stock Truck A Main
F Q Name Chassis Motor/ESC Batteries Tires Radio
1 2 Jason Turner AE Novak Orion Losi/JC Spektrum
2 3 Anthony White Losi Hacker Orion Losi Airtronics
3 9 Ron Chirrick AE Novak/LRP Reedy JConcepts Airtronics
4 4 Brad Church Losi Novak Orion JConcepts Airtronics
5 5 Jerrit Knight AE Novak SMC Panther Futaba
6 8 Bob Meisner Losi Novak/LRP Orion Losi/JC KO
7 7 Jack Eaton Losi Novak Orion Panther Airtronics
8 6 Kyle Wrigley AE LRP Reedy Losi Airtronics
9 1 James Lowen AE Hacker/Novak SMC Losi Spektrum
Stock Buggy A Main
F Q Name Chassis Motor/ESC Batteries Tires Radio
1 2 Anthony White Losi Novak Pro Match Losi Airtronics
2 4 Kyle Wrigley AE LRP Reedy Losi Airtronics
3 1 James Lowen Kyosho SP/Novak SMC Losi/JC Spektrum
4 3 Jason Turner AE Novak Orion Losi/JC Spektrum
5 5 Jerrit Knight AE LRP Reedy Panther Futaba
6 8 Frank Godel Kyosho Novak/LRP Orion Losi Futaba
7 7 Kerry Powell Losi Novak Orion Panther Futaba
8 9 KC Roberts Kyosho Novak/LRP Orion Losi Futaba
9 6 Ron Chirrick AE Novak/LRP SMC JConcepts Airtronics
Short Course A Main
F Q Name Chassis Motor/ESC Batteries Tires Radio
1 2 Adrian Redding AE LRP Reedy JConcepts Futaba
2 1 James Lowen Traxxas Hacker/Novak SMC Stock Spektrum
3 3 Matt Cordova AE Novak/Tekin Reedy Stock Airtronics
4 4 Jerry Wilson AE Novak SMC Stock Airtronics
5 6 Wiley McAllister Traxxas Hacker/Novak SMC Stock Airtronics
6 5 Jim Quackenbush Traxxas ---------------- ----- ----- Spektrum
Old Dudes Truck Race A Main
F Q Name Chassis Motor/ESC Batteries Tires Radio
1 1 Bob Meisner Losi Novak/LRP Orion Losi/JC KO
2 2 Andy Schoenfeld AE LRP/Hacker Orion JConcepts Futaba
3 3 Jack Eaton Losi Novak Orion Panther Airtronics
4 4 John Hoppe AE Novak Orion Panther Spektrum
5 5 Ed Hughes Losi Hacker/Novak Orion JConcepts KO
If you have any questions please feel free to call or e mail me
Brian Branson
970-270-7429
[email protected]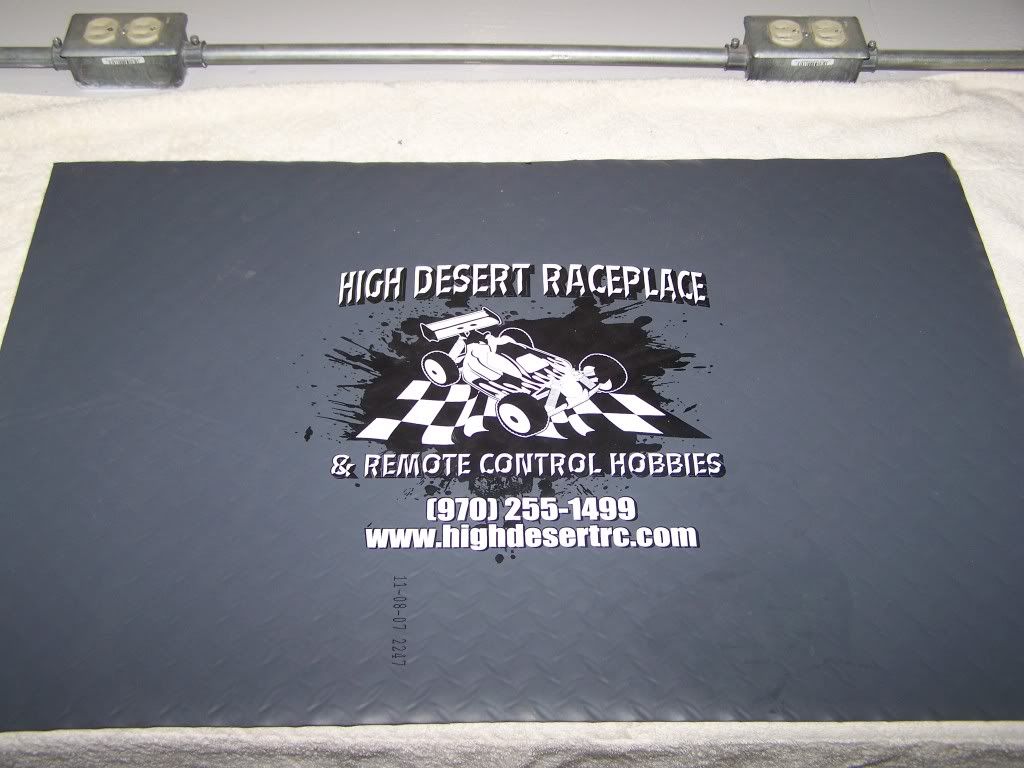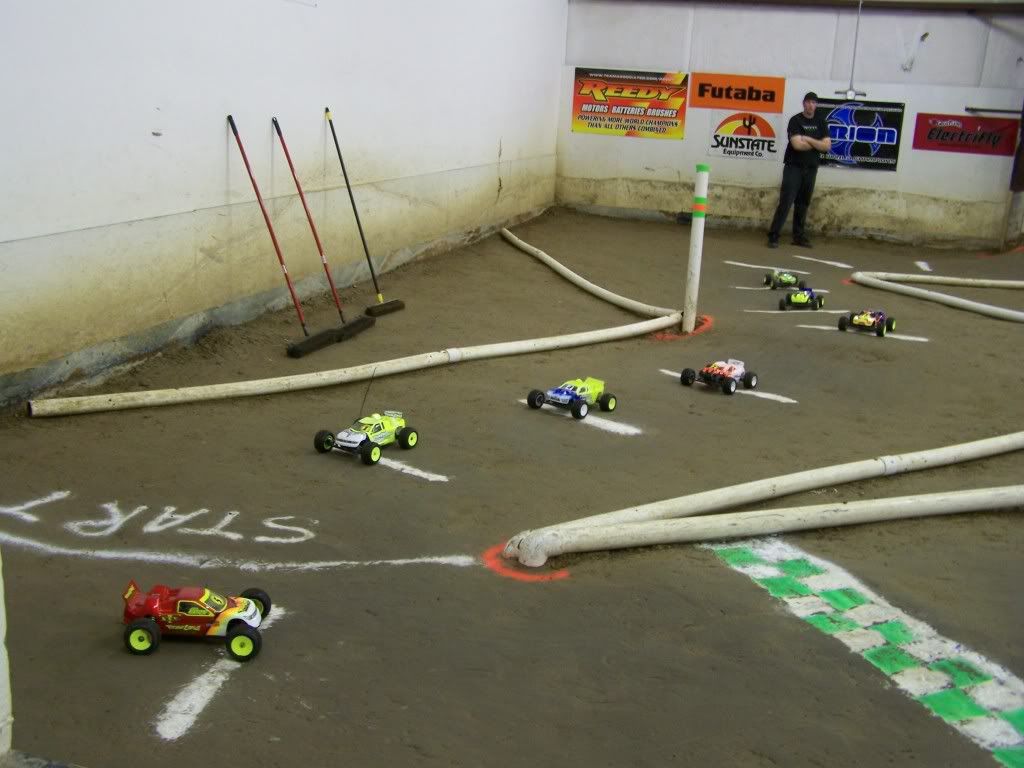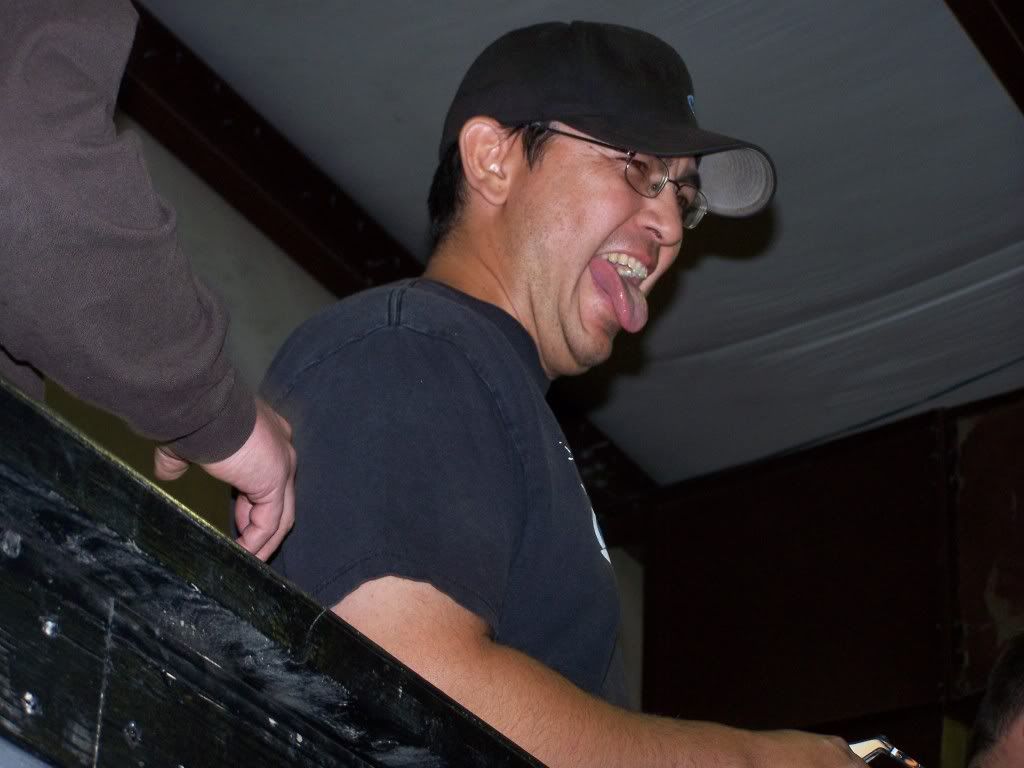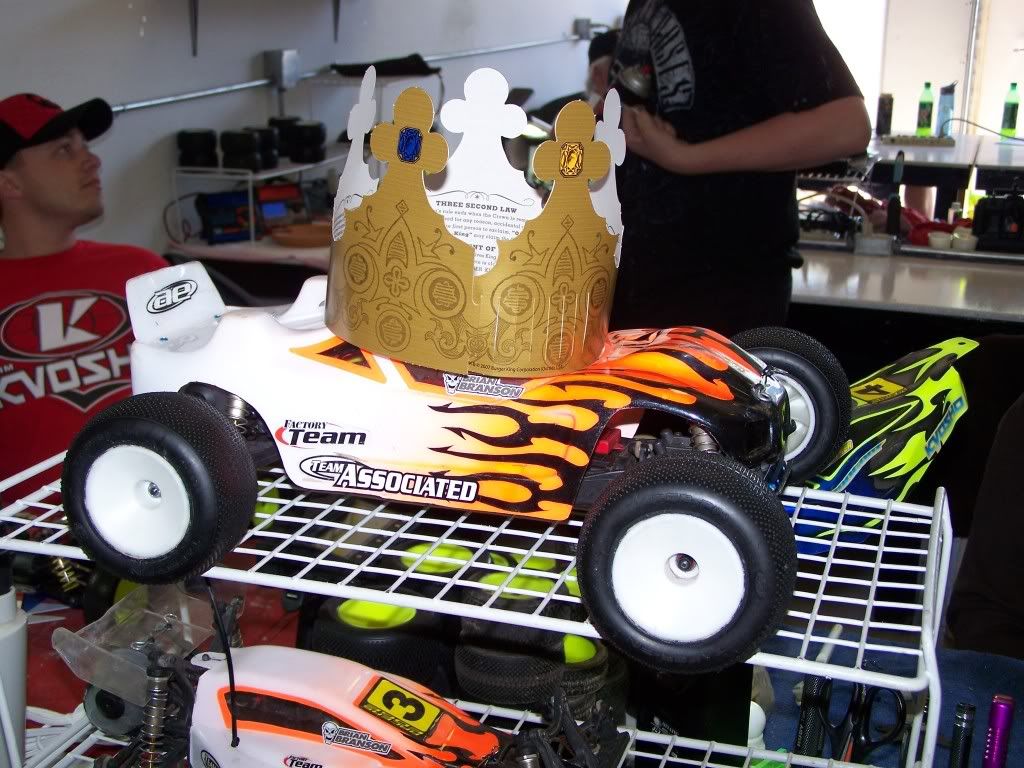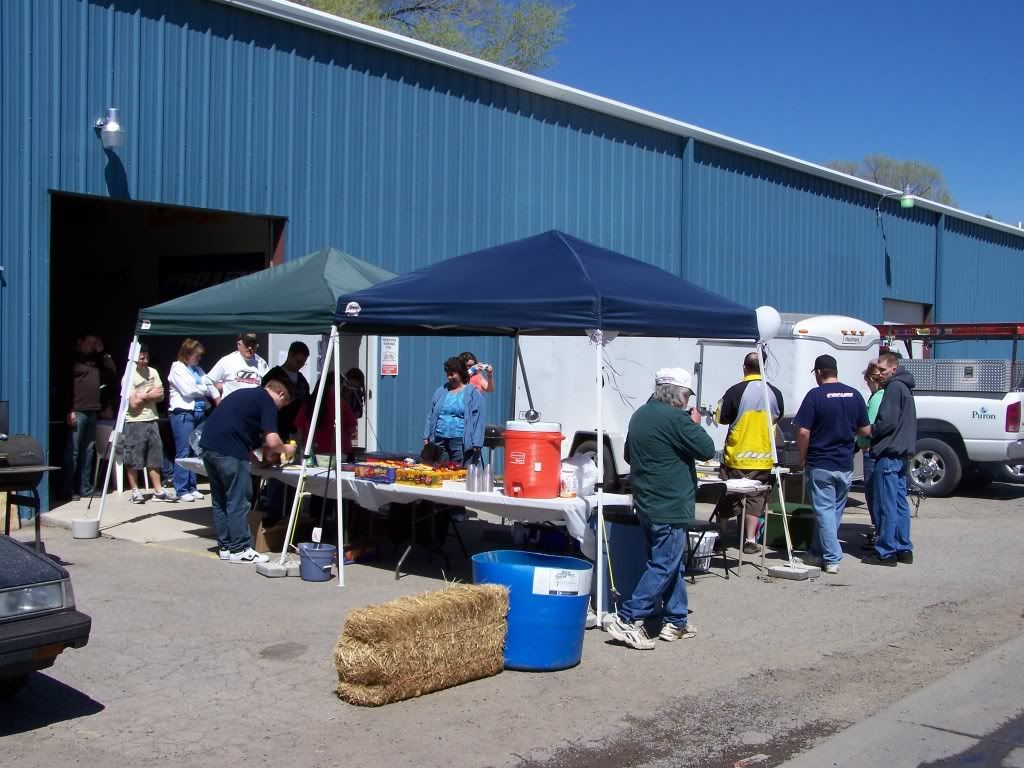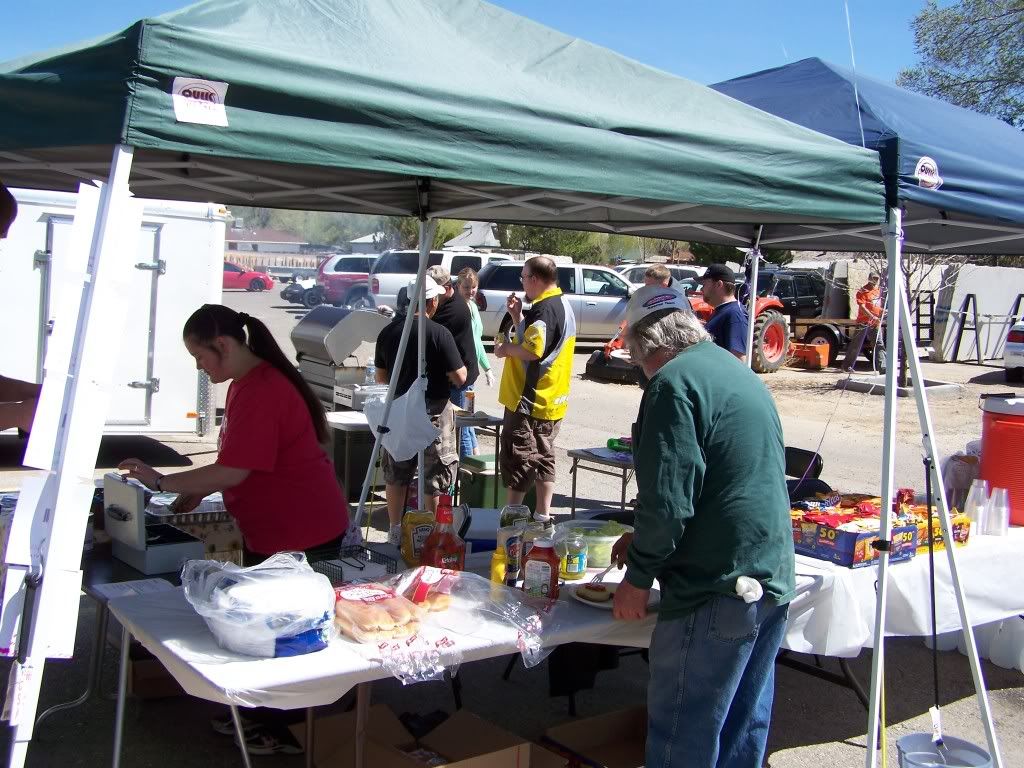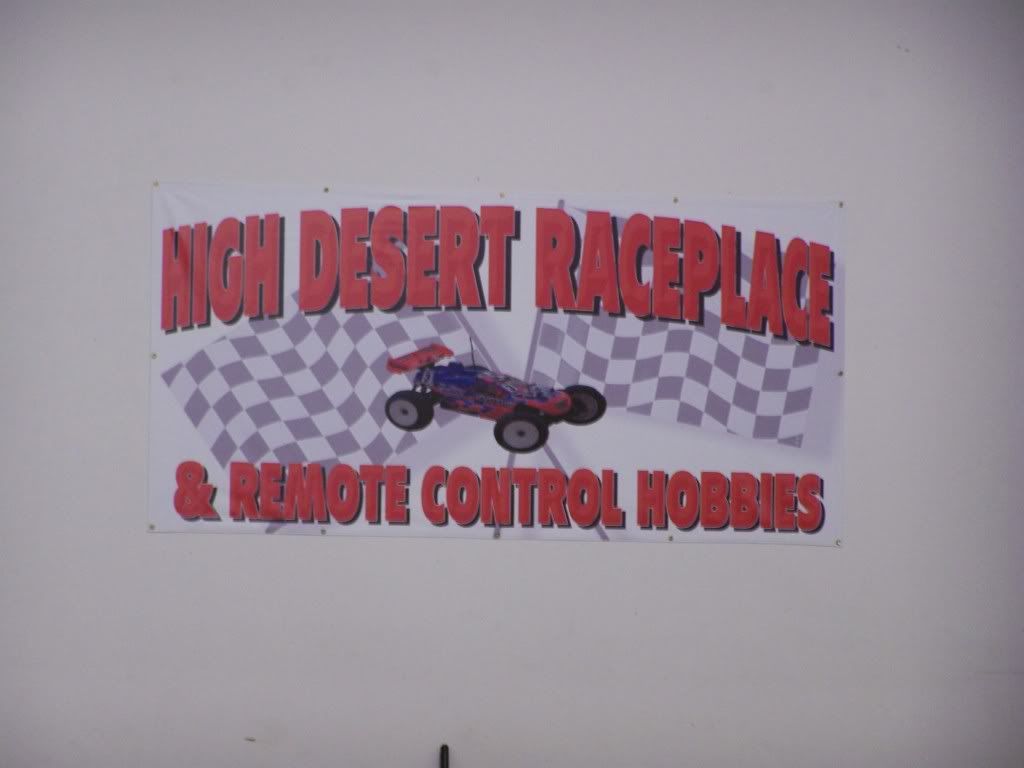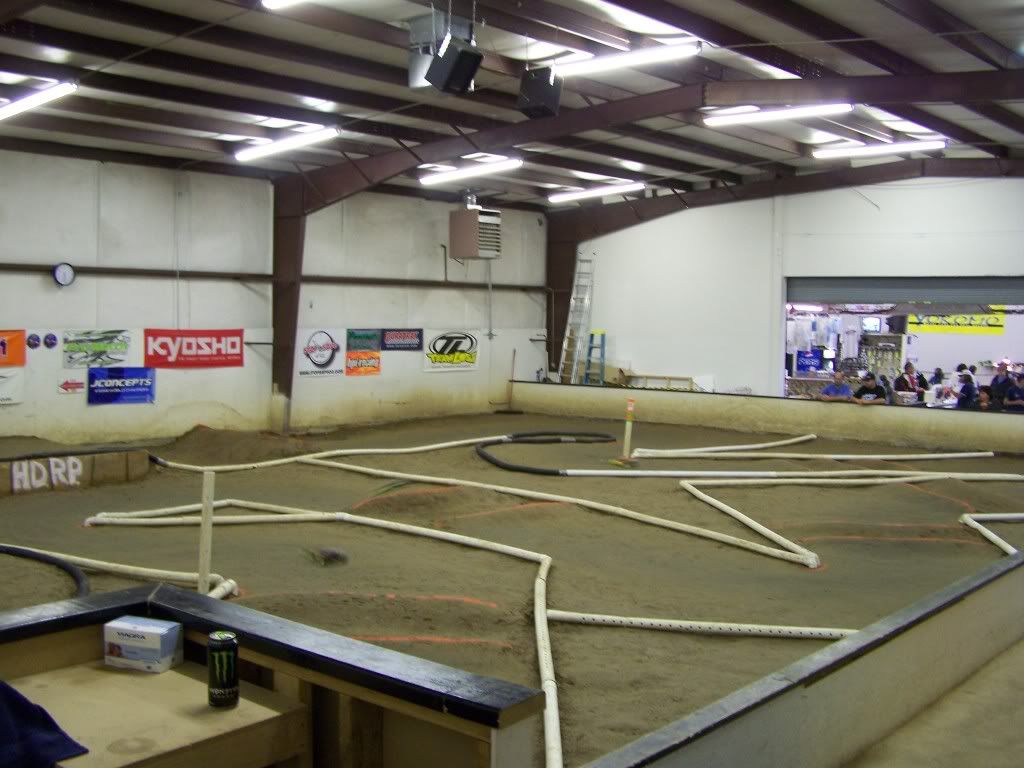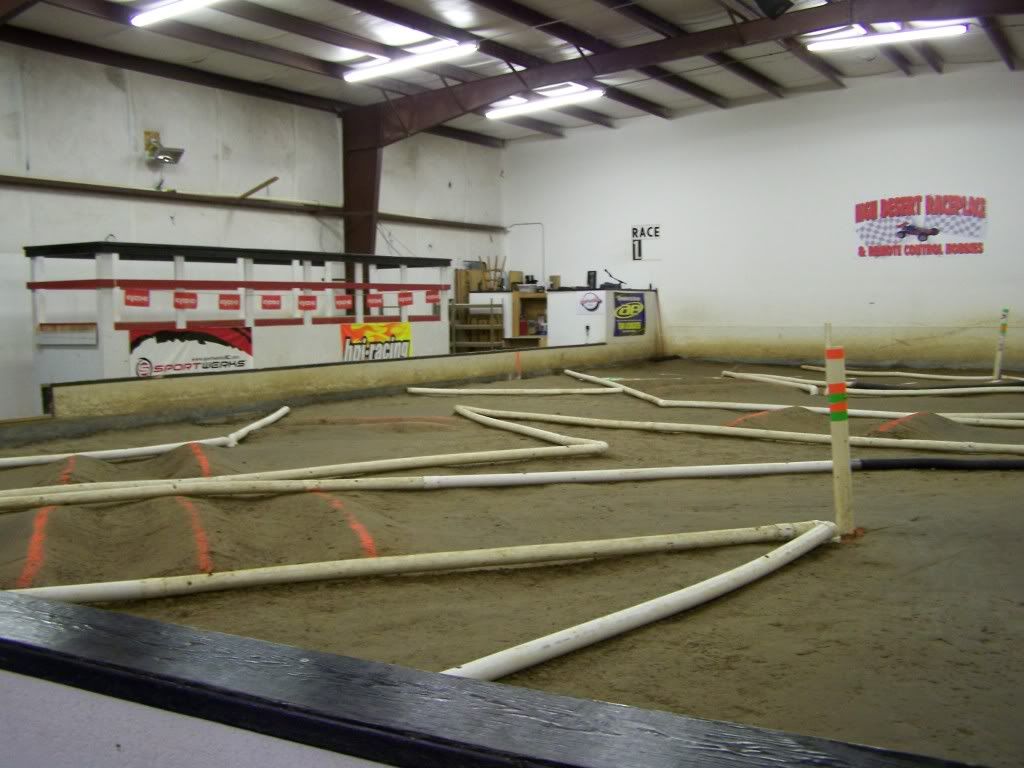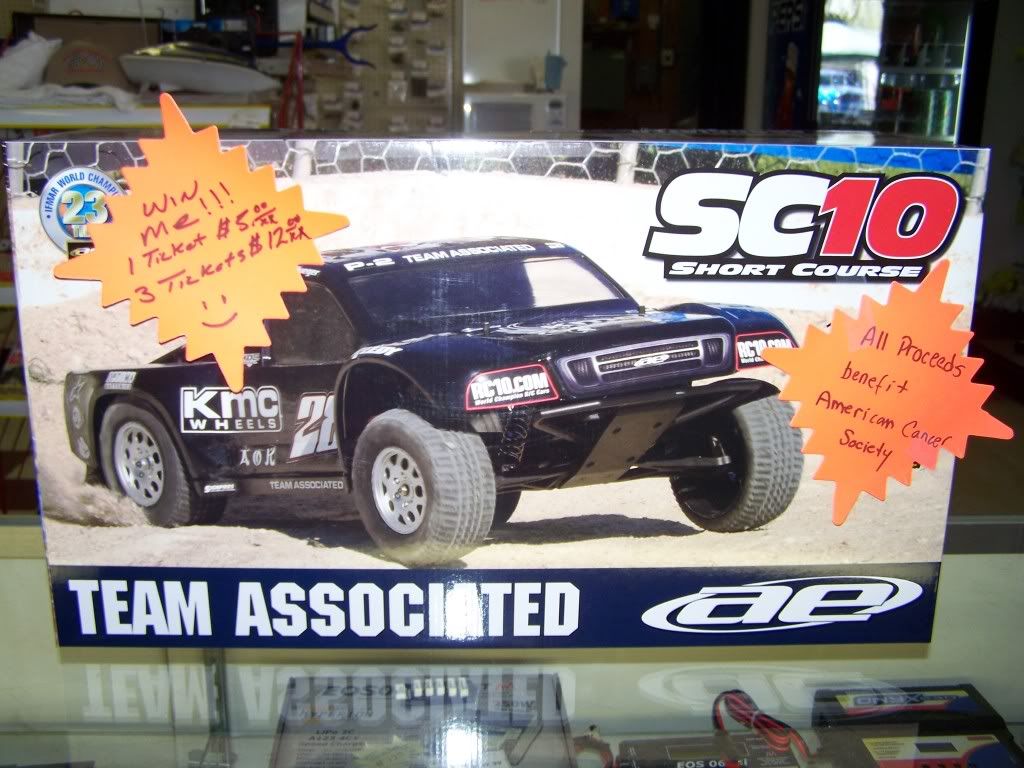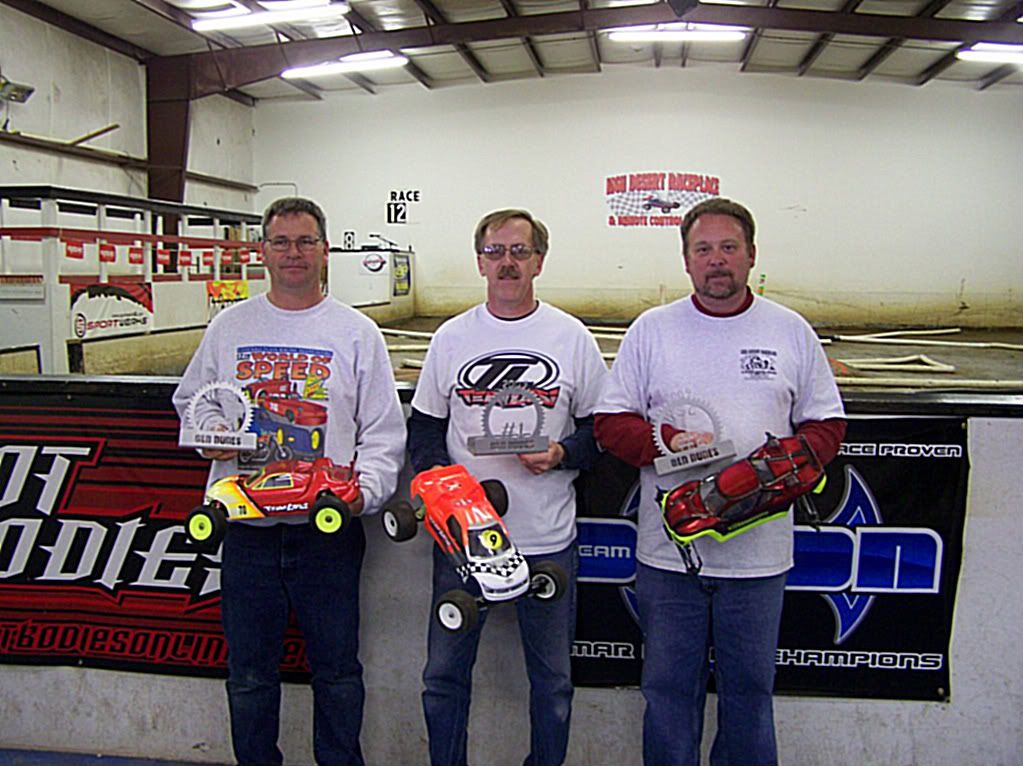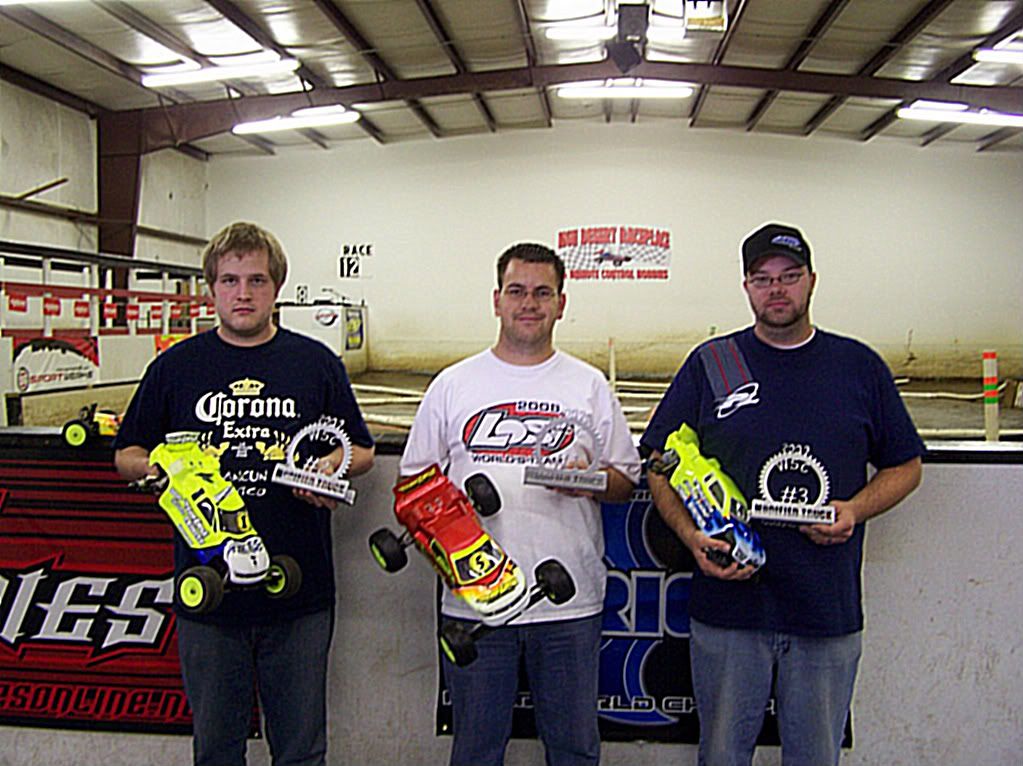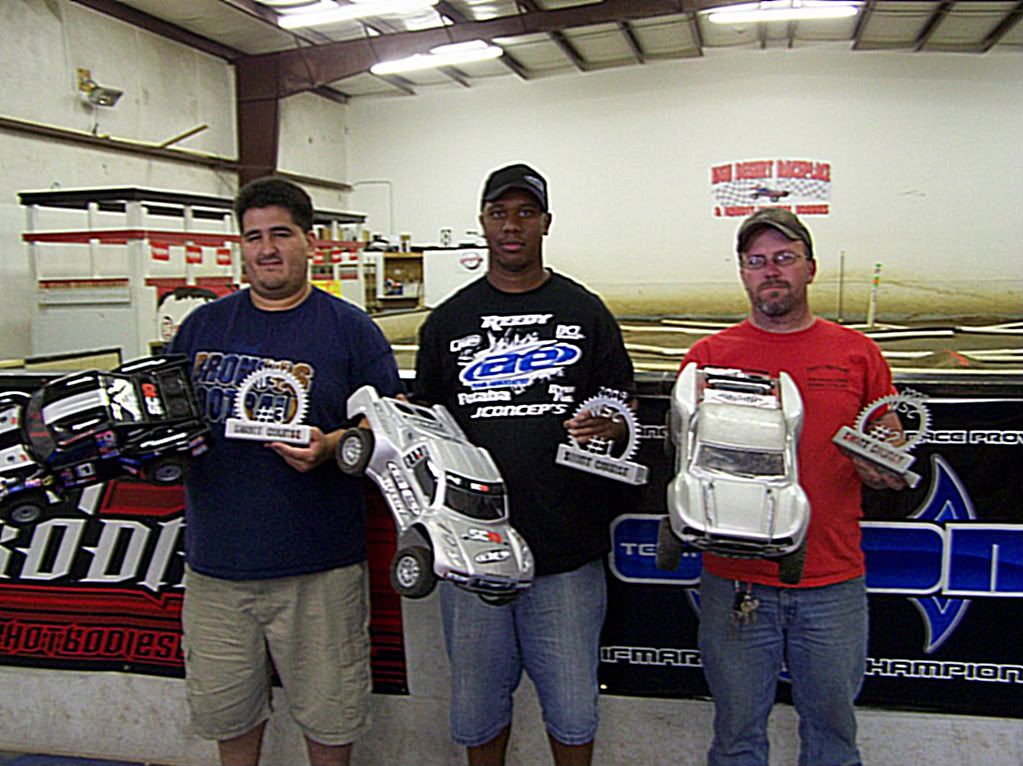 04-27-2009, 03:23 PM
Tech Master
Join Date: Mar 2008
Location: Utah
Posts: 1,460
---
Thanks brian for that write up
Currently Active Users Viewing This Thread: 1
(0 members and 1 guests)
Posting Rules
You may not post new threads
You may not post replies
You may not post attachments
You may not edit your posts
---
HTML code is Off
---