Team Durango DEX410 4WD 1/10 Off-Road Buggy Thread
11-30-2011, 10:39 PM
Tech Elite
Join Date: May 2010
Posts: 3,846
---
11-30-2011, 10:53 PM
11-30-2011, 11:11 PM
Tech Master
Join Date: Sep 2008
Location: St Charles ,MO
Posts: 1,207
---
Well I had to say something funny, and I think I have it fixed. I shall see thursday night. Got a couple new pack in this week and Im glueing up some new pistons now. Im really wanting to find something that works with the green spring setup I was useing.
See ya att practice.
11-30-2011, 11:15 PM
Tech Master
Join Date: Sep 2008
Location: St Charles ,MO
Posts: 1,207
---
@Johny 5- Are you and Cush going to make the trip down to STL for the JConcepts Winter Nationals In Feb4-6? Met several people from up there last year hoping they make the trip down again.
11-30-2011, 11:24 PM
Tech Elite
Join Date: May 2010
Posts: 3,846
---
I'm tentatively planning on it, but not totally sure yet. I think I bought enough brownie points with the wife to go since I decided to skip CRC.
There should be a good group of Leisure Hours guys there too. I know everyone who went had nothing but good things to say last year. Hopefully we can make it happen!
12-01-2011, 01:17 AM
Tech Regular
Join Date: Jan 2008
Posts: 369
---
Correct.
This is how the esc 'talks' to the motor.
There are a few HW threads on RC tech you can take a look at if you need more info.
12-01-2011, 05:27 AM
Tech Initiate
Join Date: Nov 2010
Location: Cyprus
Posts: 29
---
finally finished mine,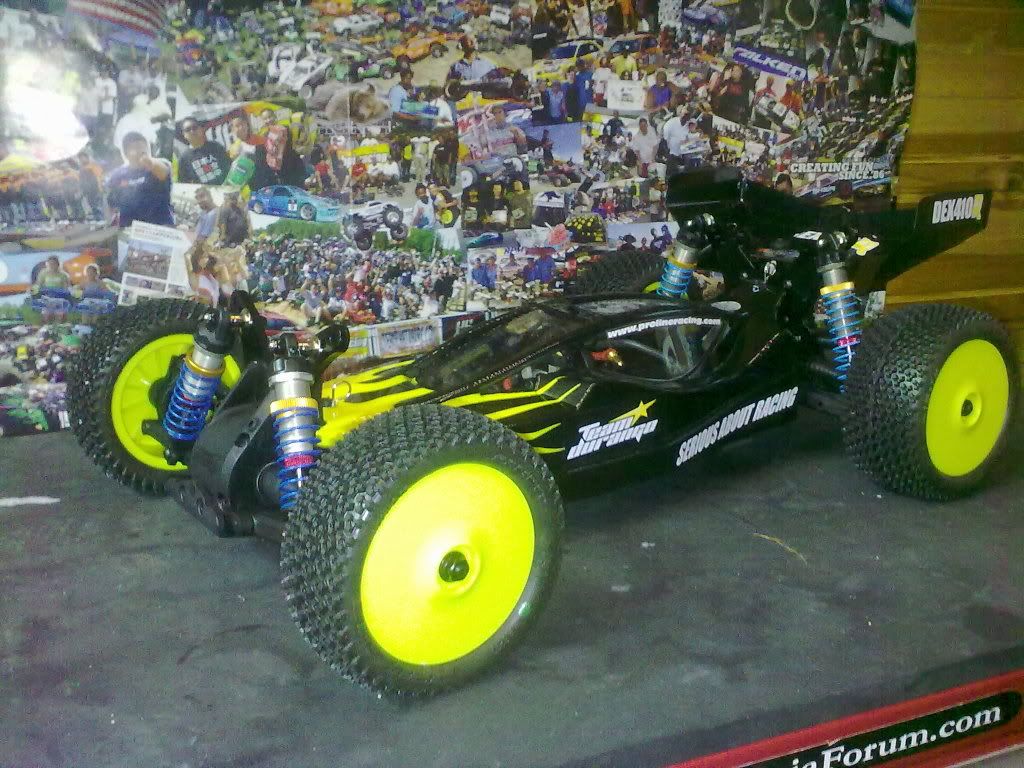 12-01-2011, 07:32 AM
Tech Addict
Join Date: Nov 2010
Posts: 718
---
That is the system I am using in one of my dex410s and it is tight but will fit depending on which receiver you have good luck
12-01-2011, 07:47 AM
Tech Elite
Join Date: Feb 2009
Location: Fort Wayne, IN
Posts: 2,912
---
You'll be fine if you use a micro reciever. I run Speed Passion which is same size as Hobby Wing.
12-01-2011, 07:48 AM
Tech Master
Join Date: Nov 2008
Posts: 1,998
12-01-2011, 08:59 AM
Tech Initiate
Join Date: Nov 2010
Location: Cyprus
Posts: 29
12-01-2011, 11:42 AM
Tech Rookie
Join Date: Nov 2011
Posts: 9
---
Has anyone had problems with the spur assembly binding when the spur gear guard is installed? It spins nice and free with the metal clip out, and the bearings seem to be in good shape.

Any thoughts? Thanks
12-01-2011, 11:51 AM
Tech Master
Join Date: Nov 2008
Posts: 1,998
12-01-2011, 06:27 PM
---