xxx-t battery strap conflict w/ my new lipo
01-28-2009, 02:56 PM
Tech Adept
xxx-t battery strap conflict w/ my new lipo
---
I got a hold of a venom 5000 2c lipo the other day... While thinking how good of a deal I was getting I TOTALLY spaced out on where the wires exited the case of the battery... They come right out the middle top of the battery where the battery strap needs to be... I've been trying to think of a solution to this problem and have seen a few on here..
Battery I recently purchased....
http://www.roguerc.com/detailed.php?productid=41539
1. drill slots in battery tray and strap in it with velcro
2. I drilled out middle of battery strap to allow wires to pass through allowing the battery strap to rest in it's original position
3. make another strap out of a different material with a hole in it for the wires but a little wider so it doesn't get extremely week....
****aluminum- would you all reccomend that at all?
Reason is I've broken 2 battery straps in the same day and sheared off the nipple of the servo holder... the battery does not have much play side-side nor front-back.. So it's just really figuring out some way to hold it down.. I was trying to go around cutting the battery tray in case a crack were to appear....
Thanks
01-28-2009, 03:28 PM
Tech Master
Join Date: Jun 2007
Location: Bismarck
Posts: 1,355
---
Some ideas...
You might be able to slot the sides of the battery tray and use a velcro strap to hold it in.

The AE style battery strap would work much better for this, as it attaches to posts on the side of the tray. It may be possible to add long screws through the chassis and attach a T4 strap that way.

Or, crack the hard case and re-route the battery leads off to one side?
01-28-2009, 04:18 PM
Tech Fanatic
---
slot the battery strap in the middle towards the leads. just do a long wide slot.
01-28-2009, 05:31 PM
Super Moderator
Join Date: Oct 2007
Location: Rochester Hills Michigan
Posts: 7,232
---
01-28-2009, 05:59 PM
Tech Fanatic
Join Date: Apr 2006
Location: Pittsburgh, PA
Posts: 985
---
That is a dumb spot for the lead to come out. I'd personally sell the battery and get another one. Didn't the trinity blue aluminum battery strap for the XXX have holes in the length of it to reduce weight?
01-28-2009, 11:11 PM
Tech Fanatic
---
01-28-2009, 11:21 PM
Tech Adept
---
I'll post some picture... i do agree it's kinda stupid spot for it.. Most people I know run the xxxt so I don't want to give them the same problem I'm having...

I thought about the velcro strap... And I've got a xxxt cr battery strap which is wider then the regular xxxt's strap... so i'm hoping that the hole I drill in there for the dean to fit through won't have as big of and effect on the strength of the strap as it did on the other one....

I'm going to try and re-install my bluetooth driver and upload some pics of what I've done and my setup.... having trouble with it after my vista 64bit install..
01-28-2009, 11:39 PM
Tech Fanatic
---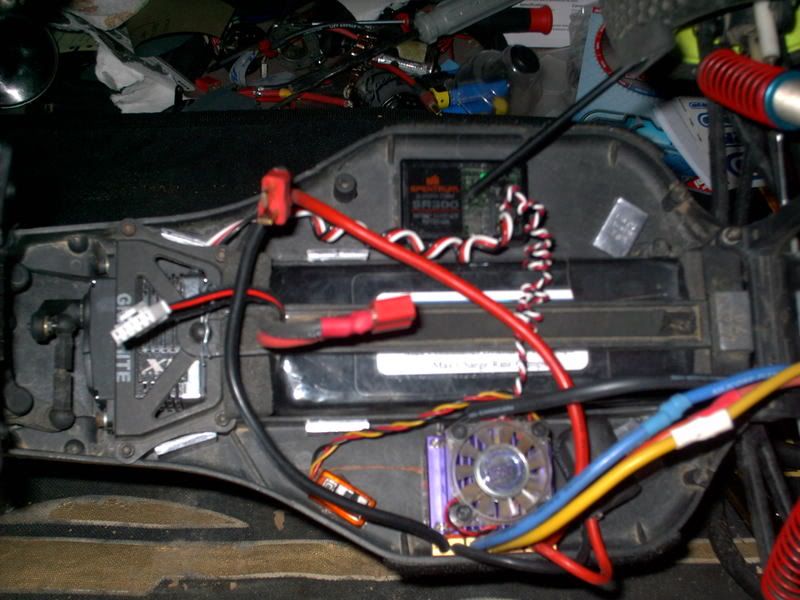 rough idea for you
01-29-2009, 12:30 AM
Tech Adept
---
pretty much just what I did... A hole just big enough for the dean and balancing plugs to go through with a little room to move...

I was unsure if an aluminum strap would be good cause if there was a cut in a wire ever or the battery arced or something
01-29-2009, 07:02 AM
Tech Initiate
Join Date: Dec 2008
Location: london,ON
Posts: 46
---
an aluminum strap would be ok. you just have to remove any sharp edges. If you were really worried about it you could wrap the battery leads in tape or shrinkwrap for additional protection.

The plastic strap will probably be fine though and if it does break you still have aluminum as an option.
01-29-2009, 07:22 AM
Tech Addict
Join Date: Apr 2008
Posts: 545
Your Servo cover
---
Oval out the tie down hole also. Give the Servo cover some room to move in the hole on the strap. With chasis flex you'll break the servo cover often.
01-29-2009, 10:18 AM
Tech Adept
---
well that's the reason I"ve been breaking then.. Cause it's been pretty cold here... 20-40 when I've been running outside...Not too cold but cold enough to be running outside... I've switched to my "donor car's" plastic chassis since it's got a little more play to it then graphite when really cold..
Ya, this xxxt cr strap I'm getting I"ll have to drill out the hole a little more then stock...
I just didn't know if aluminum would be a great idea if I wire got cut and came into contact with it or something.....
01-29-2009, 04:52 PM
Tech Champion
Join Date: Oct 2008
Location: Minnesota
Posts: 7,377
Currently Active Users Viewing This Thread: 1
(0 members and 1 guests)
Posting Rules
You may not post new threads
You may not post replies
You may not post attachments
You may not edit your posts
---
HTML code is Off
---