Losi 1/8 8ight E 4wd Thread
04-23-2011, 07:04 AM
---
I personally use My Hudy station to get me squared up. (everything even from side to side) Then ill try and use a set of tires I plan on racing with and make sure im in the ball park of where i would like to be with a plain Jane RPM monster camber gauge.
04-23-2011, 07:06 AM
---
Originally Posted by
orgnoi1
Hey guys I have a very quick specific question...

I have a buddy who just got the 8ightE... he ordered the wrong motor combo (the 2650kv)... I realize that its WAY over sized in motor... but could he get away with a 12t or 13t pinion on stock spur gearing and keep both the heat down and speeds consistant with the stock gearing on say a 1900kv?

Thanks!
just run a 3s lipo config.. Really shouldn't be an issue
04-23-2011, 12:26 PM
---
04-23-2011, 07:06 PM
04-24-2011, 02:45 AM
Tech Addict
Join Date: Sep 2010
Location: Nassau, NY
Posts: 534
---
Thanks guys for the responses on the 2650 motor question... I am removing my subscription to the thread since I dont own the 8ight myself... but just wanted to say thanks!
04-24-2011, 12:39 PM
Tech Initiate
Join Date: Feb 2010
Location: Andover, Hampshire, UK
Posts: 28
---
Does anyone use Fioroni parts on their 8ight-e's? Mine needs a new chassis and front shock tower, and the Fioroni stuff has caught my eye.

Matt
04-24-2011, 12:50 PM
---
I do actually! I use their rear chassis brace. I was also considering their front shock tower brace since I am a little too rough on the stocker. I ultimately went with King Headz for a couple reasons. The Fioroni have two versions of the shock towers--one for EU and one to mimic stock 2.0. I do not need the EU setup and their stock 2.0 replacement had the "B" hole for the camber link offset. Probably not a big deal but did not want to find out. Fioroni is also quite a bit pricey here in the states and King Headz is a trusted brand IMO so just went with them.
I talked with Fioroni-USA regarding the chassis and was told it is "good." Most complaints are that the width is different so is difficult to mate some of your standard bodies. This is why I went with a BCE. Hope this helps . . .
I also was going to buy their lightened CVD drive axles and outdrives but Answer-RC had the same bits and just went with them. Fioroni definitely makes quality goods and would not hesitate to buy their stuff.
04-25-2011, 08:21 PM
Tech Adept
Join Date: Oct 2010
Location: alabama
Posts: 188
---
Does anyone run the stock 2.0 body that comes with the 8ight 2.0 nitro buggy? How does it look?
04-27-2011, 11:20 AM
Tech Addict
Join Date: Jul 2010
Location: athens,al
Posts: 719
04-28-2011, 08:48 PM
Tech Initiate
Join Date: Feb 2010
Location: Andover, Hampshire, UK
Posts: 28
---
Thanks for the reply danger
Here's my 8ight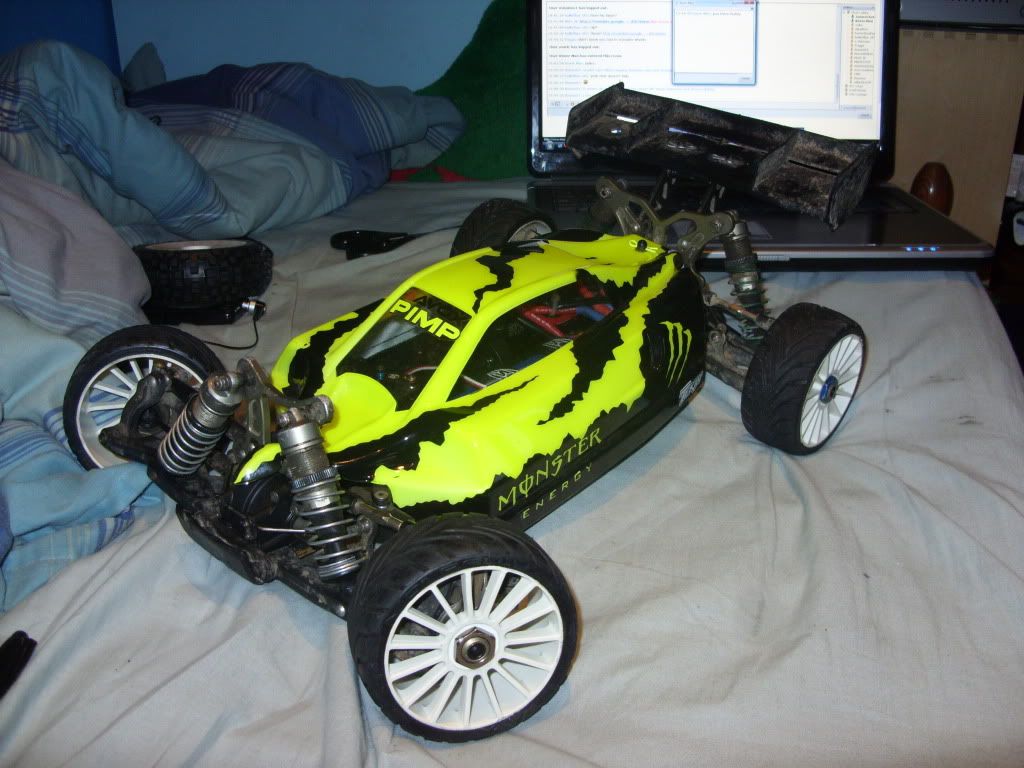 Hop-ups are:
Losi Aluminium Spindles
Losi Aluminium Chassis Braces
Losi Aluminium Servo Horn
Losi Aluminium Servo Saver Top
Fioroni Tractive IV Front Diff
GMK CVD Condoms
Matt
04-28-2011, 08:54 PM
Tech Regular
Join Date: Dec 2009
Posts: 264
---
Nice lookin car there Matt!!
I run the black and florescent yellow theme too.
-Tony
04-30-2011, 08:26 PM
Tech Regular
Join Date: Dec 2005
Posts: 276
---
Can someone help me recommended what battery to run. I have a Losi eight nitro that i converted to electric. So far i have a Tekin RX8 with a Tekin 2050 motor. I bought the Losi conversion kit. Should i get a 3S or 4S? Thanks
04-30-2011, 11:00 PM
Tech Master
Join Date: May 2009
Location: Marysville, WA
Posts: 1,888
---
what d you guys do with your antennas?

I keep breaking my atenna tubes and thankfully not losing my Rx wire. So what alternatives have you guys been doing?