Tamiya DF-03 type
08-25-2010, 05:31 PM
Tech Elite
---
Thanks for the heads-up! The ZX-5 wheels working for the DF-03 should give me a lot more runtime support at the local track...
08-25-2010, 05:32 PM
Tech Elite
---
Just taking a survey. How many would still be interested in the back brace for the rear shock tower on the DF-03 or DF-03RA?

The brace would support the rear shock tower from the rear transmission casing up to the rear shock tower...
08-25-2010, 07:11 PM
Tech Fanatic
---
I don't have the cars and wheels in front of me at the moment, but I'm 99% positive that the DF03 buggy wheels have a much greater offset than those on the ZX-5. Not saying they wouldn't work, but you'd effectively be reducing your track width by using the Kyosho wheels. Not sure if this matters or not, but figured I'd mention it.
-melon
08-25-2010, 07:58 PM
Tech Apprentice
Join Date: May 2010
Posts: 67
---
The tq racing/team c 4wd rims look a similar offset, I'll have to get around to throwing them on and measuring sometime.

tom I've still not broke anything back there running the stock towers
08-26-2010, 02:15 PM
Tech Rookie
Join Date: Aug 2010
Posts: 1
---
Hey guys, do you think the Traxxas Talon Tires On Gemini Wheels 1/16 E-Revo would work? I'd post a link but I'm still a newbie on here and am not allowed yet. You can search for them easily on TowerHobbies.

Thanks.
08-26-2010, 05:10 PM
Tech Elite
---
It usually happens when the car goes upsidedown. The wings exerts a force on the wing mounts which in turn exerts a force on the rear shock tower that forces the section where it attaches to the rear TRANSMISSION CASING cracks.
It's really an annoying design flaw. I've gone through about 5 or 6 rear transmission cases already, and you can't buy them separate, it comes on a tree (damn you Tamiya with your trees).
Even if it were sold separately, it is a PAIN IN THE BUTT to replace at the track.
The DF-03 is lucky that it's a sexy ride that I"m willing to overlook these shortcomings
08-27-2010, 10:01 AM
Tech Regular
Join Date: Jul 2010
Location: LA/SGV SoCal
Posts: 296
---
09-19-2010, 01:21 PM
---
hey guys, sort of a newbe question. I recently bought a 13t brushless and a 4000kv/45A motor/esc system from hobby king. I am not sure what is the best motor system and what pinion I should get. Currently I have a super sport motor and the stock pinion and slipper clutch and spur gear that fits with the slipper. Any help would be much appreciated! thanks in advance.
09-21-2010, 08:08 AM
Tech Apprentice
Join Date: May 2010
Location: Australia
Posts: 81
---
Here is a pinion set so you can gear down if the brushless motor gets to hot, what battery are you running?
http://cgi.ebay.com/OP922-Tamiya-05-...item563a745adf
I'm using a 7.4v 2s lipo with a Mamba Max ESC, 8.5t ezrun 4000kv victory motor, 23t pinion & a 82t spur gear witch = 10.89 ratio, standard is 78t spur & 26t pinion = 9.17 ratio. Now I just purchased a Kawada 48 pitch spur gear conversion Part no:TBA101 with that my pinion gear selection increases.
What did give me trouble is the rear diff, so I ordered Tamiya Tungsten-Carbide Diff ball set & All steel, 3racing Rear Diff shaft P/No: DF03-03/HD or you can use the standard tamiya front's (all steel) diff shafts for the Rear.
Also use the alloy rear chassis brace!
Edit: some pic's:
09-21-2010, 11:36 AM
---
09-21-2010, 01:47 PM
Tech Fanatic
---
From what I've seen the only LiPOs that seem to fit inside without having to modify the chassis are shotgun style packs, and smaller soft case ones.

I hope for your sake it fits, but I have a feeling you're gonna be disappointed.

-melon
09-21-2010, 01:54 PM
---
hey melon, i have actually bought a 5000mah hard case that fits tightly but it has banana plugs so the wires wont clear without me cutting the chassis. I also bought a turnigy 5200 pack but it was huge - sold it.
http://www.hobbypartz.com/83p-5000mah-2s1p-74-20c.html
here is the one I bought seems thin enough to fit although i'm not sure about the length.
09-24-2010, 01:28 PM
Tech Initiate
Join Date: May 2010
Location: Pottstown, PA
Posts: 36
---
Tom, I'd be interested in what type of tower-to-diff case brace that would be available.
09-24-2010, 02:14 PM
Tech Initiate
Join Date: May 2010
Location: Pottstown, PA
Posts: 36
---
BTW, hard case packs with banana plugs will work with some trimming.
Here's mine with a TrakPower 3600mah hard case Lipo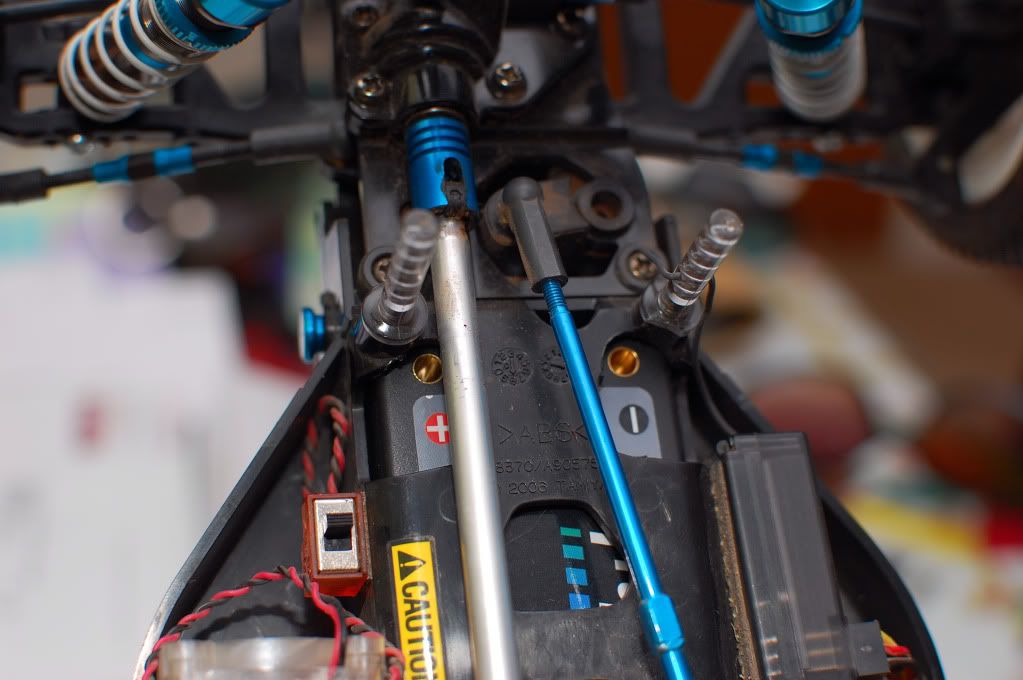 The wire on the left banana plug has to be cut off right at the plug and resoldered perpedicular to the plug. The I had to shave some of the corner of the solder joint down at a 45 degree so it will still clear the prop shaft
09-24-2010, 04:24 PM
Tech Fanatic
---