Tamiya DF-03 type
02-27-2009, 03:11 PM
---
Man the buggy looks great. Please take my advice and seal that chassis. You dont want it splitting or anything like that! Thats a rare piece and to get all of that for only $125... You better take care of that
02-27-2009, 09:20 PM
Tech Addict
Join Date: Jan 2008
Posts: 561
---
Well fellas, I finally finished the DB01. If it doesn't rain tomorrow I plan on giving it it's first shakedown to compare to my fully optioned DF03, but for now have a look at my new '09 livery...
http://www.rctech.net/forum/5490175-post604.html
- Paulie
02-28-2009, 01:36 AM
Tech Elite
---
Looks great Paulie, I love your paint scheme, very original...

mj, your buggy looks sweet! Can't tell by the pic, but your chassis looks sealed, if not, run some CA along the edges to seal them as streetracer said...

I don't know if it happens on your chassis, but one of the things I noticed on mine is that if you trim the edges of the body along the guidelines, the sides doesn't quite come down further enough. With the stock tub, it's not an issue since the sides of the tub makes up for the body not covering all the way down...

I've been thinking about servo taping some scrap lexan along the edge to make a wall... Guess I'll do that with some scraps after trimming my next wing for it (I was using some AE wing on mine and it's getting chewed up).
03-01-2009, 08:03 AM
---
the edges are sealed already. so no worries there.

i am going to have to make some custom sides for the chassis out of some old body parts since i want to keep at much dirst as possible out of the inside.
03-01-2009, 08:27 AM
---
I have heard that if you heat a small line in the lexan enough you can bend it really easily and it will stay whenever it cools... And heres a small trick to keep your carbon chassis nice and shiney and somewhat new looking. On my onroad chassis I get packaging tape and make a layer covering my entire chassis. I take an Xacto knife around all holes and then fold it in so it protects the edges a little bit as well. I havent gotten a new scratch on my chassis since I started doing that. You do have to take it off every few runs cause itll collect small pieces of dirt and will begin to tear after a while. But its cheap and easy and one roll will do hundreds of chassis...
03-02-2009, 05:30 AM
---
well, i got the steering all worked out. just had to move the servo to the other side of the mounting tabs. now i have a proper angle for steering. the servo arm was being used just because i dont have a JR servo saver at the moment. once i get one, i will have to mount an extension on the saver so that it will clear the top plate of the chassis. should be pretty easy though.
here are some pics.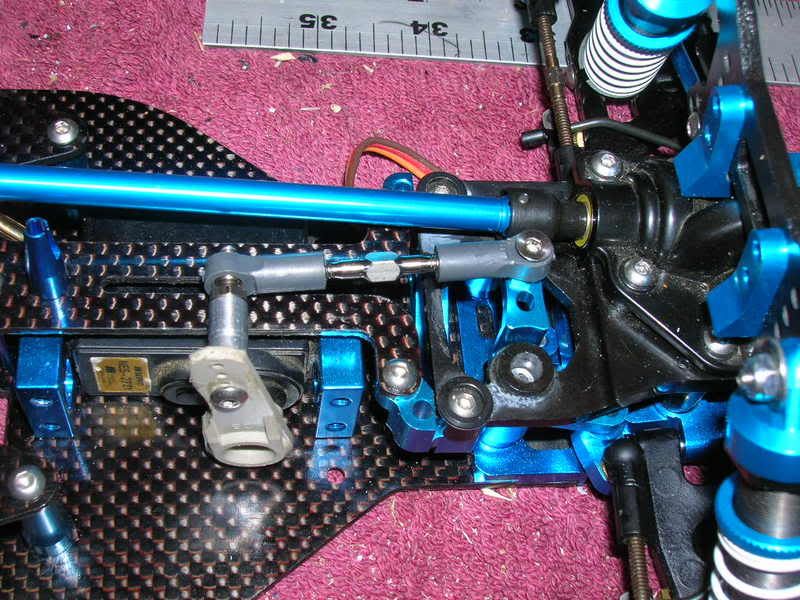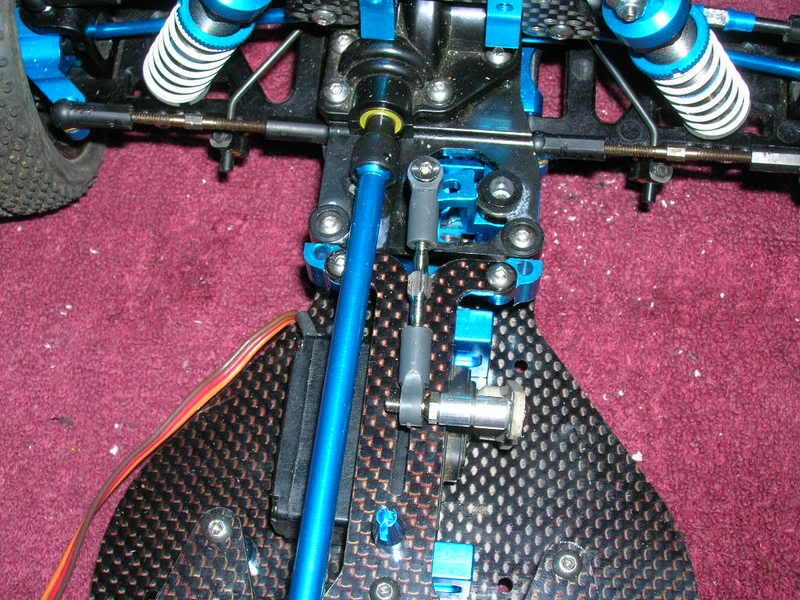 this was the before pic!
03-02-2009, 05:35 AM
---
can anyone tell me the width of the chassis? i am trying to see if i can retro fit a different body. i am looking at bodies that are 5.5inches wide
03-02-2009, 07:39 AM
Tech Elite
---
Are you referring to the KM chassis in particular? I'd measure my 3Racing one if I could, but my stuff is in the garage and inaccessible at the moment since my house is getting remodeled.

I could've swore someone else on this thread (or was it on oople) was running the KM chassis as well...

mjderstine, all I have to say is... looking good!

streetracer, how's your keen hawk going? I thought you bought a kit and was going to transfer some of the stuff you had on your old df-03 onto it?
03-02-2009, 09:30 AM
---
since i have the KM, yeah i guess i am, but its the same width as the stocker, at least its within a couple mm.

just gonna try to fit a different buggy body on there and see what i can come up with.
03-02-2009, 01:50 PM
---
You could always measure it yourself... And I was planning on getting a Keen Hawk from rcmushroom but havent yet. I found a good deal on batteries and since I absolutely needed those(had none until now) I went ahead and got them. Whenever I can make up that $125 that I spent on those I will likely buy the Keen Hawk because all of my other trucks and cars are running fine(hopefully will be in a few weeks as well)
03-02-2009, 02:05 PM
---
i could measure it myself, if i could teleport home from work, but since im at work and have access to the internet, i figured i would ask and maybe someone would know.
no worries man, i am already trying to figure out what it is in my head, but i will use my tape measure when i get home
03-02-2009, 02:14 PM
---
Good reason... Its basically 5in or 125mm wide.
03-03-2009, 05:37 AM
---
good to know, thanks again.
03-03-2009, 07:32 AM
Tech Elite
---
I've always wondered if the B4 body would fit. The Dark Impact body always reminded me of my old B4.
03-03-2009, 07:53 AM
---
tha main goal is to be able to get an undertray to work with this. i want to keep the dirt outta the motor and outta the elecs.

my thought was to screw the undertray to the bottom of the chassis, and use velcro to secure the lid to the undertray. cut some vent holes were needed, and wha-bamm. i have a stealth DF03 in a recognizable body.