Tamiya DF-03 type
07-18-2008, 08:28 AM
---
SBV2 Pro is that an Academy? I do want something bad ass.... that B44 may be what I get, but everyone seems to be running those at the track down here...I really would lke to be diff... I here kyhosho has some nice buggies now too..
07-18-2008, 09:00 AM
Tech Elite
---
For me, it's not about being different, it's about practicality, I always base my decisions on my purchase in this particular order (sometimes 1) and 2) toggles back and forth):

1) Durability/Performance - Right out of the box or with a few add-on components

2) Price

3) Parts availability - Track-side or Online, I'm willing to stock my own parts

Now if Tamiya can make a competition-ready car with this chassis layout (the 501 didn't appeal to me on the basis of belt-drive. I'm not too big of a fan of the belt drive) and make it competitive in pricing (like the B44), I would be willing to buy one...
07-18-2008, 10:20 AM
---
see bro that makes sense, at the track you can get stuff for the B4 or B44 right there, or at the local hobby shop in that state but if you have a tamiya like I do, to get good dtuff it has to come from hong kong, and you just have to keep the extra stuff in your box...but I have to say either way is mad fun... I hoping to get my entry level ride out their to get some expirience on the track before I get my upgrade... I know I may get out performed but I will get them in Feb..
07-18-2008, 10:31 AM
Tech Fanatic
Join Date: Apr 2008
Posts: 947
---
I have a Dark Impact that I bought this past winter just to mess around with. I ended up putting just about every hop up imaginable on it to make it decent. 3Racing shocks, CVDs, carbon fiber & aluminum shock towers, B4/T4 spur upgrade, etc etc. Currently it has an LRP 6.5 B/L with the Sphere Comp. ESC and Race matched EP 4600 NiMH packs. For the money I've spent on this car, I could have had 2 B44s (I also run a B4, T4 and RC8 electric conversion)

After cracking a chassis and breaking a few other parts, the car sat on the shelf for the last couple months, but I just ressurected it with the LRP system that I had lying around and I'll be racing it for the first time next Sunday.
07-18-2008, 04:20 PM
Tech Addict
Join Date: Oct 2007
Location: Brisbane
Posts: 631
---
Yep, that's the Academy, I knew I wanted to buy one the first time I saw a picture of it. For me parts supply isn't an issue, There are no shops for hundreds of miles, so I buy on-line and just get a few extra parts with the order. With no brand support I'm free to pick whatever I like.
My second choice would have been a Kyosho.
Associated make great cars and I have owned a few of them but I decided against the B44 bandwagon, Though battery computability played a big part in that decision, I run a number of cars and have no intention of having specific batteries for specific cars.
Having said all that, I was a big fan of the Losi kits until they decided to concentrate on the suck gear, If they ever bring out another competition 4WD hopefully I won't be so consumed by disgust with them that I'll take a look at her, My XXX4 really opened my eyes up to how well a car can drive.
07-18-2008, 09:17 PM
---
right on right on... yeah I'm going to keep it different for sure..
07-19-2008, 12:34 PM
Tech Master
Join Date: Jul 2008
Location: Woodstock,IL
Posts: 1,231
---
Thanks for some clarification. It seems like the DB01 is better than the DF03 in most everyones opinion. The problem I have is everyone runs the B44 at the track with a few Losi XXX4's. The B44 is $320 and I can buy a Durga with the optional slipper for $240--that is quite a significant difference. Tamiya has done well with racing on-road and I would like to see them succeed in off-road. Just because they may do well at some major races doesn't mean they have succeeded. I believe they have succeeded when you go to the local tracks and they have parts in stock for a Durga because they are competing against B44's. I would like everyone to laugh at me when I show up to the track with a Durga and put down a new TQ-sweet revenge!
That Durga looks bad-ass too!
07-19-2008, 01:04 PM
---
Hell yeah that Durga is bad... I like tamiya... I'm remember when it used to be MRC Tamiya... old school... yeah you can get some upgrades for the DB01 from RCmart and do just fine.. I've been looking at all 3 the B44, XXX, and DB01...
07-19-2008, 02:27 PM
Tech Addict
Join Date: Oct 2007
Location: Brisbane
Posts: 631
---
Anyone interested in the capabilities of the DB01 may want to visit the forums at oople.com, There are a number of people (racers) there who are big fans of the kit and plenty of info.
07-19-2008, 09:30 PM
---
right on
07-22-2008, 09:12 AM
Tech Elite
---
Whatever happened to this Tamiya prototype: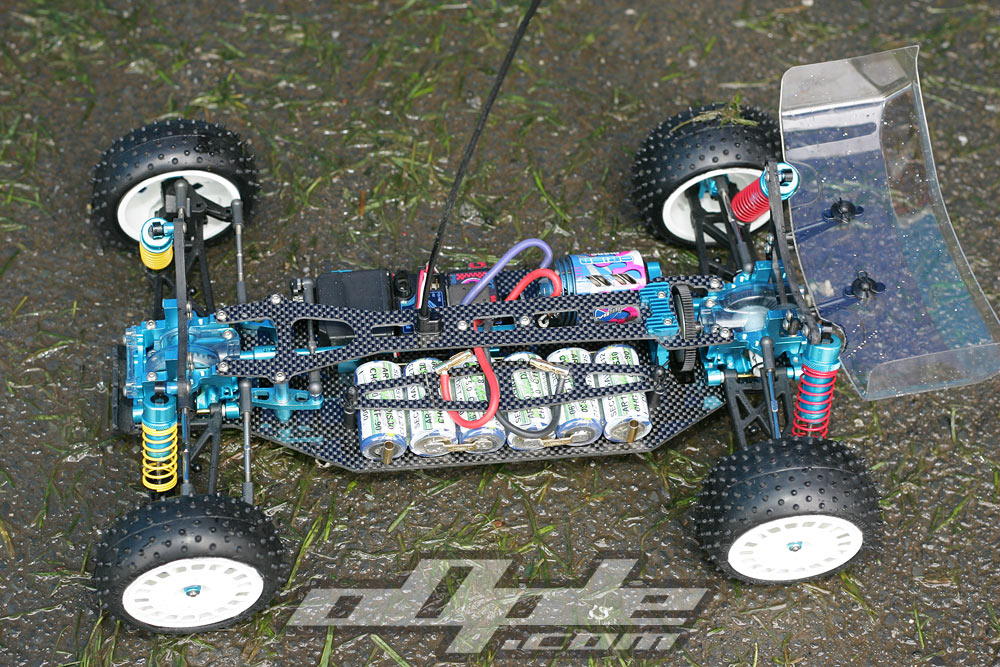 http://www.oople.com/rc/photos/ishyw...es/ishy02.html
Found this on oOple's spy shot section. It's a shaft-driven beauty... Now if Tamiya changed the layout to a saddle configuration for the cell, they would have a pretty good buggy (or it might end up looking like a BJ4WE/B44/D4)
07-22-2008, 12:44 PM
---
that thing is bad azz.... looks like it could be a DF02 , 03 or something
08-06-2008, 02:30 AM
Tech Elite
---
I'm bumping this for a forum member to ease the pain of digging this.

I'm still contemplating on buying this buggy to experiment with it myself. I think the three critical components are:

1) 3Racing rear hingepin brace (aluminum)

2) GPM front aluminum lower transmission case (milled with aluminum hinges for the arms!)

3) Steel rear diff outdrives (since the stock unit is "half" plastic right?)

4) DF-02 UJ (not an issue if you buy the MS)
08-06-2008, 10:24 AM
Tech Adept
Join Date: Jul 2007
Posts: 242
---
Iam in the process of building a df-03ms with KMchassis conversion and other hop-ups.I have a few ? .what wheels will fit this buggy are the ones in the kit 2.2 or do i need to go with some else.

Also check out the latest RC Driver there is a article in there on page 80 about this buggy well the dark impact anyway.
08-11-2008, 02:09 PM
Tech Elite
---
Ricky, where are you getting these parts from? Do you know of a distributor in the US that sells 3rd-party aftermarket parts for the DF-03 cars?