Tamiya DF-03 type
10-05-2008, 04:12 PM
Tech Elite
Join Date: Oct 2006
Posts: 2,291
---
Yeh well half the tiem I dont run the gear cover anyways... I dont run one on my stampede either. I never mess up gears or anything... I have been running the same gear in my stampede for over a year on 3s with the vxl and nothing has happened... I could run an 82 spur as well. I believe I have one floating around here somewhere...
10-05-2008, 06:15 PM
Tech Elite
---
Originally Posted by
thefnshow
i'm having an issue with my dark impact...just threw a 10x2 in it yesterday after being in storage for a year and when braking from full speed it sounds like i'm crunching gears...the diff seems to have loosened up and i have taken the upper plate off and it seems like there is no grease on the gears..so just tighten the diff or tighten the diff and add grease or is the 10 turn too much for this car ? thanks for any help
I think you just need to rebuild your drive train, all moving parts cleaned and lubed. A 10x2 isn't too much for your dark impact provided that you add a slipper clutch to your transmission because Paulie, Jon, Animal, and I are all running some hot brushless motors, ones with torque and RPM that surpasses a 10-wind motor... But we are all running slipper clutch to not destroy the gears in the tranmission, this is especially true if you have your throttle on and you land from a jump (to correct the pitch, nose up/nose down).
Jon and Paulie, you guys are having too much fun with your cars!!! Yes, RC-Mall is a great place to get your GPM goods. I bought all my stuff from them and they were fast with shipping. Those GPM front lower gear box is essential in my opinion, as well as the 3Racing rear transmission brace and the rear hingepin brace. I've yet to break a part on this car, this car is tough as nails... The only thing I managed to break was the 3Racing HD, but this was under the same scenario as Jon's, my ball cups popped off and probably tweaked the outdrives.
Another thing I forgot to mention. In order to protect the drive shaft and the diff outdrives, I placed limiters (washers) outside the shocks so that the shock cannot compress beyond a certain point to tweak the outdrives... I think the droop is fine, but I believe some more limiters then what the manual suggests is needed to protect it...
10-06-2008, 05:03 AM
Tech Master
Join Date: Sep 2008
Location: Okinawa, Japan
Posts: 1,051
---
Put in the Square HD front diff, it actually weighs more than Tamiya stock. Cleaned up the clay from the car, no wear in the diffs and no wear on the pinion/spur. This again is after 4 4500mah lipos...

BTW Paulie was driving my buggy as he has not assembled his yet. I really let him drive it pretty hard cuz I knew he had all the replacement parts at hand. He and Alex went through TWO 4500mah lipos.

On the battery plate I used a small overhead mill to take off about 1/32 on each side.

Our track here is getting expanded so it won't be open until December, only place I can run is at my home track which is about 1/3 the size. But all my parts are in so I can get some work done in the mean time.
10-06-2008, 08:39 AM
Tech Elite
---
Originally Posted by
YDBD
I am running the Kawada slipper set. Seems to work fine, the little tiny plastic pegs are a pain but in the end once its on no worries. I am running an 82, which is the largest that will fit inside the cover. From there any thing small is possible with nearly any 48 pitch pinion.

as far as thefnshow- are you running a front one way? this also happens with a TT-01, too much braking power only to the back wheels may cause the spur/pinion and diff to jump teeth. Why are you braking hard from full throttle? Does it happen on the work bench?
Just curious, what do those little pegs do in the Kawada? The associated spur gear fits *almost* directly. You just have to
slightly
ream out the hole, and I mean
SLIGHTLY
...
But looking at your guys' gearing, I think I'm ok with mine. Going to pick up an 81T associated spur to see if it fits. The 84T DEFINITELY didn't fit!!! Hmm, I wonder if the after-market gear cover has the same dimensions internally...
10-06-2008, 11:08 AM
Tech Adept
Join Date: Jul 2007
Posts: 242
---
Whats up all.Nothing new to report this weekend i didn't race the 4wheel this weekend.I was running nitro insted but this coming sunday i will be at the track again.Going to make some changes to the buggy this week.Iam going to step the shock oil up to 50 weight and install the new front oneway and go to a a bigger motor.And i think iam going to go down to a AE 78 tooth spur.Because right now iam not evan getting the motor over 100 deg with the 81 spur.and a 23 pinion.So i know it as more to offer just have find it.
10-06-2008, 03:39 PM
Tech Addict
Join Date: Jan 2008
Posts: 561
---
Originally Posted by
tom_chang79
Just curious, what do those little pegs do in the Kawada? The associated spur gear fits *almost* directly. You just have to slightly ream out the hole, and I mean SLIGHTLY...

But looking at your guys' gearing, I think I'm ok with mine. Going to pick up an 81T associated spur to see if it fits. The 84T DEFINITELY didn't fit!!! Hmm, I wonder if the after-market gear cover has the same dimensions internally...
Tom,
Those pegs in the Kawada take the place of the slipper pads...
As for the gear cover, etc, I already did the testing on these parts as mentioned a few pages back...
The 81T is the biggest Associated spur you can fit inside the stock gear cover. You may have to SLIGHTLY dremel the inside of the gear cover if it rubs, but when testing these parts off the car, it spun freely inside the cover. The 84T did not.
As for the aftermarket gear covers from other cars like the T4, etc, they won't work. I mean, you can make it work, but the aft end of the cover would rub against the ball cup end that's on the shock tower. It's too close for my comfort. The aftermarket covers made for the DF-03 probably wouldnt work either, as the material around the circumference would have to be dangerously thin (almost paper-like) to still fit on the motor plate.
When my 5700 combo gets here, I'm going to use the 81T with either the 18T or 19T pinion and see how that goes. Jon used 82/19 and his timing was on normal and it never got hot at all. After a full run, I could put my fingers on the endbell for at least 3 sec. I have a temp guage coming also so I'll be able to see exactly how hot it's getting with my 81/19 combo.
Also, another thing you can do to keep temps down is make sure the drivetrain is super smooth. In all my touring cars, I clean the grease out of every factory bearing, and add in very light bearing oil. That actually frees up the rolling resistance quite a bit, so I'll most definitely do that this weekend when I build my buggy.
I'll let you know how it all comes together...
- Paulie
10-11-2008, 04:31 PM
Tech Addict
Join Date: Jan 2008
Posts: 561
---
Hey fellas!!!
Well, the build is going great. Started yesterday and took my time with it. I'll finish it up tonight as I have a function to go to this afternoon.
Anyhoo, I figured I'd give you a run down of how things are going thus far.
First off, the Associated 81T spur fits inside the stock gear cover perfectly. no rubbing of any kind. The Associated slipper pads fit perfectly as well and the assembly is the same thickness as the stock slipper, so using the factory setting of 1mm of thread showing on the slipper shaft should yield identical results.
Here's a list of tips and tricks I used during the build thus far:
- Cleaned the grease out of every ball bearing and replaced with light bearing oil
- Used Loctite on every metal-to-metal fitting
- Cut the extra diff sponge in half, and used half in the front propeller shaft joint cup, and the other half in the rear propeller shaft joint joint cup to prevent the shaft from moving within the cups
- Notched the stock front bumper to fit the Five Stars front suspension brace like a glove
- Dremeled the ribs of the bottom of the stock front bumper, so the T-Bones bumper sits perfectly flat
- Used 3x15 screws to fit the rear T-Bones bumper
- Used 3x15 screws in the aft two holes of the front bumper, and 3x13 screws in the forward holes of the front bumper
- Dremeled the front part of the chassis slighly to fit the plugs on my Orion 3800 30C Lipos - came out great, looks almost factory
So far, that's it. I still have to build the shocks, glue the tires, and install the electronics, and she'll be done, sans body.
I'll try and have pics up by the end of this long weekend (Monday is a holiday).
- Paulie
10-14-2008, 08:29 AM
Tech Elite
---
I took my DF-03 back to the track last Saturday and I managed to crack the front brace, the one-piece top half of the front gear box...
One thing I did notice with my setup, I need a better servo. I have an Hitec H645MG-equivalent servo (Tower Hobbies rebadged it). This servo has more then enough torque, but the transit time is a bit sluggish compared to the Associated DS1013 servo used in my B44 (the DS1013 is an AWESOME servo for its value).
Looks like I'll have to order some Tamiya DF-03 parts (A-parts tree) which has all the gearboxes, front and rear. Oh well, I was planning to order some of these anyways. This car can take quite a punishment though, to be fair, the upper half of the front gear box didn't break because I was the best driver...
10-14-2008, 05:18 PM
My DF-03
---
Whats up gents... This is my DF03. It has Losi 2.2 dish wheels dyed black, Losi tires, Losi XX4 WE shocks, Trinity mounts, Associated slipper clutch/spur, Carbon shock towers(still in bags)Keen Hawk body modied, custom hand made down force wing (yet to be finished off), custom front suspension arms and shock set up, and other misc mods including Castle sidewinder 5700 and Robinson Racing pinions.
Here are some pics... it's for sale.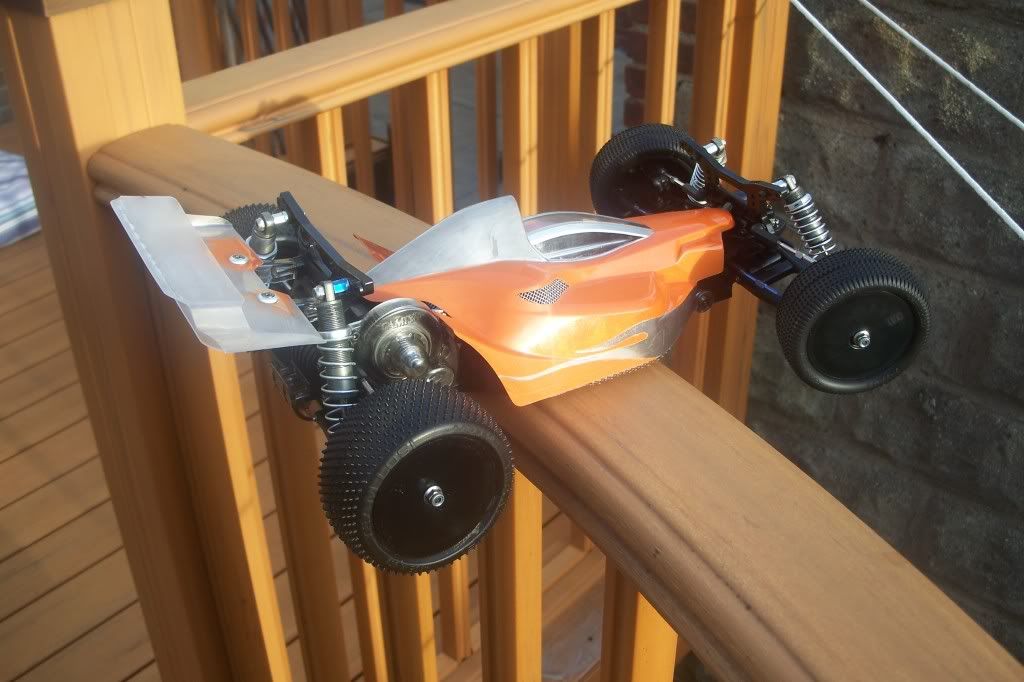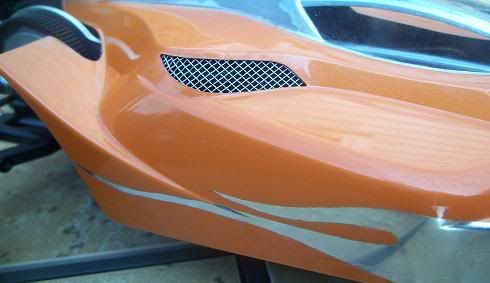 10-14-2008, 06:35 PM
Tech Adept
Join Date: Feb 2002
Posts: 121
---
hey orange, how did you get the losi rims on the front? the rears i know you just take the hex off
10-14-2008, 09:32 PM
---
Durga axles and hubs.... you also need durga axle for the rear, is more then just removing hex because df03 axle is too short. As far as I know I am the only one to do this conversion? Remember, you saw it here first
10-16-2008, 02:02 PM
Tech Elite
---
Orange, your DF-03 looks awesome! Some questions:
1) How did you mount all your electronics underneath the keen-hawk shell? The Keen Hawk shell is probably the most aggressive and limits the internal volume the most.
2) "Custom" front suspension arms? Do you care to share with us what you mean by this?
3) Durga axle and Losi wheels. How and... HOW???
10-16-2008, 03:05 PM
---
Thanks.
1. I mounted the Castle ESC on it's side with the heat sink facing out. I mounted the Airtronics mini reciever on the same side as the servo. It fits nice, the only pain in the ass is the drive shaft location.
2. Custom as in reversed, and shaved. I did this to mount the shocks to the front of the tower. It handles big jumps better this way, I also did the same with the rear shocks, but using stock rear arms.
3. Losi wheels
It took me a long, long time to figure it out but in reality it was very obvious. I used TRF 501x/ Durga axles front and rear. In the rear the losis dont use any hex, just a pin. behind the pin I used spacers to make it tight to the bearing. On the front I used the TRF 501x axle with 501x hex. Voila... Losi/ ae wheels and tires.
To my best knowledge I have the only DF with these mods (untill now lol). So if you want losis you just have to buy mine to get them
Danny
10-16-2008, 09:43 PM
Tech Elite
---
Thanks for your secrets Orange, I'm planning to implement the 501x/Durga axle mod as soon as I wear down this first set. That way, I think I can share wheels with my B44, which is a plus!
10-17-2008, 01:47 PM
Tech Elite
Join Date: Oct 2006
Posts: 2,291
---
Orange - what are you asking for the setup? And could you supply us with some body off shots and close ups of the mods youve done? And where did you get the mesh that is covering your openings? I could use that o na few of my cars... Many thanks