HPI E-Firestorm Racing Thread
10-06-2008, 08:53 AM
Tech Regular
---
i just raced mine for the first time. I actually bought it just to race it for this winter. i removed the stock motor, esc and servo right away. i'm running a mamba max with a mamba 5700kv motor and a 18t pinion, i'm also using a hitec high speed servo, (0.08 sec) with an aluminum longer servo arm.
i'm powering all this with 3 mamba 6000mah 2s li-po (34 minutes per charge!!)
here is my set up that worked very very well for our technical small track,
40 oil in the rear and 25 in the front (sounds weird i know but worked well, i was surprise
stock spring front and rear, but i'm keeping the rear low, almost no turn on the rear shock and keeping the front a bit higher, just a bit less then the maximum height.
i also added some weight to the front to add more stability on gas and also on steering off power.
pro-line lug nut rear tires and stock front.
and finally, 5000wt silicone oild in the rear diff (but it was leaking a bit at the end of the day
)
i was way faster than i was with my t4 last year.
plus, i didn't break!!!! a big + comparing to the t4 durability!
awesome truck!!!!!
10-06-2008, 08:55 AM
Tech Regular
---
10-07-2008, 01:33 AM
Tech Regular
---
Alright Guys/Gals....This took me quite some time to conjure up...I hope you like it:
The HPI Racing E-Firestorm 10T Setup Sheet
Let me know if I need to change anything....I don't think I can add anything...kinda crowded already!
ADDED Version 2.0 of Setup Sheet
---
Last edited by RCRat; 10-08-2008 at

03:12 AM

.
10-07-2008, 07:26 AM
Tech Elite
Join Date: May 2003
Location: Redmond, WA
Posts: 3,346
---
Hey guys, I have been working on getting my E Firestorm all set up. I will be spending the day at the track working on the set up. I will post my setup when I get it sorted.

Does anybody know if any other wheels fit this truck? Maybe remove the rear hexes and fit T4/Losi wheels?

Colin
10-07-2008, 01:30 PM
Tech Regular
---
nice work for the set up sheet
10-07-2008, 09:34 PM
---
I found that the truck wheelies too easily so I have done some work to correct this.

I started by switching the rear a-arms, then I replaced the rear hubs w/ sbv-2 hubs. Then I replaced the cvd bones w/ bones off of a rt-4 gp. Then I set the truck up from there.
10-08-2008, 03:12 AM
Tech Regular
---
ADDED Version 2.0 of Setup Sheet, see above to download
10-08-2008, 05:46 AM
Tech Regular
---
what about those rt-4 gp bones? any link? it's a direct fit
by the way, awesome set up sheet, i just printed a couple of copies!!
10-08-2008, 11:24 AM
---
Here is what you need to use cvds, & $6 rims that will outlast any rim in the business.

rt-4 gp cvd bone.
sbv-2 hub
sbv-2 hub bearings
sbv-2 wheel hex pieces.

Basicly you use everything that fits in the rear hub of the sbv-2 pro & the hub, then you put the longer cvd bone on it. I purchased a rt-4 gp for $100 from mrc to convert an sbv-2 to steel diffs & I noticed that I could do this and give the e-firestorm cvds.
10-08-2008, 11:46 AM
Tech Regular
---
i found everything except the cvd... this rt-4GP is not very popular on our side of the atlantic
do you think that the sbv-2 drive shaft will work?
10-08-2008, 12:34 PM
---
No, the rt-4 gp cvd bone is much longer then the sbv-2 bone.
10-08-2008, 12:40 PM
Tech Regular
---
ok thanks!
10-08-2008, 07:30 PM
Tech Addict
Join Date: Jul 2008
Posts: 607
---
I used MIP CVD's left over from my RS4 MT
Switched the rear arms,40wt oil in the front and rear, switched the springs
around front in the rear and rear in the front. It jumped much better.
Added washers to the hinge pins on the front and rear to reduce some slop.
Took that crappy slipper pad glued to a spur gear out and swapped
it for a b4/t4 slipper pad so I can use Associated spur gears.
swapped the ballstudds to associated ballstudds
and black rpm ballcups to match it.
Such an awesome truck I have yet to break it!!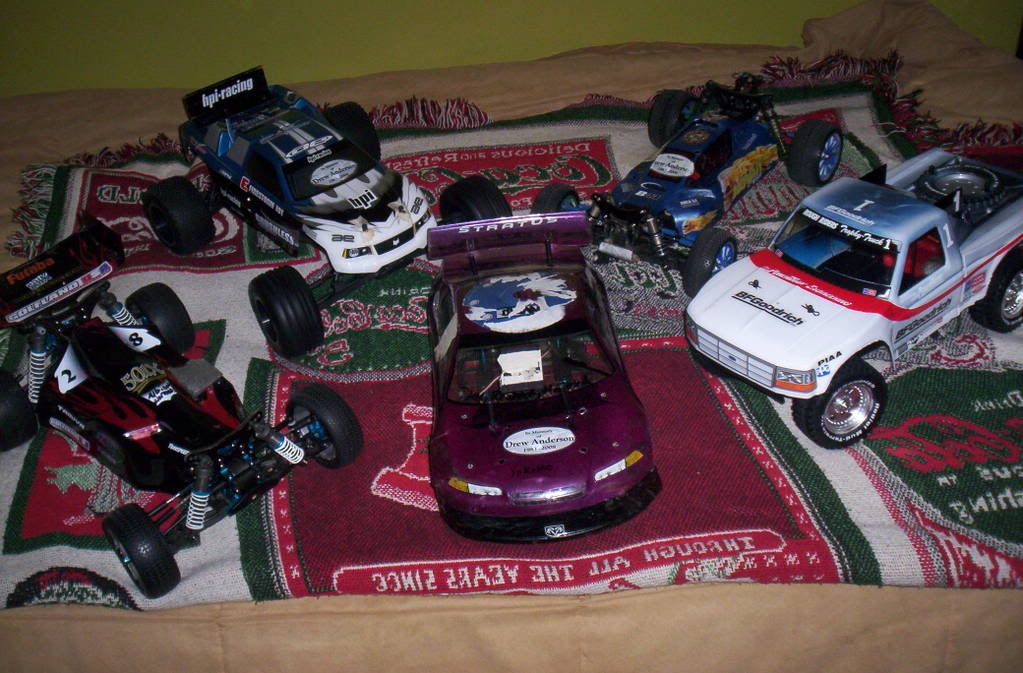 ---
Last edited by electricguy007; 10-08-2008 at

07:51 PM

.
10-09-2008, 09:25 AM
Tech Regular
---
10-09-2008, 10:26 AM
Tech Regular
---
anyone who found a way for not having any leak from the diff when using silicone oil?