the x 60 fan club
03-19-2008, 03:03 PM
Tech Regular
Join Date: Feb 2005
Location: Maumee, Ohio
Posts: 343
---
The short, laydown shocks worked well at Trackside, but he really struggled with them at other tracks; the biggest difficulty was at Columbus. Obviously, the truck needs to work well at all tracks, so Brian's adjusted the set-up to be easier to adjust, dial-in, and drive.
03-19-2008, 07:34 PM
Tech Elite
Join Date: Jan 2003
Location: Edmonton, Ab
Posts: 3,210
---
Paul- Can you give us any kind of indication on the progress of the X-60 project? I don't need a release date, because I know you can't commit to those kinds of things yet, but it would be interesting to know how far along you guys are with the truck. (You are involved with the design of the truck right? I can't remember who all is at the Xfactory factory now)
03-19-2008, 08:00 PM
Tech Elite
x 60
---
hi paul

i would like to know too

i think the shock tower for the x 6 buggy works with the
b4 rear shocks 1.02 shaft my ride height is 24mm this is what i have my x 6 truck.

thank you for a great product.
---
Last edited by gone banana; 03-19-2008 at

08:01 PM

. Reason: missed word
03-22-2008, 10:55 PM
Tech Elite
my x -60
---
hi every one i had another great with my x 60 truck, this baby keeps get better each weekend of racing,, this weekend i try some different shock oil
i used in the front 37.5 with silver spring 32.5 in the rear and silver next week i am going to go back to 32.5 in the front gold spring and see what happen
x factory ,,,,,,,,,will rock your world
gone banana racing
03-23-2008, 11:29 AM
Tech Elite
another great weekend
---
hi everyone
i had another great weedend with my x-60 i raced @ marcca again i did a few changes to the truck and it rock
i made the a main started 6th and snap a arm off agian,,,, my son aric x 60 will be done this week he run a t4 and runs super fast with set fast laps,, and win most of them he will run the set up i have running on the x -60
i sure he going to smoke the old man again, i had the lead for about 4 laps and made a couple of mistakes and
was tring to hard to get caught up and hit a pipe and broke a front arm off i was using a gbt and a 5800 motor and a lipo i started out the night with 20 th pi & 81 spur the next round try 18 th was slower the a 22 tooth p.
& was keeping up with the fast guy
http://i275.photobucket.com/albums/j...a/scan0001.jpg
03-23-2008, 08:03 PM
Tech Adept
Join Date: May 2004
Location: Woodland Mills, Tennessee
Posts: 220
---
I raced with Paul this weekend in Nashville, Tn and he said the truck would most likely be available this fall. I got to put my hands on a prototype and it is definitely a nice piece. Thanks go out to him for lending me a hand on my 19 turn.

Allen <><
03-23-2008, 08:14 PM
Tech Elite
my x 60
---
i hope they get chassis out sooner for the guy that are cutting up the x 6 to make the x 60

all i got left do on my sons is the diff my son aric is painting his body now.

x factory rocks my world
03-24-2008, 12:24 AM
Tech Regular
Join Date: Feb 2005
Location: Maumee, Ohio
Posts: 343
---
Hey everyone - thanks for the kind words. I should have answered the "X - 60 status" questions a few days ago, but got busy and all.

The X - 60 is moving right along. We're having a little trouble getting some prototype rear arms made, but its unrelated to the arms themselves. We've pretty well settled on some of the other prototype kind of stuff, such as chassis length and the rear shocktower. Also, the revised toe-in bars are holding up much better than the original ones did on the truck, so that's good.

So the truck is definitely coming along; we'll get these prototype arms made up and make sure all that works and then start drawing stuff up!
03-25-2008, 08:21 PM
Tech Elite
hi everybody
---
hi everybody
i got my son Aric x-60 done from x factory i bought another x-6 kit plus another chassis and got cutting this went smooth and tured out better than the first one the truck is the same lenth as the first one it fits under a gt2 body it will be set up is the same as my
thank you x factory for a great company great kits
---
Last edited by gone banana; 08-31-2008 at

10:54 PM

.
03-25-2008, 08:45 PM
Tech Elite
some more pic.
---
pictures
---
Last edited by gone banana; 08-31-2008 at

10:54 PM

.
03-25-2008, 08:50 PM
Tech Master
Join Date: Jan 2006
Location: Chandler, AZ
Posts: 1,410
---
Very nice. Now I'm not the only one with 2 X-60s.
03-25-2008, 08:53 PM
Tech Elite
more
---
pic.
---
Last edited by gone banana; 08-31-2008 at

10:54 PM

.
03-25-2008, 09:00 PM
Tech Elite
more
---
pic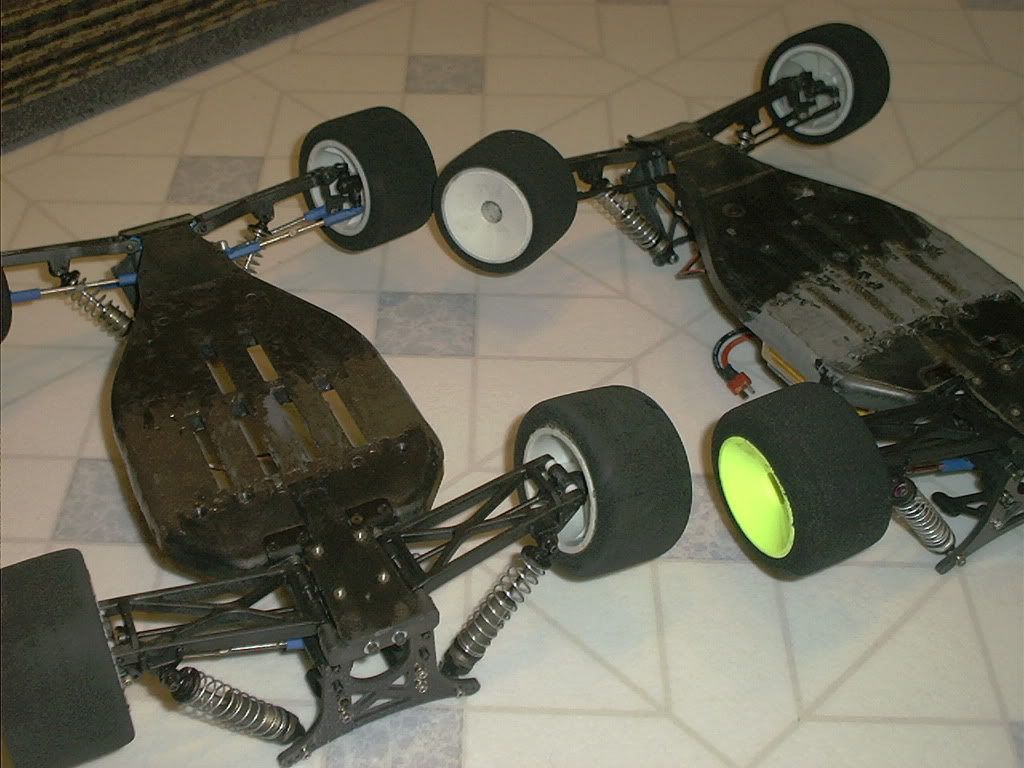 03-25-2008, 09:01 PM
Tech Elite
more
---
04-06-2008, 05:36 PM
Tech Elite
marcca carpet challenge
---
i had a great time racing at marcca carpet challenge finished second in street truck Amain and second in the b main off road