Brushless = Fun
01-24-2008, 10:16 PM
Tech Master
Brushless = Fun
---
I have converted a Revo, Jammin CRT.5, CEN Matrix TR Arena and a Kyosho Kanai to brushless. Great projects, fun to drive, brushless is the way to go. Brushless will become more and more mainstream, Novak is coming out with some really nice conversion kits, Tekno Racing has a nice Revo kit, and RC-Monster has tons of stuff.
Brushless Jammin CRT.5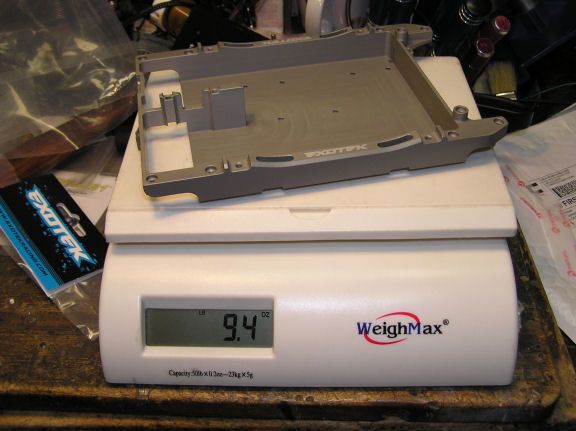 Brushless Kyosho 1/8 buggy.
Brushless Revo
Cen Truggy
01-24-2008, 11:26 PM
Tech Elite
Join Date: Jul 2007
Location: Southwest
Posts: 2,531
b
---
nice
nice
nice
01-25-2008, 08:13 AM
Tech Addict
Join Date: Jun 2006
Location: Schmocation
Posts: 603
---
I bet that truggy goes fast with that pikachu sticker on the wing.
Nice collection you got goin' there.
01-25-2008, 11:31 AM
Tech Master
Join Date: Sep 2007
Posts: 1,029
---
How does the jammin run with the mm motor? I have a brushless t-maxx that I run w/ mm esc, velineon motor, and 3s lipo, it is wicked fast.
01-25-2008, 11:51 AM
Tech Elite
Join Date: May 2007
Location: Roaming Shores, Ohio
Posts: 3,324
---
Don't forget
www.rcproductdesigns.com
they make top quality conversion kit for all the popular 1/8th buggies and truggies.
01-25-2008, 02:13 PM
Tech Master
---
Unfortunetly it has been raining here for the last 4 days and I can't get out to test drive the CRT.5.

badassrevo, your right RCproductdesigns makes some great high quality conversion kits.
01-25-2008, 03:10 PM
Tech Legend
Join Date: May 2002
Location: West Fargo, North Dakota
Posts: 31,294
---
For the CEN Matrix, did the kyosho 46T spur bolt on, assuming you used it?

I wouldn't mind doing some CEN conversions as the cars are pretty durable and cheap.
01-25-2008, 03:52 PM
Tech Initiate
Join Date: Jan 2008
Location: san diego
Posts: 29
---
are you running lipos with those conversions or what type of batteries are needed for go fast?
01-25-2008, 05:07 PM
Tech Master
---
Cain, yes I am using the plastic Kyosho spur and it bolts right onto the CEN diff case.
01-25-2008, 05:17 PM
Tech Master
---
zman_99, I am using lipo's right now but I did experiment with NiMH in the Revo (two 6-cell and two 7-cell batteries). But the lipo's have so much more power (voltage/amps), they really make a big difference. I am running 2s2p 6000mah in my CRT.5 with the MM7700 motor, 4s2p 6000mah in the buggy/truggy, and 4s2p 8000mah in the Revo.
Currently Active Users Viewing This Thread: 1
(0 members and 1 guests)
Posting Rules
You may not post new threads
You may not post replies
You may not post attachments
You may not edit your posts
---
HTML code is Off
---