lipo batterys
01-20-2008, 08:58 PM
Tech Initiate
Join Date: Dec 2006
Location: Independence Missouri
Posts: 36
lipo batterys
---
looking to but a new 7.4 lipo for 1/10 i am looking at the orien or the trinity and looking a voltage cut off for gt7 esc
01-21-2008, 06:19 AM
Tech Fanatic
---
01-21-2008, 08:21 AM
Tech Legend
---
great price. Only concern I have is the whole no warranty thing. Other guys at least they will offer a 30 day warranty.

Do they have balance plug on the pack like trinity?
01-21-2008, 08:42 AM
Tech Champion
Join Date: Jul 2007
Location: New York
Posts: 8,820
---
Love my orion/peak lipos !!!! i travel llight to the track now.
01-21-2008, 09:36 AM
Tech Fanatic
---
Yes. I was told it was a hyperion style plug. Mine should be here Wednesday to verify. I've been talking with John Tag about this pack for a while before I bought one to test with.
I can't comment on the "no-warranty" thing at the moment because LiPo vendors are still in huge flux right now. I'm sure if there was an obvious problem you could discuss with with John and work something out, but don't quote me on that.
01-21-2008, 05:28 PM
Tech Apprentice
Join Date: Nov 2007
Posts: 99
---
I have a 4800 Orion and love it. I run the Sphere without a lipo cutoff and it works fine. I installed the Novak li-po cutoff on my Sphere and it caused problems so I just removed it. I would just run the lipo, you will know when you need to charge the battery before you hurt it. I've run that battery for a good 20 - 25 minutes on the track practicing one time, impressive.
01-21-2008, 05:48 PM
Tech Master
Join Date: Nov 2006
Posts: 1,038
---
Originally Posted by
gndprx
wow...awesome price. who cares about no warranty, I have faith in my ability to not screw it up
01-22-2008, 08:23 AM
Tech Legend
---
So I take it if for some reason the pack came and had a bad cell in it, you wouldn't complain or want another pack??
01-22-2008, 08:25 AM
Tech Elite
Join Date: Jun 2005
Location: New York
Posts: 2,891
---
I've been running the Orion 4800 in my 2wd and 3600 in my 4wd. I love them both. Lipos are a God send.
01-22-2008, 09:06 AM
Tech Initiate
Join Date: Jan 2007
Location: Western Massachusetts
Posts: 47
---
I've had 2 Orion 4800 platinums and I have 2 trakpower 4900 goldbrick lipos. I notice no difference in performance between the 2 though the trakpower is a 25C and the orion is only a 15C. I like that the trakpower uses 2S1P instead of the orion's 2S2P.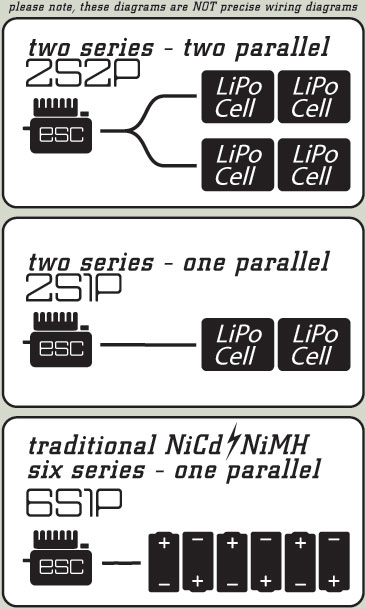 Not that they need to be balanced, but the Orion Platinum 4800 in the 2S2P configuration can never truly be balanced because there is no way to isolate the cells. Small issue, but other than that the Orion 4800 is a great pack.
The Orion 3200s and the 3600s are 20C and 25C packs respectively and are wired 2S1P, you'll just have to add more weight to meet ROAR guidelines (if you need to).
01-23-2008, 06:40 AM
Tech Fanatic
---
I'm sure if that was the case and you contacted John immediately that he'd work with you.
Mine should be here today! If it works out well enough, I'll probably order at least one more.
01-23-2008, 07:16 AM
Tech Legend
---
Thats good if he will. I guess when I see something stated as being sold as is, it just worries me that if it does come in dead, or goes dead after a cycle or two, there is a possibility of getting stuck with a paperweight.

Anyone heard if higher mah packs are in the works from other companies?
01-23-2008, 07:23 AM
Tech Initiate
Join Date: Jan 2008
Posts: 23
lipo
---
Max amps has some really high packs.
01-23-2008, 07:25 AM
Tech Fanatic
---
MaxAmps, ThunderPower and TrueRC all have 8k or higher. Of those, MaxAmps is the only one putting a hard case as far as I know and you have to ask for the option.
01-23-2008, 09:41 AM
Tech Regular
Join Date: Jun 2004
Location: Pa
Posts: 288
---
No, that statement is absolutely incorrect and not accurate at all. A single Lipo cell is actually a bunch of smaller Lipo's batteries welded in sealed aluminum pouch. This means, when you wire up two Lipo's cells in a series, (as seen in the Orion example) you are basically moving the connection outside the pouch. Hence, the two Lipo's cell wired up in a series on either the + or the - side of the Orion pack act as a single new Lipo cell, and they will not go out of balance for this reason, EVER!
Once understood, and know how and throughly research how a Lipo cell is created in the first place, you can clearly easily see why this is not an issue at all. In additon, this means a 2s1p pack isn't necessarily faster than a 2s2p pack!
---
Last edited by 4wd Racer; 01-23-2008 at

10:09 AM

. Reason: grammar