Taps
12-11-2019, 04:09 AM
Tech Rookie
Join Date: Jan 2016
Posts: 5
Taps
---
My wife needs some Christmas list ideas for me and one thing i want is to be able to retap stripped threads in my cars or tap up to the next size but I donít have any idea how to choose.

I can pick up 2 random screws that use the same 2mm hex and are the same length but the threads are different.
How do I know which is which?

If I have a M3x12mm screw..I know 12mm is the length and I think m3 is a 3.0 hex, right? Is there some secret code that states what style the threads are?

Can you help me pick the sizes that would be appropriate from a 1/16 eRevo to a Xmaxx? Do I need metric and standard? Do you have a link for a set that would cover the sizes I need?

They're for plastic only so hopefully the cheap stuff would work. Thank you!
12-11-2019, 06:05 AM
Tech Elite
Join Date: Jun 2011
Location: Stuck in urban hell
Posts: 3,674
---
First off, if we are talking stripped screw holes in plastic, put a few drops of quick drying CA glue in the hole(do not fill to the brim! half way or so will do), then drive in the correct screw normally. As it dries up, back off the screw a little to make sure the screw itself doesn't bond to anything, then drive in fully after a few seconds.
Very handy fix I learned.
I'm not sure if traxxas is imperial or metric, check your manual. Hex size is somewhat independant(ish) to thread size. Different styles of screw heads will have different hex sizes for a given diameter.
M3 refers to metric, 3mm diameter thread, not the head size.
The x12 is indeed the length,
but it includes the head for countersunk screws.
You'll need this chart.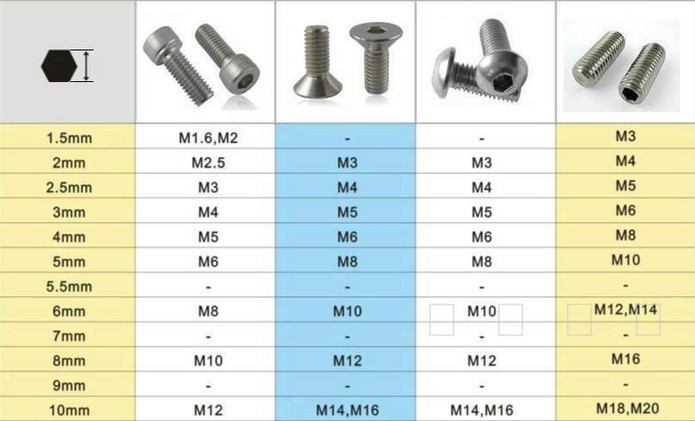 Shamelessly stolen from the internet.
12-11-2019, 12:05 PM
Tech Master
Join Date: Feb 2003
Location: Plover, WI
Posts: 1,539
---
You should get yourself a metric thread pitch gauge. Then you can measure the correct thread pitch of the bolt you plan to use and see if it is coarse or fine thread. For small r/c type stuff it will be fine thread most of the time. I use a tap and die kit that I got from Sears that I use for kart racing. It isn't Craftsman brand. Can't think of the brand off hand. But it doesn't have anything small enough for r/c stuff. Your best bet would be to go to McMaster Carr and get individual taps. You can get by with the cheap ones unless your doing a hard metal. Then you wan to use Titanim Nitride ones. Then all you need is the T handle to ream the hole.

If your just trying to fix plastic the c/a glue trick will work. Or just drill the hole a little bigger and then use a new bolt slightly bigger than the hole. I just did this the other day on a front bulk head and no need for a tap.
12-11-2019, 08:08 PM
Tech Master
Join Date: Oct 2007
Location: The States
Posts: 1,385
---
I have an Irwin set of drill and taps in both imperial and metric with tapered and bottoming.

It is not recommended to tap plastic, if you want or can go to a larger bolt size use the corresponding drill size for the bolt and use the bolt as the tap.

12-11-2019, 08:18 PM
Tech Master
Join Date: Oct 2007
Location: The States
Posts: 1,385
---
Most common diameter and pitches.
Currently Active Users Viewing This Thread: 1
(0 members and 1 guests)
Posting Rules
You may not post new threads
You may not post replies
You may not post attachments
You may not edit your posts
---
HTML code is Off
---