HB Racing D418 - 1/10 4WD Buggy
11-19-2017, 05:15 AM
Tech Regular
Join Date: Nov 2007
Location: GR MI
Posts: 417
---
It's a d413. Chassis,center dogbones and steering arm. (Find the other changes, we'll make a list) I do not think it is hard to work on.
11-19-2017, 07:32 AM
Tech Adept
Join Date: Feb 2017
Location: Winchester, VA
Posts: 103
---
Yeah, it seems it's just a D413 with the following changes from factory kit (that I can tell).
Differences
Chassis
Body
Electronics layout
Center dog bones
Steering arm
*exotek split center diff mount
*exotek center diff assembly
No forward or rear upper decks (even the parts under the shock tower mounts.
Shock caps (available, but not in kit)
*exotek rear hubs (this one's ironic).
So when I first noticed he was using them, I thought "I don't think I'd need those". Today, in lap two in practice before today's club race, I landed awkwardly on a large double and heard a "SNAP". Sure enough, my rear wheel was then dangling in the breeze. I was done for the day...no spare. Didn't remember til I got home that I could have changed the roll center and used the upper hole. Oh well. It just wasn't to be. I guess I'm buying the aluminum hubs!
---
Last edited by 90sRacer; 11-19-2017 at

11:05 AM

.
12-20-2017, 06:55 PM
Tech Master
Join Date: Apr 2014
Location: Somewhere
Posts: 1,480
---
Any update when available this kit? I am debating this HB418,EB410 and XB4 '18
12-20-2017, 09:42 PM
Tech Initiate
Join Date: Apr 2004
Location: Pensacola, FL
Posts: 32
---
Early Q1 release ?
12-21-2017, 07:18 AM
---
be curious to see what they comes back from the worlds into a production kit.
still think exotek could have something forward weight oriented out there pretty quickly on the D413 platform
12-21-2017, 07:30 AM
Tech Regular
Join Date: Nov 2007
Location: GR MI
Posts: 417
---
Also wonder if hb could lighten up the outdrives from the front and rear diffs a touch. Maybe shorten them a couple mill. cvds go in a bunch. Maybe drill a hole in the side also. As seen on some light weight 1/8 stuff. Just to help the popular 13.5 class. But whateve.
12-21-2017, 11:22 AM
---
yeah some lightening along with strengthening of the the drivetrain would be worth while.

I wouldn't mind seeing a company run with a heavy duty light drivetrain setup that rivals what MIP offers, but can still handle mod. Or, just sell a vehicle out of the box in a spec racer flavor for weight, I think losi has a buggy (2wd) like that?

As for getting to the diffs and some other changes, yeah, the D413 could be a bit easier to work on. Hopefully it something the D418 or D419 (heh) can address.
12-21-2017, 11:23 AM
Tech Adept
Join Date: Aug 2017
Posts: 134
01-13-2018, 05:42 PM
Tech Adept
Join Date: Jan 2015
Location: CA
Posts: 162
01-14-2018, 12:59 PM
Tech Adept
Join Date: Sep 2014
Location: Oklahoma
Posts: 213
01-28-2018, 08:29 PM
---
Made my own d418 copy using a Avid chassis I had laying around. Race on carpet today and it was Amazing for first time out. Have a few improvements I would like to do, but big step in the right direction on high bite. My pace was above all today which makes for a fun day at the track.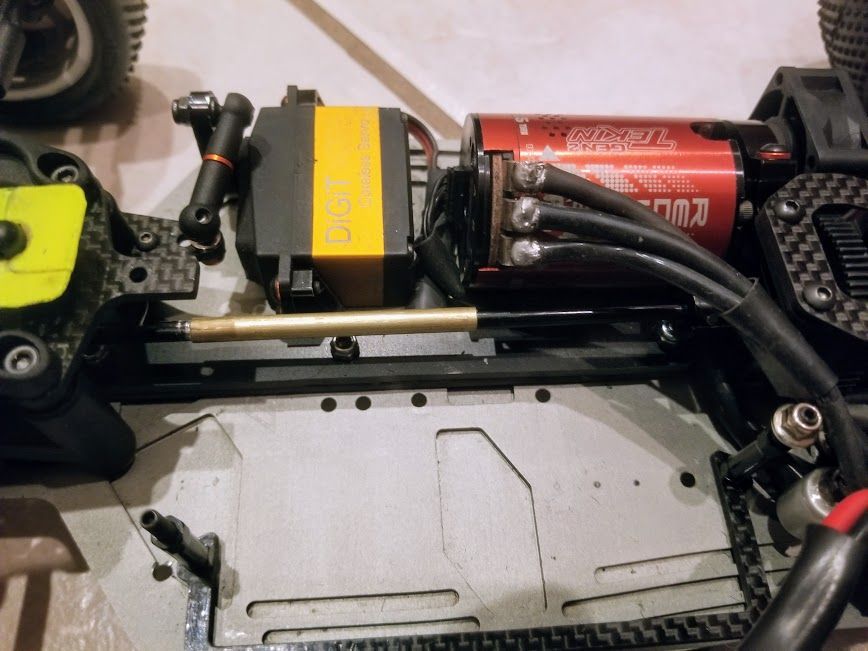 edit:
Photobucket sucks now... Still tweaking the center brace but a ball cup down center works and makes it very stiff. I am looking to have some flex from the front so this is the current brace I am testing. Need to still drill two more holes as I would like to have 5 total for adjustability. I need to get my hands on some carbon fiber I think. Pretty happy with the way it drives so I might try my carbon fiber chassis next. The center drive shafts are Tekno. The front needs to be cut. Tekno is aluminum so I JB Weld this one in the center tube. I have another stock one I stretched with the stock steal and just soldered that with proper non-electric stuff. Neither have broke from testing. The Tekno shaft I made about 147mm vs. 150mm for some extra allowance for flex. If the drive shaft bottoms out in the cups it can bend the shaft.
---
Last edited by Cameron Kellogg; 02-02-2018 at

09:55 PM

.
01-30-2018, 03:59 PM
Tech Master
Join Date: Apr 2014
Location: Somewhere
Posts: 1,480
---
Any update when came out?
02-02-2018, 12:50 PM
Tech Adept
Join Date: Feb 2017
Location: Winchester, VA
Posts: 103
---
I'm getting prepped to start my own D418 conversion... Interested in the pics from Cameron's post, post they are not showing up.
02-02-2018, 07:27 PM