Cutting and glueing custom crawling tires
04-02-2017, 07:18 PM
Cutting and glueing custom crawling tires
---
I've been attempting to modify some Proline tires.
Talking with a couple of guys locally I was able to try and make a couple sets... it's still a work in progress. When tires are done they'll be very close in size to a Rover tire.
tires right now are just tacked together but thought I'd share.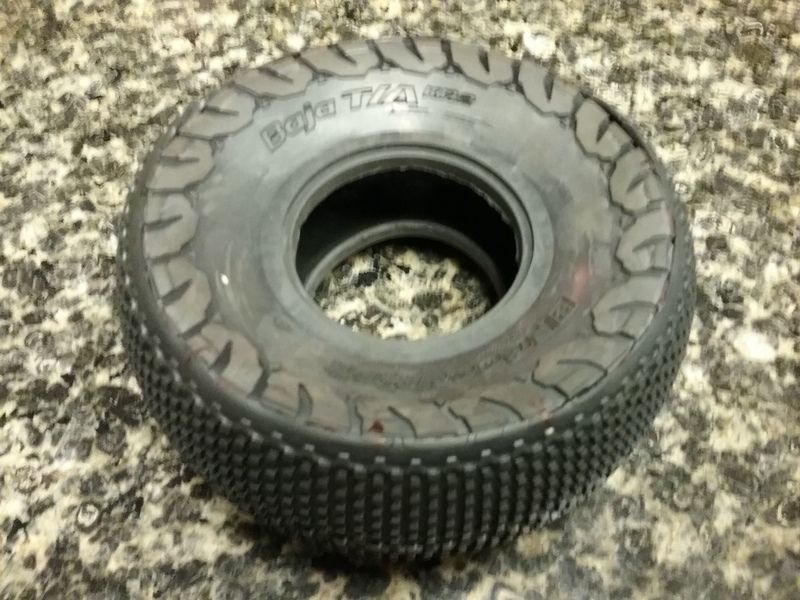 Sidewall tire is a BFG KR2 in a M4 compound pin tire is a 1:8 truggy suppressor tires also in a special compound of the G8.
Can't wait to test these tires out.
Whatever you guys pay someone to make custom tires. It's worth every penny they charge "thumbsup"
04-02-2017, 07:20 PM
04-02-2017, 07:21 PM
04-02-2017, 07:26 PM
04-03-2017, 04:46 AM
Tech Regular
Join Date: Jun 2011
Posts: 396
---
That's pretty cool you were able to get them in g8. How come you went so wide though? Most guys when doing custom tires go much more narrow. I have a set of spare voodoos I've been thinking of attempting to narrow.
04-03-2017, 10:31 AM
---
Thanks, I run 1" wheels and always liked how good the the Rover tires work so just made since for me to try and keep the size of the Rovers.
Tire were given to me so I don't know what compounds are available.
I'm running a set of voodoo's on my main comp rig uncut they work great also.
04-03-2017, 11:15 AM
Tech Regular
Join Date: Jun 2011
Posts: 396
---
Cool, I run full width voodoos on my 2.2 pro. Also have a set of white dot rovers I was going to shave and narrow, but they're destined to a different build now.
04-04-2017, 09:54 AM
Tech Addict
Join Date: Dec 2010
Location: Douglassville, PA
Posts: 581
---
Nice work. I've dabbled in cut and shut tires, it's a lot more work than it looks!!
Currently Active Users Viewing This Thread: 1
(0 members and 1 guests)
Posting Rules
You may not post new threads
You may not post replies
You may not post attachments
You may not edit your posts
---
HTML code is Off
---