Axial Wraith for me!
12-25-2011, 12:30 AM
Tech Adept
Join Date: Sep 2011
Location: Hopewell NJ
Posts: 142
Axial Wraith for me!
---
I was amazed during Xmas with the Family tonight......My mother in law got me a Wraith! I thought she thought the hobby was dumb, and she was smiling as much as me when I opened it...oh by the way im 33...haha! I have no idea how she knew or got it, but she actually got it from my local hobby shop also, and they kept it a secret from me also...(good job guys!). What kinda upgrades should I go first? I got a driver on the way....and I already have 2.2 beadlock rims for it....im thinking tires and a custom body....anything else?
Thanks Shawn
and hope you all had a awesome xmas like mine!
12-25-2011, 11:46 AM
Tech Regular
Join Date: Sep 2009
Posts: 373
---
Congrats, all I ever get from my mother in law is a hard time.
Anything you need to know about hop up's and such click here,
http://www.rccrawler.com/forum/axial-wraith/
Pay particular attention to the stickies on top.
12-25-2011, 11:51 AM
Tech Regular
Join Date: Oct 2011
Location: Royal Oaks, CA
Posts: 489
---
lucky you!! I so wanna get my hands on one of those!!
12-25-2011, 06:20 PM
Tech Master
Join Date: May 2011
Location: Erie, PA
Posts: 1,156
---
Fantastic gift! I believe that I have the greatest mother in law out there. Your's is obviously quite awesome as well!
12-25-2011, 07:06 PM
R/C Tech Elite Member
Join Date: Oct 2010
Location: branchville nj
Posts: 3,606
---
i got 1 to but mine wont be here til the 27th
here is a list of some of the stuff i ordered (to do the hood mod)
TRA3727A Traxxas Battery Hold Down Plate,Grey:RU,ST
VPS03260 Vanquish Products Wraith Chassis mounted Servo KIT
VPS03250 Vanquish Products Wraith Panhard KIT
SPTSTA80073GM STRC ALUMINUM HD STEERING LINK SET FOR AXIAL WRAITH (GUN METAL)
DINWHBV1 Dinky RC Wraith Hood V1 "Flatty" (Black)
RC4Z-S0361 RC4WD Axial Wraith Lower 4 Links (pair)
i know that rpphobby.com has the dynamic concepts bronco body which looks killer
12-25-2011, 10:25 PM
Tech Rookie
Join Date: Jan 2008
Location: Netherlands
Posts: 15
---
Greay mother in law! I haven't changed anything on mine yet.. I'll change it, as I break it..

Lot's of fun! (but that won't be too hard)
12-26-2011, 10:42 AM
Tech Rookie
Join Date: Dec 2011
Location: Wister, OK.
Posts: 2
---
Awesome mother in-law!
Is it the kit ot RTR?
Mine was the RTR and the first thing I did was the steering, new Servo and steering arms. Then the links, diff covers, wheels, tires, flip the shock mounts, steel gears, slower motor....you see where I am going with this!
Post some pics!
12-26-2011, 07:43 PM
Tech Adept
Join Date: Sep 2011
Location: Hopewell NJ
Posts: 142
wraith xmas pics
---
Here's a pic under the tree,
[IMG]
[/IMG]
After some mods, removed a few stickers and had to dye the seats,
[IMG]
[/IMG]
Heres a tail light move,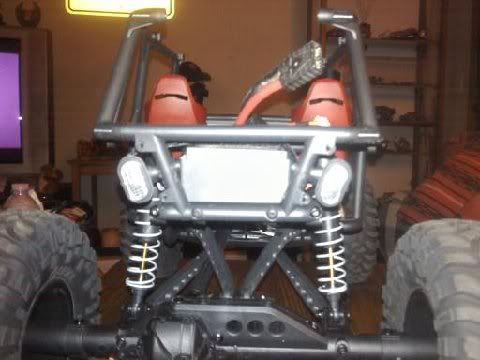 Currently Active Users Viewing This Thread: 1
(0 members and 1 guests)
Posting Rules
You may not post new threads
You may not post replies
You may not post attachments
You may not edit your posts
---
HTML code is Off
---