Seal Team 6....X6 Support Vehicle
06-23-2011, 04:39 PM
Tech Master
Seal Team 6....X6 Support Vehicle
---
My next project!
The Seal Team 6...X6 Support Vehicle!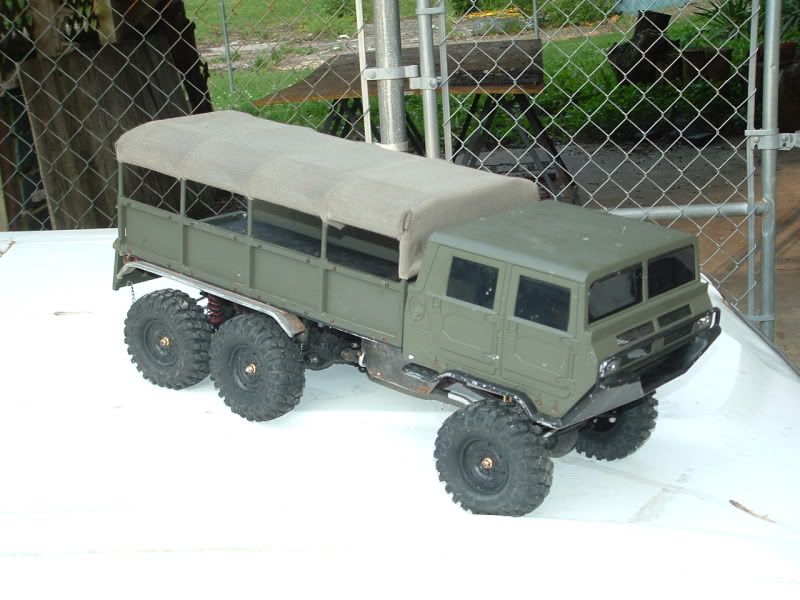 06-25-2011, 05:51 AM
---
very nice, would love to watch the build.

may i ask what diff n gearbox goin on it?
06-25-2011, 12:28 PM
Tech Regular
Join Date: Sep 2009
Posts: 373
---
Pretty sweet rig man, any pics with the body off?
06-25-2011, 12:38 PM
Tech Master
Join Date: Feb 2010
Location: Huntington Beach, California
Posts: 1,689
---
That thing looks pretty sweet man! It probably just doesn't have much articulation! :P
06-26-2011, 02:17 PM
Tech Master
---
06-28-2011, 01:12 AM
---
cant wait to see it naked, i mean the chassis, lol
07-07-2011, 10:13 PM
Tech Master
---
OK let's get the Specs out of the way.

SPECS:

Axial Axles (X3)
Axial CVDs
Axial Aluminum Knuckles and Cs (X3)
Axial Overdrive R&P Front.
Axial Under-drive R&P Rear (X2)
Axial Tranny
All Metal Tranny Gears
Robinson's Spool
MIP Drive Shafts (X3)
Shocks (Custom SCX-10 units) (X6)
1.55 RC4WD MUD HOGS (X6)
1.9 RC4WD HUMVEE Wheels (X6)
Dinky RC Custom 6x6 Frame
Dinky RC Custom Utility Bed
Dinky RC 4 Door Tilting Cab
Dinky RC Tube Work & Bupers
Dinky Link (X3)

Electronics:

Holmes Hobbies Torquemaster 45T Motor
Holmes Hobbies BRXL Waterproof ESC
Castle Creations BEC
Hitec 645MG (Temporarily)
Hitec 645MG Winch
Spektrum DX3R
Spectrum Rx
3S 40C 2450 Lipo
07-09-2011, 04:36 AM
---
sounds like a good plan, keep us updated with the built.

should be interesting to watch
07-17-2011, 03:07 PM
Tech Master
---
Well after vacation, I have it all disassembled, need to take the chassis and get it media blasted, I have all the panels prepped for paint, I've disassembled, cleaned, reassembled all three axles. Ordered new tires and I'm waiting for the wheels to be released.

Hope to have some pics up soon.
Currently Active Users Viewing This Thread: 1
(0 members and 1 guests)
Posting Rules
You may not post new threads
You may not post replies
You may not post attachments
You may not edit your posts
---
HTML code is Off
---