Wratchet's Project "Head Honcho"
03-03-2010, 08:49 AM
Tech Apprentice
Join Date: Feb 2010
Posts: 69
---
Any links to buying the body and the bed?

Super nice build !
03-03-2010, 07:15 PM
Tech Regular
03-04-2010, 10:11 PM
Tech Regular
---
Hey All;
Well after having to put things up a bit item and ideas are still rolling in. I finally got my winch from the Far East and my delrin fairlead installed on the front bumper. Also scored my ProLine Powerstroke Scale shocks. Good thing axial included a huge bottle of 30wt shock oil in the honcho kit since I recently used up the rest of mine.Also got my rear 4 link truss in as well. Just need the rear longer links to get here. OK here are the pics of the winch work.Man I need another little battery to power the access. Well I would have already finished the shocks but I went and broke a toe on my left foot the other night. Been using the laptop from bed with my foot all messed up. Still working doesn't help but I have to broke toe and all.At least they gave me some good pills. Man these things kick.l8r,w.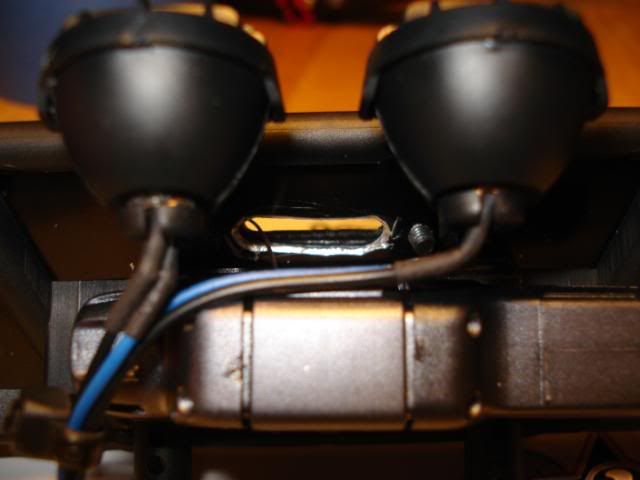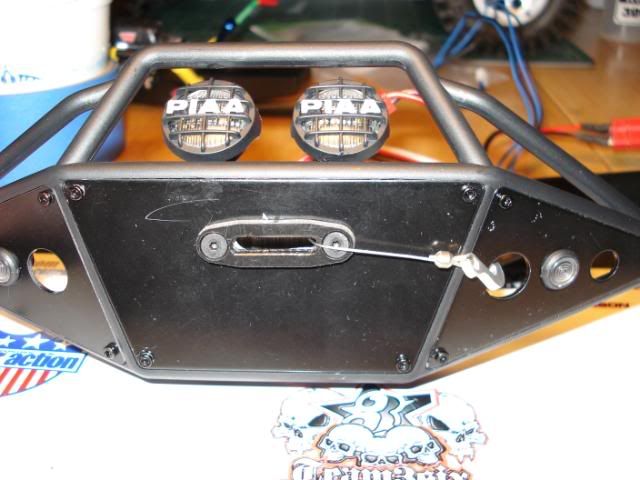 Shocking isn't it.......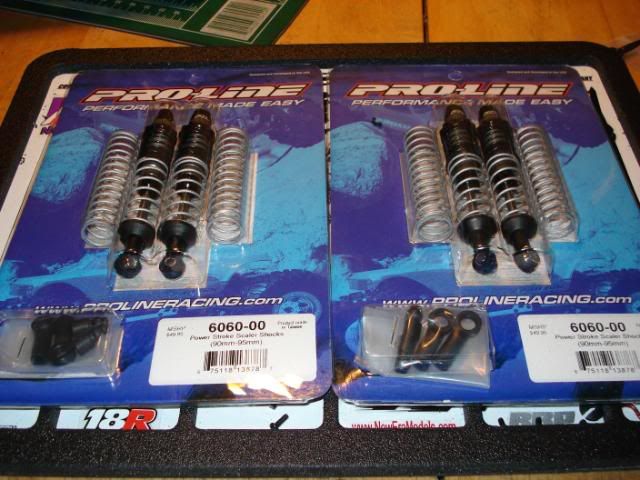 03-09-2010, 10:32 PM
Tech Regular
---
Hey All; Well still working away as I try and figure out the charger problems. And work continues as well. The shocks are on but the fronts need to come off and get some heavier fluid.And I decided to get a Axial interior kit since looking into the abayss of the windows. And I scored a snorkel off RCC a while ago and made it work on the Taco. Here are a few pics for your viewing pleasure.l8r,w.
03-10-2010, 06:39 AM
Tech Master
Join Date: Dec 2009
Location: Valley, AL
Posts: 1,478
---
looks great
03-10-2010, 08:30 AM
Tech Master
Join Date: Dec 2009
Location: Valley, AL
Posts: 1,478
---
...
03-11-2010, 08:32 PM
Tech Regular
03-11-2010, 08:33 PM
Tech Regular
---
crap forgot the update.lol
Well got the paint laid down last night and cut it out tonight. Now I just need to add the fine details like arm rest and windowcranks. Everything is painted and dry and ready for some work.Maybe later if there is an update ready. Enjoy.l8r,w.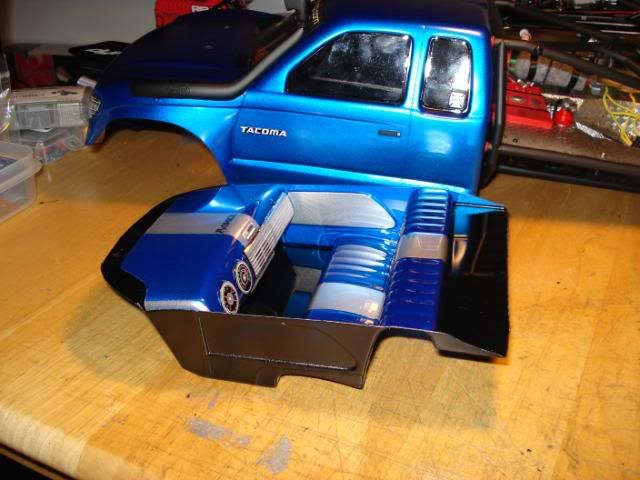 03-24-2010, 09:54 PM
Tech Regular
---
Hey All; Update!!! So I finally got the 2 other sets of lights I ordered for my LED kit. These 2 I got whites for some Rock Lights. In the front I just used a set of the flush mounts that came with the Honcho kit in the front bumper. And in the rear I picked an out of the way and protected spot for a couple of spoters with grills from the Honcho kit in the rear. So that rounds out that part of the build. I have got a set of rims coming and a set of tires as well. So stay tuned for some new updates. Also thanks guys for all the kind words. Enjoy the pics.l8r,w.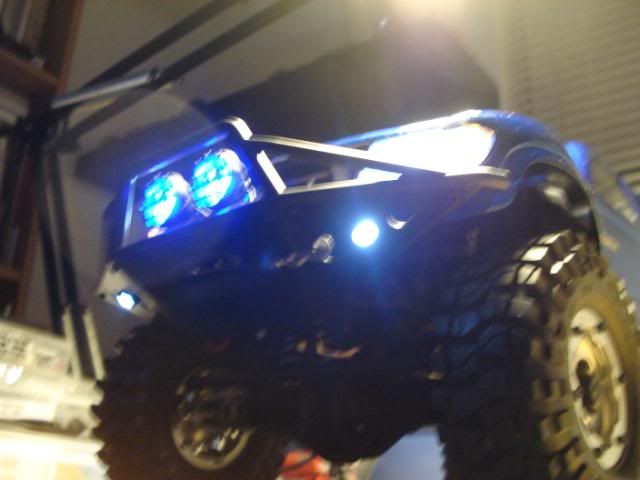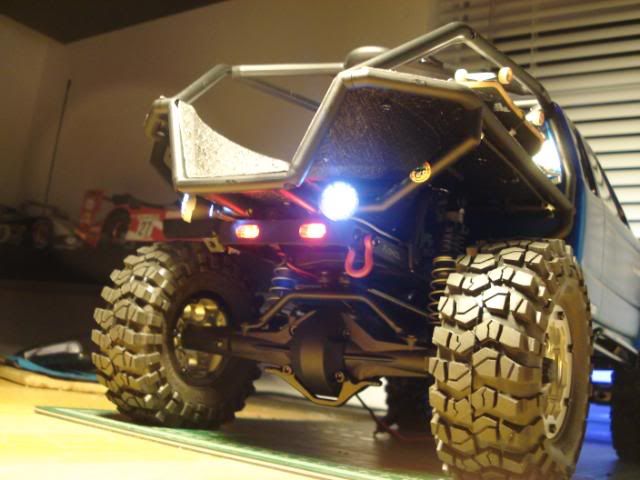 Bonus pic of some of the scale items I have installed along the way.
03-25-2010, 01:47 AM
Tech Adept
Join Date: Dec 2009
Location: San Diego
Posts: 166
honcho
---
Very nice build!!! I cant wait to get my honcho kit. Im too hard on my rigs to have this nice of a build lmao. So the kit comes with the metal links?
03-29-2010, 06:52 PM
Tech Regular
---
Hey All; Well this build is slowing down and getting closer to actually hitting the trail. And there has been some work on the trail it will be hitting. So I have been trying to find some rims to get and the ones I really wanted are no longer availible. So I was watching eBay and found a set of CAC Toyota rims nonbeadlocks in a grey delrim or PVC. Man this stuff is real hard to grind on the prep the edges for CA glue. And I went with a set of RC4WD 1.9 Rock Creepers and a set of there scale hub lockers. I went and painted the rims black and then matt cleared them as well. Here are some pics of the rims and tires. Enjoy.l8r,w.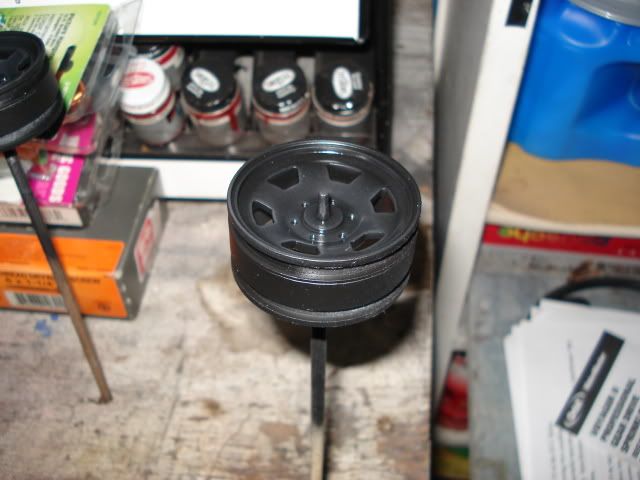 Man I really don't like gluing tires. What a pain the Butt.lol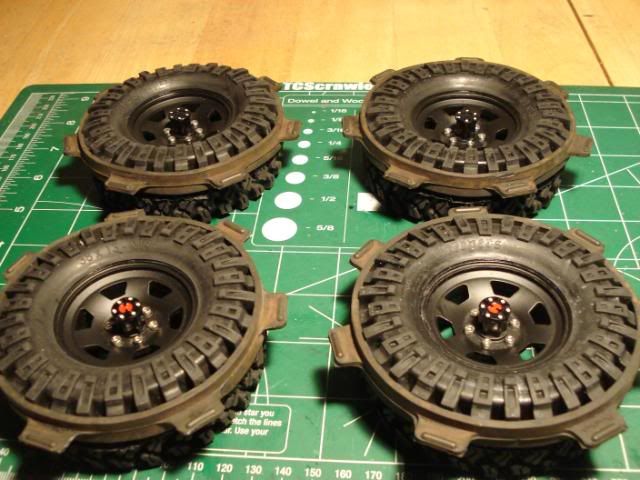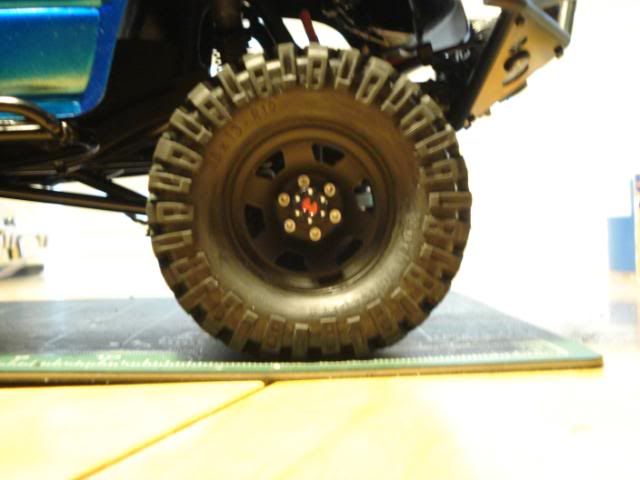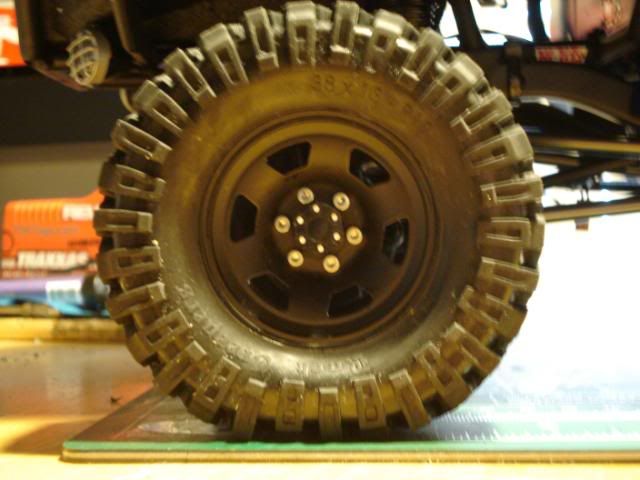 Would have gone outside but it is now raining here. So maybe later on.
03-29-2010, 07:10 PM
Tech Regular
---
Yes some of it waterproof and some isn't.I am still having probs getting the 3 cell to take a charge. So I am going to rethink a few things. Well rain letup and I got her out for a bit. Was working on my woods area and getting a lil progress done.Enjoy.l8r,w.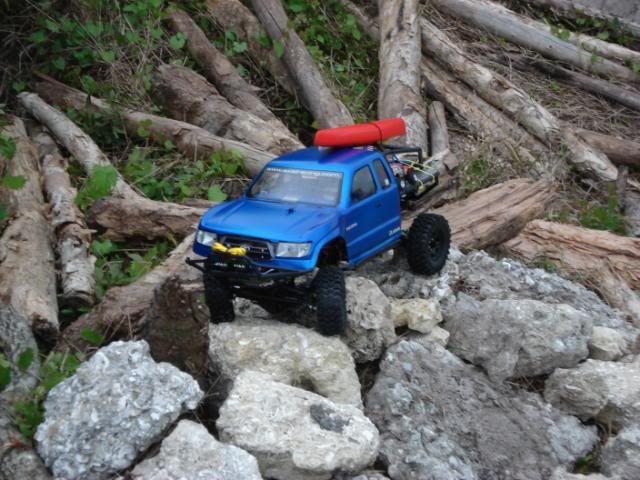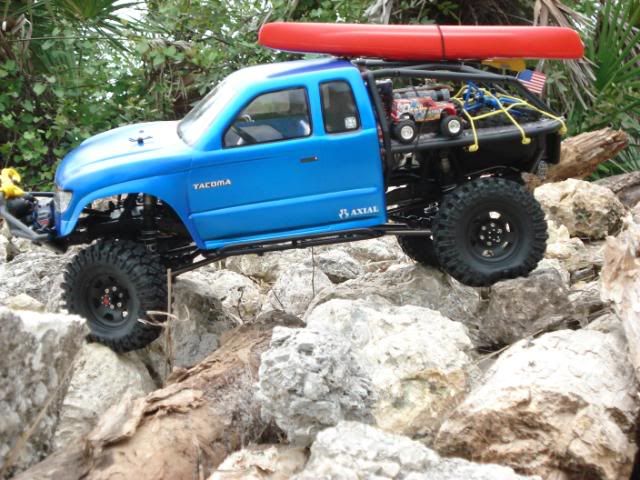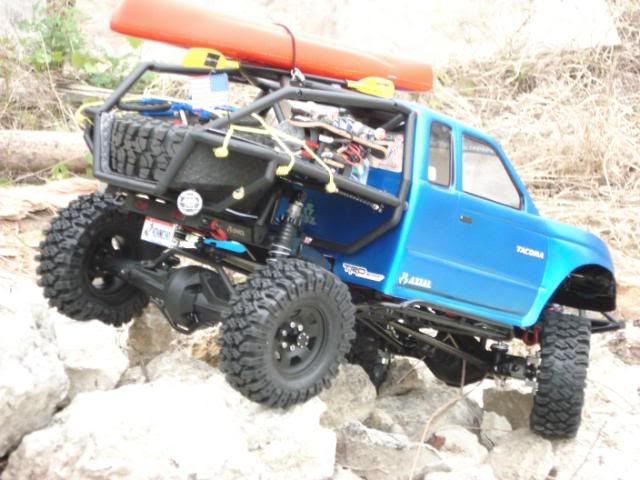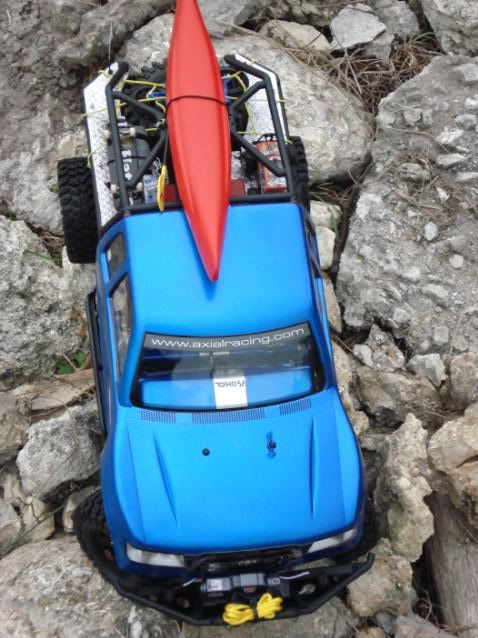 04-02-2010, 11:03 PM
Tech Regular
---
Well this is a rig of function as well as astetic details. lol I snagged a set of JuFac Carbon Steele center drive shafts off the bay. Well nothing hard to install and hoping they will hold up better than the plastic stockers. Enjoy.l8r,w.
So I came home from work and got the shaft. And went right back to work. After a bit of grub.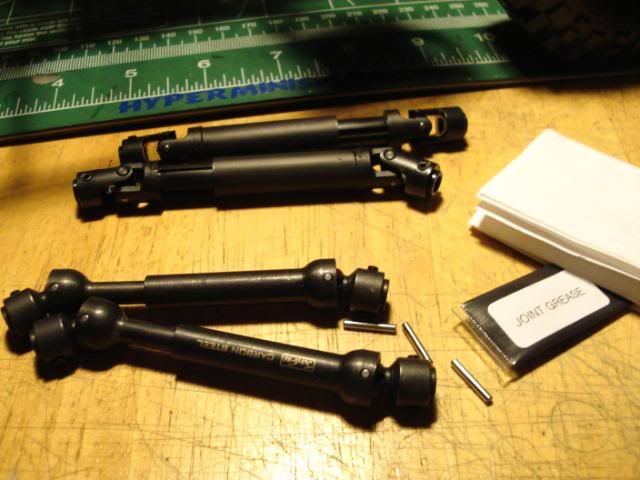 Lil bit of threadlock and some grease and we tossem together and toss em in.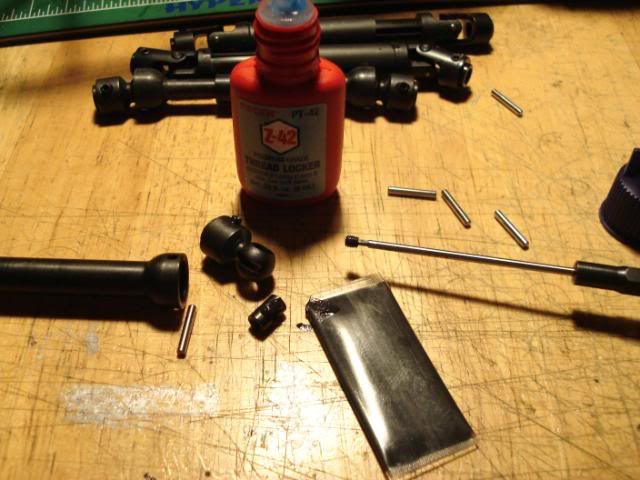 Carbon tuff stuff.I hope. Will put them to the test.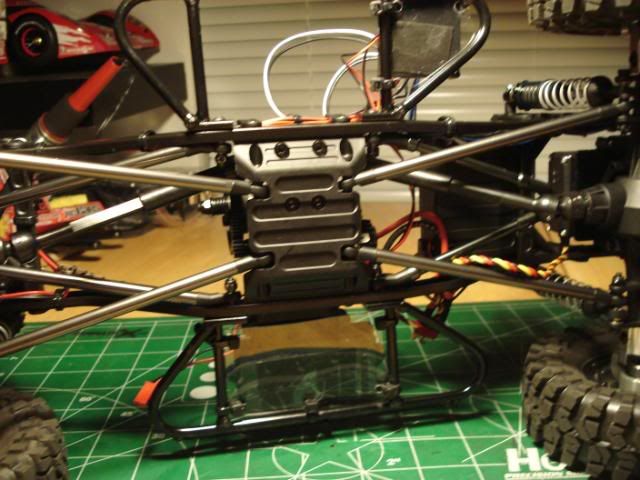 Sorry this pic sux.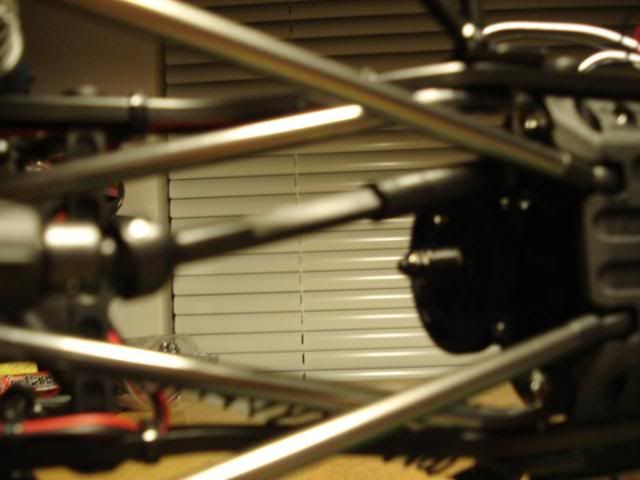 Currently Active Users Viewing This Thread: 1
(0 members and 1 guests)
Posting Rules
You may not post new threads
You may not post replies
You may not post attachments
You may not edit your posts
---
HTML code is Off
---