New Life for an Old Telluride
03-06-2023, 11:06 AM
---
I stumbled acrossed this thread last night. Read thru the entire thing. It's ironic as I started disassembling my St4mpede truggy two nights ago to create a Telly crawler of sorts. I like the challenge of taking an unsuspecting vehicle like this and turning it into something the status quo says it shouldn't be.

I have a custom built 2.2 Wroncho and a TRX-4 Sport. Both are somewhat boring to drive as they climb up and over anything. The Telly is much more intriguing. I will be using this thread for reference. Thank you for taking the time to document your findings. Cheers!

03-06-2023, 11:08 AM
---
How did you get the SSD wheels to fit? 1.9 or 2.2?
03-07-2023, 06:54 AM
Tech Addict
---
You need some PA terrain my friend! We've got plenty of big rocks, mud, and terrain to keep those crawlers busy. But I know what you are saying, been wheeling solid axle rigs since 2008 or so and honestly I'm a bit bored with them. They are so capable anymore, it's not much of a challenge.
It's been fun messing with it for sure. The 4x4 platform has all kinds of options - 3 different widths, 3 WB's, HCG, LCG, etc. and so far it's been very durable. They are 1.9 SSD's with stock hubs and 2wd 'pede front hexes...just a bit wider than stock. There's enough offset baked into the rims that they just clear.
Agreed it's fun to re-purpose vehicles... I've done quite a few now, some more successful than others.
03-09-2023, 07:06 AM
Tech Addict
---
Got everything over to the Slash chassis and mocked up. I've got some stuff ordered, but I've run out of funds so it might be a while until this sees some love. I do have tires and a body of sorts coming, so it'll at least get on the rubber and we'll see after that.
I like the idea of a cage, and definitely thought about it. Test fit my Exo and Yeti cages - not bad. Yeti especially looked promising, thought it would need some serious trimming. Looking for something lighter for now to get started. We'll see how it evolves.
I've never gotten a used roller that was so stiff. Everything was stuck, not sure of the PO dipped it in a vat of CA glue or what. Driveline was super stiff, and the suspension was so stuck I could pick up the chassis by one axle and get no flex at all, even without shocks. Never seen anything like it. I cleaned everything up, reamed the holes for the hingepins, and went turnbuckle by turnbuckle and got the surface rust off and freed up the pivot balls. Driveline was fine after a deep clean and soaking the bearings in some oil. They weren't gritty, just stiff. Everything moves nice and smooth now.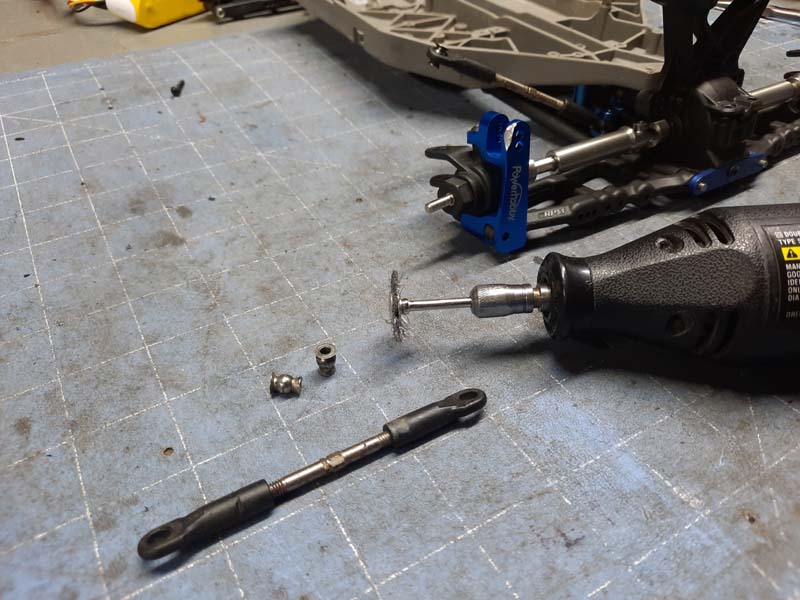 My workbench looks like a Traxxas hurricane hit it.
I've got more than enough parts for a 4th vehicle if I ever want to, and maybe a few short of a 5th. For now, the Trail Telly, 4x4 Rusty and this hot mess are more than enough to keep me busy.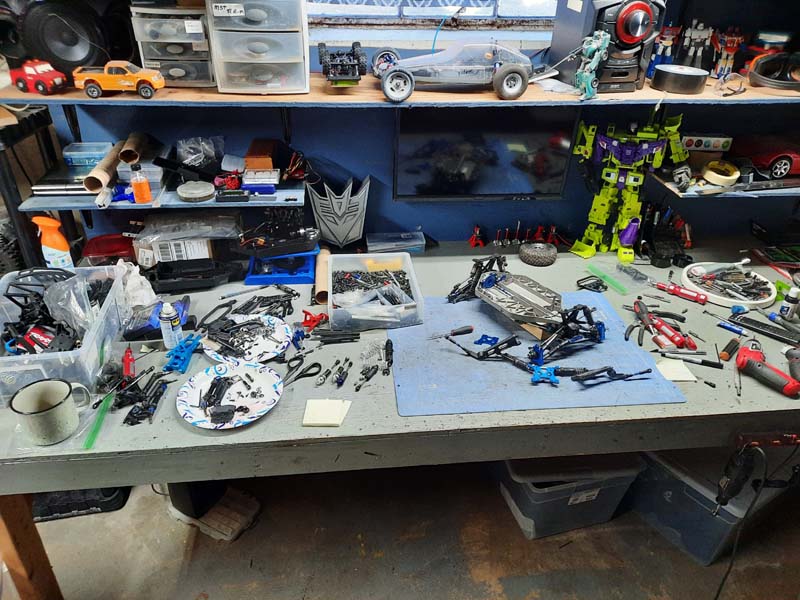 Chassis as it sits. Basically the same setup as the Crawler telly, just longer and wider, and with a bigger outrunner. I had planned to use some big 2.2's, but I needed so much offset up front they were in the next zip code compared to the steering kingpins... that's never good for steering or durability, so I took the tires off the 2.2/3.0's I used before and got them mounted up. Plus, I love the look! Just waiting on some taller tires which are en-route. I totally forgot to dye the chassis black, I got in the zone and started building. I have to tear it back down and get busy dying.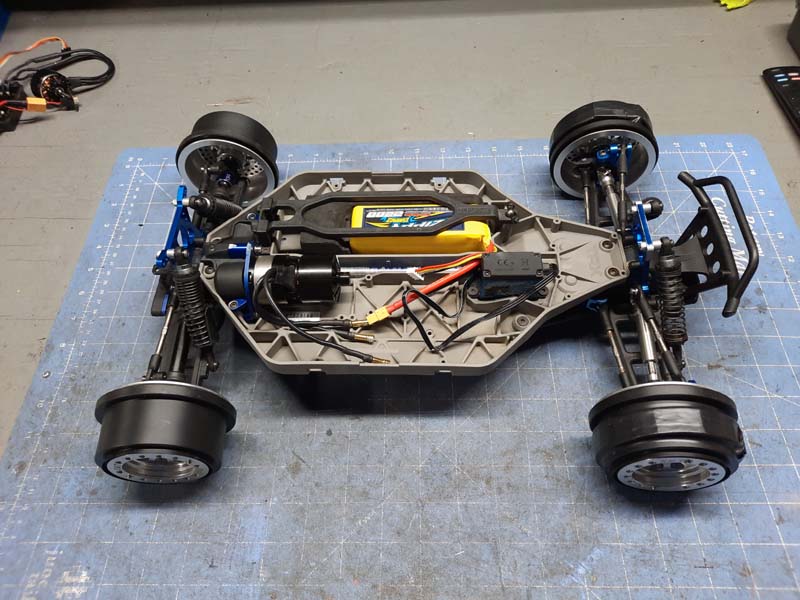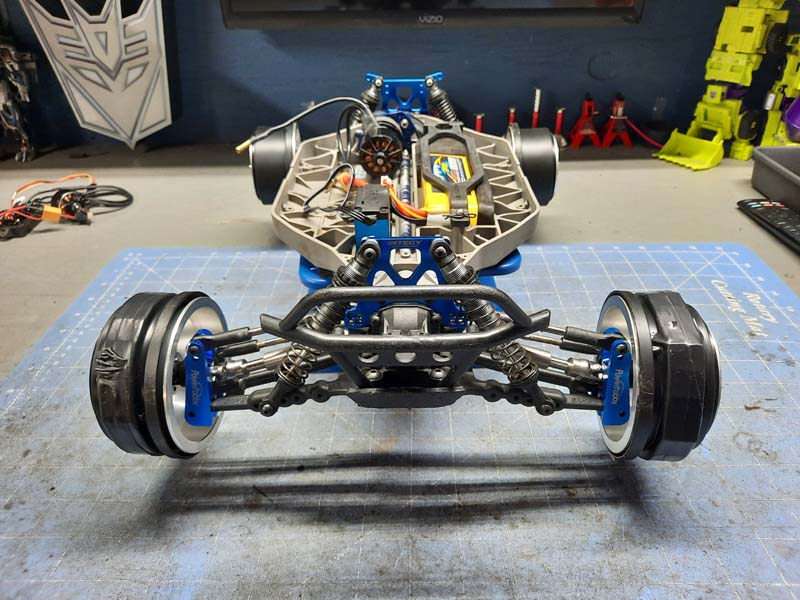 03-17-2023, 01:31 PM
Tech Addict
---
Mini update... the Slash build is coming along slowly. Had to wait for some funds, but parts are dribbling in.
Picked up the Proline U4 2.2/3.0 tires in Predator flavor, and they are pretty nice and sticky. Should crawl very well! They come with PL's standard 2.2 foams for some reason and had zero chance of fitting over the wheels.. I opened them up with an Xacto just to get them mounted. They are a bit uneven though, and the tires came out a bit lumpy. Not sure if they'll wear in or what. Kinda pissed, for $40 a set, the foams should at least fit the intended wheels. I do like the size, I wanted a bigger platform then the Telluride/Pede chassis, and I think I got it.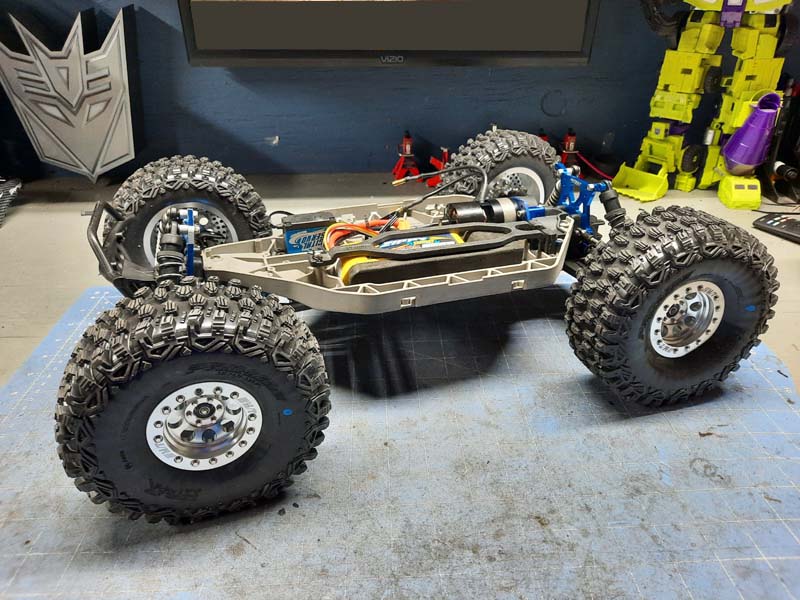 Used some old Wraith shocks filled with 50wt oil and the dual stage pistons. I needed something just a bit bigger than the 90mm GTS shocks I started with. Not the greatest shock, but they'll do for now.
Compared to the trail telly...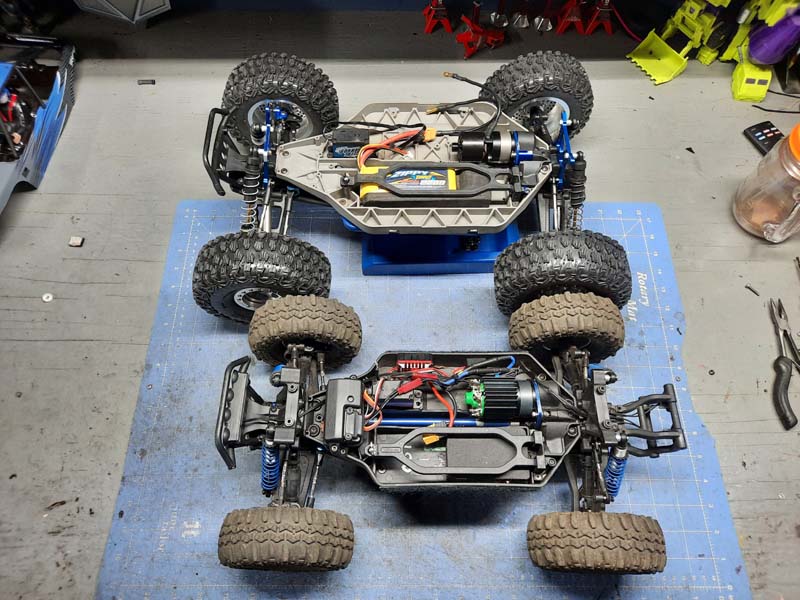 A note on the RC4WD wheels - they look great from a distance, but they have some sharp edges where the holes are drilled in. I get better finish on cheap chicom wheels. Par for the course with RC4WD I guess.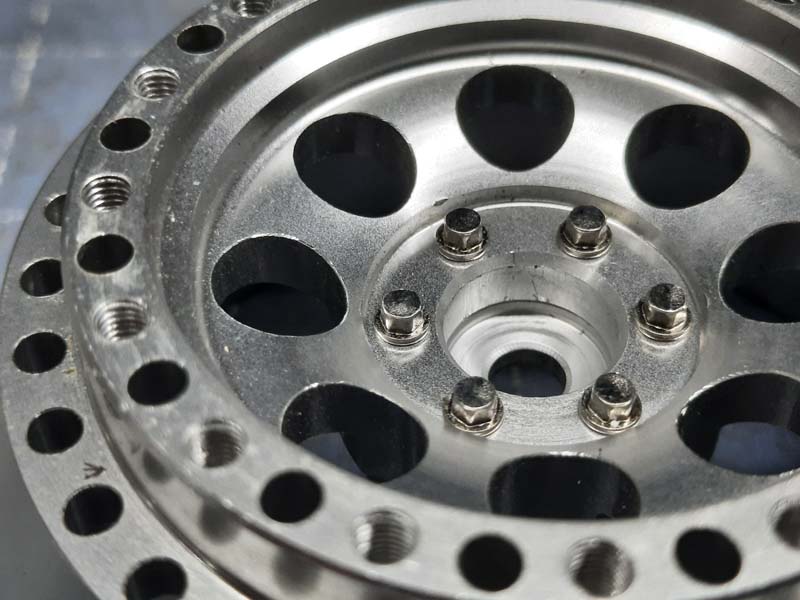 Looking at the side view, the ESC motor and servo are just above the wheel centerline at ride height. Should have a great COG!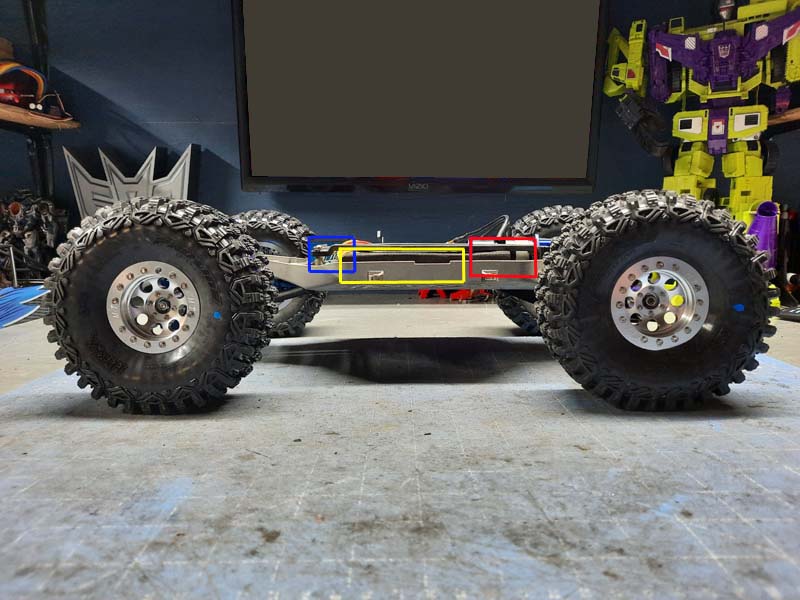 My body order got cancelled - was out of stock, so I'm on the plan B. Just waiting on UPS!
03-18-2023, 06:41 AM
---
Why did you want a bigger platform? Just curious.
03-18-2023, 09:26 AM
---
BTW, what body are putting on it?
03-18-2023, 12:53 PM
Tech Addict
---
Well, I did a standard Telluride ( with 'pede/slash 4x4 arms,) one with narrower arms (Telly/Rally arms), and one with even narrower arms (Bandit arms on the Trail Telly, which was the keeper). Feel like I've kinda wrung that chassis out, not sure what else I could do with it. Plus the Trail and Crawler telly were pretty much identical. Going Slash size give me a longer WB and opens up some other bodies - plus I can use all the same crap I've piled up. I've piled up quite a bit of Traxxas 4x4 chassis bits - 2 tellurides, 1 rustler, and 2 Slash rollers, plus all the random hop ups along the way. I certainly have enough to build another roller if I get bored. As of right now, Keeping the Trail Telly as is, building this Slash based one to crawl, and building up the Rustler to bash. The rest are spares.

Undecided on the body. something light though.
Currently Active Users Viewing This Thread: 1
(0 members and 1 guests)
Posting Rules
You may not post new threads
You may not post replies
You may not post attachments
You may not edit your posts
---
HTML code is Off
---