HPI Venture FJ Cruiser vs. Vattera Ascender 1972 Bronco
08-14-2018, 01:26 PM
Tech Master
Join Date: Mar 2016
Location: OK
Posts: 1,272
HPI Venture FJ Cruiser vs. Vattera Ascender 1972 Bronco
---
Hello all, wanting some opinions and feedback on these two scale trucks. Would like actual opinions other than "this" or "that". Do you have either, and what kind of things have you done to it, ease of modifying (for lights, etc..) ??
I am not new to the hobby as I race off-road (B6 buggy and T5M truck, B64D Wheeler) as well as on-road (1/12 scale, F1, and TC's). I currently have an Axial Wraith that I run around the yard some - mostly through our flower beds (
) - but am wanting to pick up a more scale looking trail truck. I've had plenty of HPI R/C vehicles in the past, although, they were all on-road race vehicles, and have never had a Vaterra R/C. Looking for advice on which is the better value, aftermarket parts availability, and the like - not really sure where to find hop-up crawler types parts (other than eBay) as my Wraith is pretty much out of the box and I just play with it now and again. Really looking at something more "scale" than the Wraith. TIA !!!
-Barry
08-14-2018, 04:16 PM
---
I would stay away from the hpi, I haven't heard anything on it, vattera not sure what will happen to them with the pick up of axial. Axial or traxxas might be your best bet.
08-16-2018, 05:29 PM
Tech Apprentice
Join Date: Aug 2016
Posts: 52
---
my axial has been great... running it for years now with zero problems
08-23-2018, 11:26 AM
---
I just don't think the Venture is doing well, after the looooong delayed release of it. Vaterra is coming out with an updated Ascender, so I think I would wait on that one too.
08-23-2018, 03:23 PM
Tech Addict
Join Date: Jul 2015
Location: Colorado Springs, CO
Posts: 637
---
I haven't heard about an updated Ascender. That sounds interesting.

HPI really blew it with their delays on the Venture. When we first heard about it, it was going to be the most scale looking crawler on the market but by the time it came out it was just another in a long line of new crawlers.

I don't have one but I think the Traxxas TRX-4 might be the best (most scale) one out there right now. It also will always win the aftermarket option race.
08-24-2018, 06:09 AM
---
I would also throw the Carisma SCA-1E into the hat. Not only is it a good truck that is affordably priced, the guys at Carisma are a great bunch and are really trying to bring great products to the scale market.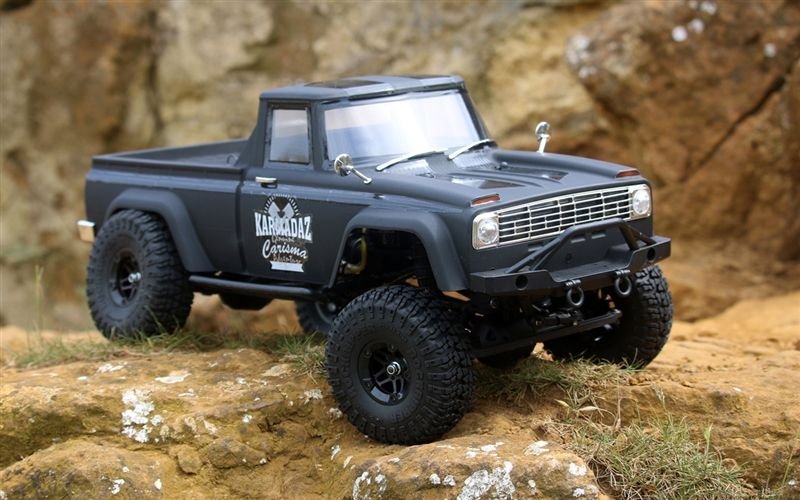 08-24-2018, 05:22 PM
Tech Adept
Join Date: Oct 2008
Location: Richmond, ca
Posts: 106
---
Buy 1 that you like. Drive it or join a crawler group in your area. Each rig is capable in its own way. Whether your into racing or crawling, you gonna end up buying more than 1 so it's good to have variety. Watch YouTube, a lot of rigs doing good crawling. Just my 2 cents.
Currently Active Users Viewing This Thread: 1
(0 members and 1 guests)
Posting Rules
You may not post new threads
You may not post replies
You may not post attachments
You may not edit your posts
---
HTML code is Off
---