Mini Crawler track for Orlandoo Hunter Pajero OH35A02
02-25-2018, 09:18 PM
Tech Adept
Mini Crawler track for Orlandoo Hunter Pajero OH32A02
---
After buying and building a Orlandoo Hunter Pajero OH35A02 I need a place to run it. Decided to build a mini crawler track that would be portable and I wanted to be modular so I could add on to it in the future. I decided to build it on a 36"x36" base. After a few mock ups I decided on what I wanted. Began cutting some 1" polystyrene board. Started with a 3'x3' base and started building from there. When I go the basic design roughed in I tested the Pajero on it.
https://youtu.be/hrhT1JCmtMU
As it turned out when I started building the final version I didn't have enough room to get back down from the 2nd level without backing up and coming down the same way I went up. The 2nd level stayed but there's no way to get to it. Still have to construct a bridge from the 1st level on the right back down to the left. Add some crawling obstacles under the ramp and platform and between the two.
---
Last edited by Gramps50; 02-27-2018 at

08:52 PM

. Reason: Correct title
02-28-2018, 05:48 PM
---
Wow, nice touch on the terrains works. Looks like white sands.
03-03-2018, 08:15 PM
Tech Adept
---
Wanted a rubble field under the platform, glued all the rocks in place, then put down a coat of watered down PVA. Spread some fine rubble over the glue and let it dry. Did about half of it. Let it dry the dumped off the excess.
03-04-2018, 01:18 AM
---
Wow, lot of detailed stuff to work on the track. Thumbs up.
03-04-2018, 09:36 PM
Tech Adept
---
Started putting the rock wall on the ramp/platform. Tried to hot glue then to the foam, didn't work well. It would stick to the foam but not to the plaster paris for what ever reason. Might have been able to do it with PVA but it has no sticking power until it's dry. Using a tip from a FB group I ended up using Locktite PL300 which for gluing foamboard to a wall or even drywall to foamboard. Still tkes 24 hrs for it to dry but it does have some holding power to it makes it easier to set the panels.
03-11-2018, 06:58 PM
Tech Adept
---
Finally got all the panels glued in place.
Filled the joints with speckling compound
Added some rocks to the ramp
Wanted a little texture on the top
03-13-2018, 08:44 PM
Tech Adept
---
Decided to paint it modular before I glued it all together, much easier. This was the easiest piece to replace if I didn't like it. This isn't finished yet it will still get a gray wash then dry brushed in white.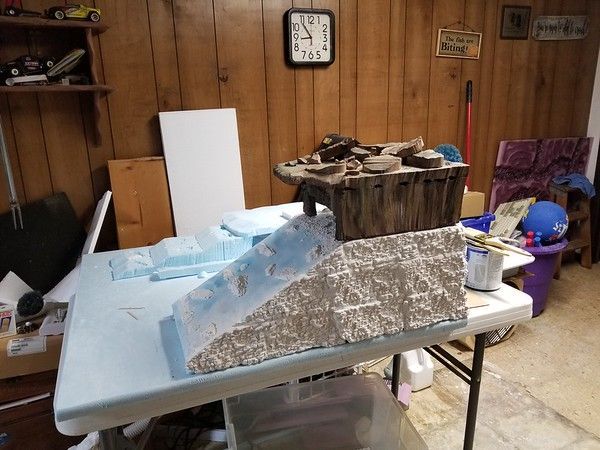 03-14-2018, 01:13 AM
---
Nice work on the paintjobs, the terrain texture started to get some scale realism. Great job can't wait to see the results.
03-16-2018, 09:45 PM
Tech Adept
---
Did some more painting today
The next step is finishing the base so it to can be painted.
03-17-2018, 08:34 PM
Tech Adept
---
Think I have decided to leave the 3rd story off. It served no real purpose and would limit some what the view of the 2nd level. So I think this is what the 2nd level will look like.
03-18-2018, 06:11 AM
---
Looks superbly well done on the paint jobs, terrain texture looks alive.
03-18-2018, 07:01 PM
Tech Adept
---
Thanks XL, I started working on the base again today. Carved up the base some more and added a 2nd ramp in the back for another way to get on and off the deck.
With the painted piece in place
03-22-2018, 08:56 PM
Tech Adept
---
03-26-2018, 09:05 PM
Tech Adept
---
Started adding rocks to the other side to make it more challenging.
03-29-2018, 03:33 AM
---
Any plans to add vegetation objects?