Colorado Springs - RC Mania - Off-road track
03-07-2010, 08:00 AM
Colorado Springs - RC Mania - Off-road track
---
RC Mania is the ONLY open play, offroad track in Colorado Springs. It is located on the northeast corner of Powers and Dublin at the Church For All Nations. RC Mania opened last summer and is situated on the west side of the church's parking lot. This spring we will be building a new, bigger, better, awesome track at the north end of the parking lot. The construction should begin late March or early April. The track is being built by volunteers, if you are interested in helping and/or want more inforation on RC Mania you can contact Marshall at
[email protected]
or Steve at
[email protected]
.
---
Last edited by Colby; 04-16-2011 at

05:45 AM

.
03-07-2010, 08:43 AM
Tech Rookie
Join Date: Mar 2010
Posts: 4
---
Very nice! I'm glad this is all working out. I'd hate to see the old track just go away and then we would have nothing. Hope to make it to the next meeting.
03-08-2010, 07:53 PM
Tech Rookie
Join Date: Feb 2010
Location: Colorado Springs, Colorado
Posts: 14
---
We need all the support we can get be it time, supplies or money.
03-17-2010, 12:59 PM
Tech Rookie
Join Date: Mar 2010
Posts: 4
---
Unfortunately I missed the last meeting. What's the current status?
03-20-2010, 03:30 PM
Tech Rookie
Join Date: Feb 2010
Location: Colorado Springs, Colorado
Posts: 14
:)
---
March 27th ground Breaking for RC Mania
03-28-2010, 05:35 PM
First work day on new track!
---
Thanks to everyone that showed up today to work on the new track ... we are well underway. And a Super BIG THANKS to Nick, Joshua, Marland, Bo, Landen and Colin for bringing and working the bob-cats, ditch-witch and dump truck ... what a saver!!!!!!!! The old track is no more; gone and leveled. The new track is well underway, 7/8 scraped and the the needed dirt in the area needed. The next official work day will be next Saturday the 3rd, we'll be out there and starting at 9:30 so please try to show up with shovel and gloves in/on hands. If you have not given Steve your pledge money yet, please try to connect with him in the immediate future to do so.... we will need it to buy materials to finish the track with; the sooner we get your pledge money, the sooner we can finish the track. I hope to post pictures of the new track progress here by mid next week. Thanks again to all those out at the track today and hope we will see more of you next weekend.
04-02-2010, 12:22 PM
---
The track is well underway and we are having another work-day tomorrow, April 3 starting at 9:30. I hope to post a few pictures here tonight of our current progress. This is a reminder to all those that pledged money and have not yet gotten it to Steve .... we need it ASAP to continue and to finish the track. The track will not be open for play/running until we get it to a certain level of completion ... like the lanes piped off and tabletops/jumps built up with the plywood. Without the remainding pledge money coming in, these materials cannot/will not be purchased; therefore the track cannot be finished and will not be available. Steve has only collected about half of what was pledged and half will not allow us to get the track to a useable level so please, get your pledged money to Steve ASAP.

Hope to see many of you at the track tomorrow
Marshall/Colby
04-02-2010, 03:39 PM
---
Sorry, old pics of the track are no longer availbable.
---
Last edited by Colby; 04-11-2011 at

01:29 PM

.
04-03-2010, 06:58 PM
---
We had another good work day at the track. Again, big thanks to Landen who brought and worked his bob-cat. Also thanks to those who showed up to work, Max & his father Bob (this guy does as much work and any of us... wow), Dale, Jeremy, Athony, Tom, Rich, Richie and I'm sure there were a few more that I'm missing. A couple more good work days and we should be close to some serious play/run ... (assuming the remainding of the pledge mondey comes in so we can finish purchasing the materials we need to finish).
---
Last edited by Colby; 04-11-2011 at

01:30 PM

.
04-04-2010, 07:09 AM
Tech Adept
Join Date: Nov 2009
Location: Colorado
Posts: 147
---
Looks great. Its going to be so much fun.
04-04-2010, 07:19 AM
Tech Adept
Join Date: Apr 2009
Posts: 167
More Pics
---
Here are a few more pics from saturday...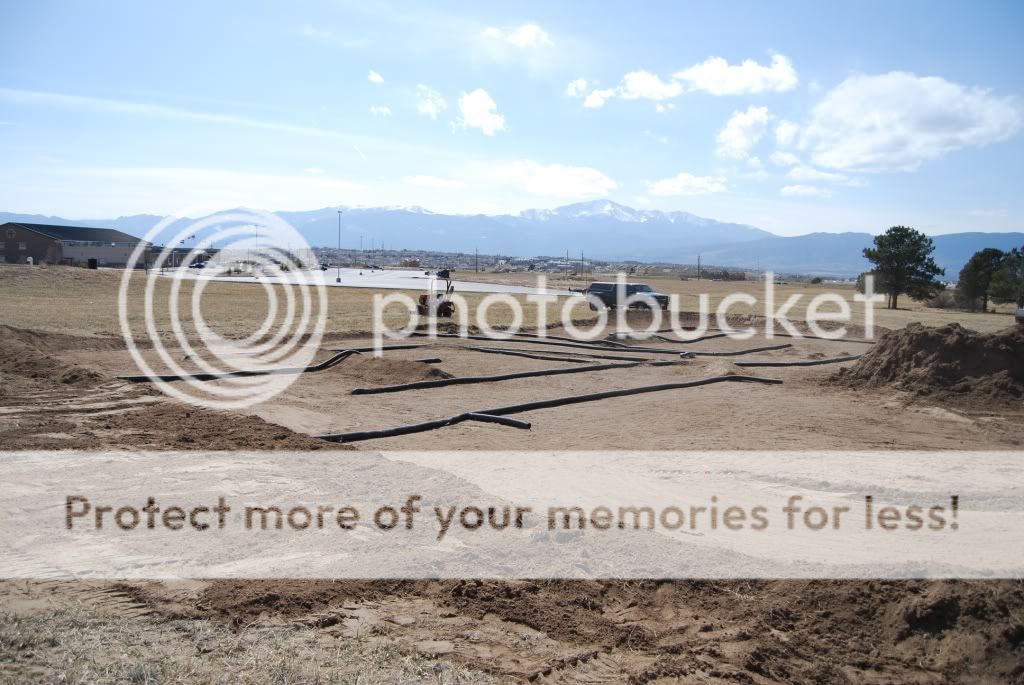 Guess who's truggy!
04-04-2010, 07:18 PM
---
Not much work done today but a few of us were out trying out what we could on the finished portion. We did purchase another 8 sheets of plywood and 12 fence post and dropped them off at the track for our next work day. We also picked up the 200 stakes that John made for us. Big thanks to John ... he stayed up till wee hours of the morning the last two night welding on these so we could have them today.
04-06-2010, 07:49 AM
Annual ID Access Cards NOW on SALE!
---
Annual membership ID cards are now on sale. If Steve has record of you pledging (and actually giving) $50 or more, you will receive a free card. Possessions and displaying of cards will be required to utilize the RC Mania track. One card is good for an entire family consisting of dad, mom and children under 18 yrs of age.

Cards purchased in the month of April will be discounted to $50; cards purchased after April will be $60. The cards will begin to be printed and issued the end of April. Cards will be laminated and include a lanyard to allow wearing/displaying around neck. You can purchase your annual ID card directly from Steve, Rich or Marshall. You can either give us your money out at the track (when we are there) or mail your check to us. Please be sure to include your name as you wish it to appear on your card and your address of where to mail it to. Remember, the Annual ID card goes up to $60 starting May 1, 2010!

Steve Levey
19280 Doewood Dr.
Monument, CO 80132


Marshall Spahr
5595 Wilkerson Pass Dr.
Colorado Springs, CO 80917
04-11-2010, 09:30 PM
Tech Adept
Join Date: Apr 2009
Posts: 167
---
A group of us went out today and did some work on the track. A big thanks to Landon for working the bobcat and moving some serious dirt for us. Here are a few photos of the progress from the day.
04-14-2010, 12:02 PM
---
Great pics Dale and great work guys .... hats off to you again Landon ... sweet.