IFMAR World offroad race
10-12-2015, 07:05 PM
Tech Regular
Join Date: May 2005
Posts: 467
IFMAR World offroad race
---
How many seen it? When did off-road racing not be off-road? I mean Astro turf? Really? That's not off-road and never will be as nothing is changing in the track. The race was more like on road with jumps and bumps. It's really pathetic that off-road has stouped so low to race on Astro turf.

What are y'alls thoughts?
10-12-2015, 07:35 PM
Tech Master
Join Date: Jul 2013
Location: in my house
Posts: 1,364
---
As a die hard outdoor, nitro guy, I think it is pathetic the way the last 2 1/10 ifmars have been pathetic as to how the tracks were. What happened to throwing some mud?
10-13-2015, 04:41 PM
Tech Fanatic
Join Date: Aug 2008
Location: Stockport, UK
Posts: 982
---
Why? We've raced off road on astroturf for 20 years, with the rain we have it's the only way we can race outdoors in the UK and it's a hell of a lot better than racing in mud on a rainy day.
The Yatabe Arena has covered their clay track in astro, but that track wasn't used for the Worlds. The track was built just for the event on top of their on road track so no-one could have an advantage by running on it before the event.
Yatabe covered their dirt as numbers were dropping, introducing the astro has increased the number of racers there. Here is the proper astro track,
compared with the original hard packed clay track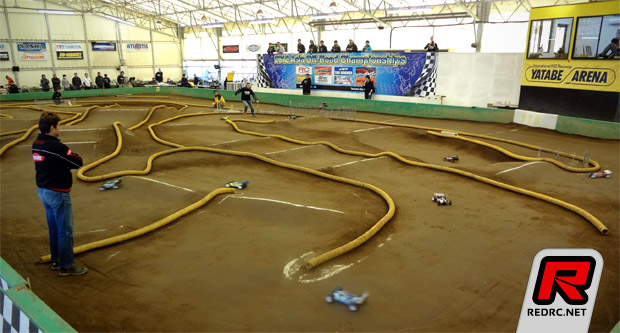 and the only difference is the colour of the surface
That's not off-road and never will be as nothing is changing in the track.
You've never raced on astro then. Depending on how the astro is laid different sections will have differing levels of grip and the grip changes through the day. Then the grip on different pieces of astro when it is raining is usually very different, the last astro meeting I was at
Compare that to a rollered smooth and treated clay track, so hard packed it might as well be brown coloured asphalt, that's even less off road than the majority of astro tracks. When slicks and/or additive is the tyre of choice again it's not off road by your definition, especially as grip is more consistent than on astro.
Add sugar and you have an even more artificial surface that wears down tyres at a huge rate. On astro, tyres last for weeks or even months before needing replacement.
No one can argue that it's wrong to not run on "dirt", after all there hasn't been a major event on proper loamy dirt for 20 years as the power in the buggies is too great to try and run a major event on loose dirt and maintain a consistent surface to ensure it is fair for everyone.
10-13-2015, 04:52 PM
Super Moderator
Join Date: Oct 2007
Location: Rochester Hills Michigan
Posts: 7,232
---
Hey Terry and any of our other UK members (and other active astro areas),

How active is the club racing of offroad vs onroad in the UK? Number of places to race, racers showing up regularly, new members, etc?
Currently Active Users Viewing This Thread: 1
(0 members and 1 guests)
Posting Rules
You may not post new threads
You may not post replies
You may not post attachments
You may not edit your posts
---
HTML code is Off
---