Response: ROAR penalizes Drivers "Team ROAR or Team USA"?
12-08-2010, 02:10 PM
Response: ROAR penalizes Drivers "Team ROAR or Team USA"?
---
There is already a thread about ROAR penalizing the 5-6 drivers for not wearing their T shirts at the opening Ceremonies. I personally think its a bogus political move by ROAR to flex their muscle. Blah.
I am going to take it in a different direction. I think the support, advertisement and uniform provided for the event was a pitiful display of TEAM USA and something should be done about it. Why is the logo for ROAR double the size of the American Flag??? Why are the shirts Grey???? Why the smallish flag that is in the back of the picture???
Here is the team picture......
Seriously, where is the Esprit De Corps! At first glance it doesn't even seem like team USA?
And here is Greece Team picture from 2008 - Notice the team color matches the flag. Large flag displayed up front.....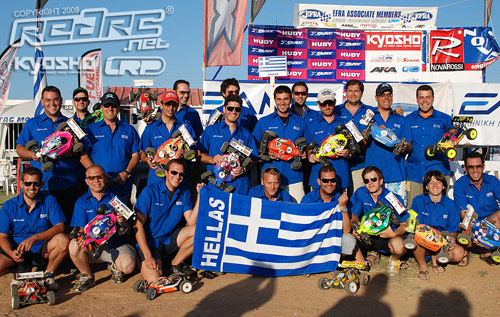 IF you want to do a "TEAM USA" here are a couple of ideas for the shirts.
Where is the NBA in large letters? Not here!
Here is the IFAF world championship TEAM USA Team.... notice the smallish logo of the IFAF on the players right shoulder.
Here is Team USA in the Motocross of Nations. Notice the main theme is USA, not AMA. AMA is on a small patch on the front/sleeve of the shirts.
When Boys were Men!
Why are the BEST drivers in the world paying ANY money to go represent "TEAM USA" ?
I am not going to write all this out just to present complaints, i am going to give solutions as well.
Why not create some type of marketing and make awesome looking TEAM USA shirts for people to buy and support the event financially. Why should a driver/sponsor pay for the team to get there, pay a fee for the race and have ROAR (non financial contributor) in big logos on the shirts for the TEAM USA pic??
If i were a pro driver i would be outraged!
Thoughts?
12-08-2010, 02:14 PM
Tech Legend
Join Date: Aug 2001
Location: TRCR Modified Driver
Posts: 22,595
---
Right On Chad !!!!
looking good in that photo bro ham....
12-08-2010, 02:27 PM
Super Moderator
Join Date: Oct 2007
Location: Rochester Hills Michigan
Posts: 7,232
---
ROAR is not just the USA, it also includes Canada.
12-08-2010, 02:33 PM
Tech Regular
Join Date: Mar 2010
Location: Plano, IL
Posts: 387
---
I love the USA MX team brought to you by Miller High Life (look closely at the hats)
12-08-2010, 02:57 PM
Super Moderator
Join Date: Oct 2007
Location: Rochester Hills Michigan
Posts: 7,232
---
At Miller sponsored USAC automobile races back in the '70s, when I was on a pit crew, Miller gave each crew a case of beer after the race. Our driver's cousin would put various related artwork on the pit board to flash to him during the last several laps, in an effort to encourage him to hurry up and finish the race.
Of course we were always reminded that it was against the rules to open the case in the pits. hehe.
Always enjoyed the races at the Milwaukee Mile!
12-08-2010, 03:49 PM
Tech Master
Join Date: Sep 2006
Posts: 1,919
---
12-08-2010, 04:39 PM
---
Yup, the sponsor is in the pic!
Those were the days!
Originally Posted by
nitroexpress
I agree with you. Sadly, I doubt ROAR will change their attitude in the future. No matter who is Pres, they have always had an Indian/Chief mentality. I wonder what would have happened if the drivers had recognized your points and threatened to boycott the team picture. I would think the factories could have put more pressure on ROAR than ROAR could put on the drivers.
I agree with you and especially on the last point. I don't understand why its a privilege for the BEST in the world to attend a big worlds race?? Isn't it more of a privilege for the race to have THE BEST IN THE WORLD???
There isn't a single ROAR sanctioned event in my state that i am aware of and i be there is 30+ tracks in the State of Ga. All of the major tracks use ROAR guidelines but none of them require a ROAR membership to race.
The only races i ever hear of that are ROAR sanctioned are the big nats every year.
Are all of the major races around the country ROAR sanctioned like , The Silver state champs, Nitro Pit, Spektrum offroad Challenge, Hot Rod hobbies shoot out, etc??
12-08-2010, 05:14 PM
Super Moderator
Join Date: Mar 2009
Location: Washington State
Posts: 11,084
---
Wait... are you saying the grey shirts in the first picture are supposed to be "Team USA" t-shirts?
If anybody is going to be punished, it should be the guy wearing the pink boxers
12-09-2010, 06:55 AM
12-09-2010, 07:29 AM
Tech Champion
Join Date: Oct 2006
Location: Tunnel Hill GA
Posts: 5,046
---
The guy in the pink boxers is Billy Easton and he is one of the drivers put on probation. Is he not?
12-09-2010, 07:45 AM
Regional Moderator
Join Date: Jul 2006
Posts: 2,663
12-09-2010, 08:54 AM
Tech Elite
Join Date: Nov 2008
Location: Cypress, TX
Posts: 2,890
---
Pittyfull team picture.
looks like a bunch of guys with cheap a$$ shirts.
Those are shirts you sell to the spectators as souveniers.
Not somehting to give the best drivers to wear to represent...

Get better Polo shirt or something with better fabric.
Have Team USA shown.
AND ACTUALLY MAKE IT LOOK LIKE A TEAM SHIRT.
Not some cheapo advertisment souvenier shirt.
12-09-2010, 09:25 AM
Super Moderator
Join Date: Sep 2003
Location: Semper Fi
Posts: 29,484
---
i think thats enough of this thread.

There is already another thread regarding this issue .
Currently Active Users Viewing This Thread: 1
(0 members and 1 guests)
Posting Rules
You may not post new threads
You may not post replies
You may not post attachments
You may not edit your posts
---
HTML code is Off
---