Gran Turismo Racing League
01-03-2011, 07:40 AM
Tech Master
Join Date: Nov 2008
Location: pasadena md
Posts: 1,291
---
how do you upgrade the internal hard drive that slot at the bottom of the unit remove the cover and the hd just slides out. Plus how do you format it correctly and how do you transfer over your old stuff to the new one.

I have the orginal 60 gig as well but wont give it up for a new one because i still play some ps2 games
01-03-2011, 08:47 AM
---
I'd like to know that too


And I got a Bluetooth headset today
01-03-2011, 01:43 PM
Tech Master
---
Yes you just remove the slot to change the hd, it's laptop size. When you start up the system for the first time with the new hd, it should come up with a screen to format it.

As far as transferring files, a thumb drive is your friend. But not everything can be copied. Some game saves won't work, and some other things aren't going to allow you to copy them over.

Side note, after my 80gb got the ylod, I did what you had to r40. I reflowed the solder and it fired right up, but only lasted about 2 hours. I didn't know at the time, but now there is a 'transfer everything to a different system' tool. You hook up to ps3's with an ethernet cable, and you can take everything off an old system and, put it on the new system. Now if only they could do what xbox did and make an adapter to copy everything to just the hd without needing 2 systems.
01-03-2011, 01:45 PM
Tech Master
01-03-2011, 02:17 PM
---
What happened with mine, was it couldn't be repaired the last time. I thought for sure I had lost everything... Well, when you setup your new machine, you can go on the PSN and re-download nearly everything. You just have to remember the email and password you used. So I got most of my game data, including my DLC back(I have all the map packs and zombie games for each CoD). I only lost a few things, and they can't be that important.. because I don't remember what they were.
01-03-2011, 02:59 PM
Tech Master
---
Oh yeah, you can redownload everything you have bought, takes forever but you can do that. What you will lose is save files for some games.
01-03-2011, 04:05 PM
---
Yup and it works too

Now I just have to find that pesky setting button that will allow me to change my top speed
Yes I do have the custom transmission
01-03-2011, 05:17 PM
Tech Master
---
Just like the other adjustables...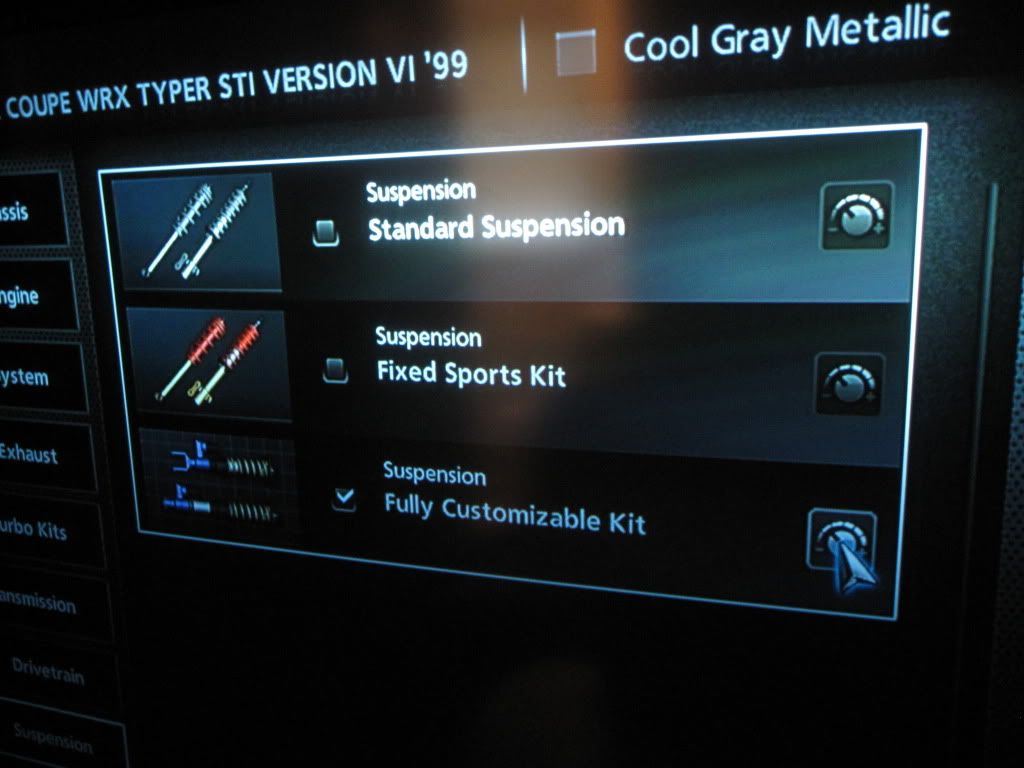 This is suspension, but you click the same button on transmission. Then there is a button right next to top speed, the cursor should automatically be there, click it and it brings up a slider. Thats how you adjust top speed.
01-03-2011, 05:34 PM
Tech Elite
Join Date: May 2004
Location: Ft. Bliss, Texas
Posts: 4,716
---
Originally Posted by
chaos2984
how do you upgrade the internal hard drive that slot at the bottom of the unit remove the cover and the hd just slides out. Plus how do you format it correctly and how do you transfer over your old stuff to the new one.

I have the orginal 60 gig as well but wont give it up for a new one because i still play some ps2 games
Okay... I got ya!!!
First, back up your PS3 HDD. It has a internal backup function. It has a pretty big back up device somewhere in there. Remove the old HDD, and install the new one. Once you power up the PS3 it will ask to format the HDD... click yes. Once the formatting has been done, Go to your system settings again and click RESTORE. It will then throw all you information back on to the new HDD... except for the downloadable content. but you can always and get them back... even if you payed for it.
---
Last edited by GundamWZero; 01-03-2011 at

05:47 PM

.
01-03-2011, 05:35 PM
---
Ahhh ...noope Don't have that option

I'm at lv 19 and my driver is at lv 21
Do you remember what lv it's available from ??


I'll snap a photo of my screen tomorrow
01-03-2011, 06:37 PM
Tech Adept
Join Date: May 2010
Location: PA
Posts: 119
01-03-2011, 06:40 PM
Tech Elite
Join Date: Jul 2008
Location: Sonoma County
Posts: 2,018
---
Man! The Red Bull X1 challenge is near impossible to beat. The car is super fast, and super sensitive. I hit 297MPH with this thing and still couldn't catch Vettel.
01-03-2011, 10:10 PM
01-04-2011, 12:50 PM
---
Well It's there now
must have missed it