Plasma or LCD?
08-05-2008, 12:35 PM
Tech Fanatic
Join Date: Oct 2005
Posts: 879
---
Originally Posted by
CarbonJoe
You owe it to yourself to check out the LED light engine DLP sets. As stated above, the LED engine is rated for the lifetime of the TV.

If you are considering a TV over 50", there is no better bang for the buck than the Samsung LED DLP set. Ever check out the prices for 60" and up plasma or LCDs?
I went with the Samsung 56" DLP. I have kids and the screen can take the hands of kids!! as far as repairs go, I can replace the bulb myself unlike the old projection TV's nor do I need to align anything.
I've had mine for a while with no problems and I have a friend with one for 5+ years and he had to replace the bulb. I don't have to worry about burn in either.
I was told the LCD is better than the plasma in the long run, just make sure it has white wash for the screen. That way if you start to get burn in, you can correct it.
08-05-2008, 12:59 PM
---
With the LED light engine in the newer Samsung DLPs, not only do you never have to change a bulb, there is also no fast spinning color wheel to fail. Quieter, too.
08-05-2008, 01:50 PM
---
Short of buying a new set, no. The LED light engine is a "module", not just a bulb (as stated before, no color wheel either). The picture quality with a 1080p HD source (or Blu-Ray) is outstanding.
08-05-2008, 03:42 PM
Tech Regular
Join Date: Jan 2008
Posts: 343
---
Originally Posted by
Stratus Racer
Thank you everyone for your input. I really do appreciate the help.
I have read up on them and it seems that the picture quality is far greater on a plasma but the burn-in is a big problem. I had people tell me to just get a LCD because even if it doesn't have comparable color quality like plasma, there are no problems with them. I also read that in fast moving picture that LCD is a bit slower than plasma. Can anyone shed light on this? Is it really noticeable?
It is most noticeable during fast moving sports or movies, it has been addressed and solved by most high end manufacturers, just look for the TV to have a 120hz refresh rate instead of the std 60hz.
DLP is out of the question because of the durability of it. I can't see myself having it repaired/a lamp replaced every other year. I will rather pay the extra and be happier. The picture quality is also not as good as plasma or LCD.
While I am not a huge proponent of DLP TVs durability is really only an issue if you leave your set on all the time, bulbs should last 2000hours+, they are uslaully around $300 to replace. They do have one big advantage, cost. You can pick up a 70" DLP for the price of a 46" LCD, that may not sound like a lot but a 70" has about 40% more area than a 46" , Their picture rivals that of a plasma but the off axis veiw is not as good. IMO the mitsubishi DLPs have a picture rivaled only by the pioneer plasmas.
These are my choices in that order:
Samsung LCD
JVC LCD
Sharp LCD
Still hoping to check out:
Panasonic
Pioneer
Toshiba
Hitachi
RCA
Discouraged by picture quality:
I have a love affair with Panasonic. I have never had a problem with trheir products. I have to look at their LCDs. Hopefully they make what I am looking for.
Sony has great picture quality but I've had too many problems with their products. Sony car stereos, CD walkman, and a home stereo have all had problems when items were relatively new.
As for TVs the pioneers plasmas are the tops but they have a price to reflect that, Our shop sells a lot of hitachi, toshiba and samsung but one of our favorite TVs and one I don't see it on your list is a LG. We have hung over a 150 LGs in the last 2 years and not one call back, can't say that about any of the others.
In the end remember you get what you pay for. Most understand that lots of the cost differences in TV is related to electronics inside but on plasmas and LCD tv the high cost of the upper end TVs comes from the glass pane in front. A company can spend thousands on the glass and glass coating to help magnify brightness and stop reflection, if anyone has ever bought a Leopold or Swarovski scope know what I mean
08-08-2008, 03:37 AM
Tech Master
Join Date: Sep 2005
Location: The Apocalypse suburb of Robina
Posts: 1,738
---
42'' Samsung Plasma for me, nothing beats watching motor racing on such a clear concise screen. In fact when I'm at work, I miss my tv thats how much I love it.....I wonder why the missus left me?
08-14-2008, 09:50 AM
Tech Adept
Join Date: Jul 2008
Location: coral springs florida
Posts: 177
---
update on the broken colorwheel, it had become worse to where it wouldnt even turn on
the tv guy came and fixed it, the busted one was shattered!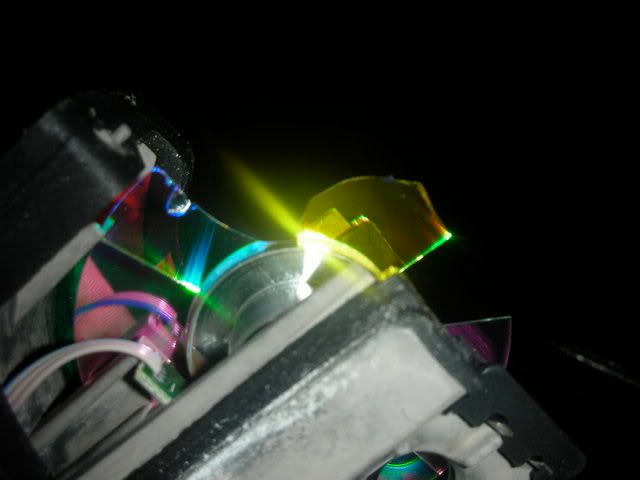 08-14-2008, 10:09 AM
08-14-2008, 05:37 PM
Tech Regular
Join Date: Nov 2006
Posts: 354
---
.
---
Last edited by 8ightScale/CJP; 08-14-2008 at

05:47 PM

. Reason: .
08-14-2008, 05:38 PM
Tech Regular
Join Date: Nov 2006
Posts: 354
---
.
---
Last edited by 8ightScale/CJP; 08-14-2008 at

05:47 PM

. Reason: .
08-18-2008, 07:30 PM
Tech Champion
Join Date: Apr 2006
Location: SoCal
Posts: 7,271
Currently Active Users Viewing This Thread: 1
(0 members and 1 guests)
Posting Rules
You may not post new threads
You may not post replies
You may not post attachments
You may not edit your posts
---
HTML code is Off
---