5Likes
You think a robot category will happen?
11-10-2017, 12:28 AM
Tech Elite
You think a robot category will happen?
---
I keep seeing more and more integration of Robotics into cars. For example Roborace.
And the other day after seeing one of my friends play with a arduino and a rc, it got me thinking if a robot category will happen ?
---
Last edited by Speed Chaser; 11-10-2017 at

04:14 PM

.
11-10-2017, 12:12 PM
Tech Apprentice
Join Date: Sep 2017
Location: Sweden
Posts: 89
---
I donít think so. So far, I cant think of many areas where people enjoy watching AI:s battle except the developers.

For example, the AI that finally beat the human player in Go battled its predecessor AI and won 100-0 or something.

If the AI will reach the state of self consciousness it might get interesting. It will most likely happen within 25 years and become the biggest revolution of mankind, eclipsing things like fire, growing crops, transplants, electricity or whatever you may think of.
11-10-2017, 01:18 PM
Tech Elite
---
Hmm sofar the only area i know people enjoy watching robot are in robot combat and in robot soccer. Even though I don't personally think I would be a fan of watching real life robot cars racing. It would be pretty funny watching a 1/10 version of them. Maybe do a le mans style race where you have different categories racing at the same time. The ai and the normal human control rc.
Asfar as ai goes, eehh dont really have much opinion on its, it either will helps us greatly or the complete opposite.
11-10-2017, 01:55 PM
Tech Regular
Join Date: Oct 2013
Posts: 447
---
oh it will happen. anything can be competitive.
so at some point you will see a robot category for driving.
It will also be more exciting and or lead to drone control driving.

once you take a human out of the cockpit you no longer have to worry about keeping that person alive. so the cars can get lighter and faster then you can start having jumps, ramps, loops, chicanes without fear and then of course at some point weapons and a mix of everything in between. basically a large scale Speed racer video game where manufacturers are testing out anything they can imagine so long as people want to see it. there are these types of races now at the college level for autonomous driving races some do get televised.

you can imagine these races where fans will hook into the cockpit and use an Oculus to watch the action real time
11-10-2017, 04:26 PM
Tech Elite
---
If this takes off i cant wait for all the fail compilation that will come. "Robot gone mad off the track" lol
11-12-2017, 03:42 PM
Tech Addict
Join Date: Nov 2006
Location: Houston, Texas USA
Posts: 693
---
Interesting concept. Like seeing a body off on this puppy.
'AC'
11-14-2017, 09:33 AM
Tech Addict
Join Date: Aug 2005
Location: Granite Shoals Tx
Posts: 642
No doubt it will happen
---
Roborace will happen the car is already within 10% or so of a human driver. They will run as a support series to the electric open wheel cars.
Uses a nvidia Drive-Px system multiple sensors. This pic is of my buddies bot alongside one of the cars.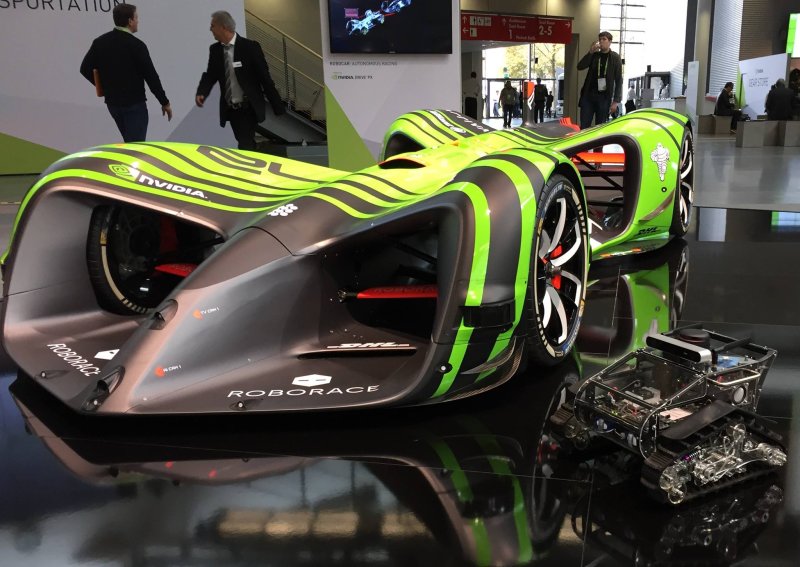 When you fuse all the sensors you get something like this. This is what the bot see's. I'm using this on my rover.
https://youtu.be/KFc9DB9RgPo
If you have an old r/c car that is gathering dust look into MIT RACECAR. They aren't that hard to convert over. Robotics market is hot as a pistol. Learning about it just might land you a sweet job.
Griz
11-14-2017, 10:29 AM
Tech Regular
Join Date: Oct 2016
Posts: 331
---
no
11-14-2017, 10:43 AM
---
I think that without much effort an RC car driven by a bot could be deliriously fast, but I doubt it would be very popular.

In video game speedrunning there is a Tool Assisted Speedrun category or TASbot, in which a program runs the video game for you, but it is not as popular as human-controlled runs. It's more of a curiosity or exhibition piece in speedrunning than it is a contested category.

"Hey, what's the world record for running Super Mario 64?"

"1:39:40"

"Cool, what's the TAS world record?

"1:30:25, but there may be a little optimization left."

In short, it would be a cool tech demo, but little more. I seriously doubt it will ever be a part of a class that is "raced" in anything other than a quick exhibition.
11-20-2017, 04:48 PM
Tech Rookie
Join Date: Nov 2017
Posts: 4
---
Sounds interesting, but i don't think it would happen
12-01-2017, 06:24 AM
Tech Rookie
Join Date: Jun 2015
Posts: 6
---
These are crazy cars!
12-01-2017, 06:40 AM
---
Currently Active Users Viewing This Thread: 1
(0 members and 1 guests)
Posting Rules
You may not post new threads
You may not post replies
You may not post attachments
You may not edit your posts
---
HTML code is Off
---