Bridge City Brawl IV - June 21-23, 2019 - Saskatoon, SK
01-23-2019, 01:56 PM
Tech Regular
Bridge City Brawl IV - June 21-23, 2019 - Saskatoon, SK
---
Hello Everyone, Bridge City Brawl IV event info here. We are looking forward to seeing everyone at the race! For additional information about the club, track, or event see visit the SORRCC website at
www.skoffroad.ca/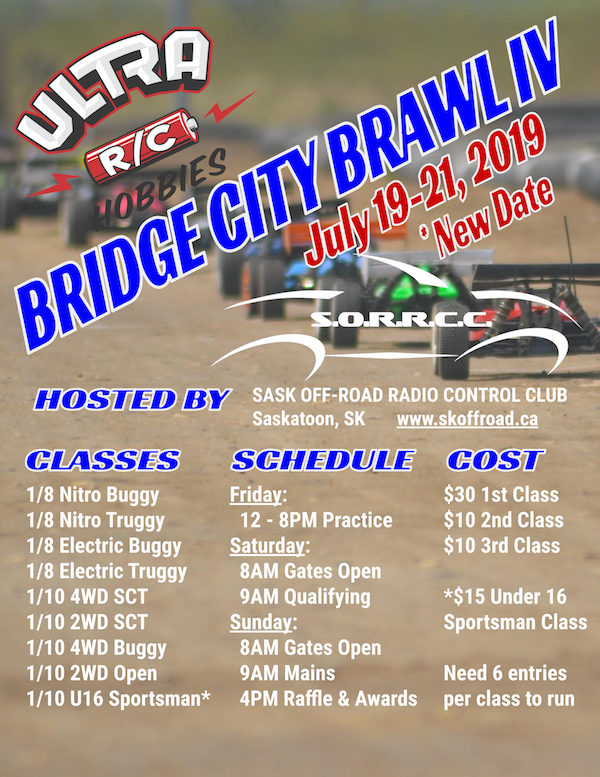 RACE DATE:
June 21 - 23, 2019
* New Date July 19 - 21, 2019 *
SPONSORS:REGISTER:
Pre Registration on RCSignup.com
https://www.rcsignup.com/events/disp...nt.cfm?ID=7007
CLASSES:
1/8th Nitro Buggy
1/8th Nitro Truggy
1/8th Electric Buggy
1/8th Electric Truggy
1/10th 4WD Short Course Truck
1/10th 2WD Short Course Truck
1/10th 4WD Buggy
1/10th 2WD Open ( Buggy + Stadium Truck )
1/10th U16 Sportsman
RULESET:
Our local ruleset for each class can be seen here:
http://www.skoffroad.ca/classes/
No formal tech inspections will take place, we run on the honour system at SORRCC.
ENTRY FEES:
First Class: $30
Additional Classes: $10 each
U16 Sportsman Class: $15
SCHEDULE:
Friday, July 19th
12:00pm - 8:00pm: Open Practice/Registration
8:00pm - dark: Track Maintenance
Saturday, July 20th
8:00am - 8:30am: Late Registration followed by driver's meeting
9:00am: Qualifying Begins - 3 rounds with a resort after each round; a fourth round may be considered if time allows
8:00pm: Track Quiet
8:00pm - dark: Track Maintenance
Sunday, July 21st
8:00am: Gates Open
9:00am: Lower Mains begin followed by A Mains – triple A-mains in all electric classes
4:00pm (approximately): Raffle Draw and Trophy Presentation
TRACK LOCATION:
SORRCC track is located in the parking lot of the Wyant Group Raceway
GPS Coordinates 52° 13′ 7.1292" N 106° 39′ 42.6312" W
12 Trans-Canada Hwy, Saskatoon, SK S7K 3K4
Directions:
http://www.skoffroad.ca/location/
TRACK DETAILS:
Approximately 180' x 90' packed dirt clay mix with some dust
AMBrc Decoder w/ RC Scoring Pro Software
Please bring your own tables and chairs.
No A/C power on site. Generators are available, but if you can bring your own it would be appreciated.
ON-SITE CAMPING:
There is plenty of room to camp right at the track. Just let us know if you're bringing a trailer so we can have a semi-organized parking/camping arrangement. Our landlord, Want Group Raceway, requests no pets on site. We have no on-site water or power so please be prepared. Portables will be available all weekend.
RECOMMENDED HOTELS NEAR THE TRACK:
Travelodge Hotel
106 Circle Drive West, Saskatoon, SK S7L 4L6 CA
(306) 242-8881
Approx. 10 minutes from track
Sandman Hotel:
310 Circle Dr, Saskatoon, SK S7L 2Y5
(306) 477-4844
Approx. 10 minutes from track
---
Last edited by kja812; 06-23-2019 at

08:02 PM

. Reason: Added Details
03-16-2019, 12:04 AM
Tech Regular
---
---
Last edited by kja812; 03-23-2019 at

11:29 PM

.
05-09-2019, 03:36 PM
Tech Regular
---
BUMP
It's nearly time for us to order the trophies, so if you are interested in joining us for the BCB #4, we'd appreciate a RCSignup registration ASAP so we can confirm there are enough entries to run each class.
05-27-2019, 08:27 AM
Tech Regular
---
Based on registration thus far, 2WD Buggy and Stadium Truck are being combined into an open 2WD class.
06-23-2019, 08:04 PM
Tech Regular
---
This weekend's race had to be cancelled due to rain unfortunately. We've rescheduled the race to July 19-21. Sorry to all those that were planning to race this weekend but are unable to race in July....darn rain.
Currently Active Users Viewing This Thread: 1
(0 members and 1 guests)
Posting Rules
You may not post new threads
You may not post replies
You may not post attachments
You may not edit your posts
---
HTML code is Off
---