Team PIB presents Buggies and Breakfast
07-23-2013, 12:55 AM
Tech Regular
Join Date: Feb 2012
Location: surprise az
Posts: 273
Team PIB presents Buggies and Breakfast
---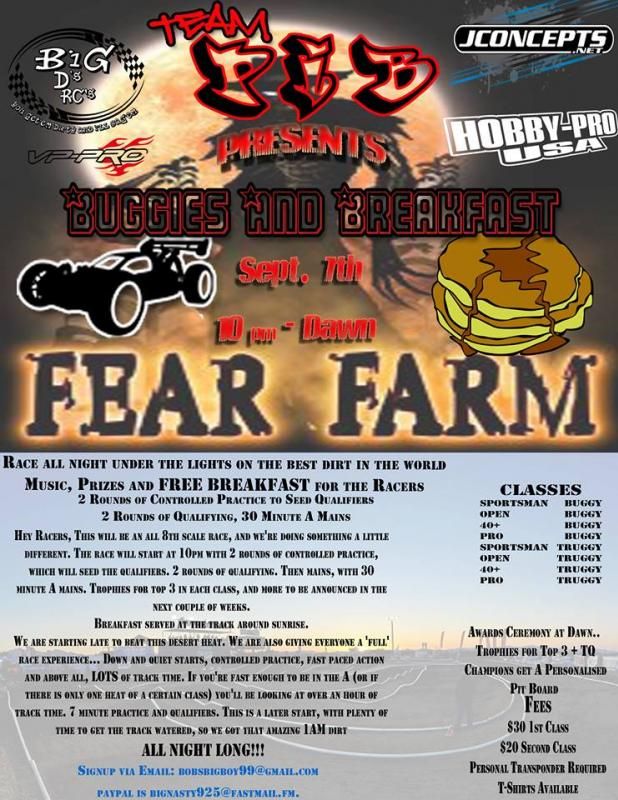 http://www.rctech.net/forum/arizona-...fear-farm.html
07-24-2013, 09:56 PM
Tech Regular
Join Date: Feb 2012
Location: surprise az
Posts: 273
---
Just added avid racing concepts as a sponsor. More to follow in the comming weeks. I've also seen a proof of the plaques and they look awsome. Thanks to stickit 1. Very unique design. So come and have some fun.
07-28-2013, 02:32 PM
---
Awesome! Thanks Sean for starting this thread in the California Section.
Guys, we are also on rcsignup.com and you can register ahead of time. Here is the link:
http://tracks.rcsignup.com/events/di...nt.cfm?ID=3421
40 days left! It will be a BLAST.
Any questions feel free to email me:
[email protected]
I'll be your RD and announcer for the event and I'm looking forward to seeing everyone there!!!
08-06-2013, 02:51 AM
---
Hey guys, we would like to welcome BYRON FUELS to our growing list of sponsors. Fear Farm will be getting a makeover for this race, so look for a new layout and Buggies and Breakfast will be the first big race on it. This event is coming up fast, so get registered at rcsignup.com or feel free to PM me here or on facebook.
Brian Causse' at Stickit1 Racing has come up with some great graphics for us. Here is a sample of one of the awards:
We have great prizes for the racers from the following companies:
Big D's RC's has donated several of the nitro bump box bags that are embroidered with the buggies and breakfast logos. These things are cool, and your pit man will think it's the coolest peice of gear you own. $40 value!
Stickit1 Racing is making custom pit boards for the champions with your name on them.
Chris Stavros from One Hobbies is donating a BUNCH of fuel.
We have lots of other great prizes from Hobby Pro, J Concepts, VP Pro, Avid Byron and more. Come on out to Fear Farm in Phoenix. AZ Sep 7th for all night nitro starting at 10 PM with breakfast and awards at day break.
There is RV parking, permanent pit tables with work lights, air compressor on site. Shopping, hotels and motels within minutes.
For info, PM me here.
08-13-2013, 02:45 AM
---
25 days left, guys! I'm starting to put together a spreadsheet so we can get a better idea of a head count.
Talked to Trevor Clement at the track the other night, he wants to know WHERE ARE THE PRO GUYS????
Byron Fuels care package arrived at the house the other day. Bobbi sent us some great prizes including fuel bottles, shirts, coupons and more!
Jose Aguilera is donating the BACON BACON BACON!!!!! Btw, food costs are the biggest part of the overhead for this, so if anybody wants to help out with donations, by all means contact me.
Menu will be as follows: Muffins, pancakes, eggs, bacon...perhaps sausage too.
Sound GO! Prizes GO! Trophies GO! Music GO! Girls GO! Announcer GO! Racers GO! Generator GO! Track build GO!..... Launch control, this is Houston. We are go for flight!!!!
J concepts has already sent some great prizes, as has Avid Racing Concepts. VP Pro and Hobby pro are on the way and we'll have a great event here. Remember if you are from out of town there is PLENTY of free RV parking, so if you wanna make a road trip, bring your toy hauler or RV or put up a tent if you want. Motels also very near by. We will have a limited amount of spares on hand for most major brands thanks to Quick's RC.
__________________
08-26-2013, 11:09 AM
---
The new layout at Fear Farm is awesome! I just ordered the trophies for buggies and breakfast. Sponsor priZes are rolling in and we have much in store for the racers. Swag pics coming up this week. Tell your friends, this is going to be an amazing event. Less than 2 weeks away now.
08-30-2013, 05:19 PM
---
So Buggies and Breakfast is coming up next weekend. We have a pro buggy class... and here's a new incentive for you open class drivers:
TOP 3 FINISHERS IN THE OPEN BUGGY A MAIN WILL ALSO GET TO BUMP TO THE PRO A. That is another 30 minutes of A main track time for you fast guys, so be sure you have your receiver packs fully charged and bring lots of fuel.
I got a call from Las Vegas today, and there are a few more entries there. Also the return of Ronnie Haynes!
Quick's will have some spares on hand for most brands.
Prizes are rolling in, here is a sneek peak!!!
AKA is also sending prizes as well and so is Hobbypro USA. I've even heard uncle Stav has some goodies as well!
Can't wait!!!
Currently Active Users Viewing This Thread: 1
(0 members and 1 guests)
Posting Rules
You may not post new threads
You may not post replies
You may not post attachments
You may not edit your posts
---
HTML code is Off
---