Southern California Race Calendar
04-02-2018, 09:20 PM
Tech Master
Join Date: Sep 2010
Location: Google: URC V Raceway
Posts: 1,975
Saturday & Sunday @ URC V Raceway
---
Next RC Track Date:
Sunday 07/01/2018
Time: 10am - 5pm
Weather: Pending
Point Race Round 3 of 7
.
Racing Class Order:
VTA
F1
USGT
TC 17.5 <<< this class may split in 2 to 3 groups.
MOD
Yes, We will be there from 10am - 5pm
Spread the word, tell your RC best friend about it and let's have a good time at URC V Raceway.
.
Racetrack Address:
8775 Wilbur Ave. Northridge, CA. 91324
Between Reseda & Tampa
Cross street Parthenia
Map:
Got Questions?
Post them here!
Text them here: 661-414-2404 (text only!)
Email them here:

[email protected]

Facebook: URC V Raceway
Thank you!
Happy RC Racing everyone.
See U there.
---
Last edited by Marvin Alfaro; 06-17-2018 at

10:51 PM

.
04-17-2018, 04:12 AM
Tech Elite
Join Date: Sep 2003
Location: Central Coast...CALIF.
Posts: 2,935
R/C Worldrome at the Encino Velodrome 6/8 & 6/9
---
Coming up on Friday and Saturday June 8th & 9th - R/C Worldrome II at the Encino Velodrome.

Featuring High Speed Oval Pan Cars on the High Banks of the 250 Meter Bicycle Velodrome, we've also added a couple inexpensive "FUN" classes for this years event.

TRAXXAS SLASH "Dirt Oval" Sport Mods & TAMIYA Euro Trucks have been added, with the Euro Trucks slated to run up to a 20 Truck ENDURO (if we receive enough entries)

We hope if you have NEVER raced, or even seen a race on the Encino Velodrome that you will come check this event out. We have racers coming from JAPAN once again to take part in this "International" event and would love a good crowd.

For more info - or if you are interested in taking part in either the Slash Sport Mod or Tamiya Euro Truck Classes -- visit or join our group at RC VELO RACERS on FACEBOOK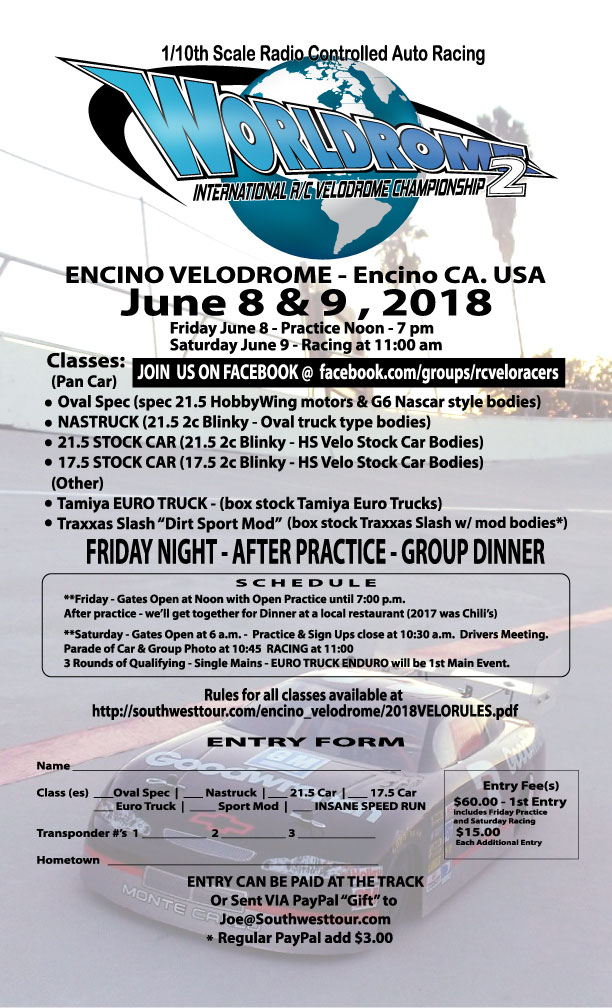 06-01-2018, 11:35 PM
Tech Master
Join Date: Aug 2008
Location: SoCal
Posts: 1,199
---
For Further info updates and any questions please visit main thread.
---
Last edited by mugler; 06-05-2018 at

08:07 PM

. Reason: Revised flyer with racing format race fe & box stock Tx info added
06-13-2018, 08:48 PM
Tech Master
Join Date: Mar 2010
Location: Holly-Would-Ca.
Posts: 1,063
KO PROPO GP @ SCS June 21-24
---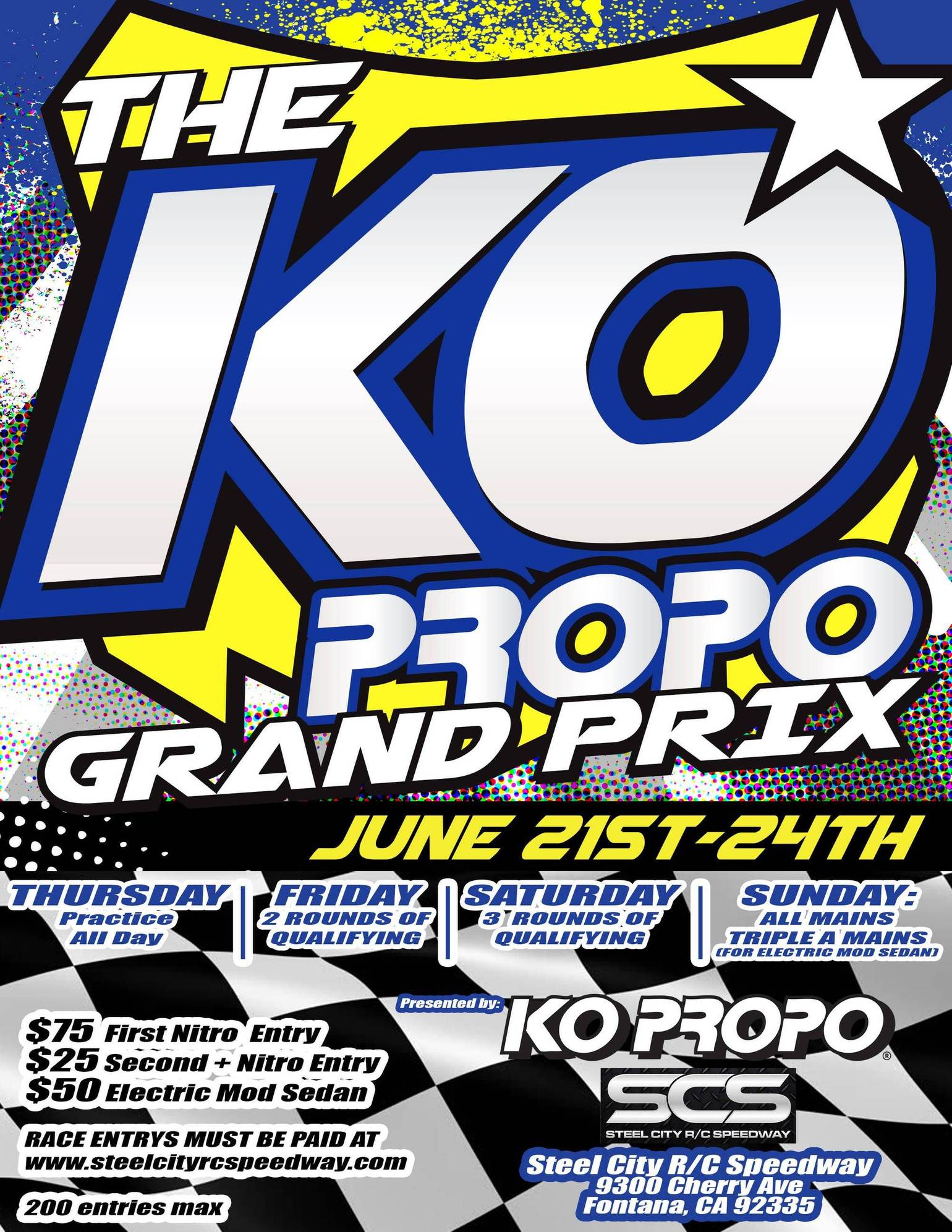 KO PROPO GP @ SCS June 21-24
06-15-2018, 03:23 PM
Tech Elite
Join Date: Oct 2008
Location: Chino, CA
Posts: 4,061
UF1 is Back - 2018/2019 Season Announcement!
---
That's right - UF1 is back! The series return will feature 7 races starting in September 2018 and ending in April 2019.
Here's the schedule with dates and locations:
2018 / 2019 UF1 Winter Calendar UF1 RC - Formula 1 RC Racing
There will also be an F1 and F2 class more on that in the next couple of days!
Some other helpful links you'll want to check out:
Rules:
UF1 Rules and Regulations | UF1 RC - Formula 1 RC Racing
Chassis Guide:
F1 Chassis Choices | UF1 RC - Formula 1 RC Racing
Chassis Setups:
Chassis Setups | UF1 RC - Formula 1 RC Racing
We are looking to bring the excitement back to this amazing series, so pull your F1 car out of the mothballs, get tuned up and join us on September 2nd!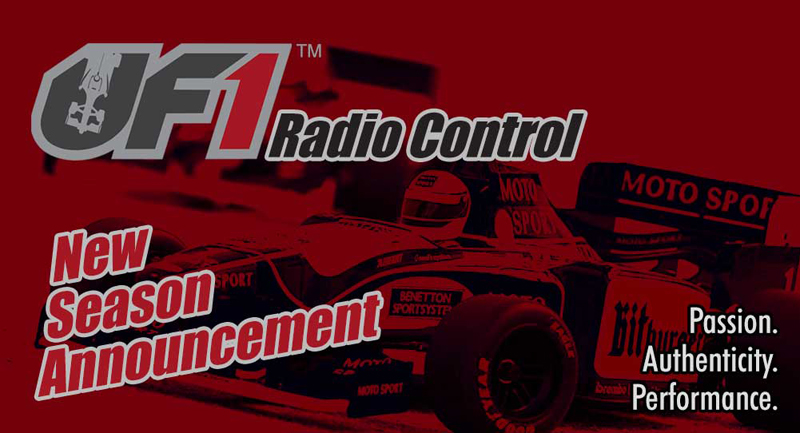 ---
Last edited by spring71; 06-18-2018 at

03:54 PM

.
Currently Active Users Viewing This Thread: 1
(0 members and 1 guests)
Posting Rules
You may not post new threads
You may not post replies
You may not post attachments
You may not edit your posts
---
HTML code is Off
---