Southern California Race Calendar
04-10-2013, 05:56 PM
---
Top Notch Summer Series dates:

June 22 IERC
July 13 COYOTE
August 3 OCRC
August 17 SDRC
Sept 7th PEGASUS
Sept 28th REDLANDS


3 THROWOUT rounds and no participation points
04-10-2013, 05:57 PM
---
---
Last edited by TOPNOTCH SERIES; 04-10-2013 at

05:58 PM

. Reason: Duplicate post
05-13-2013, 01:10 PM
Tech Elite
Join Date: Sep 2001
Location: San Diego
Posts: 2,424
---
ROAR Region 12 race at CVRC race club in Chula Vista, CA 11-1 to 11-3. Practice on Friday 11-1. Morning practice and qualifying Saturday 11-2. Mains on Sunday 11-3. Main sponsor is Mugen. More info to follow. Please follow our thread in track locator forum and website @ cvrcraceclub.com
06-16-2013, 02:25 AM
---
Saturday Night Summer Outdoor Onroad Series at CAL Raceway!
July 13
July 27
Aug 10
Aug 24
Sep 14
Sep 28
Cal Raceway is located at 2190 North Canal St. Orange, Ca.
www.calraceway.com
Also find us on Facebook under calraceway and occircuit
08-13-2013, 11:14 AM
Tech Fanatic
Join Date: Jan 2005
Location: Santa Clarita, CA
Posts: 815
---
JBRL Electric Round #6 - August 17, 2013 - Rainman's Hobby & Raceway
JBRL Nitro Round #6 - September 7, 2013 - Thunder Alley
JBRL Electric Round #7 - September 14, 2013 - Palm Desert R/C Raceway
JBRL Nitro Round #7 - October 12, 2013 - Pro-Line Raceway
JBRL Electric Round #8 - October 19, 2013 - Hot Rod Hobbies
JBRL Nitro Round #8 - November 9, 2013 - Hot Rod Hobbies

10th Annual Sidewinder Nitro Explosion - Aug. 31 - Sept. 1, 2013 - CVRC
Reedy Truck Race of Champions - October 5-6, 2013 - Hot Rod Hobbies
---
Last edited by Jimmy Babcock; 08-29-2013 at

10:53 AM

.
08-22-2013, 01:37 PM
Tech Master
Join Date: May 2008
Location: Los Angeles
Posts: 1,499
---
Jimmy- your Oct dates appear off-
Looking at MY calendar I see
JBRL nitro as Oct 12th at Proline
And October 19th for electric finals...

7th and 14th are Mondays...
08-28-2013, 11:07 PM
Tech Apprentice
Join Date: Feb 2012
Posts: 50
GLEN HELEN IS READY FOR DIRT OVAL RACING
---
DIRT OVAL RACING FIRST SATURDAY OF EVERY MONTH. NEXT RACE SEPTEMBER 7TH
We are pleased that we are beginning to get more racers for dirt oval.
Right now we are "Run what you brung" until we can determine the most popular classes.
Come out on the 7th and have some "slideways" fun.
Info:
[email protected]
909-887-9700
08-29-2013, 10:54 AM
Tech Fanatic
Join Date: Jan 2005
Location: Santa Clarita, CA
Posts: 815
---
Thanks Notch, good find! Edit complete.
09-11-2013, 09:39 AM
Tech Master
Join Date: Mar 2010
Location: Holly-Would-Ca.
Posts: 1,151
2013 ROAR Fuel On-Road Nationals At GLARC
---
Sept. 11-15
Sign ups at the track if you have not signed up on line
1/10, 1/8/ 1/8 Masters
$85 per class
Wed. & Thurs. - Open Practice
Fri. & Sat. - Qualifiers
Sun. All Mains

Artesia transit Center
731 W. 182nd St.
Gardena, Ca.
10-07-2013, 10:58 PM
TNS Winter Series Dates
---
TNS WINTER SERIES DATES
Dec 2013- April 2014

Dec 7 IERC
Dec 28 Coyote
Jan 18 OCRC
Feb 8 Air Dawg
Mar 1st SDRC
Mar 22nd 702
April 5th SCVRC
April 26th IERC

3 throw out rounds.
12-29-2013, 12:40 PM
Tech Regular
Join Date: Aug 2004
Location: revelation raceway
Posts: 268
TROPHY RACING
---
REVELATION RACEWAY 2014 OFF ROAD SCHEDULE IS AT REVRACE.COM UNDER RACING / WE WILL BE GIVING AWAY A CAR KIT OF YOUR CHOICE-ENGINE OF YOUR CHOICE-RADIO OF YOUR CHOICE-SREVOS OF YOUR CHOICE / FIRST RACE SAT JAN 18TH / EVERYONE WELCOME
12-31-2013, 10:22 PM
Tech Rookie
Join Date: Jul 2013
Posts: 7
TNT @ CVRC 1 day race
---
- LONG MAINS!
TNT will be at Chula Vista Race Club (CVRC)
Saturday January 11th
for a one day Nitro and Electric race...
Classes:
Open Truggy
Pro Truggy
Beginner Nitro Buggy
Open Nitro Buggy
Pro Nitro Buggy
Money Nitro Buggy
40 and Over Nitro Buggy
ELECTRIC 4wd SC
ELECTRIC 1/8th Buggy

Race fees have been reduced this season to $30/$20
Brand new layout installed by Race Line Designs and CVRC crew-

Trophies, cash payouts, raffle prizes- Title Sponsor is Proline Racing!
---
Last edited by TOP NOTCH TOUR; 12-31-2013 at

10:34 PM

.
01-27-2014, 01:37 PM
Tech Master
Join Date: Mar 2003
Location: Costa Mesa, CA
Posts: 1,310
2014 HB HPI Challenge Series
---
2014 marks the return of the HB HPI Challenge!
Round one is in the books, it's not too late to jump in! One throwout, six rounds total. Awards for 1st-3rd in every A-Main. We will have the concours competition back for the next five rounds, with prizes for the winner! This Saturday (2/1/14) will be Round 2 at Cal Raceway in Orange. See you there!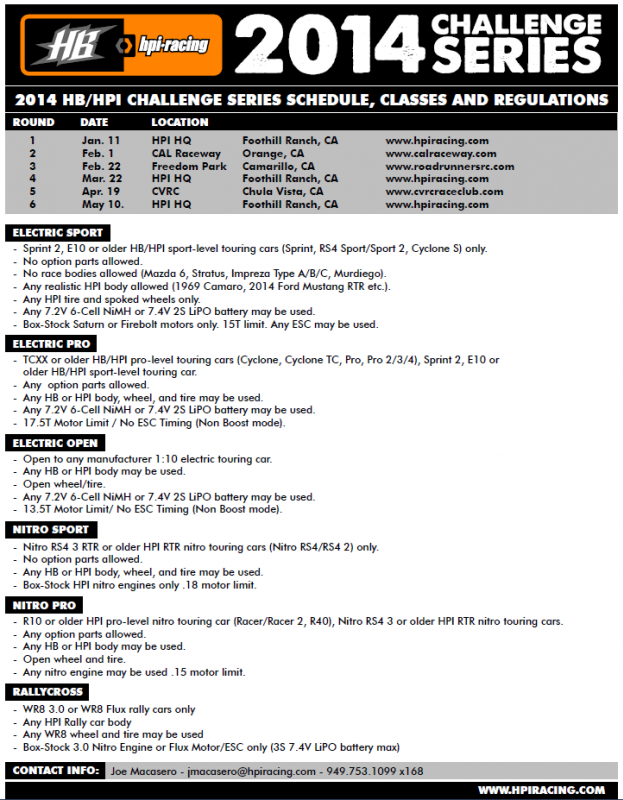 02-06-2014, 10:44 PM
TNS Round 4 this SAT at Air DAWG
---
TNS Round 4 is this Saturday Feb 8th at ADRC (Air Dawg) in Lancaster
Car kits, trophies, cash payouts and FUN!