Norcal-Hobbies racing North Bay area
02-25-2009, 01:31 PM
Tech Rookie
Join Date: Jan 2008
Posts: 7
---

Negative Ghost Rider, but I am sure he would appreciate the vote of confidence!

Biner, good to see you again! The other place just hasn't been the same without your witty input and offbeat sense of humor!!!! What happened over there to finally get you booted? Those guys are way to sensitive, I can think of a cpl other guys that should've been banned long before you!
02-27-2009, 02:17 PM
Tech Rookie
Join Date: Jan 2008
Posts: 7
---
This track is sick......there has been an amazing amount if outdoor offroad racing here this winter! The crew puts huge massive tarps over it when the rain comes and we have been really lucky with the weather breaking for us just in time to be able to race most weekends on the outdoor track!

When the weather does not cooperate they quickly spring into action and set up the indoor offroad carpet course for the day! Once racing has ended they go ahead and take down the jumps etc and it is back to the onroad carpet track. Oh and just in case you were wondering, they also have a real nice outdoor asphalt track that is going to start for the season here real soon!
02-28-2009, 04:55 PM
Suspended
Join Date: Mar 2003
Location: Back That Thang Up!
Posts: 3,468
---
LOL I just found out I got banned from that other site because the Nazi mod over there was offended by my avatar (the same one I use here).
Norcal RC scene looks cool...too bad it's represented by a bunch of pricks on that other forum.
02-28-2009, 08:53 PM
03-01-2009, 03:04 AM
Tech Addict
---
haha...Harsh is all offended...too funny.
Its really funny that we have people running a "rc racing" site that aren't that active in racing on a regular basis...whats the point of being involved? You might as well volunteer to do something more worth while. Also, what sort of knowledge are they adding to the site? This is "RC RACING"....not bashing. That's a different site/forum altogether....
Also, if you notice, most of the people complaining about fun/smack talk are over 50 years old. Maybe they should start a "over 50 year old site". The majority of the racers are not of the same age group and don't care.
Someone asked what I was banned for this time. Not really sure. I guess for being funny and perhaps "stirring the pot" as the 50+ year olds call it. I didn't post any naked pictures, curse,etc. They were just singling me out. Whatever....I really could care less. They are so lame anyways...Serious L7...
People come to rctech.net for technical r/c info because a tone was set here a long time ago. The "other site" fell off. They don't add anything to help people. They just put up a forum and get a little bit of click per ad money from Google. This site kicks the living s**t out of most other sites for info. It's not perfect either....but they have managed to get all of the racers in one place. For that I give them credit.....and their URL name is not as good....its a ".net"....not ".com". There is really no need for that "other site" outside of info for Northern California racing and smack talk/banter. Thats what we were doing...and a handful of people got upset.
Now they want to change the image of the site to attract new people,etc. Well guess what, they just pissed off/banned many of the regulars. So now you have less of a pool info for these new people. I had 10+ people come up to me at Nor Cal Hobbies over the last 2 weeks to ask me what the hell is the problem with the people on that "other site". Also, I received 2-3 emails with the same inquiries. The impression I got is that these people are not happy with the "new" direction.
Seriously...I know more about electric r/c cars than 90% of the people that read that site. Everytime, I post a car setup, info on technical knowledge,etc...no one looks at it. The views proves that. Yet...when we joke around.... people read it. The tone was set...and is irreversible at this point. So I say let that site die....its the mods fault....not my problem.
Now....heres something for you all to chew on....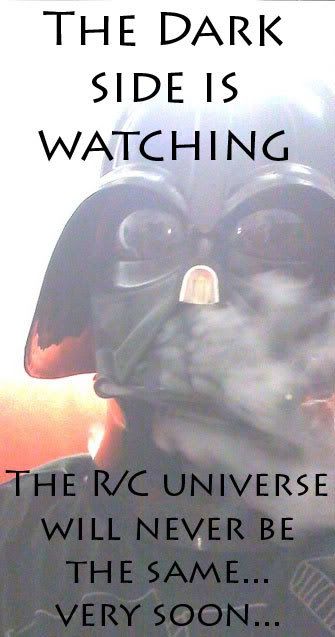 ---
Last edited by ab1105; 03-01-2009 at

03:14 AM

.
03-01-2009, 01:55 PM
Tech Addict
---
So do you agree with that direction? Doesn't it seem somewhat asinine?
03-01-2009, 07:01 PM
Tech Elite
Join Date: Nov 2001
Location: SF Bay Area
Posts: 3,601
---
The rcracing.com website has no affiliation with Norcal Hobbies LLC and Norcal Hobbies LLC should not be held responsible for either its content from users nor what the owner and moderating staff does or does not do with that site.With that said,I hope to see more new faces out at the races and shop.Good place to hang out and have some fun.
03-01-2009, 09:01 PM
Tech Addict
---
amen
03-03-2009, 11:26 AM
Tech Master
Join Date: Jul 2003
Posts: 1,233
---
Biner-What setup are you running on your B4? Can you post the link to the AE shock building tips page again?
03-03-2009, 10:02 PM
Tech Addict
---
james:

I've been back and forth with the normal and lightweight setup. I haven't really found that one works better than the other. Also, I have tried some of the front end stuff that Kevin Jelich is running. I have also experimented with the lightweight setup with weight under the battery and around the battery equally. Nothing is really superior over another at Nor-Cal Hobbies.

As for the shock building tips, I got that from the rctech forum somewhere in the B4 section. Not sure where it is amongst the tons of info. You might be able to still find it on the site I got kicked out of.

The future will be a bright one....for the Darkside...the Death Star IS in rebuild mode. Someone will get force choked in The Empire Strikes Back. More info very soon.........
03-05-2009, 10:39 AM
Tech Apprentice
Join Date: Sep 2007
Location: Sacramento CA
Posts: 94
---
[QUOTE=wunbusyguy;5479639]Negative Ghost Rider, but I am sure he would appreciate the vote of confidence!

Yes stupid that is my girlfriend.... You see her about everyday.......

This Saturday should be huge at Nor-Cal Hobbies. I expect to see C-mains in most classes and full classes of Electric 1/8th buggys and truggys.

Guys- lets not talk about the other forum on this thread at least.....
03-12-2009, 01:25 AM
Tech Addict
---
06-07-2009, 11:36 AM
Tech Master
Join Date: Dec 2007
Location: NORCAL
Posts: 1,072