Warning RahjahDat bad deal
11-20-2011, 01:47 AM
Tech Adept
Warning RahjahDat bad deal
---
Ok I really wanted to take care of this outside here and not have to do this, but I feel that it should be noted and others should be made aware. I see he has great feedback and has taken care of everybody but this is an issue.
Paid for a Shockwave 36 boat on the 3rd of October. Got the boat on 12th or 13th and it was damaged in shipping as well as a few other things (see below for the list and email I first sent). So RahjahDat's reply was that he would send me another boat almost the same size never ran (but never told me what it was) and I could pay for shipping. I was totally fine with that, so I waited for a response to pay him the shipping for the second boat.
15th rolls around get an email from him saying works, busy going to pack and ship it will let me know....... The 20th works busy going to ship it.
I have saved all of the PM's so if need be I can post those here also, but I hope it does not go that far.
To this day he has not responded to my 15 or so PM's/Emails and 3 confirmed PM's since the last response on the 20th. But I have seen him posting and even selling/buying stuff stuff.
So I open a PayPal Case on the 3rd of November cause its getting to be 30 days and this is not taken care of. He tells PayPal he is shipping it, still not a tracking number or anything to me or PayPal.
Seriously I just want this right, I don't want to have to go through crap like this. This boat is kinda trashed at this point and I am out the money and its seriously not worth me sending it back to him for $60 (shipping plus a box since the original box is damaged) to get part of my money back. And I have to look at this turd in my garage, sitting there not being able to be worked on cause I don't know what to do or what direction this is going to go. Its now 48 days since I paid him and I am stuck.
At this point I am willing to take $60-$80 to buy the parts needed and some glass/resin, then fix it myself.
MAKE IT RIGHT GUY!!!
Posted email to RahjahDat about damage and pics of damage. Also note this damage has cause the top to split from the hull (needs to be disassemble and re fiber glassed or resined) If you have dealt with fiberglass you understand the way is spider webs when fractured.
Originally Posted by vette66_00
Hello (omitted name),
Got the boat yesterday. A few things are wrong with it. First off, see attached photo's, during shipping the boat moved forward and busted up the front of the boat, this caused the lower hull and upper hull to separate. Its not real bad and should be repairable. Second thing the starter driver does not fit the roto-starter you sent so that's useless. Third thing is the T-Drive system does not work enough to start it. The one way bearing is toast. Fourth thing the rudder that you had removed has stripped threads from what ever lock tight was on there when you unscrewed it. Fifth thing, the radio system you sent with it only has about 300 feet, I tested in an RC car last night and could not get it any further. Sixth thing is the boat stand that was in the pictures was not included.
At this point these are the things wrong with it, and I have not even started it yet, so I don't know how that is going to go.
Other than the damage to the front of the boat, each of these things should have been noted before I sent you money. This was something I was expecting to be in running condition and it looks like its going to need about $80 in parts just to get it running. That's if it will run. Then figure out a boat stand.
I'm not real sure what I want to do at this point, kinda mad, if it was one of these I could understand it being a oversight, but I have to fix 5 things now just to start this boat.
What are your thoughts?
Chris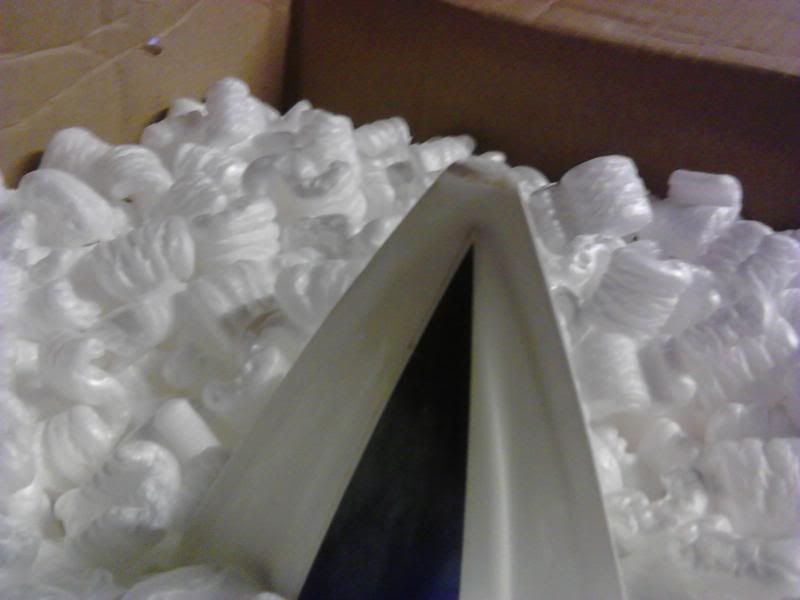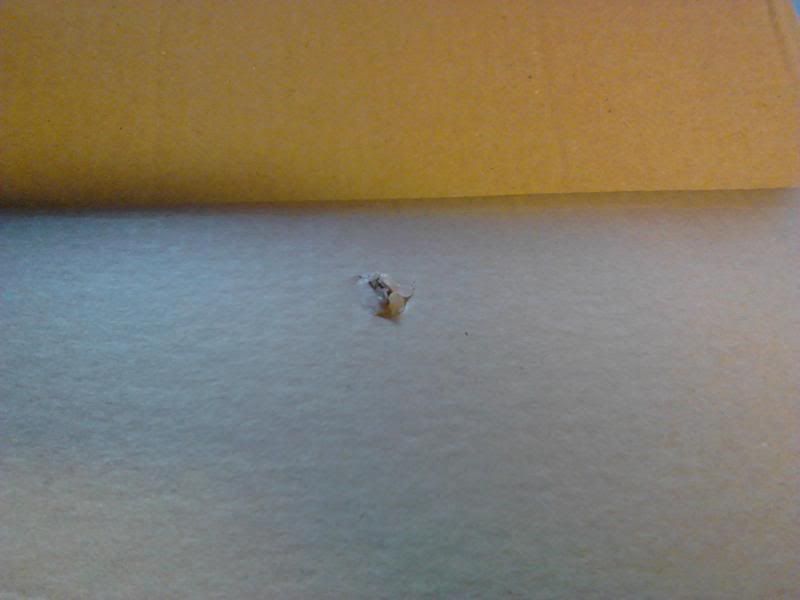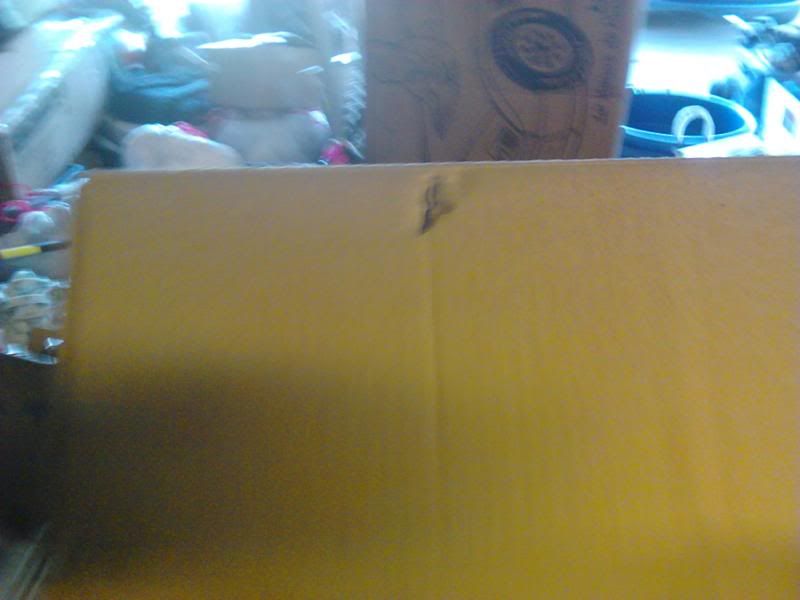 His response to resolve this....
Originally Posted by RahjahDat
Chris, I got a better idea, because i am so freakin pissed off right now about the shipping damage, if you want to pay for shipping agian i will send you another boat except this one has never been run. it is very similar to the proboat but it has a .18 pull nitro motor in it. but it does not come with the electronics only the engine and gastank and yes it is brand (never seen fuel) new just sitting on the shelf.
You guys tell me what you think... Willing to delete this completely if this gets resolved. Just needed to vent cause its really pi$$ing me off at this point.
---
Last edited by vette66_00; 11-20-2011 at

02:33 AM

.
11-20-2011, 06:51 AM
Tech Elite
Join Date: Jun 2006
Location: I race at Comp Rc in OKC
Posts: 2,715
---
the pictures you posted does not show damage to the boat it self. i see the box has a small hole. sorry the pictures do not support your thread/complaint.
11-20-2011, 04:41 PM
Tech Adept
---
11-20-2011, 05:11 PM
Suspended
---
i really dont see any major damage either, just a small mark that could be sanded lightly and repainted
11-20-2011, 05:17 PM
Tech Adept
---
I guess I going to have to defend myself now. Oh great.. I will get some pics. Where the damage in the pic is, is only the start. The seam for the top to the hull is separated.
11-20-2011, 05:27 PM
Suspended
11-20-2011, 05:49 PM
Tech Adept
---
Sorry my camera is having a hard time focusing on the edge of the boat. By the way this boat is 3 feet long hence the SW36 name.
First pic there is a split down the edge.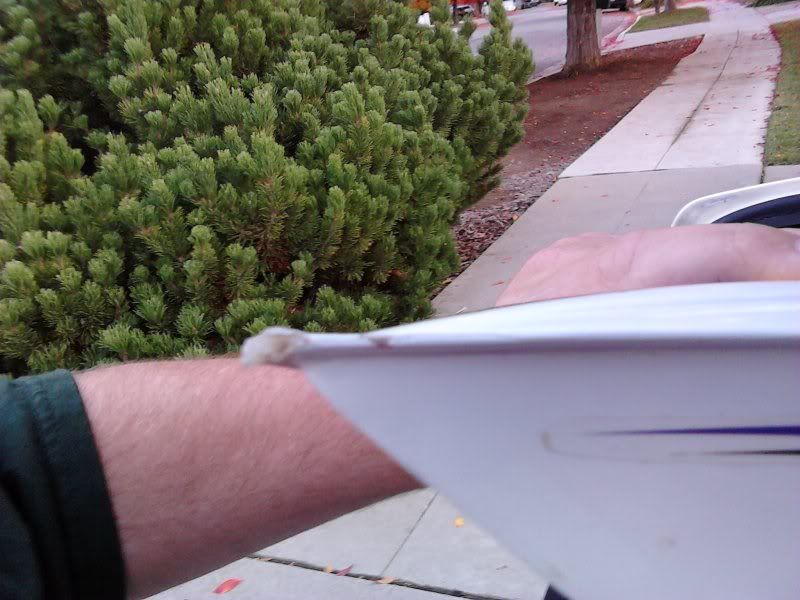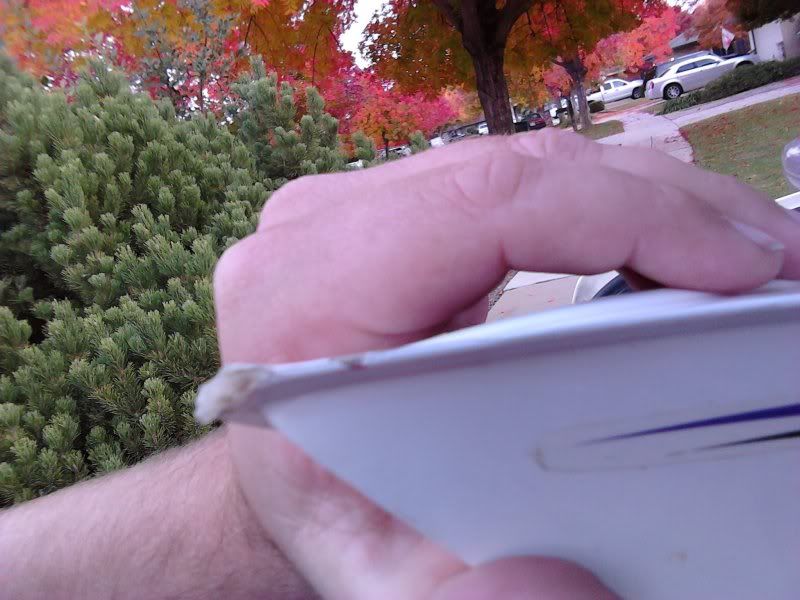 Other side split.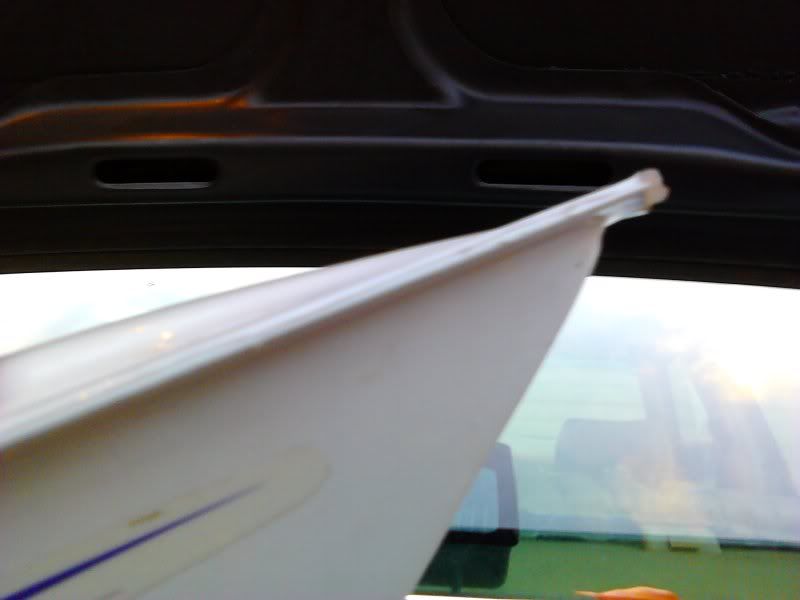 Front you can see how warped it looks right where my hand is. And you can see the split.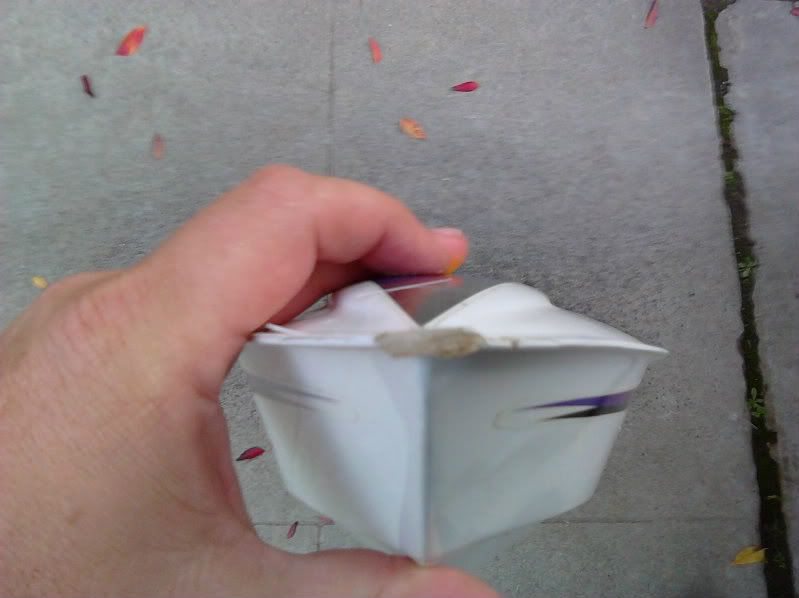 Top view you can see small shards of fiberglass hanging off and on my hand.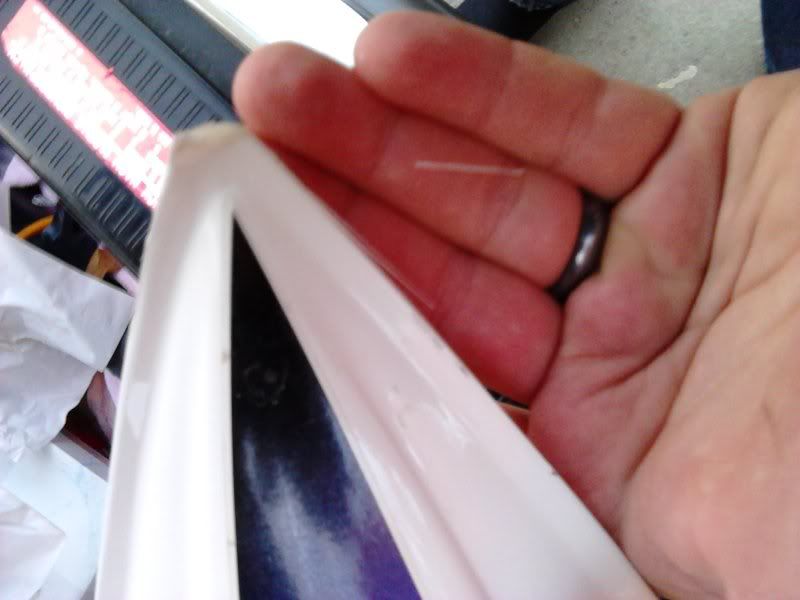 Also this is fiberglass its not metal that can be shaped. I took it to a guy that does fiberglass and he says the deck needs to be removed and the hull put in a form? to reapplied the deck to make it straight again. There is also spidering to the lower hull inside that needs to be fixed. This all is going to add weight so performance maybe hindered.
---
Last edited by vette66_00; 11-20-2011 at

06:09 PM

.
11-20-2011, 06:15 PM
Tech Adept
---
This is also what the boat looks like before I got it.
and the thread it came from
http://www.rctech.net/forum/r-c-item...wave-36-a.html
11-20-2011, 06:18 PM
Suspended
---
i can see the seperation in 4th pic, i dont know alot about boats, but that would not float with me
. seems you have a ligitamite rant and wish you luck with the out come. hope seller stands up and does whats right! good luck
11-20-2011, 06:25 PM
Tech Adept
---
Sorry about the defending myself post. Just a little on edge from this. Agreed the first pic didn't really show much on the over all damage.
---
Last edited by vette66_00; 11-20-2011 at

06:37 PM

.
11-20-2011, 07:12 PM
Tech Master
Join Date: Feb 2011
Posts: 1,980
---
WHen this thing was shipped wasnt it INSURED? If so why file a claim with paypal and instead file a claim with the shipping company.
11-20-2011, 07:22 PM
Suspended
11-20-2011, 08:42 PM
Tech Adept
---
I have dealt with shipping company's before, this one happens to be USPS, with claims. Its not easy and since he packed it himself and admitted that he had not put enough packing in front of the boat it would be an instant denial of claim.
11-20-2011, 08:50 PM
---
That's why I'm very careful about proper packaging. Never had a problem with something not getting there in good shape. And yes I've sent 2 boats across the country and both made it there safe. And no I am not bashing or saying anything bad about anyone else.