USPS- Tracking
10-28-2010, 10:42 AM
Tech Apprentice
Join Date: May 2007
Location: Salem Or
Posts: 93
USPS- Tracking
---
Have you guys ever had an issue with USPS MisPlacing a package or not posting Tracking Info.?
Im getting worried about a package I dropped off early this week, and Still USPS show no info on the tracking number.
I know the buyer is getting pretty worried by now.
10-28-2010, 10:47 AM
Suspended
Join Date: Aug 2010
Posts: 609
---
Pay for more than the infonotice number.
Then Usps tracking is great.
Use the cheap "tracking" and it tells you when it was delivered....a day later.
10-28-2010, 10:50 AM
Tech Apprentice
Join Date: May 2007
Location: Salem Or
Posts: 93
---
Yeah, next time ill pay more for better tracking or just use UPS

Ill call the local office once they open and see what the deal is..
10-28-2010, 11:19 AM
Suspended
Join Date: Aug 2010
Posts: 609
---
Delivery confirmation is just that. Confirmation it was delivered. no stop-by-stop tracking.
ship priority with tracking for the extra 1.50 and get stop by stop tracking...not that it matters. Any USPS Shipping takes under 7 days aside from parcel post.
10-28-2010, 02:01 PM
Tech Master
Join Date: May 2010
Location: Madison, NJ
Posts: 1,441
---
Not necessarily, I've always had good luck with Usps. Here's a screenshot from the last package I sent out. Big box, Parcel Post, Delivery Confirmation for tracking...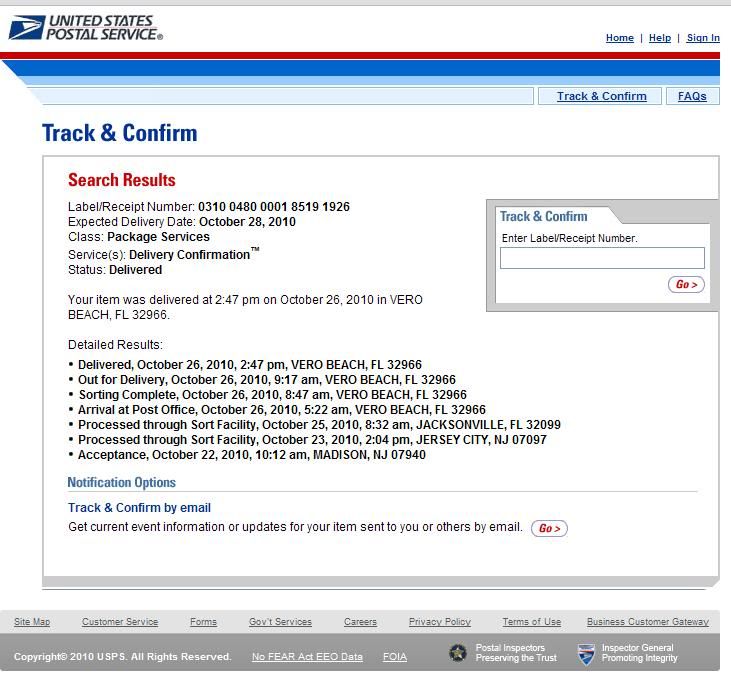 10-28-2010, 03:32 PM
Tech Master
Join Date: Jun 2009
Location: Dublin, GA
Posts: 1,577
---
Yeah I was going to say, USPS Delivery Confirmation works well if the employee decides they want to scan it when it comes through their facility.
10-28-2010, 04:40 PM
Tech Elite
Join Date: Feb 2010
Location: Saint Joseph, MO
Posts: 4,758
---
I have had great... and horrid... tracking experiences with USPS....

just gotta deal with it unfortunatly.
10-28-2010, 05:07 PM
Tech Addict
Join Date: Mar 2006
Location: ardmore oklahoma
Posts: 522
---
could be worse though, pay for ups and have packages thrown around, beat up, left on your porch (ultimately ending with them being stolen) or (NO joke) the ups driver stands at teh door of his truck and throws the package at your house (which i have seen a ups driver do this with my own eyes and coplaining didnt do squat because he still works there in fact i amin a bind with a xship rma on my pc ram because the driver apparently left it on the porch and it ended up stolen)
10-28-2010, 07:05 PM
Tech Champion
Join Date: May 2008
Location: WI
Posts: 5,807
---
the bootprints are the best part about ups shipping...
10-29-2010, 09:20 PM
Tech Champion
Join Date: Sep 2004
Location: Billings, MT
Posts: 6,239
---
To say nothing of the fact I can WALK most places in the US faster than UPS can deliver from there. Can you say sloooooooooooooooooooooow?

USPS is pretty much all I'll do, and the UPS depot is actually a shade closer to me. Once you get used to the idea that Delivery Confirmation is what it is you're golden.
Currently Active Users Viewing This Thread: 1
(0 members and 1 guests)
Posting Rules
You may not post new threads
You may not post replies
You may not post attachments
You may not edit your posts
---
HTML code is Off
---