Yokomo Auto-Detect Balance Charger (DC12V)
07-29-2013, 12:11 AM
Company Representative
Join Date: Sep 2009
Posts: 1,017
Yokomo Auto-Detect Balance Charger (DC12V)
---
New From Yokomo the Auto-Detect Balance Charger (DC12V) is now at Banzai Hobby !!!
Yokomo Auto-Detect Balance Charger (DC12V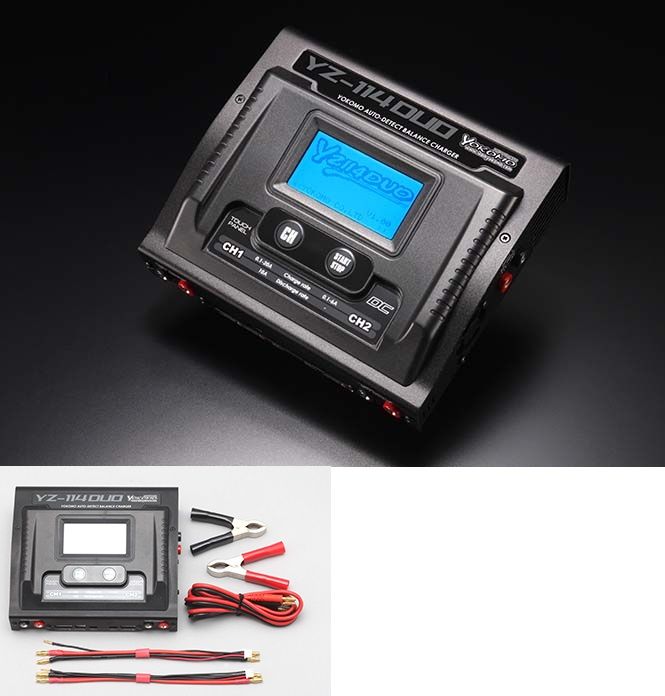 Meet the requirements of the expert user to lead the race scene, high-end DC charger "YZ-114DUO". Can also graph display that employs a touch panel that allows for intuitive operation, at-a-glance charging and discharging state. (Ch2 is 5A) can be two simultaneous charging street name, "DUO" Quick charge of 20A corresponding in margin in the race scene is shown in the charging function. And 10A, discharge current is also equipped with a fully functional on to the battery management. Equipped with balance charging function, and graph display function, it is a required item for racing exactly.
Features
■ LCD display with backlight
■ Ch2 · · 6A charge Ch1 · · 20A charging two simultaneous charging system possible
■ (Ni-cd · Ni-MH) 1 ~ 14 cells (Li-fe) 1 ~ 5 cell ● NiCad Ni-MH rechargeable battery ● Lithium-Polymer (Li-po) 1 ~ 5 ● cell lithium ferrite
■ constant voltage, constant current adopted (cc / cv) control scheme (Li-po/Li-fe)
■ charging method Ch1 (0.1A ~ 20A adjustable) Ch2 (0.1A ~ 6A Adjustable)
■ only discharge method Ch1 (0.1A ~ 10A adjustable)
■ peak sensitivity (0 ~ 25mV adjustable)
■ input voltage, output voltage, battery temperature, charging current, the discharge current, battery voltage, elapsed time, charge capacity, Data Graph
■ Built-in cooling fan in order to improve charging efficiency and durability
SPECIFICATIONS
Power / Power supply 11-15V DC power supply (30A or more recommended)
Rechargeable battery corresponding cell number / Battery-number of the cells
Li-po 1-5cell (3.7-18.5V)
Li-fe 1-5cell (3.3-16.5V)
Ni-cd/Ni-MH 1-14cell (1.2-16.8V)
Charging current / Charge current
Ch1 0.1A-20.0A (0.1A Step) / Max250W
Ch2 0.1A-6.0A (0.1A Step) / Max50W
Discharge current / Discharge current Ch1 0.1-10.0A (0.1A step) / 80W
Discharge voltage cut / Discharge cut-off voltage Li-po 2.5 ~ 4.2V/cell
Li-fe 2.0 ~ 3.7V/cell
Ni-cd/Ni-MH 0.1 ~ 1.3V/cell
Delta peak voltage / Delta peak voltage Ni-cd 5 ~ 25mV/cell
Ni-MH 0 ~ 15mV/cell
Display / Display 128 × 64 / LCD Backlight Touch panel
Please come Join us on Facebook for Weekly Specials and Updates
Banzai Hobby Team!
Currently Active Users Viewing This Thread: 1
(0 members and 1 guests)
Posting Rules
You may not post new threads
You may not post replies
You may not post attachments
You may not edit your posts
---
HTML code is Off
---