XRC 1/5 SCALE CARS
12-23-2006, 03:44 AM
Tech Addict
XRC 1/5 SCALE CARS
---
Hi Everyone,
I am starting a thread on these cars for people to give setups and any issues which they are having with these cars.
I have recently purchased some cars with the intent of starting a class in the Northern Suburbs of SA, at the local Pocket Bike track and incorporating into the Littlehampton track.
During the reviews of these cars please be as honest and constructive as possible please.
Lets talk cars, firstly straight out of the box these cars do need some attention to make them more reliable. Firstly the electronics is recommended to be changed I am using Hitec servos which have been good thus far.The build quality of these cars is not user friendly, it is recommended to replace all bolts with ss high tensile items. Due to the poor quality of bolts and the loctite that the manufacture use, result in either stripped, broken or rounded bolts.
With these couple of changes the car should be pretty reliable with only fine tuning needing to be done. We have found that the brakes leave little to be desired but we will keep working on them. Following is a list of things which we have upgraded to make the cars a little nicer to use.
- The pullstarter centre is replaced by a Zenoah item.
- Shock oil is replaced with 6000f/3000r weight oil
- Using the one servo for brakes and throttle the cables are modified so the calipers can be adjusted individually.
- The diff is stripped, cleaned and shimmed then rebuilt with HT grease and sealed so grease doesnt leak out.
- Last but not least replace the tyres with some good quality ones.
With these small changes the cars have been pretty good, the motors are no power house but with the revised gear ratio it makes them a little more fun in the top end without sacrificing bottom end torque. They are also very easy to start and tune, there is a little to be had if replacing the air filter with the wifes stocking
The cosmetics on the car are pretty poor with the standard
Honda Accord body being easy to crack but for 1/3 the price of other bodies its not to much to worry about.
Overall with time and the feedback which is being given to the manufacturer, the cars will be better straight out of the box and racing them will be a blast with some governed rules, I can see the racing being very close and good to watch.
These cars are designed to be very cheap and with replacement parts aplenty and very cheap (cheaper than my ep on road) the class will be financially viable for most people to enjoy.
A quick pricing for those who dont know much about them.
Car is $699.00 minus radio gear + freight
An upgraded race ready version - radio gear is $850.00 + freight
All cars will come with a complete parts list for the convience of ordering when parts are needed.
Please dont hesitate to pm me for any enquires on these cars as I generally have enough in stock to be able to supply.
Thanks David
Below are some pics of my car.
[IMG]http://i116.photobucket.com/albums/o33/brewer_08/100_0856.jpg[/IMG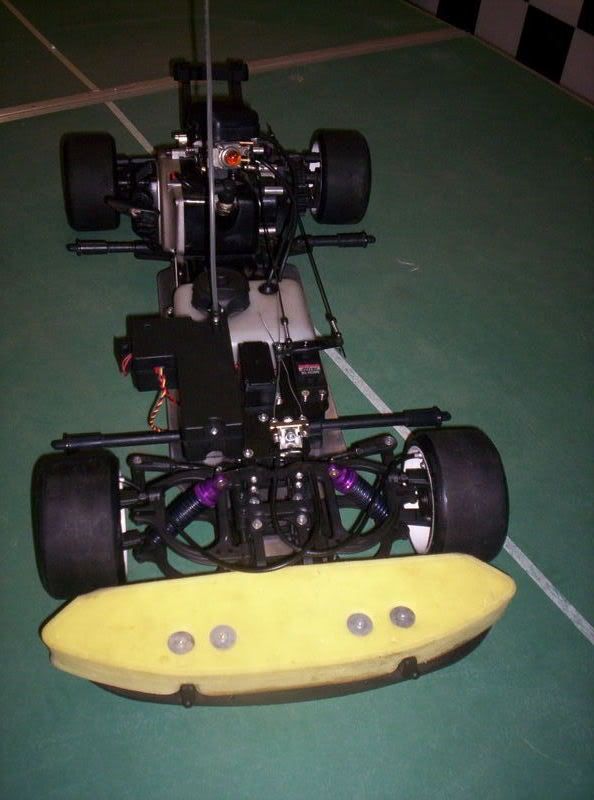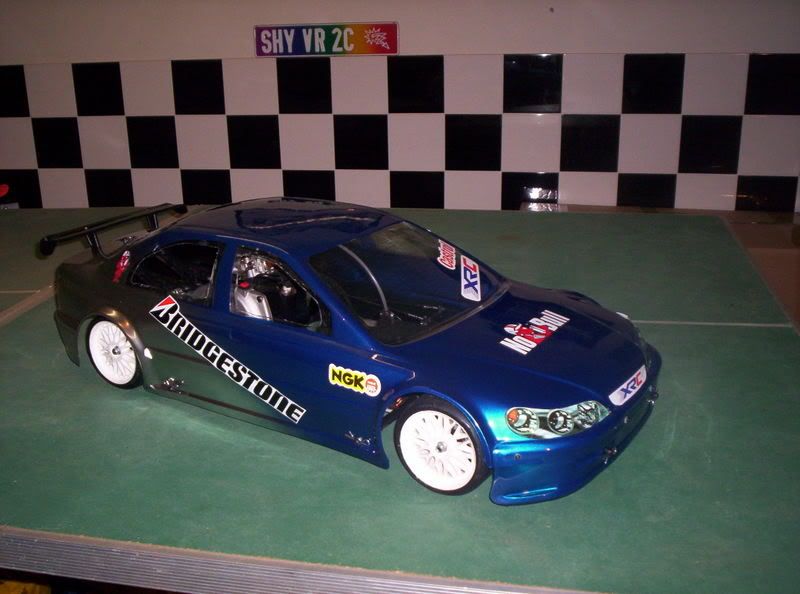 XRC
12-23-2006, 04:11 AM
Tech Adept
Join Date: Oct 2005
Posts: 224
---
have had the same issue with my diff and have done the same thing shimmed it out and its now fine i also put harm springs on dosent really matter which ones just any that are shorter to allow you to lower the ride height. I have also constructed a carbon sevo tray to get rid of the plastic box by doing this i have also removed the posts the steering servo mounts on and mounted the servo on the carbon top deck thus allowing me to get full steering lock i run 3 servos 1 steering / one for throtle and brake / and one for front brakes so now i can adjust the brake bias on my controller during a race by the touch of a button to allow more rear or front brake this can dramaticaly change the turn-in ( oversteer/ understeer ) the car has.

cheers
Chris
12-23-2006, 04:26 AM
Tech Addict
XRC 1/5 SCALE CARS
---
Chris can you post pics of your upper deck? We did our first one like that today but didnt need to change the upper deck, The holes on chassis are slotted so you can move the steering post backwards therefore get max steering angle.Are you having any probs with axle tramp or open wheeling in the backend?

Thanks David
12-23-2006, 04:39 AM
Tech Adept
Join Date: Oct 2005
Posts: 224
---
the back end binds up you have to take it all apart and file burs and the over moulding on the rear knuckles not have any issues with the car now just a tip pull your rear dog bones out and gluse the pins in i have had 2 that have come out during testing. i will post pics up of the deck as sonn as i get my digital camera back its on loan to some friends who are on holidays.

cheers
Chris
12-23-2006, 05:31 AM
---
Nothing against HH, but there is no way I would want to run one of these things there. 1/5 scales are not exactly very small...
12-23-2006, 07:02 AM
---
Yeah, LH already run 1/5th's.
12-23-2006, 02:30 PM
Tech Addict
XRC 1/5 SCALE CARS
---
Lh do run them but to be competitive your car needs to be worth BIG $$$$$$ but hey they are awesome to watch.Thats why we are trying to start up these cars as a entry level,it just helps that there cheep cheep like a budgie
12-24-2006, 02:32 AM
Tech Fanatic
Join Date: Aug 2006
Posts: 817
---
The car looks tuff, nice work
12-24-2006, 02:49 PM
Tech Addict
XRC 1/5 SCALE CARS
---
Thanks rob just a quick slap of paint, actually 6 cans of the stuff just a little bit dearer than painting the 1/10 scale
---
Last edited by brewer; 12-25-2006 at

05:08 AM

.
12-24-2006, 02:57 PM
Tech Addict
XRC 1/5 SCALE CARS
---
some other pics of a car which has been set up.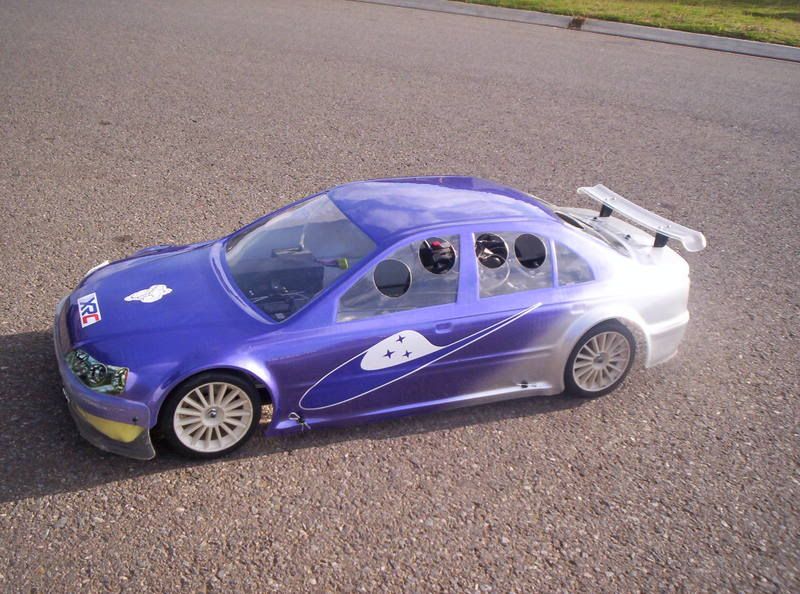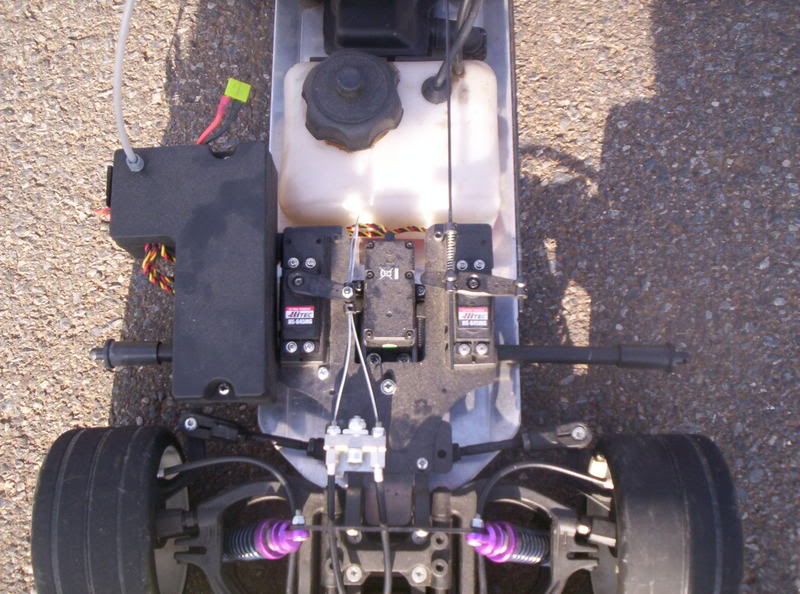 12-24-2006, 03:15 PM
Suspended
Join Date: Jun 2006
Location: sydney
Posts: 701
---
Can you get different bodies for them or is that the standard body
12-24-2006, 05:32 PM
---
If you run the twin brake servos, are they connected to the same channel?
12-25-2006, 03:12 AM
Tech Elite
Join Date: Jan 2006
Location: Leboland Sydney NSW
Posts: 2,826
---
Originally Posted by Turbine_au
If you run the twin brake servos, are they connected to the same channel?
im guessing it will be that with asplitter......or u can use a top end radio such as the 3pk and have servo mixing......
if i do get one of these things im gona hook up the front brakes to the 3rd channel on my radio for take burnouts lol