sunshine coast radio control car club ( landsbrough)
06-13-2013, 07:37 PM
---
Originally Posted by
heavy
The Interclub electric classes are run to ORRCA rules for all teh normal stuff like weights and measures etc etc and the list that apply to motors and esc etc. There is no Superstock in the ORRCA so it's just a class for the Interclubs and allows a variety of motors (17.5 boosted and 13.5 or 10.5 blinky) but still applies the rest of the ORRCA rules and including rubber tyres - all of that is spelt out in the Interclub rules which the participating clubs put out every year.

Lars there is no FSS class at the Interclub.
Can you point me to these rules so that i can read them. Thank you.
06-13-2013, 07:44 PM
Tech Master
---
I'm not an official involved in the event. Looking at the documents and websidtes, here's how I read it:
1. The Superstock class is a touring car class.
2. Interclub rules are published by the interclub committee and posted at
Action R/C her
e (as has been the case for several years).
3. Those rules defer to the ORRCA Qld EP rules including construction which are
published here
(also linked from the interclub rules list).
4. The SS class abides by all ORRCA Qld contstruction and EP touring rules, except for the actual motor specification as follows:
4a: Drivers can choose to run 13.5 and 10.5 motors using Blinky ESCs. ORRCA Qld rules defer to ROAR, BRCA and AARCMCC lists for appropriate motors and ESCs. The variant here is that interclub allows 10.5/13.5 motors which aren't specifically part of the ORRCA rule set, but I'd go by ORRCA rule
4.1: Motors must be on the ROAR or BRCA approved lists and comply with the rules in this section.
4b: Alternately, drivers can choose to run 17.5 motors and open ESCs. Again, the motors would be from an approved list held by BRCA or ROAR.
5. ORRCA rules mandate that batteries must be ROAR or BRCA approved together with other ORRCA Qld rules applying (see earlier link to ORRCA rules).
6. The stated intent of interclub racing has always been competitive racing in friendly environment. Scrutineering and strict application of rules has not (in my experience) been comparable to state championship events.
7. As with other TC classes, tyres are rubber only, but open in terms of choice, insert, quantity etc. ORRCA Qld rules include control tyre protocols for Qld Champs events which don't apply to interclub events.
As I said, I'm not an official. My reading of all of the above says that a blinky ESC from an approved list, and either a 13.5 or 10.5 from an approved list (ROAR, BRCA, AARCMCC) is what's required to comply with the rules of the event (or of course the approved 17.5/open ESC option). It's a hybrid class that has existed on something like this widely understood basis for quite a while. As a class not run in this form anywhere apart from the interclub event, it's never been specifically spelt out any more than it is.
Probably for future events (and certainly next year) some work from the interclub committee on tidying up the rules and improving documents, entry forms etc would be advisable.
All of that said, I think I'd be surprised if anybody was ejected from the event running a 10.5 motor that wasn't on a list. It just doesn't seem like that kind of event. It's a risk, but if I was in that situation (not owning an approved motor), I'd probably be willing to take it for the fun of competing - particularly in the Superstock class which is such a one-off class anyway. That's a personal view though.
06-13-2013, 07:58 PM
---
Thank you for the clarification on how these rules are being interpreted, but that is not how they read to the general noob.

The ORCCA rules in 1.1 state they apply only to Mod, 17.5 and 21.5 and no where in the actionrc site do the interclub rules state that ORCCA general technical rules are being applied to superstock.

These rules might be clear to 20 year RC veterans, but to the general noob, it is clear as mud.
06-13-2013, 08:03 PM
Tech Master
06-15-2013, 01:34 AM
Gas Tourer podium.
---
1st Capricorn Ray
2nd Peter Xgay
3rd Mugen Coops (sorry no picture available)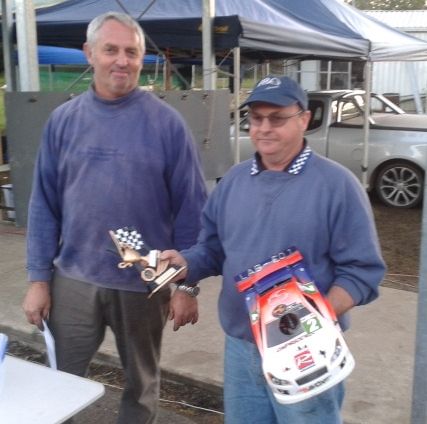 Capricorn Ray & Peter Xgay had their cars running perfectly all day and probably deserved to finsih on the podium; but Mugen Coops had a lot of trouble in the 20min final, but went out again to race after running repairs and also desrved the podium finish (in my humple opinion).
Kindest regards
Lars.
06-16-2013, 03:02 PM
Tech Fanatic
Join Date: Jan 2005
Location: North BrisVegas QLD
Posts: 843
---
Congrats Sunny Coaster on running a most enjoyable weekend of racing. Highlight for me was the mixed grill at the pub on Saturday. My first attempt at racing Mod would be a close second. ;p
06-16-2013, 11:55 PM
---
Yep, great weekend guys, lots of good racing to be had, many thanks to those who ran it, and thanks to all my fellow club mates who came along and we all had much fun, and extra thanks to Trev and his van, it was nice to not have to drive up three days in a row.

Hope to see everyone at Bayside for the next round.
06-17-2013, 12:30 AM
---
Thanks Terry and Kerry above for your compliments, it was great to see so many competitors from Brendale participating in the Interclub at the Sunshine Coast.

It was also good to see so many from other clubs especially Fraser coast who travel a long way to participate.
I would like to especially thank John Taynton who worked tirelessly with respect to our computer problems and made the meeting work. Also Kathy and William who don't race or have children that race anymore, but still spent all weekend at our track to run the event.
A special big thanks to my Grand Daughter Hannah who also doesn't race but ran the barbeque which supplied us with food and much needed revenue over the weekend.
This would of been if not the most successful event for us, a close second. The Interclub is alive and well and last weekend was an excellent example.

We are looking forward to Baysides event, the Final Round, who will win?

Regards Graham
06-18-2013, 01:37 AM
Tech Addict
Join Date: Sep 2005
Posts: 718
---
Hi guys, Thanks for the great weekend. Just wondering if the Alycat files will be put up somewhere?
Cheers
Andrew
06-18-2013, 02:25 PM
06-18-2013, 03:29 PM
---
Hello All,
Does anyone have any Podium photos of the F1's from the weekend, if so could you please email them to me at
[email protected]
It would be greatly appreciated, I want to send them to David Stevens to be posted and with everything that was going on I didn't do it myself.
Regards Graham
06-19-2013, 05:37 AM
Tech Master
---
I have the results files, just have a small technical glitch to overcome. Hope to have them uploaded tonight or tomorrow and will post links as soon as they're available.
06-19-2013, 11:29 PM
Tech Master
---
Interclub Round 2 results have now been posted at actionrc.com.au. Any missing files please let me know. Any concerns with actual results can be directed to Sunshine Coast club.
Interclub Page
(includes links to both days Results files, plus IC #1)
Saturday Results
Sunday Results
Cheers
Scott
06-20-2013, 03:49 AM
Tech Elite
Join Date: May 2008
Location: Brisbane
Posts: 3,479
---
Originally Posted by
scott_g
Interclub Round 2 results have now been posted at actionrc.com.au. Any missing files please let me know. Any concerns with actual results can be directed to Sunshine Coast club.
Interclub Page
(includes links to both days Results files, plus IC #1)
Saturday Results
Sunday Results
Cheers
Scott
tks
06-24-2013, 12:50 AM
---
Graham, do you guys have a club day this weekend? If so what day and start time.

Cheers.
---
Last edited by RogerDaShrubber; 06-24-2013 at

02:13 AM

.