2014 AARCMCC 1:8 IC Off Road NSW State Championships at LRRCC - 5th to 7th Sept
07-28-2014, 05:08 AM
2014 AARCMCC 1:8 IC Off Road NSW State Championships at LRRCC - 5th to 7th Sept
---
LRRCC in association with AARCMCC are proud to host the THEO'S BROS AUSTRALIA 2014 IC Off Road NSW State Championships from Friday 5th to Sunday 7th September.

Entries
Click this link to enter
http://www.lrrcc.com/site_raceevents...y_template.php
Entries close Sunday 31st August 2014
$30 late fee after Sunday 24th August.
Cut-off date is Sunday 31st August with the Schedule to be created by 3rd Sept.
This event is strictly limited to 120 drivers in total, please note that acceptance will based on when you have paid rather than nominated.
Classes
1:8th I.C. OFF ROAD Buggy Pro &
40+
1:8th I.C. OFF ROAD Truggy Pro &
40+
1:8th E.P. OFF ROAD Class
Instead of the sportsman race, we are trialling a 40's and over race.
You just need to prove you are over 40 years old to enter
So if you are over 40, we encourage you to also enter this race.
The top 15 drivers over 40, that havn't qualified for the A final will have it out in the 40+ for bragging rights.
Length of race with either be 20 or 30min (still TBA)
There will be trophies for the 40+ races also.

Race Format
'A' finals will be 15 cars and 45 minutes duration.
'B' finals 30 minutes.
All lower finals, will be 20 minutes.
All qualifiers will be 7 minutes.
The standard 'bump up' finals format will be used, with the top 5 from each lower final bumping to the next.
2 Rounds of timed practice
6 Rounds of qualifying
Venue
Iraking Ave, Moorebank, NSW
Google Maps
https://www.google.com/maps/@-33.933...1!1e1?hl=en-US
Tables and chairs and cover provided for interstate drivers.
Local drivers, please bring your own Gazebo's, Tables and Chairs.
Schedule
The final schedule will depend on entry numbers. Indicative schedule:
Friday: 2 rounds Practice + 2 rounds Qualifying
Saturday: 4 Rounds Qualifying + Lower Finals
Sunday: Finals
A more detailed schedule will be posted closer to the event.

Fees and payment details
First class: $60
Additional classes: $40
Bank: ANZ
Account Name: Liverpool Radio Rallycross Car Club INC
BSB: 012 272
Account Number: 264904396
Please put your name in the Reference so we can validate your payment.
SPONSORS


We would like to thank our Major Sponsor for the event

Theo's Bros Australia


We also would like to thank Gannis Constructions for coming on board as a sponsor and helping us with our track preparations



We would also like to thank the following for the support for this event.

ESC RACING

MIT Engines
Ryper Hobbies
Proline Racing
RC Crew
Crazy Hobbies
Premier Model Supplies
HOOT RC
MAXIMA FUEL
ACORN RACING
LAZ RACING DEVELOPMENTS
JUST HOBBIES


ACE HOBBIES DISTRIBUTORS AUSTRALIA

CONFIRMED ENTRIES WILL BE LISTED on the LRRCC Forum here
http://www.lrrcc.com/phpBB3/viewtopic.php?f=45&t=4935
Facebook
https://www.facebook.com/events/6190...ilter=upcoming
SEE YOU ALL THERE
Close to track accommodation options
Hunts Motor Inn - (02) 96015088
Corner of Hume HWighway & York Street
Crossroads, Liverpool
The Fontainbleau Inn - (02) 96027455
467 Hume Highway, Casula
The Jolly Knight Motel - (02) 9602 6399
568 Hume Highway, Casula
Sunnybrook Hotel and Convention Centre - (02) 9726 1222
355 Hume Highway, Warwick Farm
Comfort Inn Hunts Liverpool - (02) 9601 5088
Corner Hume Highway and York Street, Casula
El Toro - (02) 9602 7077
Homepride Avenue, Warwick Farm
Crossroads Hotel - (02) 9602 8194
Lot 1, Camden Valley Way, Casula
Hotel Formula 1 - (02) 9822 2777
437 Hume Highway, Casula
Warwick Farm Grandstand Motel - (02) 9602 0100
7 Hume Highway, Warwick Farm
---
Last edited by kek; 09-03-2014 at

03:45 AM

.
07-30-2014, 12:18 AM
---
1/8 EP
08-07-2014, 08:21 PM
Tech Regular
Join Date: Aug 2012
Location: Australia
Posts: 423
---
Is there definitely going to be additives put on the track surface?
Could we please get some photos of the track once it's ready too.
Also Wat time are u guys planning on being finished on Sunday?
08-10-2014, 05:18 AM
---
Yes, we will be applying sugar to the track to get the traction up.
We are expecting reasonable tire wear with good grip.
We really havn't had a chance to look at a schedule yet as we have been working on the track to get it ready, though I think something like 4-5PMish on Sunday. We should have all racing done by then, or earlier.
I will post a schedule a little close to the event.
Track pics can be found here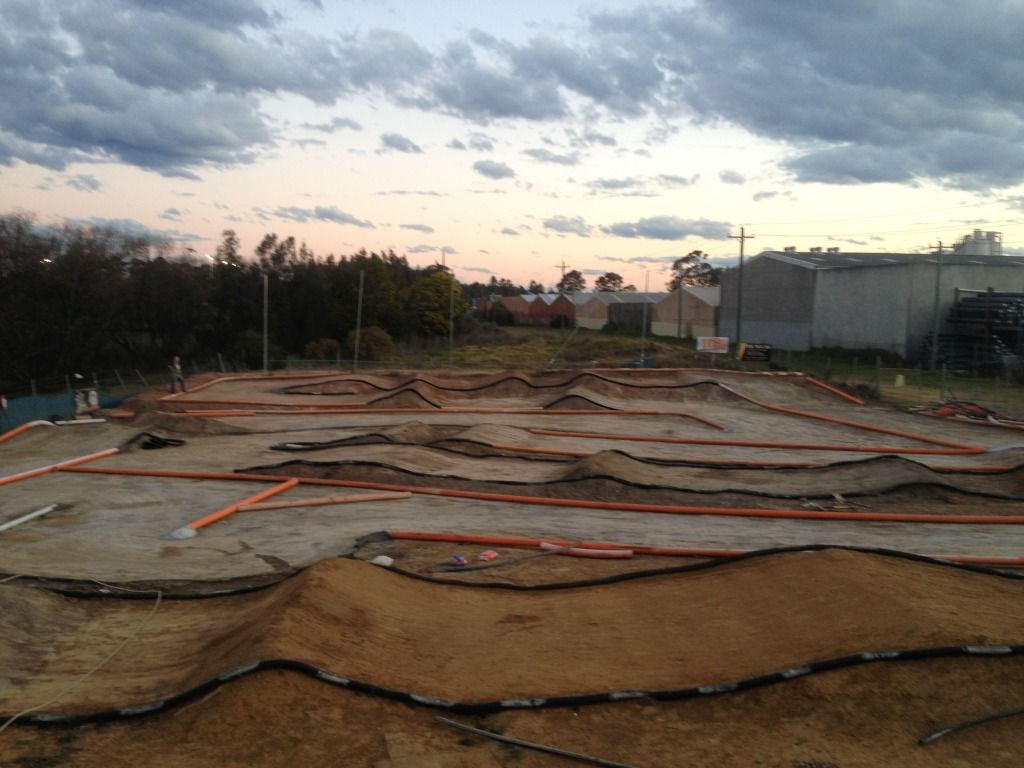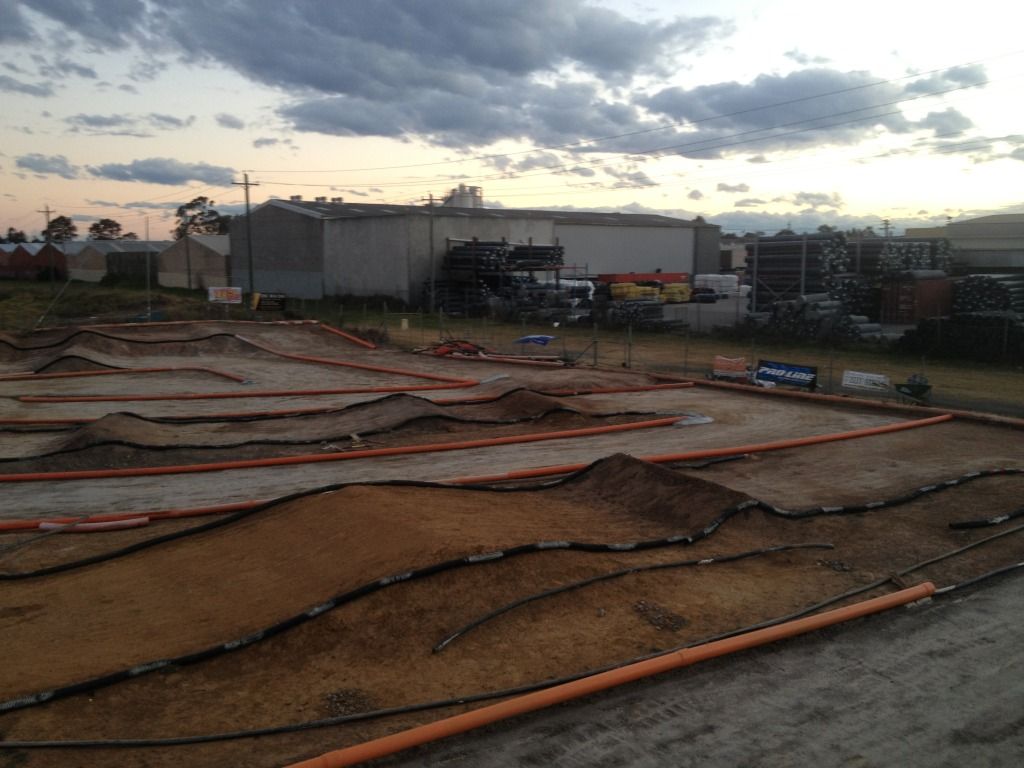 08-11-2014, 12:06 AM
Tech Regular
Join Date: Aug 2012
Location: Australia
Posts: 423
---
Ok thanks, my flight back leaves at 5.30pm so I'll wait for a schedule later on and change my flight if I have to. No stress.
I can't wait to come over, it's going to be a great wknd
Wow! Track looks awesome, can see you have all been busy!
08-11-2014, 12:18 AM
Tech Master
Join Date: May 2002
Location: Go Offville Tennessey
Posts: 1,665
---
Juast about to poay, you post says commomwealth, bank says its a ANZ account/bsb, would like to clarify before I throw money in wrong account
08-11-2014, 02:09 AM
Tech Addict
Join Date: Jun 2007
Location: Sydney Australia
Posts: 563
---
Hi Dal
Clubs account is ANZ.
08-20-2014, 12:31 AM
---
Just a reminder to get those entries and payments in this week.
08-20-2014, 04:13 AM
EP8
---
What's the minimum entries for EP8?
3 of us are coming from Canberra just for EP8, is it definitely going to run?
08-20-2014, 05:38 AM
---
We're happy for EP8 to run with 6+
8 would be idea for marshalling, but provided the 6 have paid and are coming, it's on
I would love to run also, but I can't get an XB8e ontime.
08-20-2014, 05:58 AM
08-21-2014, 08:10 AM
Tech Adept
Join Date: Jul 2012
Posts: 132
---
Just put entry in, think I have put in twice. Should be buggy and buggy over 40 transponder is correct.
08-25-2014, 02:39 PM
Tech Adept
Join Date: Feb 2013
Location: Sydney
Posts: 112
---
C'mon guy's.. Get your entries in! Should be a good event.
09-02-2014, 05:28 AM
---
LRRCC would like to thank all the sponsors for their support.

We are still taking payments till Thurs.
09-02-2014, 05:30 AM