8 x 4S Nano-Tech 65C 5000mah batteries
10-15-2013, 04:21 AM
Tech Fanatic
8 x 4S Nano-Tech 65C 5000mah batteries
---
I'm selling my Nano-Tech 65C 5000 batteries as I'm moving to a different battery that suits both my cars. I prefer to only one battery size and type so these are now on offer.
I rotate them in usage so the most a couple have been used is nine times. I numbered them and have a spreadsheet of usage with dates. All are returned to storage voltage in between.
No signs of puffing, these have performed well in my Tekno EB48 with a 220A Viper ESC, for 7 and 10 min races.
They currently feature EC5 connectors, so if you use this excellent connector type they are ready to go.
$50 posted each.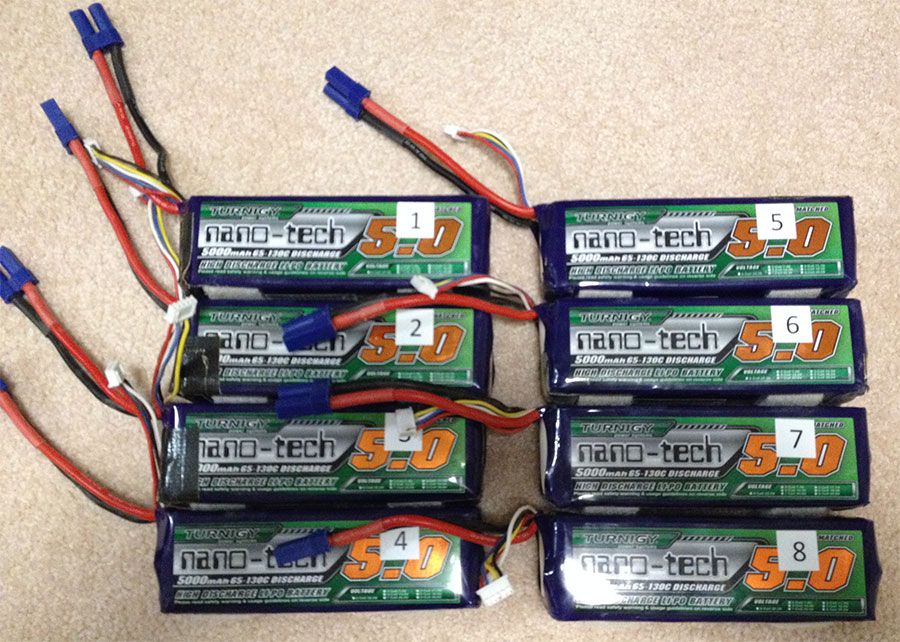 10-16-2013, 12:39 AM
Tech Apprentice
Join Date: Jul 2012
Location: Melbourne
Posts: 63
---
Where is pickup?

Cheers.
10-16-2013, 03:32 AM
Tech Fanatic
---
Sorry, I should have mentioned, pickup is in Canberra.

I will let the lot go for $320 + shipping, which is approx $20 to Sydney.
10-18-2013, 06:27 PM
Tech Fanatic
---
3 sold pending payment. 5 left available.

Job lot of 5 for $200 + post.
10-19-2013, 10:45 PM
Tech Fanatic
---
Looks like all are spoken for, pending payment.
10-21-2013, 02:28 AM
Tech Fanatic
---
All sold, thank you!!
Currently Active Users Viewing This Thread: 1
(0 members and 1 guests)
Posting Rules
You may not post new threads
You may not post replies
You may not post attachments
You may not edit your posts
---
HTML code is Off
---