***COMPLETE SELL UP!!!***
06-19-2013, 03:56 AM
***COMP CRAWLER + DRIFT CAR!!!***
---
Ive decided to sell some of my RC gear as I'm otherwise occupied with family and want to setup something I can muck around with in the yard.
Prices do not include postage.
3Racing Sakura D3 CS:
Car has been upgraded alot with the SSG lower chassis, upper deck and shock towers, aluminium upper bulk heads, rear lower aluminum bulkhead, aluminum rear belt tensioner, aluminum steering rack, SSG transverse battery mount, aluminium spur clamp, TiNi hinge pins, new custom CVDs with heaps of throw, and aluminium servo mounts.
KPI (king pin inclination) mod has been done. Heaps of steering available now with no chatter
More info on the KPI mod can be found here.
http://www.rctech.net/forum/electric...drift-126.html
The D3 will be supplied with HS77BB low pro servo (spare) hitec 5485 servo (fitted) 3 sets of drift rims with tires fitted, 3300mah 2s lipo, various spares including all plastic parts I replaced with alloy or SSG ones, new front arms, Yokomo S14 body with accessories fitted.
I'll also include a Toyota Hiace shell in VGC that came with my kit.
The kit is in excellent condition and is running the stock countersteer ratio of 2.14 (I think it is)
RX not included.
SOLD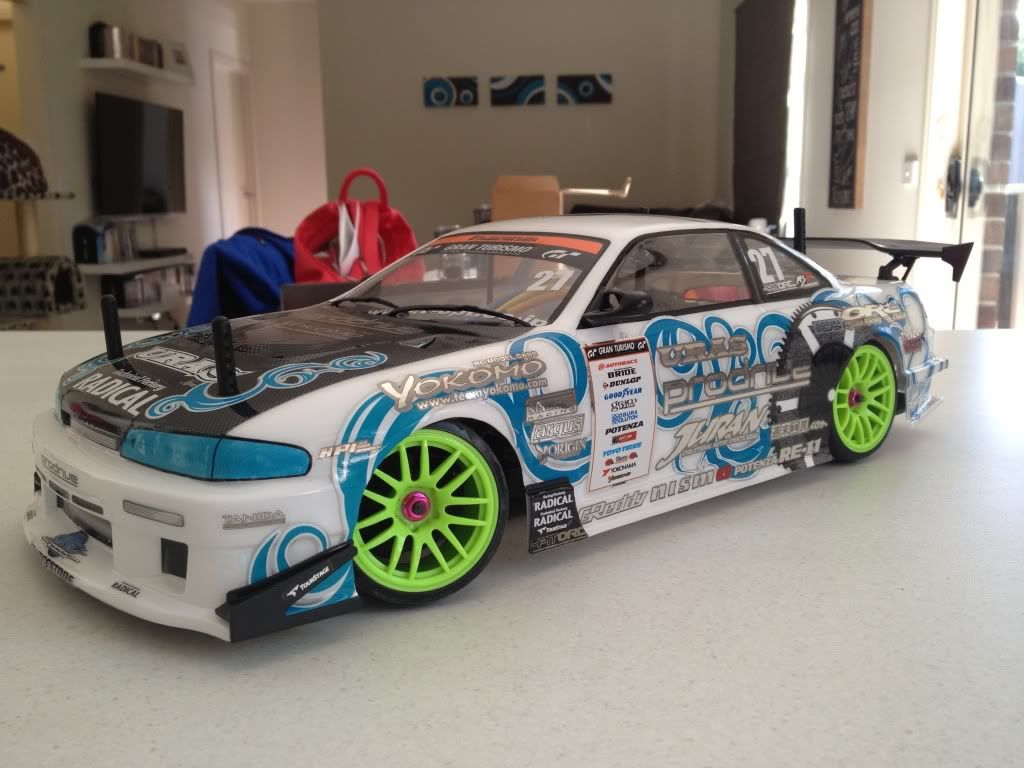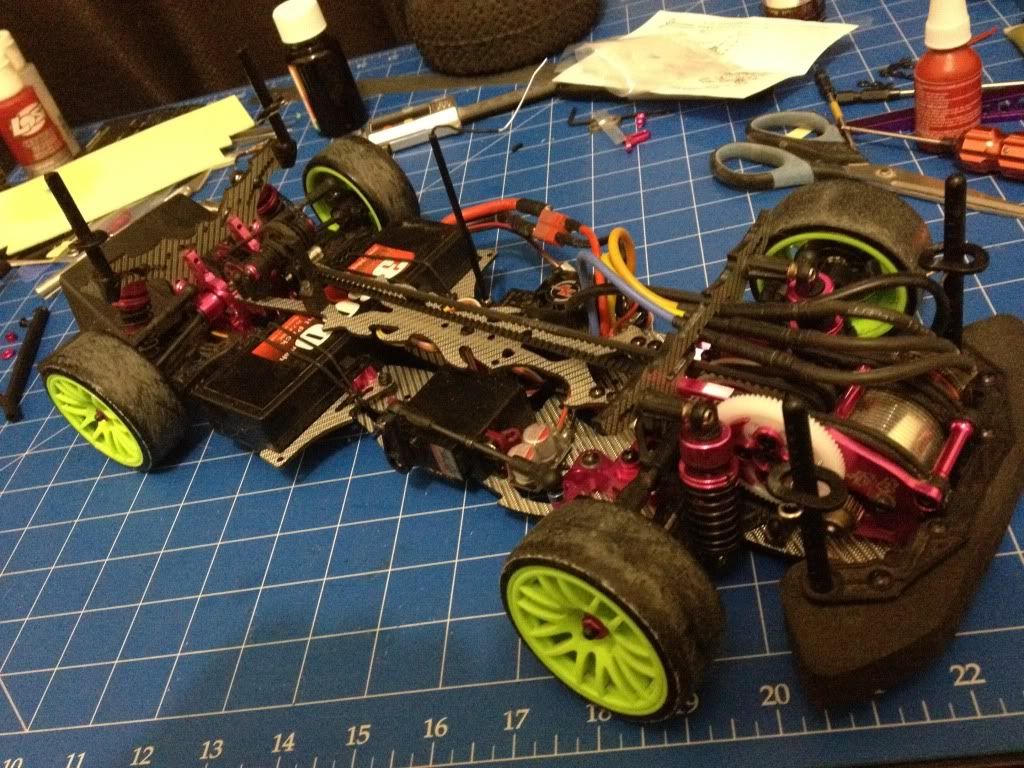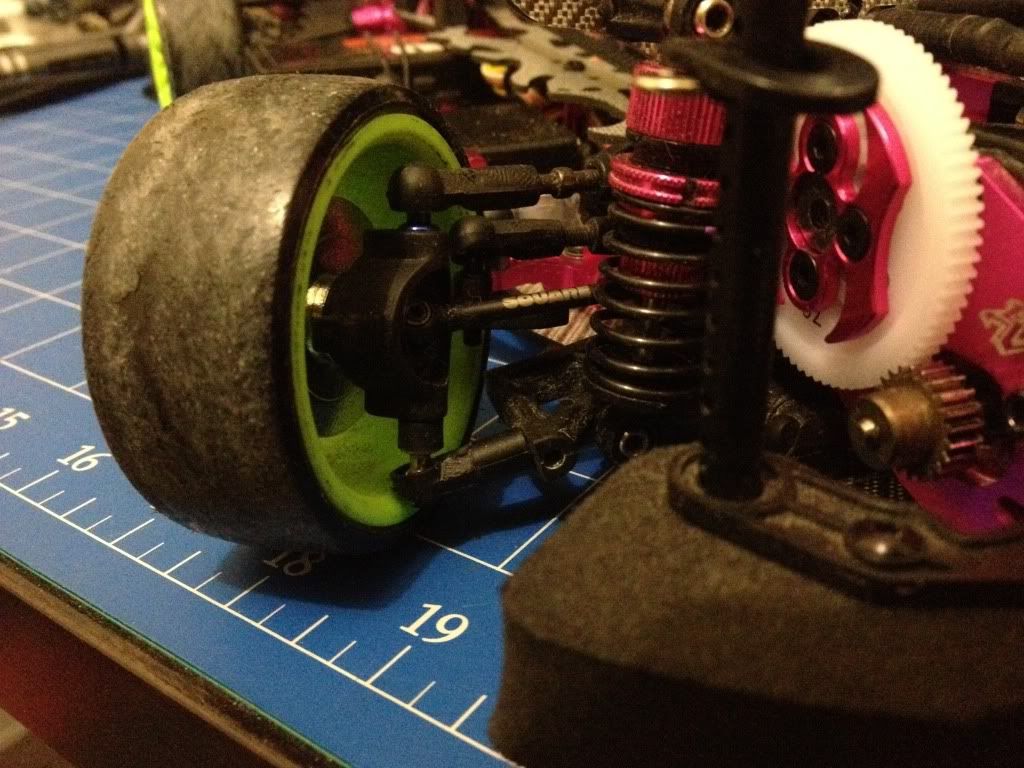 Axial XR10:
This was bought from my LHS as a kit and Ive been building it up for the last 6 months. This has been my absolute pride and joy and has cost me in total over 2k to buy and build up. This has almost every stock Axial part upgraded, and is by far the best and most capable crawler I have ever owned.
List of mods/upgrades:
Vanquish Products knuckles, Chubs, servo armour, front and rear transmission cases. (over $230 worth)
Rowdy Racing axle mount battery tray and motor mount electronics tray.
RCBros knuckle weight system.
Traxxas big bore shocks front and rear, lathed down to save weight. These have a shock cap mod done to them to run a longer ball stud. These also have Dougs Cups fitted to them which allow Mini T springs and RC18 springs to be used.
2 sets of Mini T springs. Soft-med-firm
Billet Works Designs motor sav'rs front and rear
Nordic Crawlers custom bodyless carbon chassis.
Nordic Crawlers custom Titanium links
Vanquish Products Titanium steering link.
2 screw rear trans case mod which is to tighten the rear axle housing to prevent the trans gears slipping. (I broke a rear spool without this mod, and since doing it 30+ packs later I have not had one single issue with it)
Axial Hardened lightweight front and rear spools.
Robitronic clamp on servo arm.
Vanquish Products front and rear hubs (725 and 600 sizes)
Hot bodies rover tires (shaved) mounted on 2.2 kyosho buggy wheels
Losi Boss Claw tires (Shaved) mounted on 2.2 DE borrego buggy wheels with 2 stage foams.
I am selling this as a near RTR which means you will need to supply your own 3/4 channel radio system or keep reading this post to check out my Airtronics MT4 and I'll do a deal with the radio (saves me from pulling it apart)!!!
What electronics you will receive on top of chassis:
2 x Team Brood Intensity brushed motors
2 x Tekin FXR escs smooshed together.
Castle 10amp BEC
Hitec 7955TG servo
2 x 1300mah 3s Lipos
1 x 1300mah 2s lipo
I will also include a Tekin Hotwire interface, and also a Castle Link so you can program everything!
I also have most of the stock parts aswell including chassis, body, vanquish titanium bent links etc and also the box.
Add your radio system and you will be able to crawl in comps with no extras to buy!
$700neg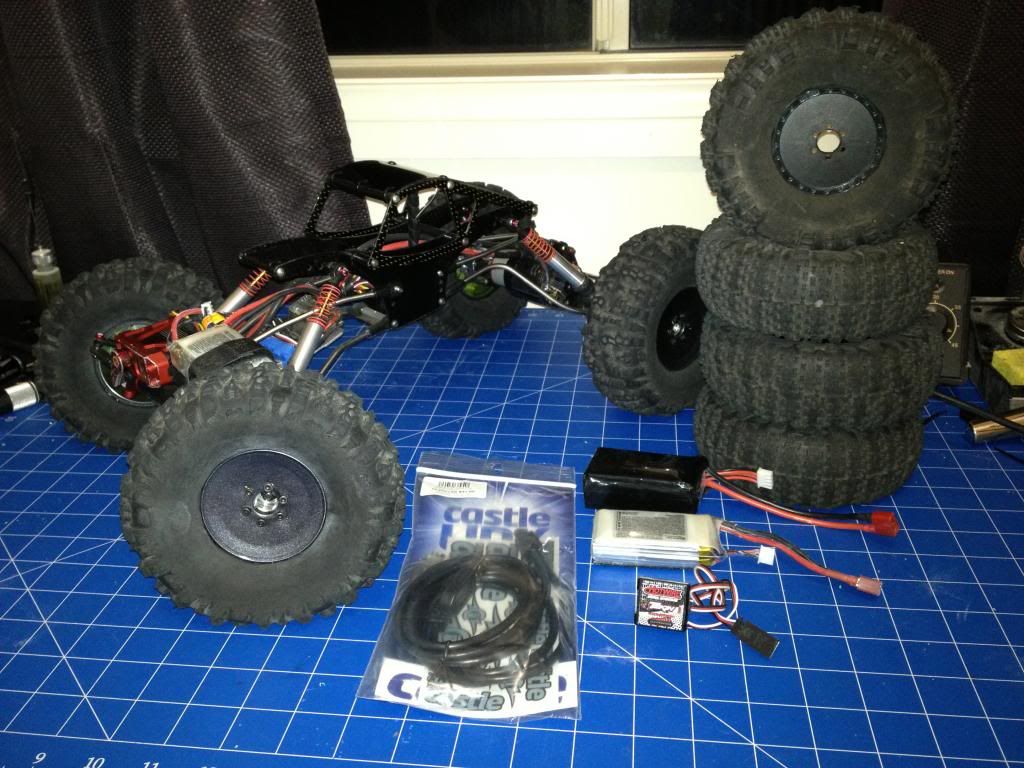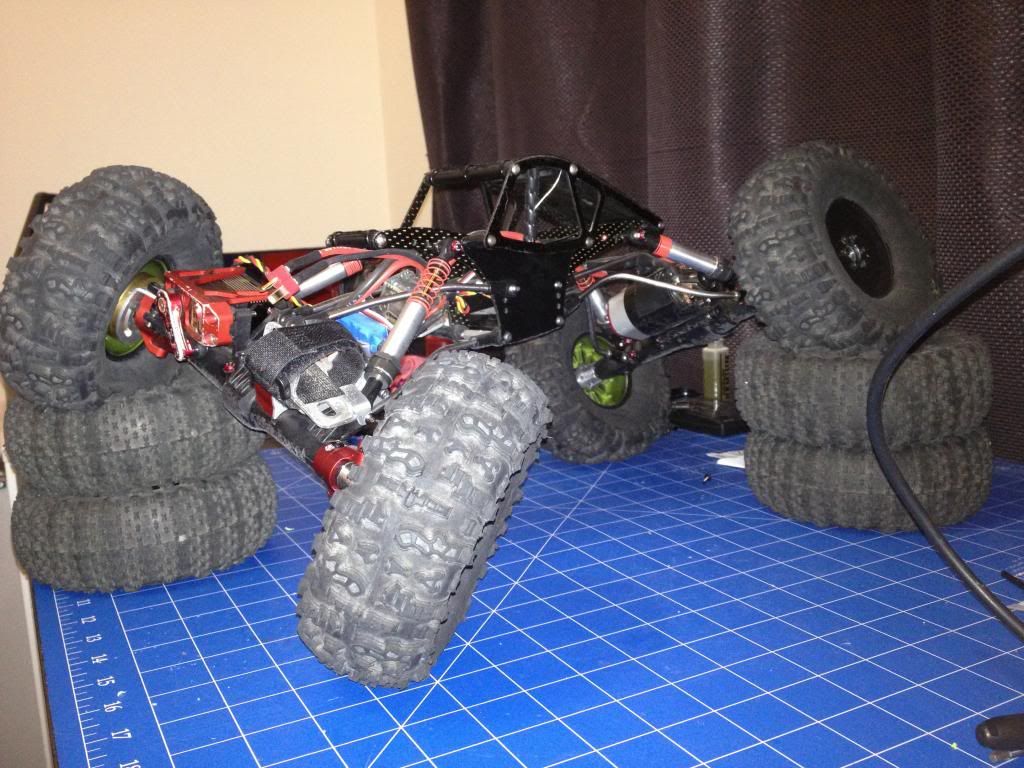 More to come...
---
Last edited by slyts6; 07-21-2013 at

01:34 AM

. Reason: Edited to revise sale items.
06-20-2013, 05:23 AM
---
TTT
06-22-2013, 02:09 AM
---
BUMP
06-23-2013, 06:22 AM
---
Taking offers
06-24-2013, 12:31 PM
---
Bump
06-25-2013, 04:29 PM
---
Anyone keen for a bargain? Open to offers
07-02-2013, 05:16 AM
---
Bump
07-05-2013, 04:37 AM
---
Will consider trading the Sakura for buggy or maybe sct... Or even a wraith.
07-06-2013, 03:03 PM
---
Bump... Looking for a wraith guys!
07-07-2013, 09:00 PM
---
Bumped
07-12-2013, 01:24 AM
---
Bump
07-13-2013, 01:30 AM
---
Bump

Taking offers now.
07-14-2013, 04:33 AM
---
Selling as rollers
07-15-2013, 04:40 AM
---
Pics updated of current setup
07-16-2013, 02:55 PM
---
All pm's replied.

I want these gone!