Arizona RC Swap Meet
07-26-2013, 10:14 PM
Tech Addict
Join Date: Jul 2009
Location: San Tan Valley, Az
Posts: 557
Bump new price $250 obo
---
New price $250 obo
Originally Posted by
flyntrd
I have a DEX410R for sale. It has never had esc or motor in it, never been driven. Bought it and now don't have time to get out and use it. Comes with savox servo, 2 bodies, 1 set wheels and tires, 1 set just wheels and a thunder power saddle pack. I am located in San Tan Valley but work out In Tempe/Phx and could meet up after work.
Asking $250 obo.
Casey 480-220-4288
Text is easiest way to get a hold of me.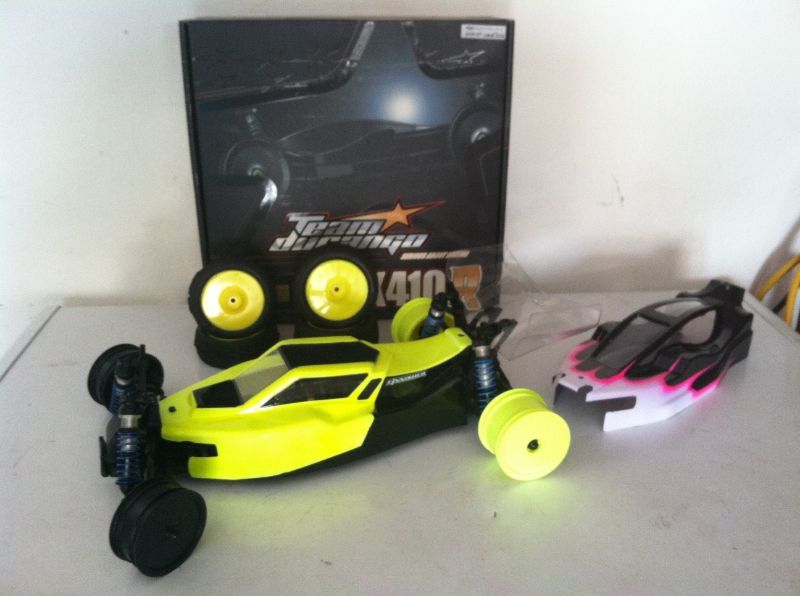 07-27-2013, 12:22 PM
Tech Master
Join Date: May 2012
Location: Mesa AZ
Posts: 1,312
Firefighter raffle
---
Last chance to get tickets for the raffle tonight at Hobbytown in Gilbert.
07-27-2013, 12:34 PM
Tech Addict
07-27-2013, 01:00 PM
Suspended
Join Date: Mar 2013
Posts: 65
for sale Traxxas Slash 4x4 Lcg w/rpm parts asking 350$$
---
07-27-2013, 02:21 PM
Tech Fanatic
Join Date: Jun 2011
Location: Phoenix Arizona
Posts: 968
---
Up for sale are my T4.2 and B4.1 Factory Team Worlds Car. Looking to try new manufacturer, ran associated for 6 years now and i want to see what else is out there, so trades are considered, but I will trade both cars for 1 kyosho RB6 lol
The T4.2 is a converted T4.1 as follows:
asking
$180 obo
as a roller!
will trade for SC10.2
Big Bore Shocks
Updated front arms
Updated front tower
mip diff
Avid Triad Slipper clutch
Avid Steering Rack
Hex's all around
includes misc spares, 3-4 sets of indoor/outdoor tires
B4.1 WC
asking
$120 obo
as a roller
AE Big Bores
Avid steering Rack
fresh plastics to lose the slop
Avid Clamping hexes rear
F.T. center drilled axles with trailing arm spindles up front
misc spare parts
comes with 2 sets of rear Bro Codes (green) and green barcodes front, Green rips front, M3 scrubs front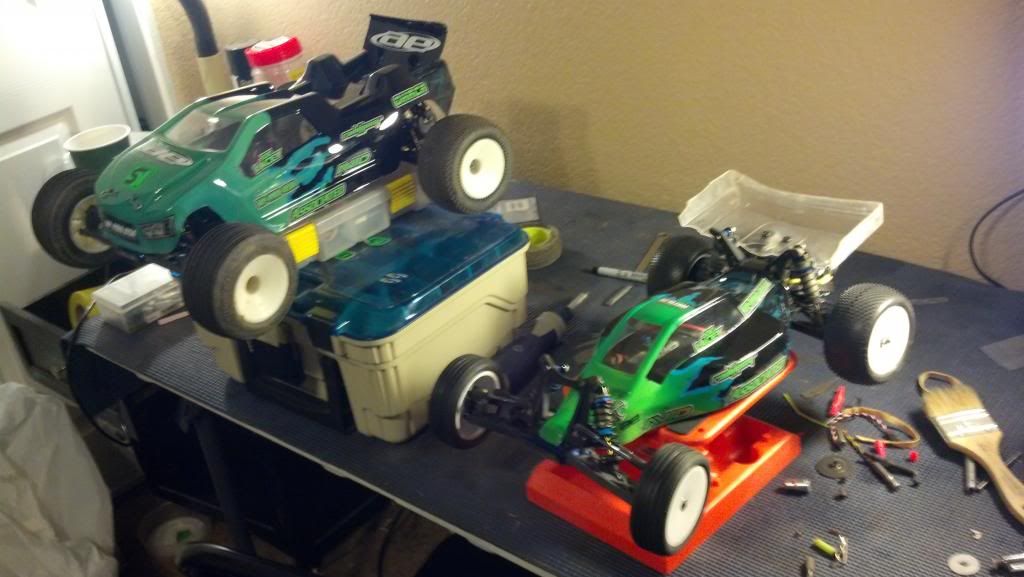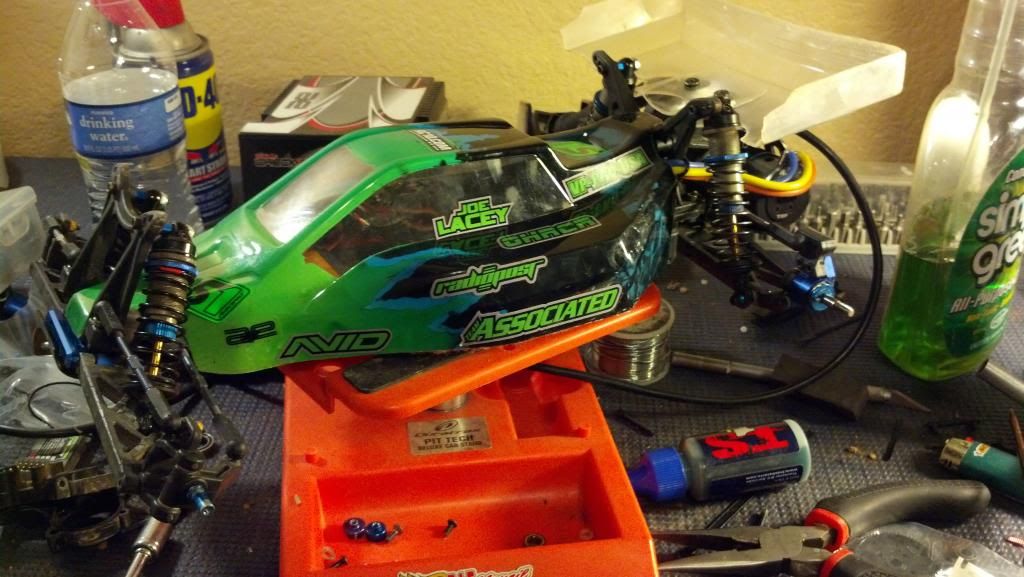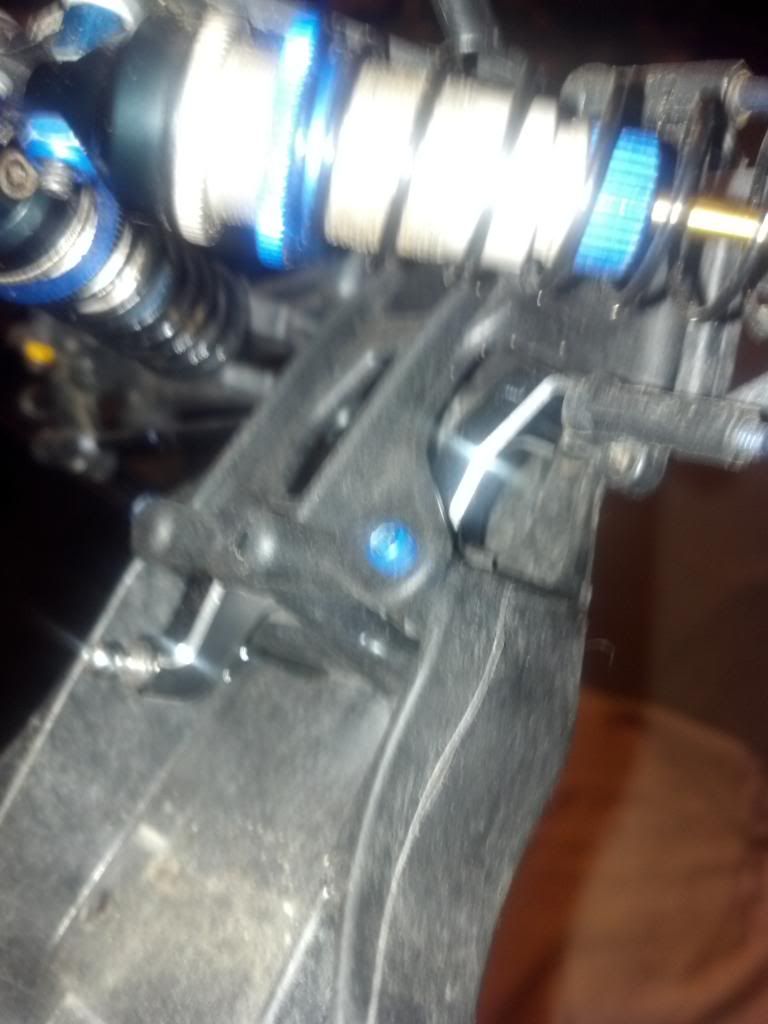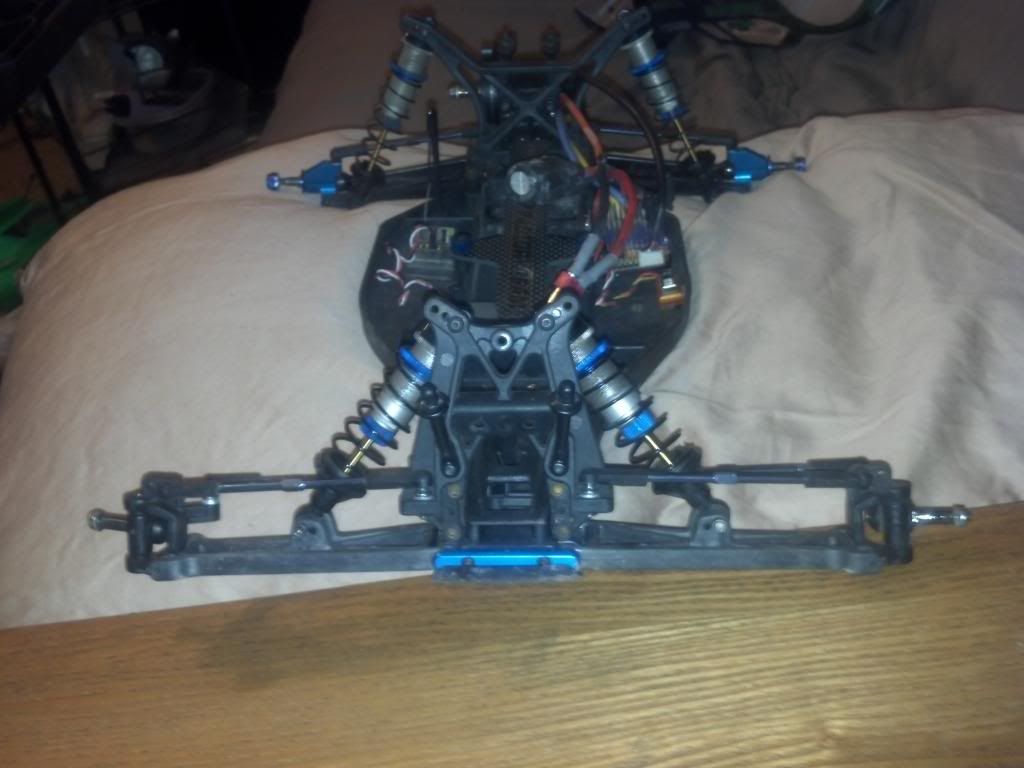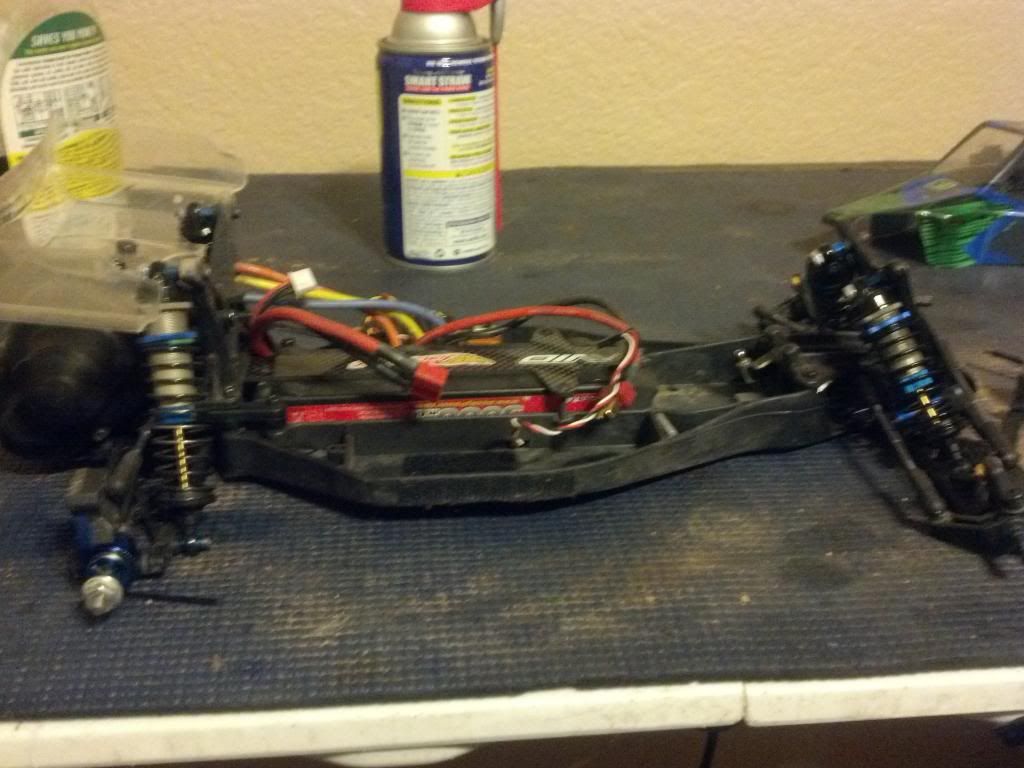 07-27-2013, 02:54 PM
Tech Fanatic
Join Date: Jun 2011
Location: Phoenix Arizona
Posts: 968
---
also t4 includes a stickit1 chassis skin
07-27-2013, 03:00 PM
Tech Adept
Join Date: Feb 2010
Location: casa grande Az
Posts: 164
---
I have a agama a8 evo 1/8 buggy only ran about 5 times. It has the rc monster electric conversion on it. I also have all the nitro things to make it nitro again with a reedy. 21 vr engine and a ofna starter box. Selling for 400 for everything. Can separate make offers
---
Last edited by scm22; 07-28-2013 at

03:22 PM

.
07-27-2013, 05:57 PM
---
07-28-2013, 11:23 AM
Tech Addict
---
WTB: transponder

NEVER MIND I FOUND ONE!!!
---
Last edited by slowclod; 07-29-2013 at

01:28 AM

.
07-28-2013, 01:05 PM
Tech Master
Join Date: Mar 2009
Location: Armwrestling Tables
Posts: 1,034
---
Selling for a friend. He broke his Ipile 5 and needs some cash to replace it. This truck was a little project for him. He cleaned it up, and purchased the engine and starter box from CJ Jensen. Motor has not been run in his possession, but CJ is a trustworthy guy. He is asking 300$ obo for everything shown. Willing to part out. Text 623 760 3500

Ofna Monster Pirate 1/8th scale monster truck (Includes two servos...nothing special) - 50$

Axial 2.4ghz rx.tx - 30$

Starter box with Protek 4 cell 2100mah soft pack - 60$

Novarossi P5XL 5 port turbo plug motor - Sold

Dynamite Platinum pipe - Sold
---
Last edited by Spoold97; 07-30-2013 at

07:43 AM

.
07-28-2013, 10:01 PM
Tech Rookie
Join Date: Jul 2013
Location: Phoenix, Arizona
Posts: 2
WTB: V2 Shocks
---
Hey guys... I am new to the site and new to the hobby. I have a sc10 rtr and the stock shocks are just junk and leak. Sounds like a lot of people are moving from the v2 to the 12mm big bores. If anyone has old v2 threaded shocks laying around that i can buy please let me know. Like to pick up locally. Thank You.
07-29-2013, 02:33 PM
Tech Master
Join Date: Jun 2004
Posts: 1,620
(2) Team Orion "Carbon Pro" 2S 4000mah lipos
---
These packs have less than 5 cycles each. They are like brand new. I have original boxes, and paperwork/stickers that came with them.
Here is the amain link for more specifics on the batteries.
http://www.amainhobbies.com/product_...ck-74V-4000mAh
Asking $65.00 ea. O. B. O - will give better deal if someone buys both.
Email is
[email protected]
, PM me or text 602-422-5263. Not looking for any trades. I do have pictures available if needed.
07-29-2013, 07:44 PM
Tech Addict
---
I'm looking for a 13.5 Novak Ballistic can. I need everything but the stator

text or pm me price and location

602 635 8326
07-29-2013, 08:30 PM
Tech Master
Join Date: Sep 2008
Location: Surprise, AZ
Posts: 1,061
Lots of stuff
---
All my stuff up for grabs. Gonna take a little break with the new kid and all. Losi 2.0 buggy and truggy. 2 Hara speeds, 1 is NIB other barely broke in. Nova BTT with a little more than a break in. Bunch of servos and tires and stuff. See my for sale thread or PM me if your looking for something. Also have a bunch of spektrum receivers and a few transponders
07-30-2013, 09:55 AM
Tech Addict
Join Date: Sep 2009
Location: Surprise, Az
Posts: 669
Tekin 13.5
---
Tekin 13.5 40$.