Arizona RC Swap Meet
06-28-2013, 01:16 PM
Tech Addict
Join Date: Mar 2008
Location: Peoria AZ
Posts: 518
---
Originally Posted by
CHIZZLE
Reedy Sonic 8.5
-This motor is oddly loud. I've replaced the bearings, tried a new rotor, tried a new sensor board/cap, but it's still a little loud. Other than that, it's stupid fast. $25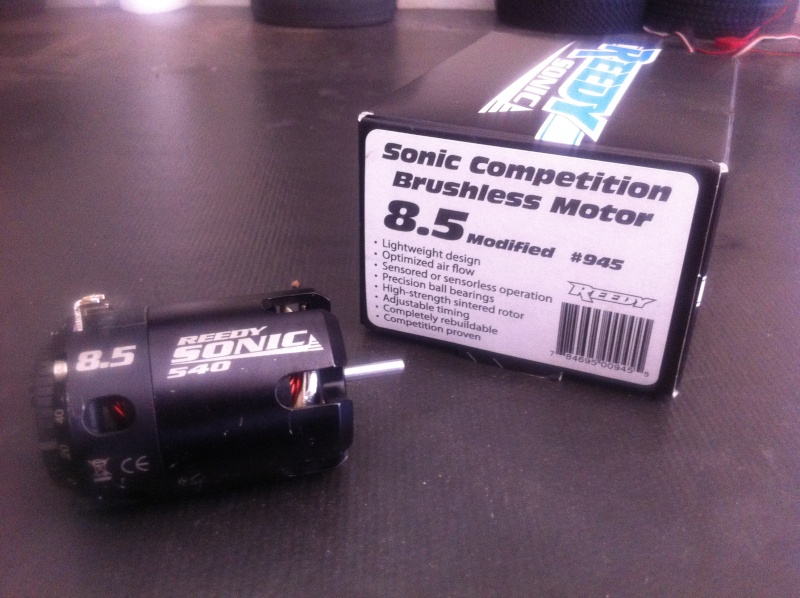 B4.1-2
-Avid Rack
-B Fast Diff
-AE Carbon C Hubs
-BB Shocks
-AE Tapered Pistons (3x1.4)
-Gold anodized turn buckles
-RPM ball cups
-Clean roller, nothing stripped, perfect amount of slop, diff is smooth, ready for your electronics. $150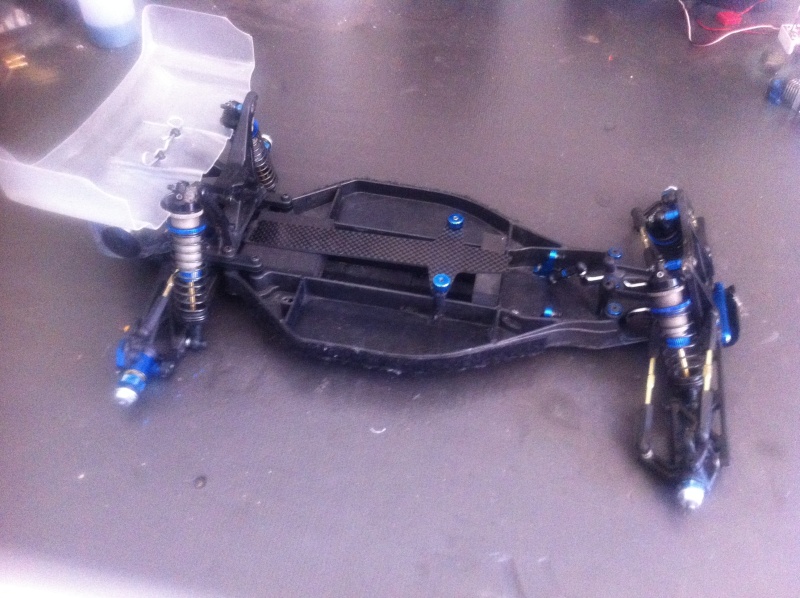 Hey Chance I have your Buggy Sold!!!
06-28-2013, 02:30 PM
Tech Apprentice
Join Date: Jun 2010
Posts: 55
Motor
---
Ill take the motor
06-28-2013, 02:41 PM
---
Are you saying you don't want dibs?
06-28-2013, 02:48 PM
Tech Apprentice
Join Date: Jun 2010
Posts: 55
Motor
---
Ill be at one tonight, Dont make me get Mike B involved. LOL
06-28-2013, 07:03 PM
Tech Apprentice
Join Date: Feb 2013
Posts: 68
---
any need a phone for tmobile I have and extra galaxy s blaze that has broken screen it needs replaced doesn't show picture cost of replacement is 50
asking rc stuff trade
06-29-2013, 09:42 AM
---
Im blowing these items out ... these prices are lower !!!!
Up for sale is a Barely used Axial AX-10 Scorpion crawler RTC less radio equipt ... Comes with everything shown in pics ... stock electronics with 55t motor and ax-2 esc with lipo cut off ...Upgrades to include .. Alum high raise links on lower ... front alum knuckles and comes with orion 3300 lipo battery .... this crawler works well and as seen in pics can articulate almost 180 degress ... asking 200.00 local sale ....
NEW PRICE $ 175.00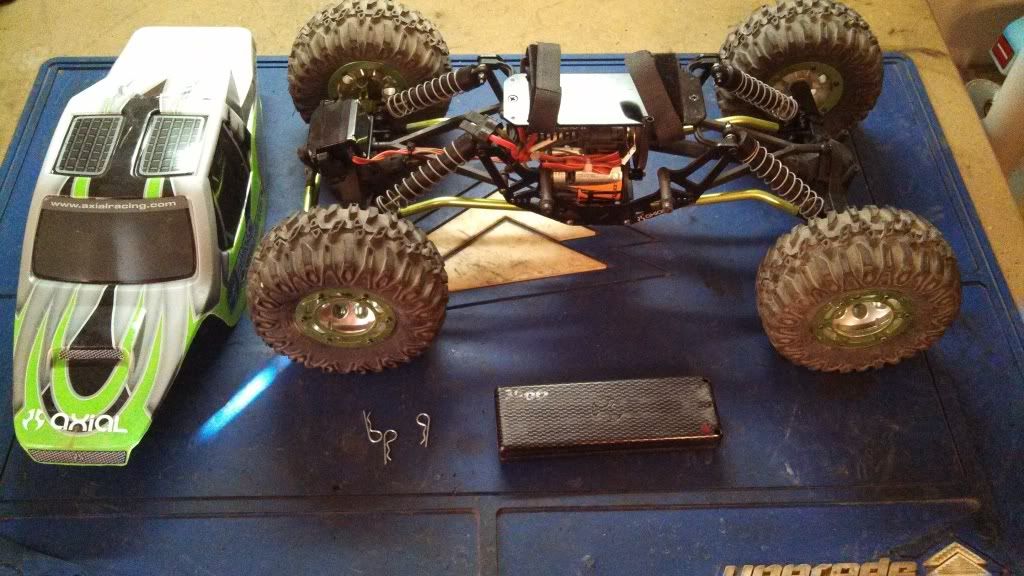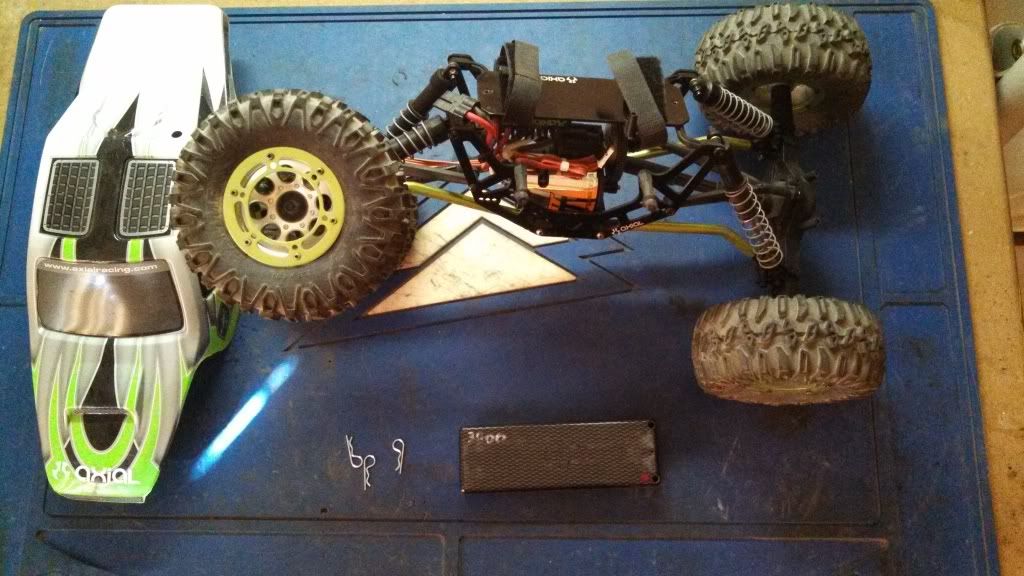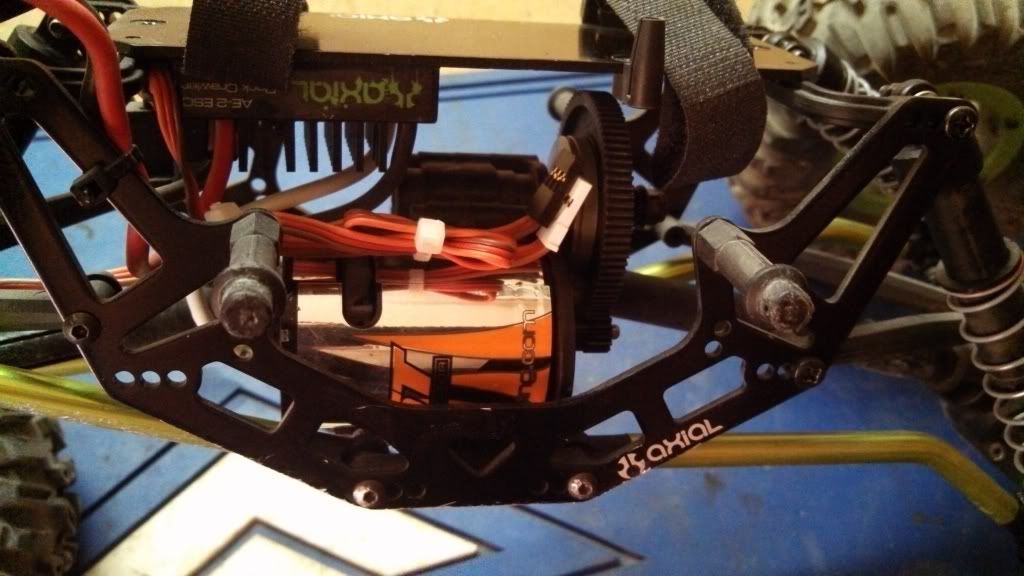 Up for sale below is a used Axial AX-10 Scorpion crawler with tons of upgrades and tons of parts shown in pics below ... Crawler comes with electronics upgraded hitec 5955 servo/Novak 55t motor and Novak Rooster crawler esc ... all upper and lower links alum and have the batteries mounted on axle for more weight .. comes with 2 Turnigy 1300 lipo batteries that can be stacked on axle ... cage is a TCS Crawler cage and body panels along with the shocks have internal springs from TCS kit .. body panels are new never used .. also comes with stock body ... parts below include brand new 55t motor ... alot of stock plastic parts .. 80-90 of the parts to make rear steer kit and many more ... ( parts box not included ) ... tires are Proline Chisels ... asking 350.00 local sale ...
NEW PRICE $ 300.00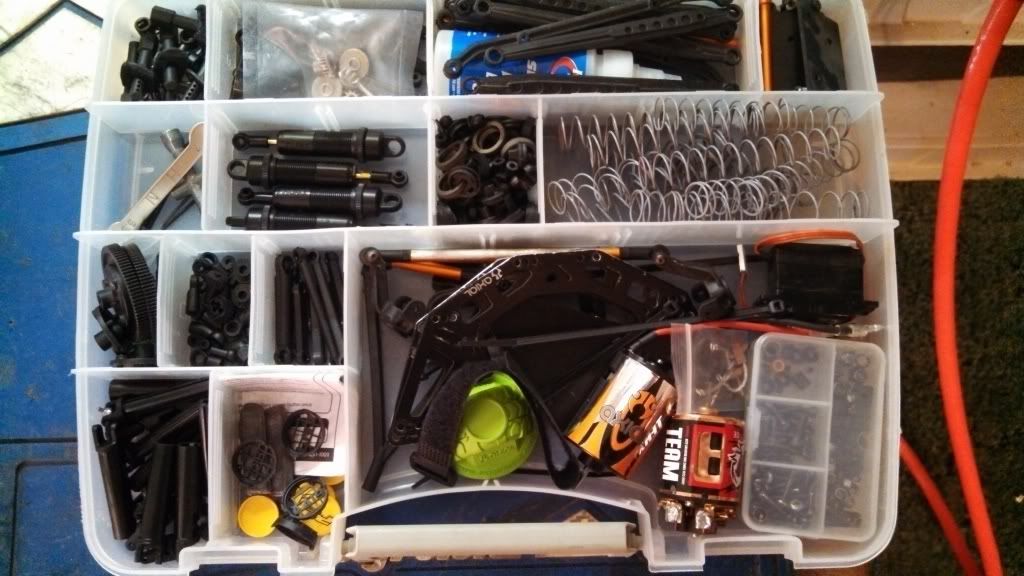 Got few misc crawler parts need to sell
1) Used set of Proline Moabs on Proline Black wheels and will include gun metal beadlock rings SOLD !!!
2) Used Axial NVS light kit ... Will come with module and lights ( lights are mounted in Proline AX-10 crawler cage ( custom cut ) w/ headlight rack ( 2 lights have been glued back on ) ...SOLD !!!
Got a used Eflite Blade CX2 heli for sale ... been used a hand full of times .. has tons of extra parts and upgrades .. upgrades to include carbon boom .. alum heat sink.. alum swashplate and alum rotor head ... tons of extra canapys and 2 batteries .... comes with all in pics ( parts boxes not included ) asking $ 250.00 local sale and ill include the box i have built for it to stay safe and house all parts ...
NEW PRICE 200.00 !!!!
Possibly have more to come !!!!!
---
Last edited by will g; 07-03-2013 at

11:18 AM

.
06-29-2013, 05:17 PM
Tech Addict
Join Date: Apr 2011
Location: Litchfield park, AZ
Posts: 634
---
Can anyone sell me their Tekin Pro4 3300kv OR Tekin ROC 412 3100kv motor??? I'm in desparate need of one. Name your price (reasonable for used equipment). PLease let me know. Jason 6028859458 or PM me here.

Thanks everyone!!
06-30-2013, 08:57 PM
Tech Master
Join Date: Jun 2004
Posts: 1,620
---
Selling my electric stuff, getting back into gas.
TLR 22 - was ran 3 nights at a small indoor track. Still have the two sets of wheels that come with the kit. Doesn't even have a scratch on the chassis.
Car comes with the following:
TLR Titanium screw kit
TLR Titanium shock stand offs
TLR Titanium turnbuckles
TLR aluminum rear camber block
TLR Titanium ballstuds
TLR Bleeder Shock caps
BFAST Diff
ALL Mid Motor parts NIP as they came out of the kit.
Asking 225 obo.
Novak Pulse ESC - was bought new when I bought/built the 22. Very little use, perfect condition. SOLD
(2) Orion WTS batteries - were also bought new with the car. Have under 5 charges on both - SOLD
Prices do not include shipping. I will ship USPS and use the flat rate boxes. Keep this in mind when making an offer.
Text or call me at 602-422-5263, PM me or email
[email protected]
anyone that knows me knows that my cars are perfect and I don't ever race, so the stuff is brand new.
Thanks
Dave
---
Last edited by CRFXXXT; 07-03-2013 at

04:46 PM

.
07-01-2013, 02:23 AM
Tech Master
Join Date: Jan 2009
Location: AZ
Posts: 1,438
---
Originally Posted by
onefast8
Selling-
LRP SPX "0" excellent condition and new wire installed - $ 85
http://www.amainhobbies.com/product_...-Speed-Control
Buying-
Looking for an 8.5 - Orion, Reedy/LRP or Tekin-gen2
Also interested in a clean T4.1 or .2 with big bore shocks
Will meet at Warehouse 3 or 1H.
Price drop on speedo.
If you need a esc for blinkey class and don't like all the programing stuff this is a super simple esc that runs great. Its all setup, plug in and race!
Thanks!
---
Last edited by onefast8; 07-01-2013 at

08:30 AM

.
07-01-2013, 08:21 AM
---


Sorry for the slow response but I was out of town this weekend without cell service. It was kind of nice. Lol.
07-01-2013, 09:44 AM
Tech Adept
Join Date: Jun 2011
Location: Phoenix, Arizona
Posts: 124
---
Sold
---
Last edited by Losi818; 07-02-2013 at

10:08 AM

. Reason: Sold
07-02-2013, 11:28 AM
Tech Addict
Join Date: Feb 2013
Location: Tolleson Az
Posts: 739
---
B4.1 roller with big bores, avid rack, rpm front bumper $160
Novak Kinetic $60
Novak GTB2 $70
Lrp x12 17.5 $50
Tekin RPM 17.5 $55
Savox 1258 $60
Spektrum DX3R $140 with sr3100 receiver
Spektrum 3100 receiver $30
Spektrum Losi receiver $25
Traxxas lipo 20c 5000mah $25 slight puff
(2) Venom lipo 20c 5000mah $35 each
(2) CRC lipo 40c 5300mah $10 each has puff
CRC lipo no puff $40

602 635 8326 text anytime
---
Last edited by slowclod; 07-03-2013 at

10:49 AM

.
07-03-2013, 12:12 AM
Tech Adept
Join Date: Feb 2012
Posts: 122
---
Anyone have a T4.2 roller they want to sell? Like tomorrow? PM me if so. Thx.