FEAR FARM RC RACEWAY
09-02-2011, 02:16 PM
Tech Adept
Join Date: Jul 2011
Location: peoria, az.
Posts: 132
09-03-2011, 12:02 PM
Monday Monday MONDAY!!
---
Please read this in a 'Monster Jam' voice..

Ladies and gentlemen!! Fear Farm RC Raceway is proud to announce Labor Day RC Madness this Monday from 6pm to 10pm!! There will be; RC Driving, Water, Power, & Lighting!! Admission $10
09-03-2011, 01:23 PM
Tech Regular
Join Date: Aug 2010
Posts: 257
---
Originally Posted by
Dbackmasta
Thanks Wheelie for running the show tonight!! Thanks to you I'll be sleeping in 20 minutes!
Here is the first version of the kbrl flyer. Many changes will be coming through the next month but I wanted to at least get this up in its most simple form.
I'm open to a short course buggy class but need to formulate rules... I know Hobby Town is looking at a stock class for the xxxscb but I don't know how that will work with people running the kyosho ultima db. More to come.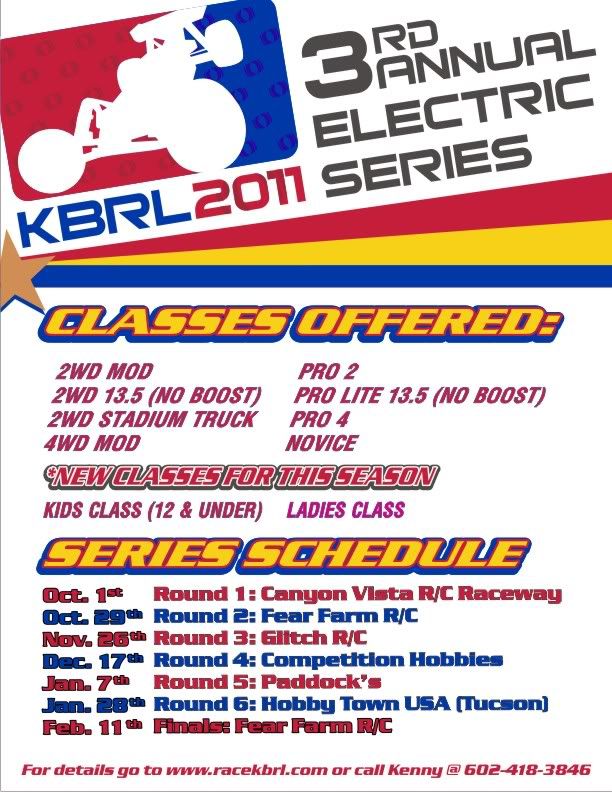 So will there still be club racing going on at FF on these dates?
So when and who will be able and willing to create a race series for FF? I thought that you where the guy to do that?
Don't get me wrong I like the club racing, it woud just be nice to see this place get its own series going once in a while......OR......a batle of the west side tracks...FF,PIT & Paddocks. BUT I know there is way to much hair club drama for that to even come to light..who knows maybe one day
I thank you for all that you have done for FF and R/C racing in Az. I know its tough to keep everyone happy. I am in NO WAY bashing you'r KBRL as I plan on making it out to a few. It would be nice to see FF have its own series just as most every other track here seems to have'm why not FF?
Steve
09-03-2011, 02:25 PM
09-03-2011, 02:52 PM
09-03-2011, 03:11 PM
Suspended
Join Date: Oct 2008
Location: PHOENIX, ARIZONA
Posts: 1,368
---
NO trailer or music from me tonight just some NITRO TRUGGY ACTION!!!!!!!!!!!
09-03-2011, 03:27 PM
09-03-2011, 03:27 PM
Tech Regular
Join Date: Nov 2010
Location: Glendale, AZ
Posts: 403
09-03-2011, 03:36 PM